Candles are an accessory for many different holidays, especially the ones during the winter months. This activity would be fun for Hanukkah, Christmas, Kwanzaa, or as a general theme during the holiday time. You could also develop this activity as a STEM activity, challenging children to create their own versions of candleholders.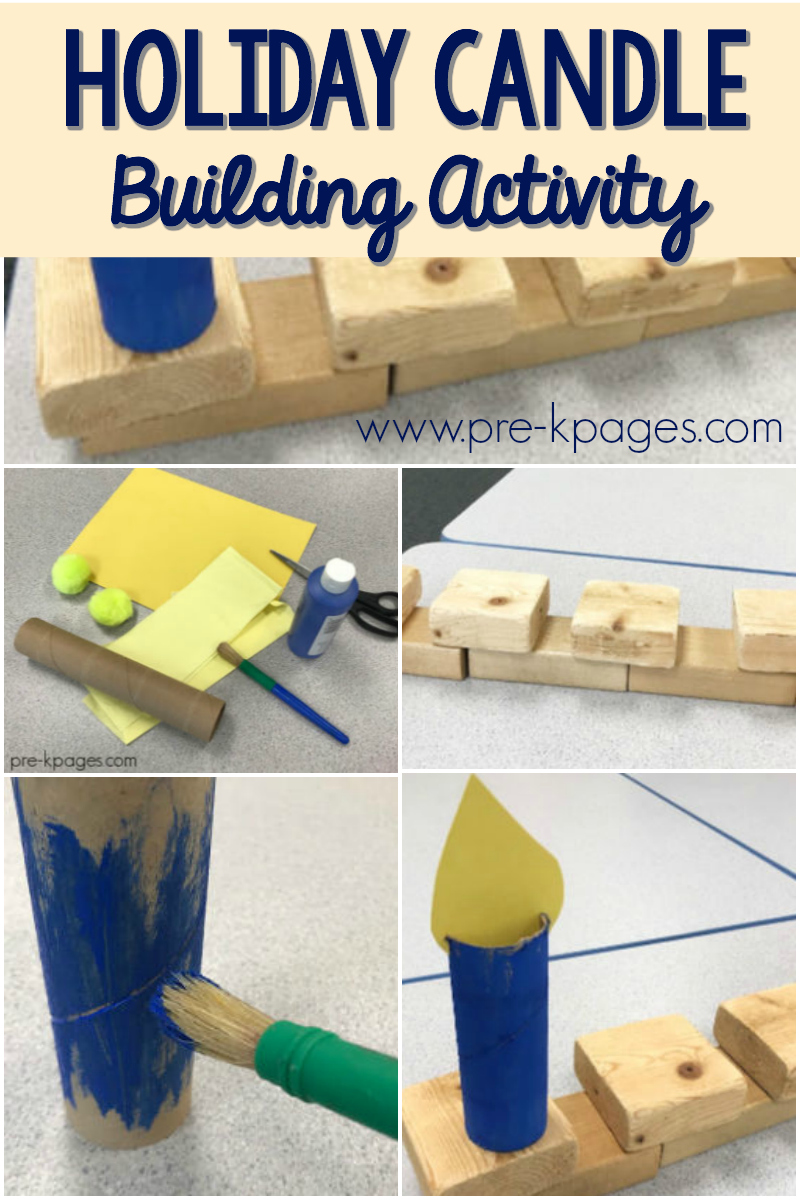 Making Holiday Candles
This activity can be part art and part construction…or you could span this activity across a few days and within different centers.
Materials Needed to Make Candles
Cardboard tubes
Paint
Paintbrushes
Yellow tissue paper, construction paper, or pom-poms
Other art materials as you choose for decorating tubes/candles (optional)
Painting the tubes is a fun part of this activity but you could just construct candleholders without painting the tubes first.
Choose colors that coordinate with the focus holiday: blue, white, and silver for Hanukkah; black, red, and green for Kwanzaa; green, red, and gold for Christmas. Or use any color if you are not focusing on a holiday.
Invite the children to paint the tubes. This will probably create some mess. Lay paper towels or wax paper on the surface so children can lay down or stand painted tubes. Place 2-3 fingers inside the bottom of the tube to hold it as you paint, or clip a clothespin to the bottom of the tube for a handle as you paint. Children may not want to cover the entire tube – and that's okay, too.
For permanent flames, cut squares of yellow tissue paper. Fold the paper into fourths and turn so that the folded point is at the top and all the loose ends are at the bottom. Run glue inside the lip of the top of the tube. Insert the tissue paper and press the loose ends to the glue. After the glue dries, fluff or adjust the flame to get the look you want.

For removable flames, set large yellow pom-poms on the top of the candle tube. Or cut large flame shapes from yellow construction paper. Cut a slit down from the top of the tube; cut another slit opposite the first. Slide the construction paper flame into the slits to "light" the candle.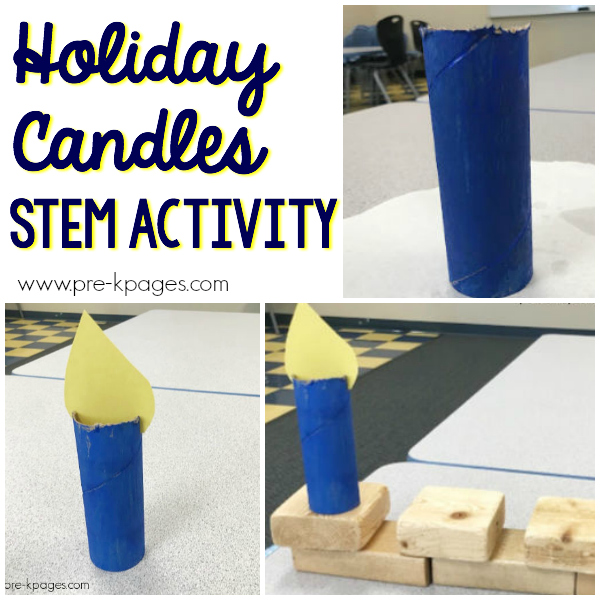 Building Holiday Candleholders
Place your homemade candle tubes and flames in a center with blocks, wide craft sticks, and other available construction materials. Add photographs of menorah, candlesticks, or kinara. Or provide some nonbreakable candleholders for children to see and touch.
Invite the preschoolers to build a menorah (or other specified candleholder). Encourage them to use their own ideas and experiment with the blocks and other materials to create their ideas.
Help the children set the candles in place and "light" the candles by adding pom-poms or sliding flames into place.
Supplement this activity with these books about Hanukkah.