Fall is in the air and that means lots of wonderful autumn reads and outside exploration. It's the perfect season to explore nature with our preschoolers. Pull a little nature into the classroom, combine it with a good book, and you have an opportunity for some amazing learning to take place. Today we are making letter-sound leaf people.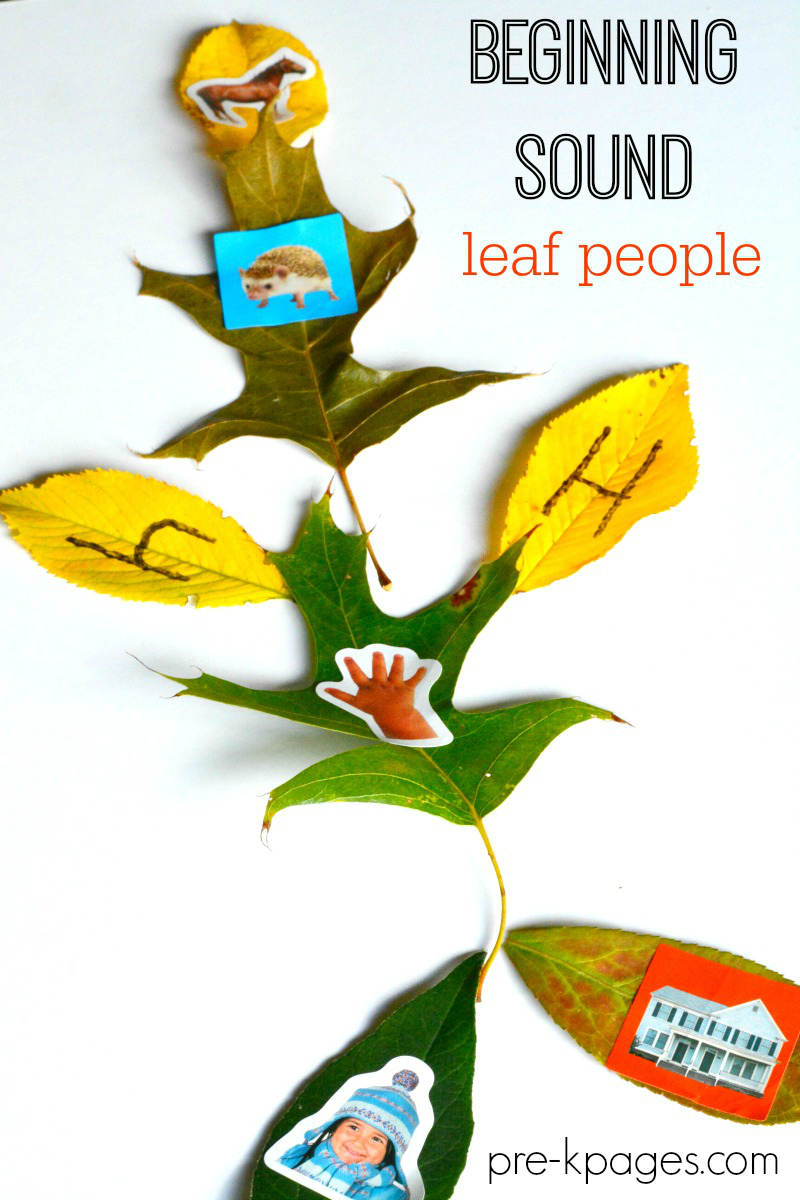 Leaf Man Book and Beginning Sound Activity
The skills covered in this activity include:
Literacy
enjoying and valuing reading
demonstrating knowledge of the alphabet and letter sounds
following directions
If you have your preschoolers collect the leaves for this activity, they will also work on controlling hand and eye movement, controlling small muscles in the hand, counting, and identifying colors.
Reading the Book: Leaf Man
Materials Needed
Leaf Man by Lois Ehlert
leaves (one for each child)
fan (optional)
Read Leaf Man at least once to the kids. Gather the little ones together and invite them to tell you what they notice on the front cover of the book. You may want to give each child a leaf to hold while you read to keep little hands busy.
After reading the story, tell the kids to return their leaves to a small pile. Turn on a fan to represent the wind and let the kids observe what happens. They can then compare that with what happened to the wind in the story. The kids will also enjoy collecting the leaves after the "wind" blows through the pile.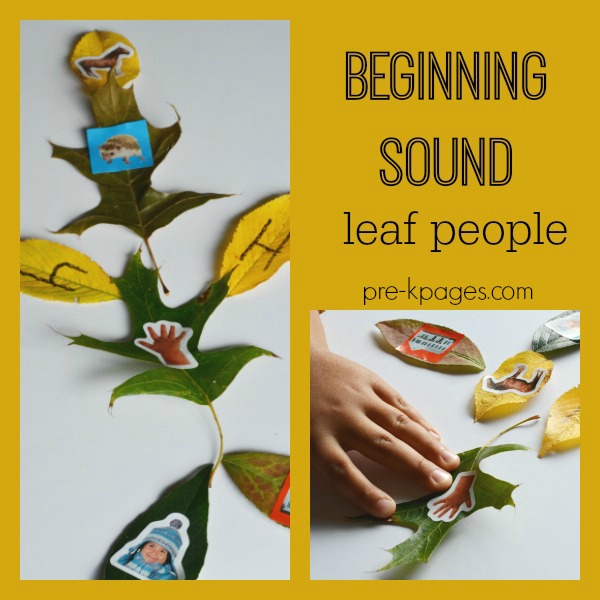 Making Leaf Men and Women Beginning Sound Activity
Materials Needed
leaves (6-10 per student)
stickers or small images of objects (1000 Stickers by Roger Priddy is a great resource.)
permanent marker
glue stick (if you aren't using stickers and/or as a take-home activity)
medium size tray for sorting
large construction paper (for take-home activity)
Setting Up the Small Group Activity
Select five letters the students need to work on identifying. Write each letter on one of five leaves. You could do a second set of letters so that you have sets of capital letters and leaves with matching lowercase letters.
Finish each letter set by placing a sticker or gluing an image that begins with same sound as each of the letters you chose in step one. For example, if you chose the letter Bb as one of the letters to practice, you may have images of a baby, ball, bat, balloon, and basket on other leaves. Your goal is to have two letter leaves and four or five leaves with matching sound images.
Mix and place all of the leaves on a medium size sorting tray.
If the kids will be creating a take-home piece, you will also want to have a large piece of construction paper and glue sticks ready.
*Note: If the kids will be creating a take-home piece, you will need to replenish supplies in the center for each group of children.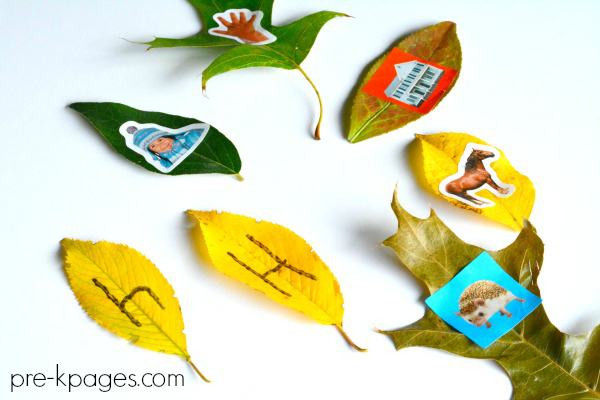 Playing the Activity
Invite the kids to first sort the images and match to the correct letter leaf. Then, the students can construct their own letter person using the leaves that are related by letter and letter sound.
When finished, you may want to snap a picture and then have the kids return the materials to the sorting tray. Or, if you would like the kids to create a permanent documentation of their work, they can glue their leaf person down to the construction paper.
Variation
This can be done as a whole group activity. Give each child a small plastic bag with their own letter and image leaves.
Enjoy reading and playing with your preschoolers to build literacy skills.
BIO: Jodie is the creator of Growing Book by Book. She believes that we can meet the needs of all our growing readers. She guides you with developmentally appropriate book lists, reading and writing activities, and literacy-building tips for young children. Check out her Exploring with Preschoolers resources! You can connect with her on Facebook and Instagram.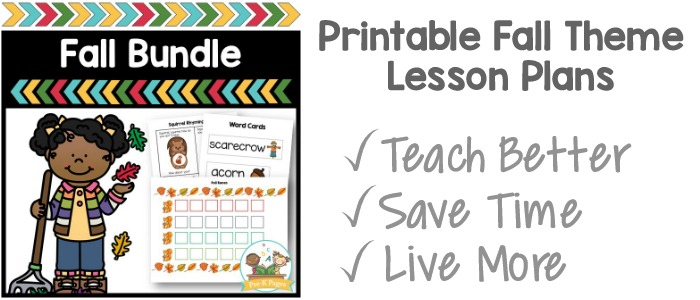 For more teaching tips and information, check out my membership site, The Teaching Tribe, where I help teachers like you teach better, save time, and live more.
Other Fall Posts