Learning about animals that come from eggs is a fun spring topic in many preschool and kindergarten classrooms. Animals that lay eggs are called oviparous. The concept of laying and hatching eggs can be difficult for young children to understand.
I have included a game below to help teach your students about oviparous animals in a fun, hands-on way, and a book list that includes eleven age appropriate books. Oh, and I even created a free count, tally and graph printable for you too- keep reading to grab your copy!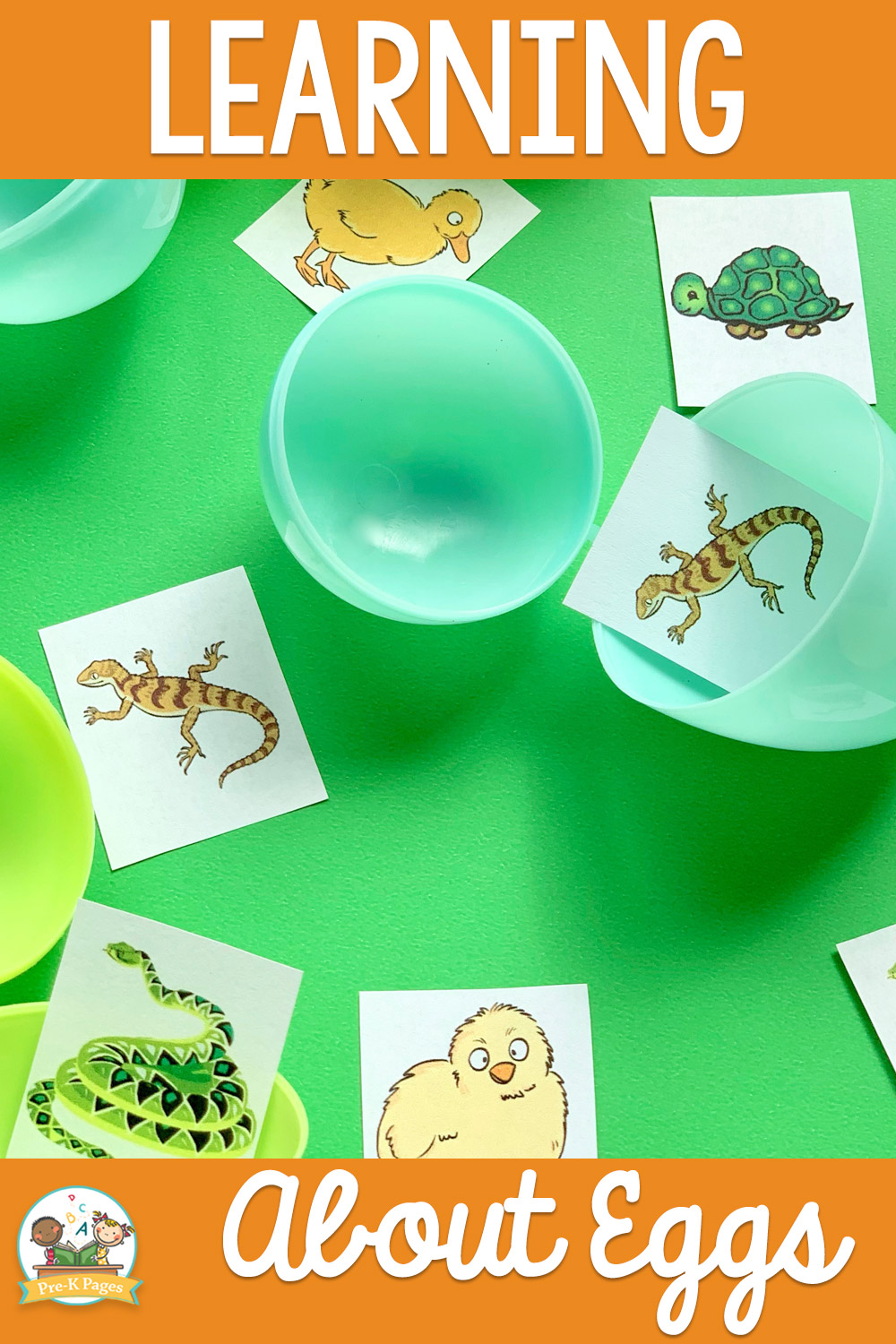 Supplies
Plastic Easter eggs
Plastic oviparous animals OR you can use the picture cards in the freebie below
Pencils
Crayons
Paper lunch bags
Oviparous Animal Hunt – A Spring Game
Start your study of oviparous animals by reading books on this topic for a few days (see book list below.) Before children can sort and label animals as oviparous and viviparous (live birth) they first need to learn which animals lay and hatch from eggs. When they have developed an understanding of oviparous animals, then they can move on to classifying oviparous and non-oviparous animals. This activity focuses on identifying oviparous animals.
Next, decide if you will be using plastic animals or the printable animals offered below. In the printable I included five different animals: duck, chick, turtle, lizard, and snake. I know there are more than five oviparous animals, but using them all would have made the activity too difficult. Print as many copies of the animal cards as you need.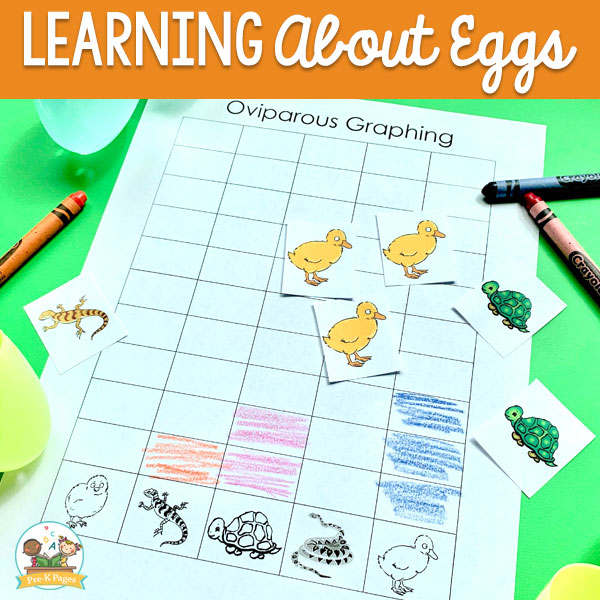 How to Play the Oviparous Animal Egg Hunt Game
Place one animal card inside each plastic egg and hide the eggs around your classroom. You will need to decide how many eggs and how many pictures you will need in order for this game to be successful with your class size.
I suggest doing this activity in small groups to cut down on the number of eggs needed. For example, each group of 4-5 students works together to hunt for eggs and complete the activity cooperatively.
You can give each group a brown paper lunch bag to hold their eggs. When all the eggs have been found they can return to their group table and count, tally, and graph their finds.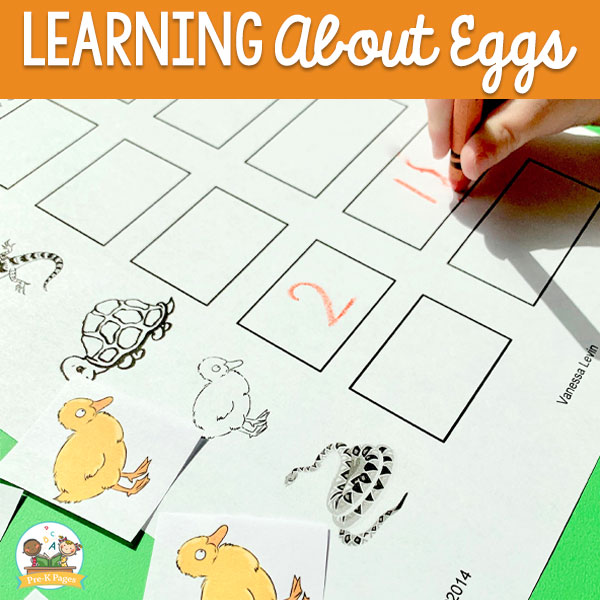 Oviparous Animals Printable
I have included the count and tally skills on one page with large boxes to accommodate emergent writers. On the graphing page you can ask your students to cross out one box for each animal, color in the box, or write actual numbers in the boxes according to their ability levels. You can also ask them to tell you which column has more and how many more they need in each column to make ten.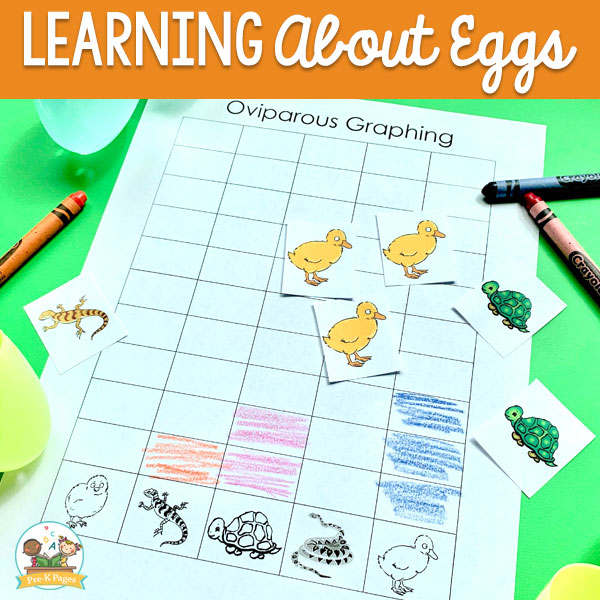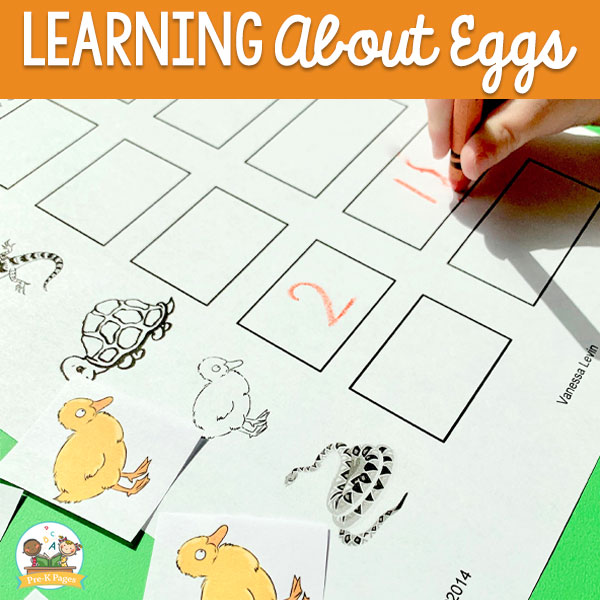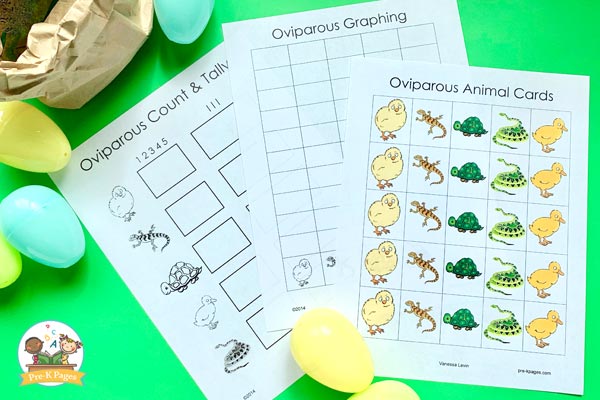 Books about Eggs
These are eleven of my favorite books about eggs for young children in preschool and kindergarten. I have included books with photographs on this list as well as picture books.
Chickens Aren't the Only Ones by Ruth Heller
An Egg is Quiet by Dianna Hutts Aston
An Extraordinary Egg by Leo Lionni
First the Egg by Laura Vaccaro Seever
The Golden Egg Book by Margaret Wise Brown (don't let this one fool you, it's not really an Easter book)
Guess What is Growing Inside This Egg by Mia Posada
Hank Finds an Egg by Rebecca Dudley
See How They Grow: Chick by DK Publishing
See How They Grow: Duck by DK Publishing
Ten Eggs in a Nest by Marilyn Sadler
What Will Hatch? by Jennifer Ward
Click on the picture below to download the free oviparous animal printable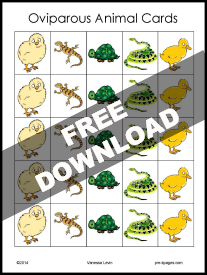 More Easter Ideas
Spring Classification Science Activity (Pre-K Pages) – Put together an easy Spring classification activity for your classroom or home science center with just a few bags of plastic eggs. This is a fun way to introduce classification!
Bunny Castanets (Pre-K Pages) – Do you know how to do the Bunny Hop? It is a fun line dance that kids can do near Easter, in spring, or really any time of the year. Make this simple musical instrument and use it while you bunny hop!
Bunny Treat Cups (Pre-K Pages) – These super cute treat cups will help make any teacher's life easier. Whether you're allowed to have full-blown classroom Easter parties or not, one of these ideas is sure to work for preschool or kindergarten!