In a preschool room, the math center explores number and quantity concepts, patterns and sorting, and shapes. Your preschoolers will enjoy having hands-on activity experiences with these concepts. And these books can help explore and expand mathematical knowledge and skills.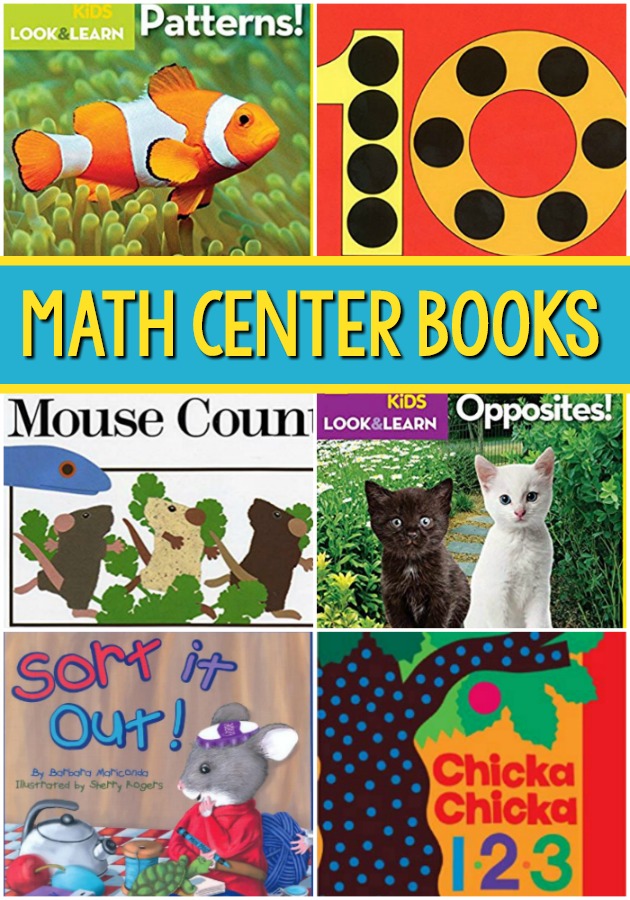 Math Center Books for Preschool
Mouse Count by Ellen Stoll Walsh
Counting forward and backward in a suspenseful story that will keep young readers guessing.
Ten Black Dots by Donald Crews
What can you do with ten black dots? "One dot can make a sun or a moon when day is done. Two dots can make the eyes of a fox."
The Doorbell Rang by Pat Hutchins
This terrific and suspenseful read-aloud picture book about friendship, sharing, and cookies can also be used to introduce basic math concepts to young children.
Sort it Out! by Barbara Mariconda
Packy the Packrat's mother has had enough! It's time that he sorts through his ever-growing collection of trinkets and puts them away.
A Color of His Own by Leo Lionni
Elephants are gray. Pigs are pink. Only the chameleon has no color of his own. But the chameleon learns that no matter where he goes with a new friend, they will always be alike.
Mouse Shapes by Ellen Stoll Walsh
What can you make with one oval, two circles, and eight triangles? Just ask three clever mice–-who even find a funny way to trick a sneaky cat.
So Many Circles, So Many Squares by Tana Hoban
After you read this book, you will find yourself seeing circles and squares everywhere. And they will surprise you — because they will be where you have often looked before. You will have changed — and begun to see.
Is It Larger? Is It Smaller? by Tana Hoban
This book introduces the youngest reader to the idea of size relativity.
Cubes, Cones, Cylinders, & Spheres by Tana Hoban
Cubes, cones, cylinders, and spheres. They are all around us all the time. In our houses, on our streets, in our hands.
More, Fewer, Less by Tana Hoban
Look at the stacks of brightly colored teacups, the racks of shiny new shoes, the bin full of mouth-watering candies. Where are there more? Or fewer? Or where is there less? The questions and answers depend on what (and how) you see.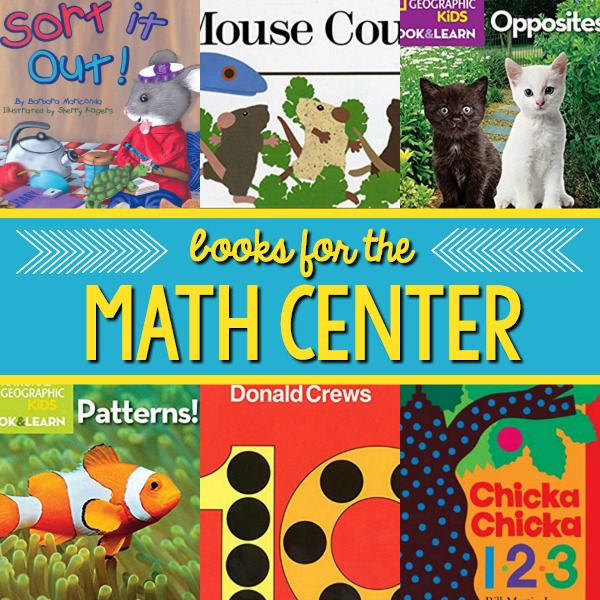 Math Center Books
Plant Patterns by Nathan Olson
From tiny seeds to green leaves to blooming buds, plants have all kinds of patterns. Can you find patterns in tulip fields, cactus needles, and dandelion seeds? Check out Plant Patterns and see what patterns sprout up!
Ten Red Apples by Pat Hutchins
Ten red apples hanging on a tree. Yippee, fiddle-dee-fee! But they are not there for long. Horse, cow, donkey, pig, hen, and the other farm animals each eat one. "Save one for me," calls the farmer. But what about the farmer's wife?
How Do Dinosaurs Count to Ten? by Jane Yolen
Come along for some BIG fun as your favorite dinosaurs delight young readers with their playful antics. How do dinosaurs count to ten? Over and over and over again!
Chicka, Chicka 1,2,3 by Bill Martin Jr. and John Archambault
1 told 2 and 2 told 3, "I'll race you to the top of the apple tree."
National Geographic Kids Look and Learn: Shapes! by National Geographic Kids
Preschoolers can explore objects of similar shape in isolation and look for shapes within a photograph.
National Geographic Kids Look and Learn: Count! by National Geographic Kids
Large numerals and clear animal pictures lead preschoolers to count and to develop number recognition.
National Geographic Kids Look and Learn: Opposites! by National Geographic Kids
Think about words and concepts that are opposites – with clear photographs to support the concepts.
National Geographic Kids Look and Learn: Patterns! by National Geographic Kids
Discover simple patterns and learn about completing or continuing patterns of objects.
National Geographic Kids Look and Learn: Same and Different by National Geographic Kids
Same and different can be tricky concepts for preschoolers to understand. This book helps children look for similarities among things that are not exactly the same.
National Geographic Kids Look and Learn: Colors! by National Geographic Kids
Explore colors and find colors.
Check your local library to expand your classroom book collection. Online used booksellers are also low-cost sources for great books.