Math Center set up and organization for Pre-K, Preschool, or Kindergarten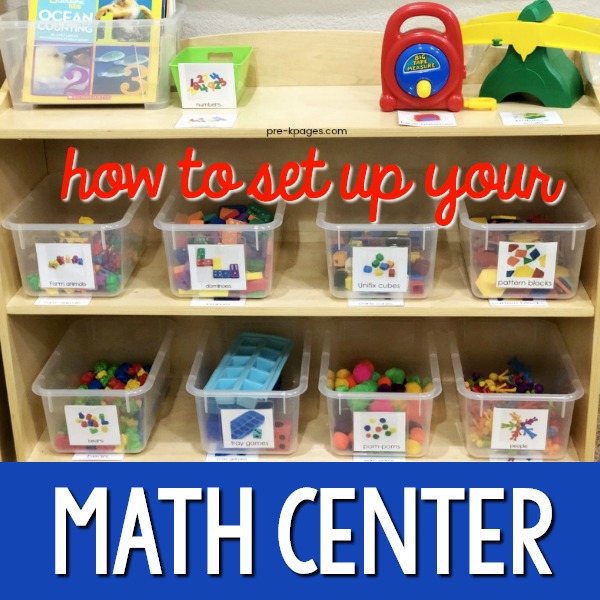 How to Set Up a Math Center
How to set up a Math Center in your preschool, pre-k, Head Start or kindergarten classroom. Pictures and ideas to help you organize your math materials.
Let's face it, no little kid wakes up in the morning and shouts, "I can't wait to play in the math center!" That's why it's important that we, as teachers, create an organized and inviting space where our little learners can count, compare, sort and build a strong number sense foundation using 3-D objects they can touch and manipulate with their hands.
When you stock your math center with inviting and intriguing materials, your kids will start building those critical math skills without even realizing that they're doing anything other than having fun!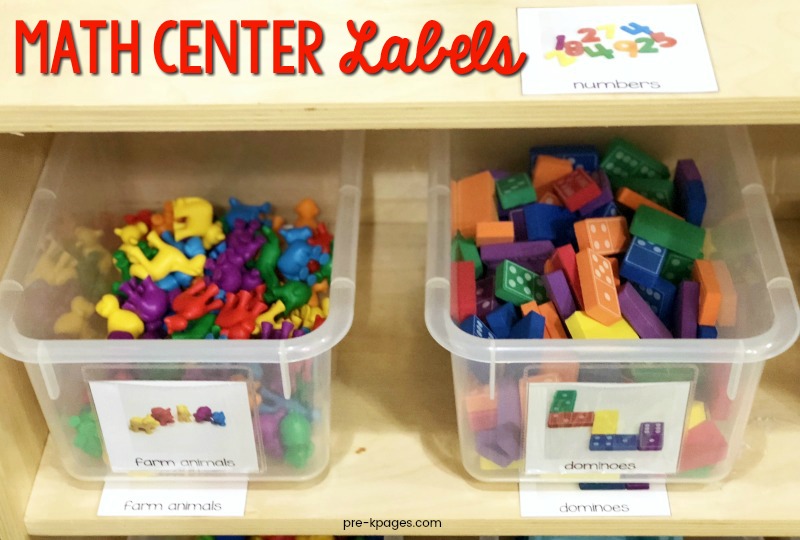 Label Everything
It's important to label everything in your early childhood classroom. Labels help young children connect the written word with spoken language. Labels can also help children organize their world, learn classification skills, and facilitate a quick and easy clean-up.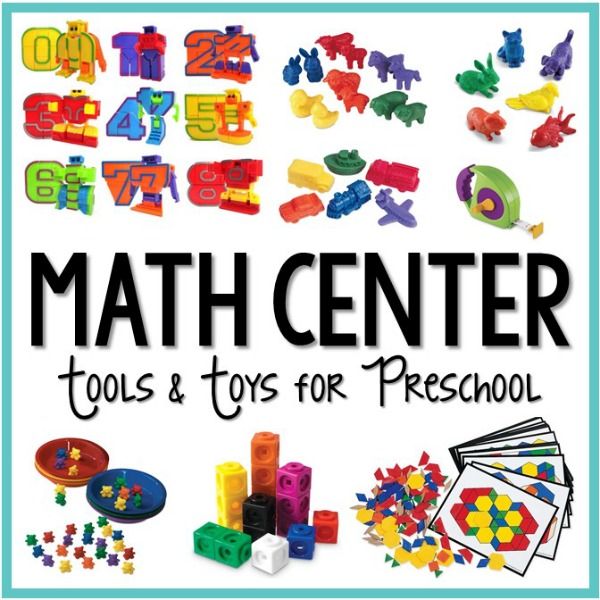 Manipulatives and Tools
When it comes to stocking your center, it's important to keep in mind how much wear and tear the objects you choose will have to withstand. When you have lots of little children touching and playing with the materials they'll need to be very sturdy to survive daily use. Here are some of the items that have withstood the tests of time in my own classroom: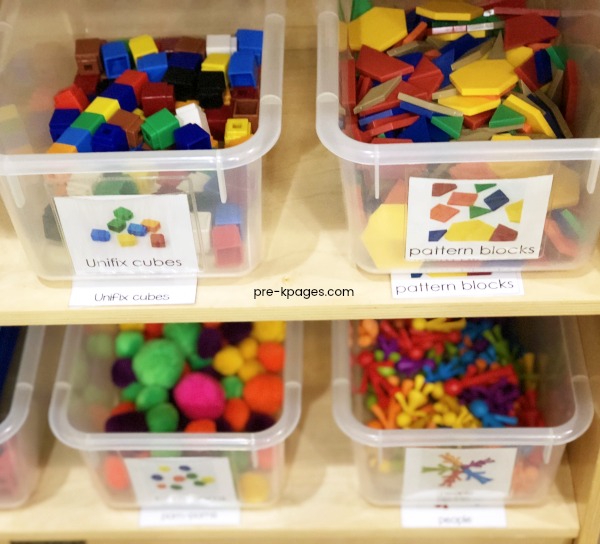 Center Set-Up Tips
Each tub in the center is open on top and labeled with a picture of the materials along with the words. It's important to place labels on each end of your tubs. as well as a matching picture on the shelf.
Using open tubs and picture labels will facilitate a quick and easy clean-up. The words on the labels will help create a print-rich environment in your classroom and pique the interest and curiosity of your little learners.
The Math Center Sign provides a picture of what a clean center looks like in case your students need a reminder.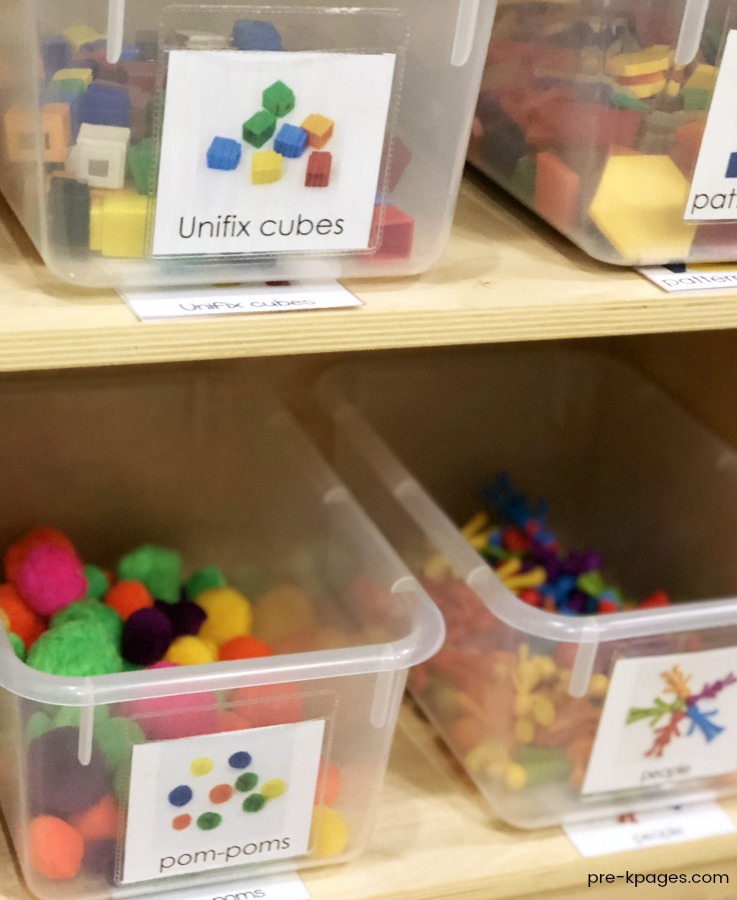 What to Put Out and When
Teachers always ask how many of these materials they should put out on the first day of school. In order to have a successful and functional center, each tub or item that is placed on the shelf is introduced to the children during large or small group time. When the children have learned how to use materials, and demonstrated that they can use them successfully, then and only then will they be placed on the shelf in the center for free exploration.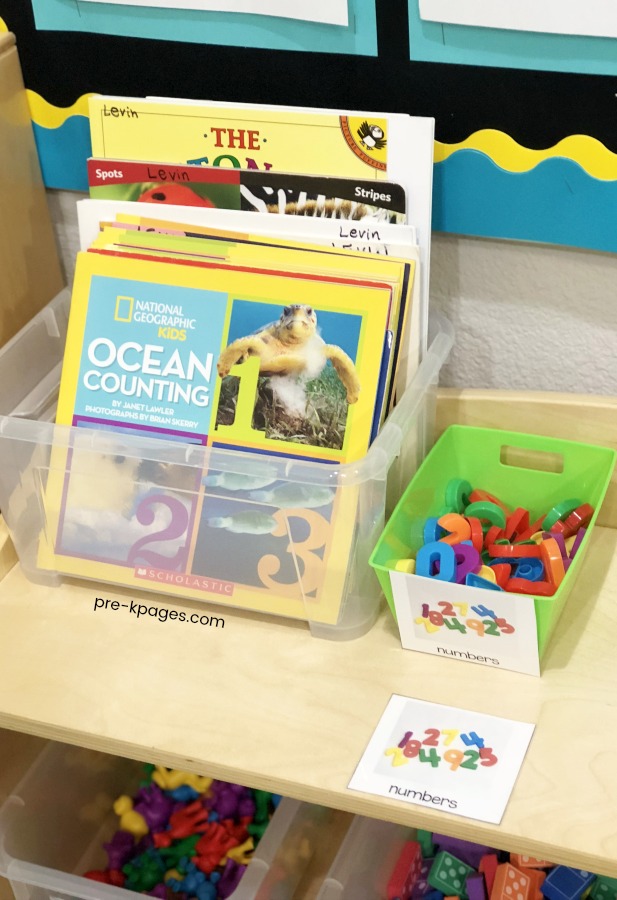 Math Books
You'll also want to include a tub or basket of math picture books in your center. Choose books with bright, bold pictures and your students are familiar with or books that don't require that you read them aloud for your students to understand. Books about numbers, counting, sorting, patterning or similar topics are perfect.
Watch the Video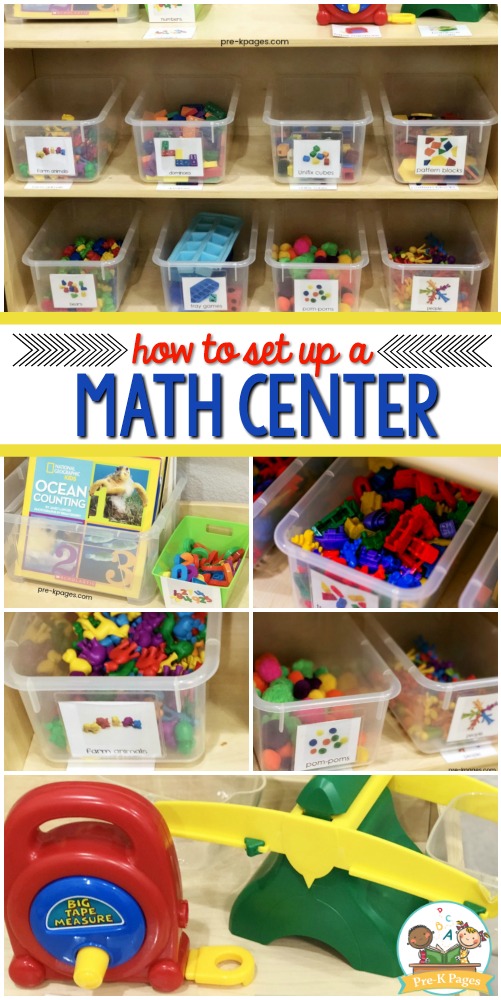 Learning Centers
Have you always dreamed of setting up amazing, self-directed centers for your classroom…but feel like something is missing? How do you know which centers you need? What should you put in them?
Center Essentials Guide
Get your ultimate, step-by-step guide for setting up centers HERE
More Center Ideas from Pre-K Pages