Weather is a natural science topic for young children. After all, they experience it every day! Read these weather books for preschoolers to talk about different kinds of weather and to introduce vocabulary and concepts to your preschoolers. Check online used booksellers or your local library to expand your reading without a lot of cost.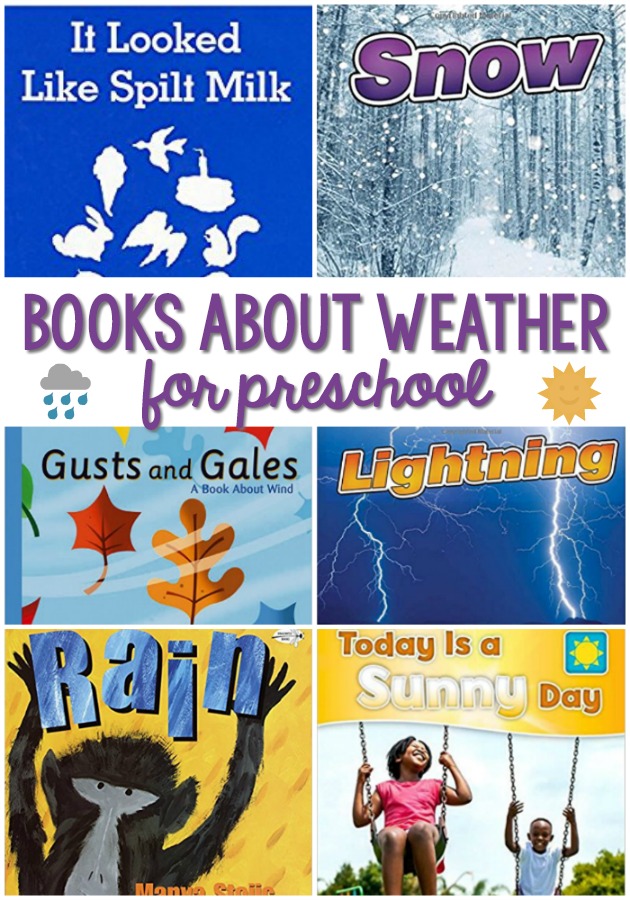 Weather Books for Preschoolers
These books are perfect for a weather theme in your preschool, pre-k, or kindergarten classroom. They will also make great additions to your science center, a weather station dramatic play area, or your class library.
Gusts and Gales: A Book About Wind
by Josepha Sherman
Find out about the different types of winds, including global winds, trade winds, local winds, and breezes. Learn about extreme wind weather like hurricanes and tornadoes. Your kids will love learning about the different types of weather created by wind.
Lightning
by Erin Edison
Watch it light up the sky. Hear its booms. It's important to have non-fiction books about any topic you discuss in your classroom to complement your fiction books.
Rain
by Erin Edison
Jump in a puddle. Carry an umbrella. It's time to learn about rain.
Learn About the Weather
Rain
by Robert Kalan
Blue sky. Yellow sun. White clouds. Then, suddenly, gray clouds. Gray sky. RAIN.
Snow
by Erin Edison
Catch a snowflake on your tongue. Toss a snowball.
The Snowy Day
by Ezra Jack Keats
Vivid full-color illustrations capture a young boy's delight in the first snowfall of the year.
The Wind Blew
by Pat Hutchins
The wind blew, and blew, and blew! It blew so hard, it took everything with it: Mr. White's umbrella, Priscilla's balloon, the twins' scarves, even the wig on the judge's head. But just when the wind was about to carry everything out to sea, it changed its mind!
Wind
by Erin Edison
Fly a kite. Watch leaves swirl. It's time to learn about wind.
Best Weather Books for Preschool Kids
Clouds by Erin Edison
Discover what clouds are, how they move, and what they do.
Sunlight
by Erin Edison
Sunlight comes from the sun. Sunlight causes temperature to change and helps form clouds. Explore more about sunlight in this book with simple photographs and text.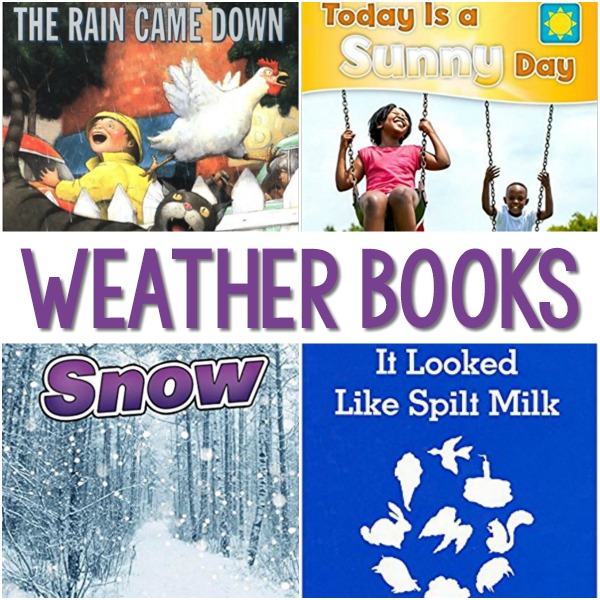 Weather Books For Kids
Little Cloud
by Eric Carle
Little Cloud floats through the sky. He changes into different shapes before rejoining the other clouds to make a rainstorm.
Like a Windy Day
by Frank Asch
A little girl plays like a windy day.
It Looked Like Spilt Milk
by Charles Shaw
Sometimes it looked like spilt milk. Sometimes it looked like a pig or a sheep or an ice cream cone. But it wasn't any of those things.
Worm Weather
by Jean Taft
Two children experience a rainy day (which the worms enjoy, too).
Today is a Sunny Day
by Martha E. H. Rustad
It's a sunny day! What do we do?
Today is a Windy Day
by Martha E. H. Rustad
Explore a windy day and what to do in it.
Engaging Preschool Books About Weather
The Rain Came Down
by David Shannon
The rain begins to fall. The chickens squawk and the cat yowls. That's just the beginning. And still the rain came down. Will things ever settle back down?
A Rainbow of My Own
by Don Freeman
A boy wants to catch a rainbow for his very own.
Rain
by Manya Stojic
The land is hot and dry. But the animals know the rain it coming – they can smell it, see it, hear it, feel it and taste it.
Splish! Splash!: A Book About Rain
by Josepha Sherman
Learn more about rain and the water cycle.
All About Weather
Explore My World: Clouds
Sunlight
by Erin Edison
Tap Tap Boom Boom
by Elizabeth Bluemle
Explore My World: Weather
by Lisa Gerry
More Book Lists