Looking for some penguin activities for your preschool kids? Winter can be a great time to talk about cold weather climates and the animals who live in them.
Penguins live mostly in snowy or icy places. Exploring a penguin theme may be just the thing your preschoolers will love. (And remember, penguins live in Antarctica in the south and not up north with those polar bears.)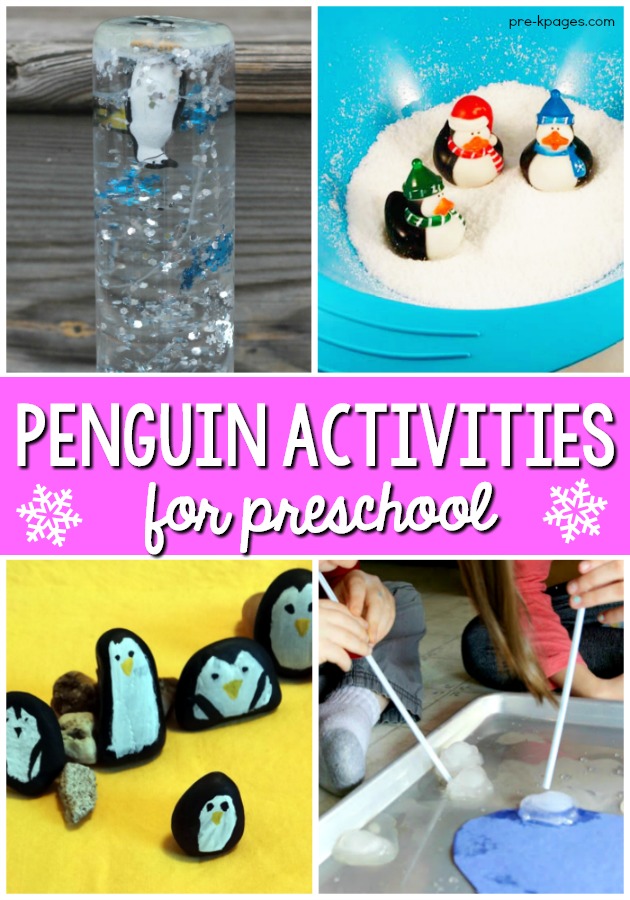 Penguin Activities for Preschoolers
Penguin Counting Game (Pre-K Pages) – This Penguin Counting Game is the perfect addition to any winter theme, lots of fun for young children and great practice for counting, number sense, and one-to-one correspondence.
Fun with Penguins in Preschool (Teach Preschool) – Extend your penguin exploration into a combined fine motor and waterplay activity as well as a simple creative art activity…
Arctic Small World (Teach Preschool) – A wonderful way to celebrate any season or holiday is to invite your students to create their own small world play!
Penguins Roll and Write Game (Prekinders) – This Penguin Roll and Write Game can be used along with a Winter theme, and will help your kids practice writing letters or numbers in a fun, playful way.
Ice Races (Still Playing School) – Whether it's chilly outside or you just want to cool off on a hot day, penguin ice activities are irresistible for kids! These ice races are great for oral sensory stimulation and provide fine motor work as well.
Ice Slide Segmenting Activity (Growing Book by Book) – This game builds phonological awareness by focusing on individual phonemes (sounds) we hear in simple cvc (consonant, vowel, consonant) words (like cat, hen, dog).  In this activity, your preschoolers will segment words into phonemes.
Penguins Science Play (LIttle Bins for Little Hands) – Start learning about penguins with this simple and fun ice melt science experiment. This new favorite experiment is all about ice!
Penguin Sensory Bottle (Teaching Mama) – This penguin sensory bottle is fun to make with toy penguins, glitter, and instant snow.
Books for a Penguins Theme (The Measured Mom) – Here are 29 book for your penguin theme in your classroom.
Penguin Sensory Tray (Fantastic Fun and Learning) – With a little bit of salt, you can create this engaging penguin sensory tray.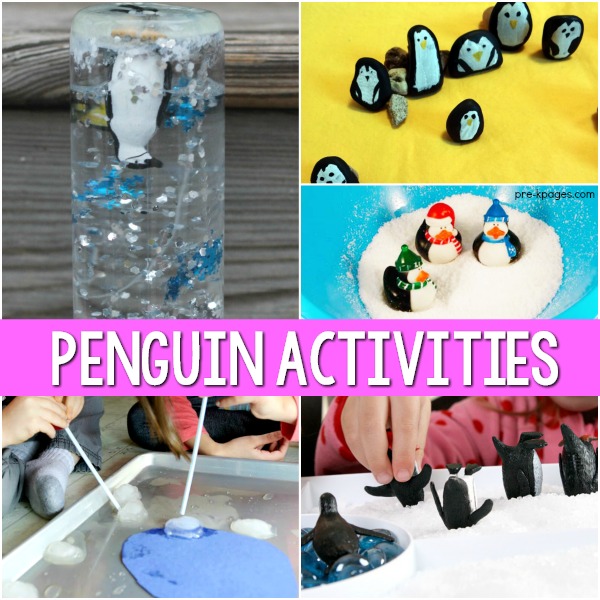 Activities for Penguins Theme
5 Little Penguins Counting Song (Let's Play Music) – Children love counting songs at any time of the year and 5 Little Penguins is the perfect song for preschoolers to celebrate the Winter season.
Paper Cup Penguin Roll and Make Game (Imagination Tree) – Make a paper cup penguin craft with this fun roll-and-create game for kids!
Penguin Painted Rocks (Inspiration Laboratories) – Grab some rocks from outside and have fun painting and creating your penguin rocks!
Activities to Go With "Penguin and Pinecone" (The Preschool Toolbox) – The activities offered are extension activities to use with young children after reading and discussing the story.
Penguin and Pinecone by Salina Yoon
Penguin Number Activities (JDaniel4's Mom) – Here are two sets of kindergarten math worksheets and printables that would be great to use with any penguin themed classroom activities.
Penguin Action Song (JDaniel4's Mom) – Your children are going to love these gross motor activities that will have them moving like penguins.
Penguin Alphabet Game (Educator's Spin on It) – This penguin themed alphabet game is perfect for indoor fun with your preschoolers.
Black and White Painting (My Storytime Corner) –  Here are some favorite penguin stories and other fun penguin related activities for toddlers and preschoolers.
Tacky the Penguin Sensory Bin (Stir the Wonder) – Read Tacky the Penguin by Helen Lester and then create this adorable sensory bin! This would be a fun way to introduce a penguin unit to preschoolers!
Snow and Ice Small World (Stir the Wonder) – Create this fun ice small world and engage in sensory play.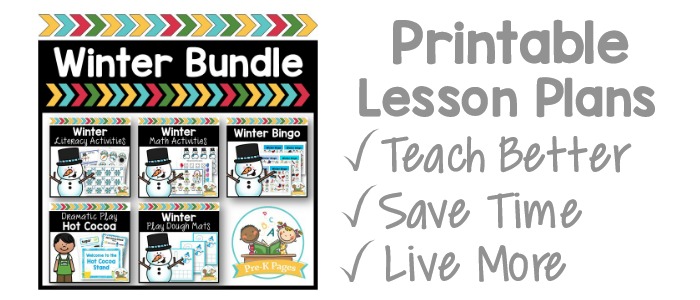 More Winter Activities