Phonological awareness skills are the building blocks of future reading success. It's important to help your little learners develop phonological awareness skills in Preschool, Pre-K, and Kindergarten, because without these basic literacy skills they will struggle with reading later.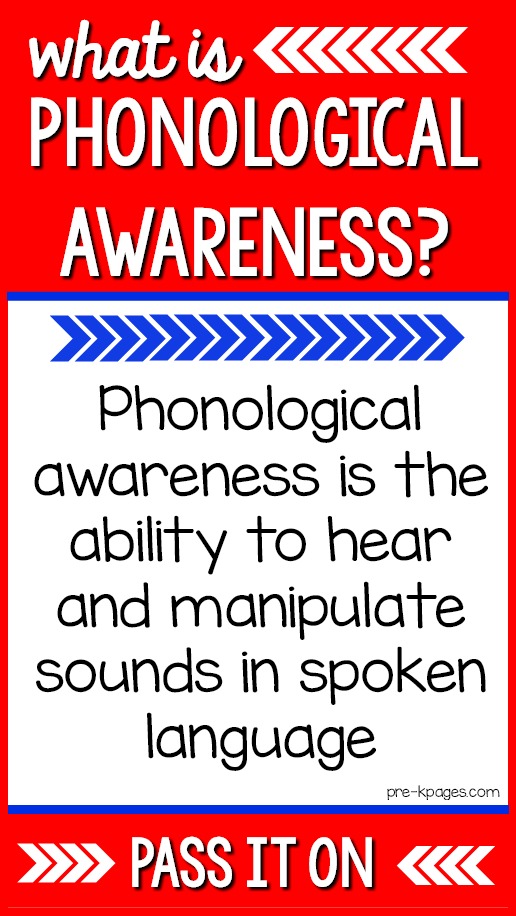 What is Phonological Awareness?
Phonological awareness refers to the ability to segment and manipulate the sounds of oral language. It is not the same as phonics, which involves knowing how written letters relate to spoken sounds. Activities that help develop these literacy skills in children provide practice with rhyme, beginning sounds, and syllables. (from ILA, International Literacy Association) and can aid them when they learn to read later.
Phonological awareness is not just phonics.
Phonological awareness is auditory and does not involve words in print.
Phonological awareness is not a curriculum.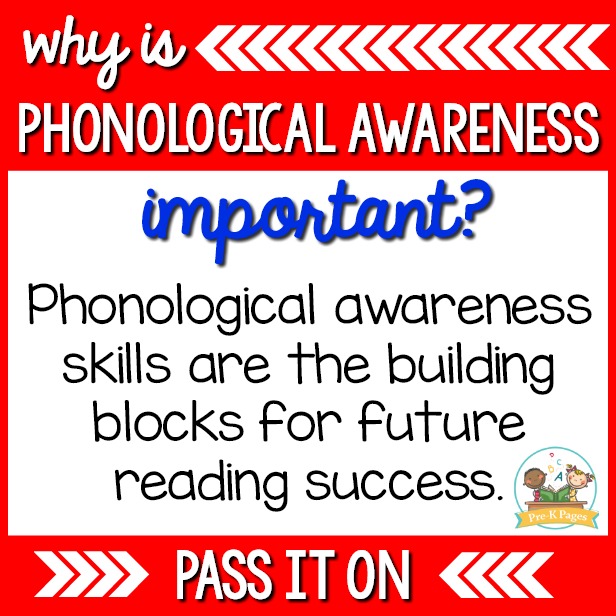 Why are phonological awareness skills important?
The ability to hear, identify and manipulate the sounds in spoken language has been proven to help young children become better readers. Even before they learn to read and identify the letters of the alphabet, children can say the sounds they hear in spoken language. When they can hear the sounds in a word and identify where the sounds occur in the word, they are developing good pre-reading skills.
Phonological Vs. Phonemic Awareness
Phonological and phonemic awareness skills are not the same thing. Phonological awareness skills is a larger umbrella that includes phonemic awareness.
Phonemic awareness skills is the ability to hear and manipulate individual phonemes. Phonological awareness skills includes this ability, but also includes the ability to hear and manipulate larger units of sound, such as syllables.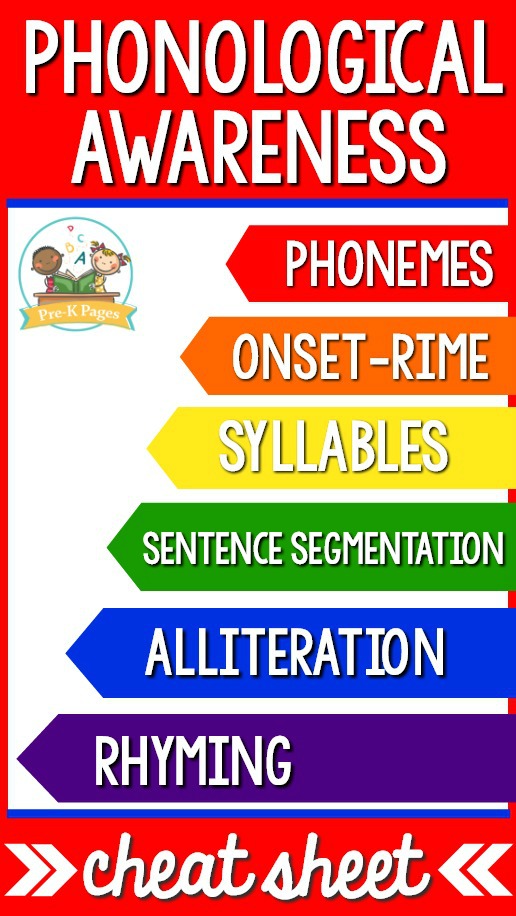 Components of Phonological Awareness
The term 'phonological awareness' does not describe just one skill, rather it encompasses a whole list of important skills. The following are all important parts of phonemic awareness:
Blending and Segmenting Phonemes
Phonological awareness can have your preschoolers work on blending sounds and skills such as:
(initial sound isolation): What is the first sound in mop?
(final sound isolation): What is the last sound in mop?
(Tells difference between single phonemes) Which one is different? /s/ /s/ /k/ ?
(orally blends 2 or 3 phonemes into one word) What word am I trying to say? /m/ /o/ /p/?
Onset-Rime Blending and Segmentation
(orally blends onset-rimes) What word is this? m-ilk
Syllable Blending and Deletion
(identifies number of syllables in spoken words) Claps syllables in 1, 2, and 3 syllable words
(orally blends syllables) What word is this? mon-key
Sentence Segmentation
"I have a dog" = four different words.
Alliteration
Words that have the same initial sound: Marvelous Monday, Terrific Tuesday etc. – This super fun and easy paper bag puppet activity, Alliteration with Peter the Cat, will help your preschool and kindergarten students develop alliteration skills.
Rhyming
(Identifying rhyming words) Do "cat" and "mat" rhyme?
(Produces a rhyming word) Tell me what word rhymes with nose?
Sound Word Discrimination
Sound word discrimination, like in this Valentine Rhyming activity, is a great way to work on telling whether words or sounds are the same or different.
(Tells whether words or sounds are the same or different) cat/cat= same cat/car= different
(Identifies which word is different) sun, fun, sun = fun is different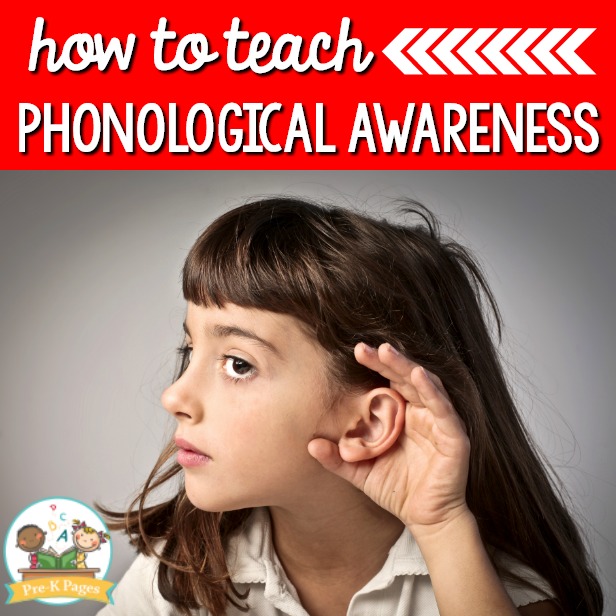 How to Teach Phonological Awareness Skills
So now that you know what this skill is, how do you teach these skills to your students?
The best way to teach it to your little learners is through
Games
Songs
Hands-On Activities
Nursery Rhymes
Poems
Read-Aloud Books
When it comes to teaching these important skills, fun games, songs and hands-on activities have proven to be highly-effective methods.
You can encourage play with spoken language as part of your daily routine.
Nursery rhymes, songs, poems, and read-alouds are all effective methods you can use to develop phonemic awareness skills.
The Teaching Tribe
Knowing what phonological awareness skills are is a great place to start! But let's face it, you also need to learn which activities are most effective for teaching these skills to your little learners. The best place to discuss teaching best practices and get the support you need is in the Teaching Tribe. We have many printable lessons and on-demand video trainings to help you become the best teacher you can be! If you want to get on the waiting list for the Teaching Tribe, do it soon so you don't miss the next open enrollment period!
More Literacy Ideas from Pre-K Pages