Preschoolers love to study the planets and outer space in general. I know my preschoolers get excited to sit outside before bedtime and gaze at the sky above us. You can make these fun planet sun catchers with your kids during a unit of study about space or a space theme.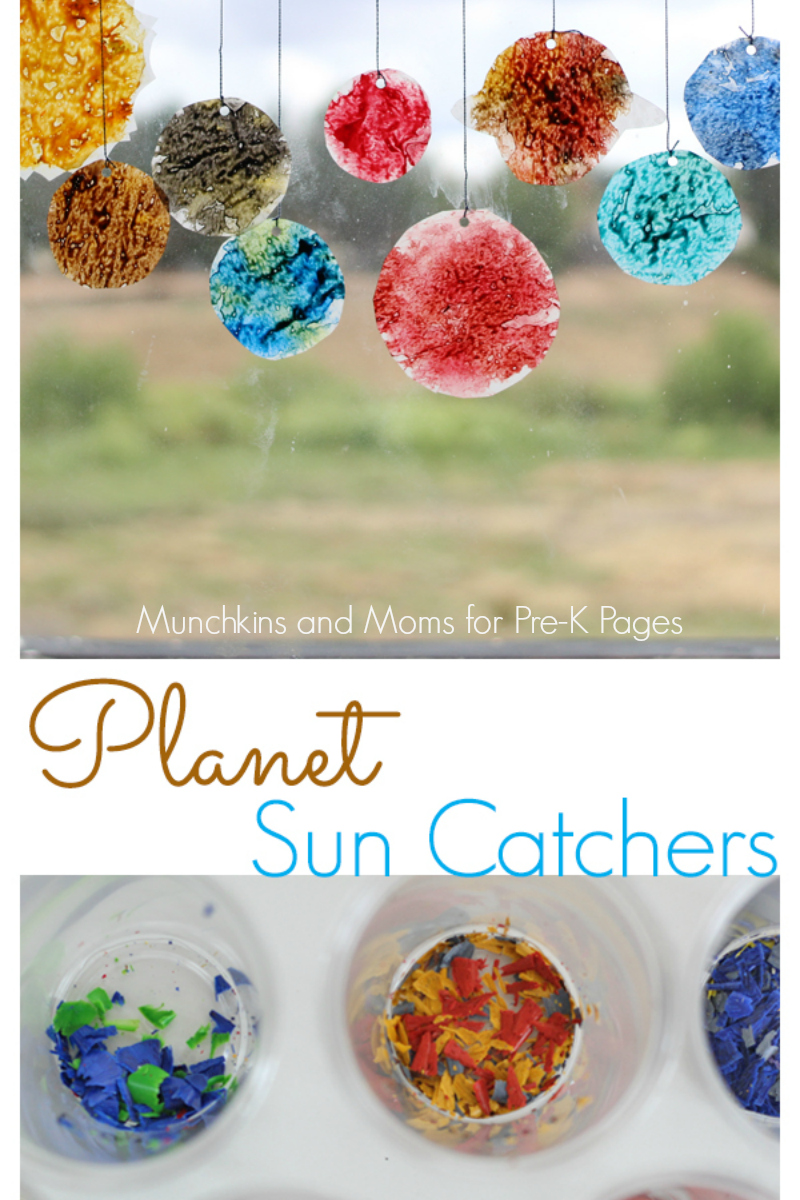 Planet Sun Catchers
We talk about the stars, constellations, the moon, and the planets. They wonder aloud what planets are like, why they're there, how long they've been there . . . and about a million other questions that preschoolers like to ask! While I don't have all the answers, I love the chance to turn their big questions into learning opportunities. I decided I would help them visualize the sun and our solar system with this planet sun catcher activity.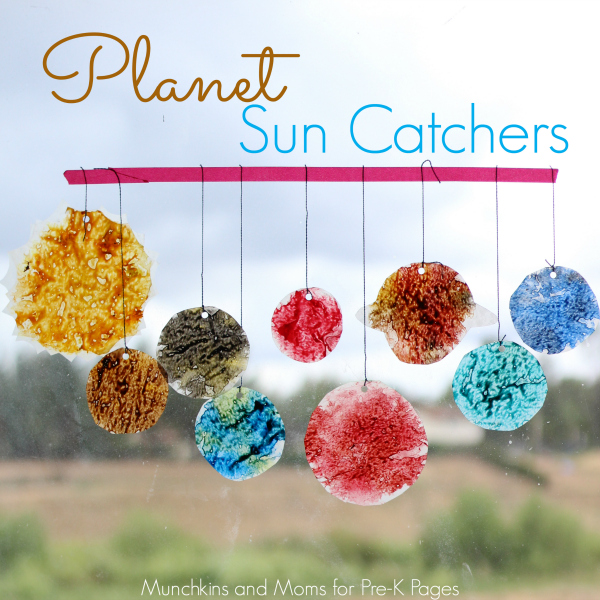 Planet Sun Catchers
Making this sun catcher is a great way to help preschoolers visualize the planets and our solar system on a smaller scale. It can lead into discussions on comparing and contrasting the planets while kids get a hands-on opportunity to make the planets themselves.
Supplies:
Wax paper
Plastic cups
Crayons
String or embroidery floss
Tape
Hole Puncher
Pencil sharpener
Iron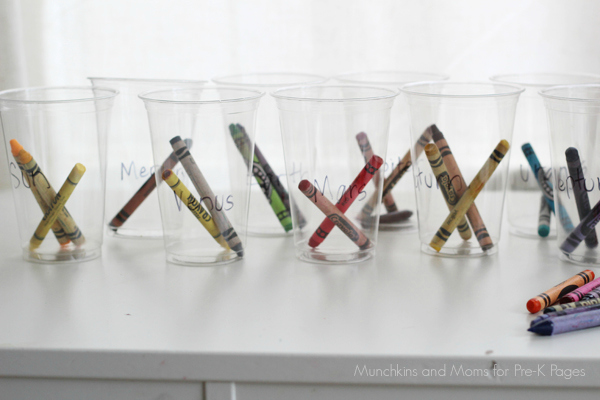 I prepped the activity by writing the names of the planets on plastic cups and putting in crayons which (best) represent the colors of the planets.
Once my kids saw the crayons and the pencil sharpener, they were over the moon because they knew what was coming – a sun catcher activity! (See our Raindrop Sun Catcher Activity.) Kids LOVE sharpening crayons until a point is formed. It's great fine motor work for them, and it also gives some of their dull crayons new life. It's a win-win!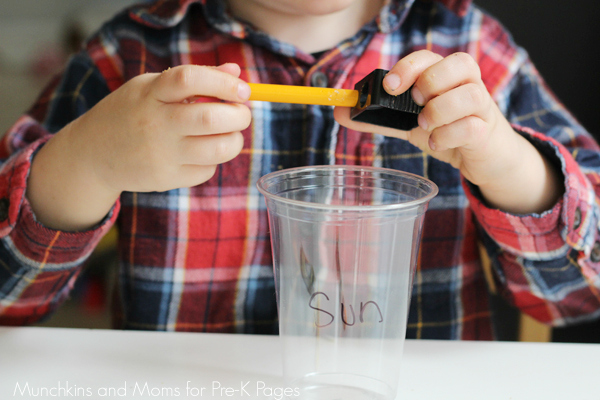 The sun catchers don't need many crayon shavings, a small amount works just fine for this activity, but I let the kids sharpen each crayon until they were satisfied with the point. Once we were through sharpening each color we laid them out and talked about all the different colors of the planets. They were excited to see the colors all come together and be melted under the heat of the iron!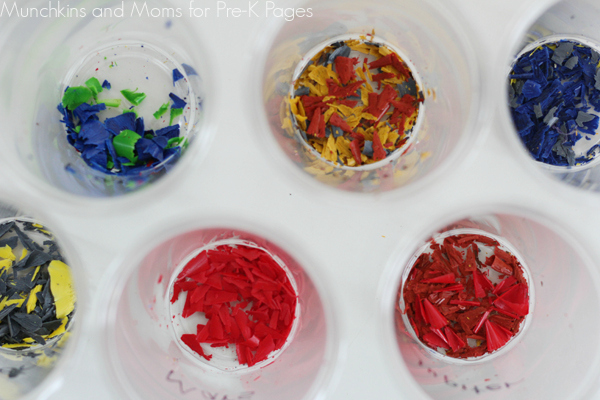 (The next step is an adult-only step, but I let the kids watch at a safe distance so they had the chance to see how the crayon shavings melted.)
After the crayons had all been sharpened, I dumped some of them onto wax paper and folded it in half.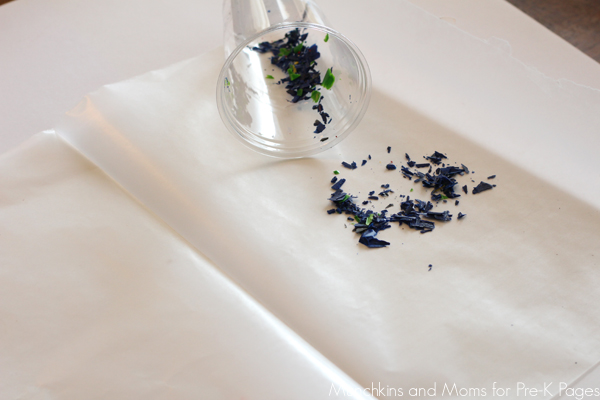 Using an iron on a low heat setting, I ironed the wax paper until the crayon shaving melted (this happens almost instantly). I repeated the process for each planet and allowed them to cool. Finally, I simply cut out the planet shapes from of the cooled wax paper. I punched a hole and strung it from the window for us to look at and further observe. The textures the melted crayons created were phenomenal!
Do your preschoolers love all things space themed? If so this activity is sure to be an instant hit! Make sure to pin this idea to use in your space unit!
BIO: Clarissa is a former elementary teacher and writer of the blog Munchkins and Moms. She loves to share creative preschool activities that are both playful and educational. Check out some of her popular posts such as Planet Earth Fine Motor Project, a perfect accompaniment to this activity! Don't forget to follow her on Pinterest, Facebook, Instagram, and Twitter for more creative ideas!
More Space Posts—
Moon Rocks Fine Motor Activity
Moon Salt Writing Tray
Star Gazing Discovery Bottles
Making Craters: Space Science Experiment