Plastic eggs are irresistible for kids! They provide hours of open-ended seasonal fun. Children are working on fine motor skills as they open and close the eggs. Adding a chick to hide inside the egg allows for the perfect preschool game to practice position words for Easter and spring!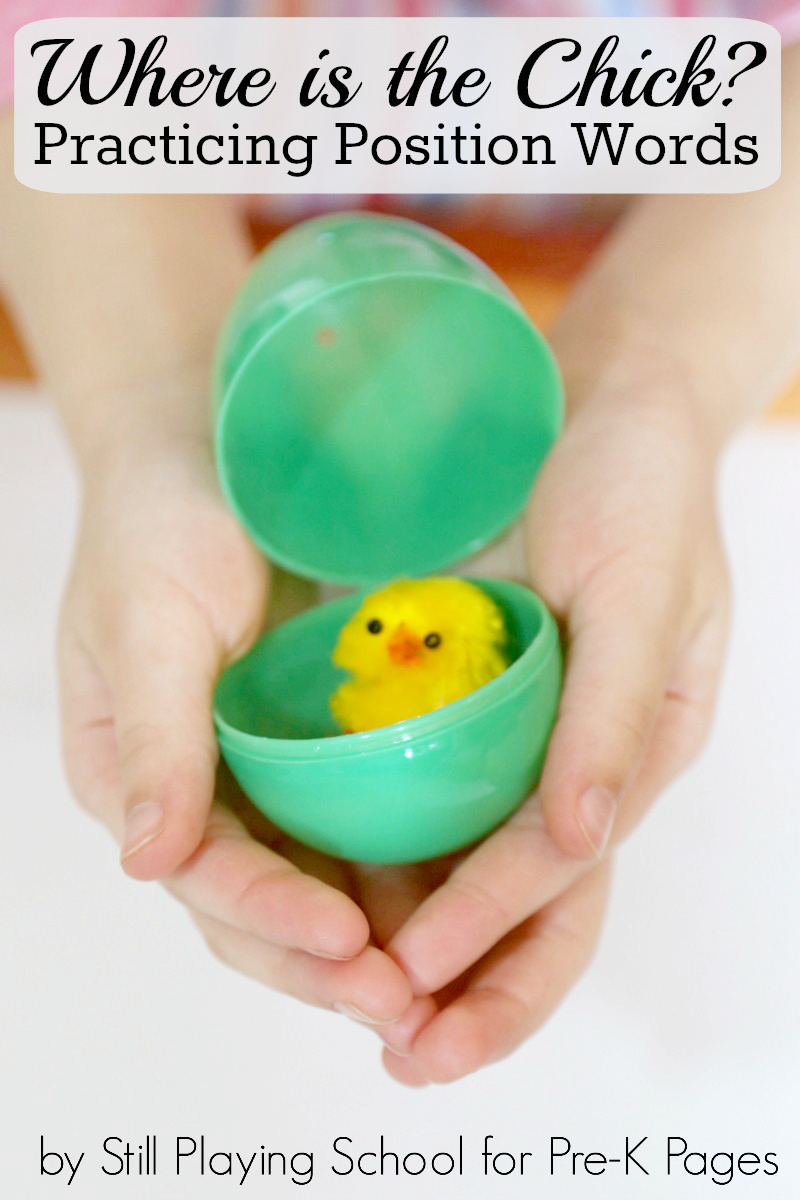 Position Words with Plastic Easter Eggs
You will need:
Plastic  Easter eggs
Chicks (or other small items that will fit inside the eggs)
Sentence strips to write position words (optional)
If you have enough plastic Easter eggs and chicks for the whole class, you can play this game as a whole group activity that is sure to get the fidgets out! This idea also works brilliantly as a small group preschool center or even a seasonal circle time idea.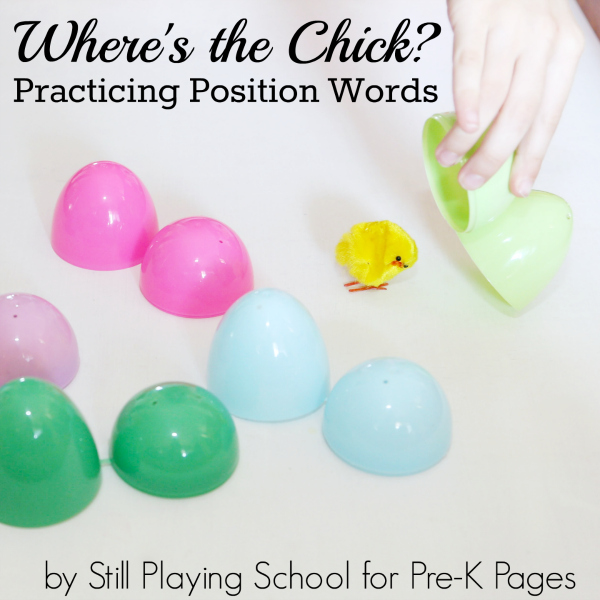 Using Positional Words
Begin by giving each child an egg with a chick (or other seasonal objects like thematic erasers) inside. Ask children to shake the egg to see if it is empty.
"Oh, it sounds like there is something inside! What could it be? Let's open the eggs to find out!"
Teachers and students will naturally be using position words to describe the chick in relation to the egg.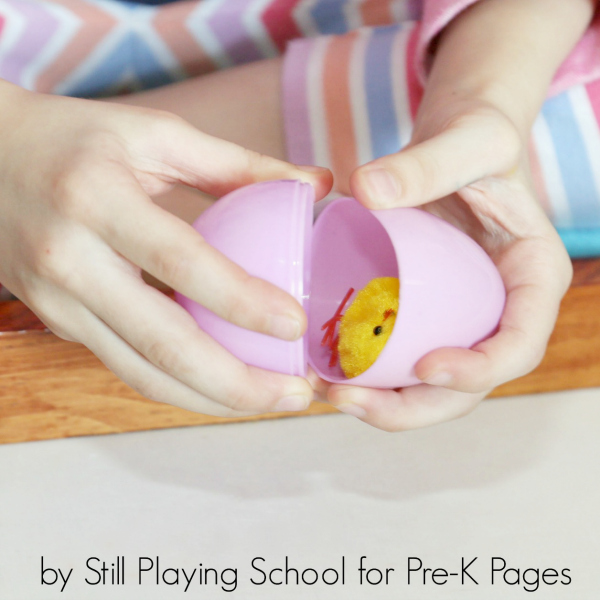 "The chick was just in the egg! Can you put him back inside the egg? Can you dump him out of the egg?"
"Using two eggs you can put the chick between the eggs. Hold your chick over the egg. Can you hide him under an egg?"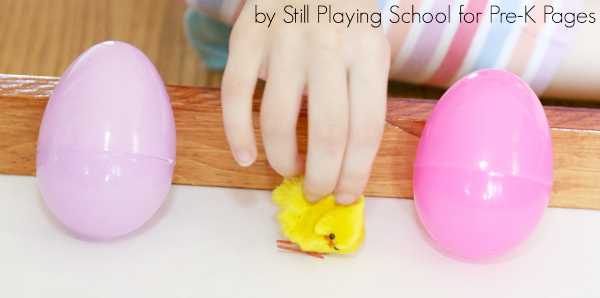 Once children have all had a chance to put their chicks in the correct places as you name the position words, you can try the alternate activity. During circle time each day, put the chick in position in relation to the egg. Ask the children to describe where the chick is. For older preschoolers, write a sentence with the correct position word of the day.
"The chick is above the egg. The chick is below the egg. The chick is beside the pink egg!"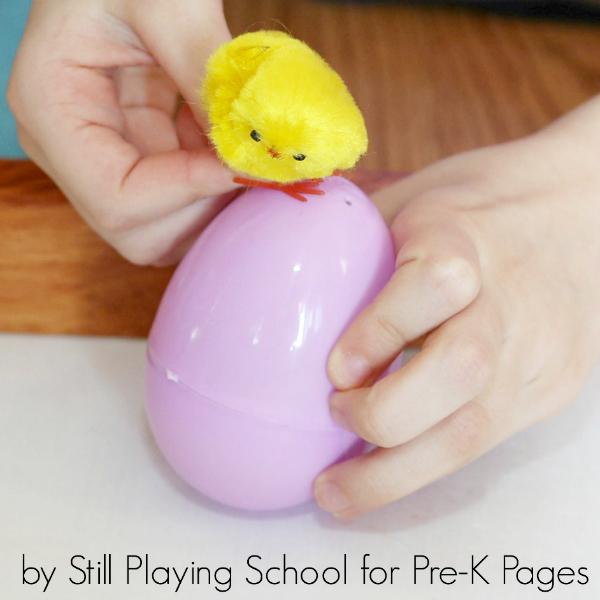 Our children really enjoyed taking turns hiding a few chicks inside or under eggs while leaving others empty. They invited their friends to find the hidden chicks over and over again!
More Easter Activities
Easter Fine Motor Activities for Preschool-This Easter themed cutting skills tray will provide your kids with plenty of fine motor practice. These activities will help your kids build fine motor skills in fun and playful ways, so they won't even know they're learning.
Easter Playdough Activity for Preschool-This Easter playdough activity tray is super quick and easy to set-up at home or in your classroom. But don't be deceived by the simplicity of this activity, it actually supports the development of many crucial skills that will help your kids be successful in school – and life!
Easter Egg Process Art– This plastic Easter egg process art activity is inviting and enjoyable – all in one! Oh, and it's also messy. We did it outside to fully enjoy and embrace the experience.
Easter Play Dough Counting Mats-A set of free Easter play dough counting mats to help your kids develop number sense and fluency within ten. Includes 10 printable color mats for you to use in your play dough center.
BIO: Devany LeDrew is a former kindergarten teacher who writes at Still Playing School where she shares play based learning activities. She specializes in fine motor activities and has co-authored two books of fine motor ideas! Follow Still Playing School for more engaging educational ideas on Facebook, Instagram, Pinterest, and Twitter!
More Easter Ideas