Do your kids love to play bingo? Here's a fun Thanksgiving bingo game your kids can play during your celebrations at home or in the classroom.
Your kids will enjoy playing this bingo game with family and friends or in small groups at school.
There's also a black and white version because I know how expensive ink can be. Keep reading to grab your copy of this classic game.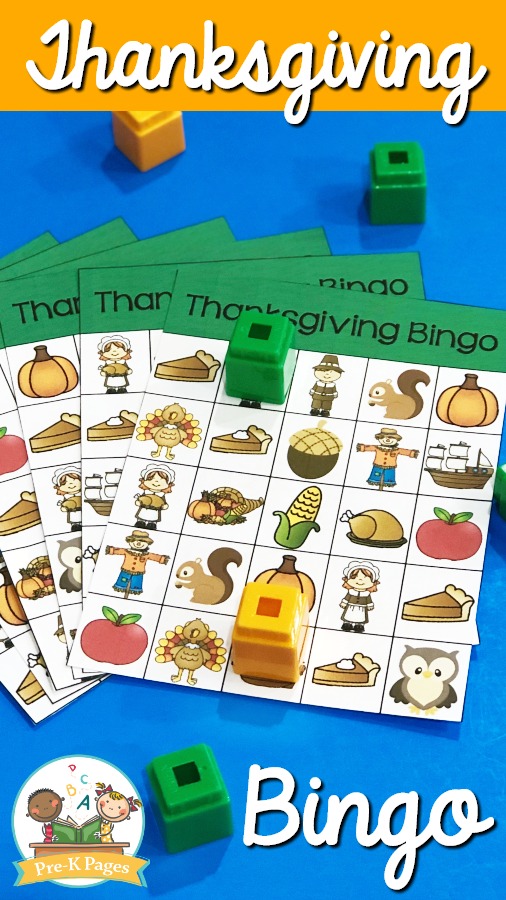 Thanksgiving Bingo
Bingo isn't just a fun little game, it also has lots of educational benefits for kids. Did you know that playing bingo can help kids develop important skills like listening, self-regulation, and visual discrimination?
Now you have a perfect excuse to play bingo this Thanksgiving, you're welcome!
Invite a parent volunteer or older child to play this game with a small groups.
Playing bingo with young children can be tricky, listening and following directions can be tough for little ones!
That's why I like to play bingo with small groups of children- not only is it more cost effective (ink, manipulatives etc.) but it's much easier to manage.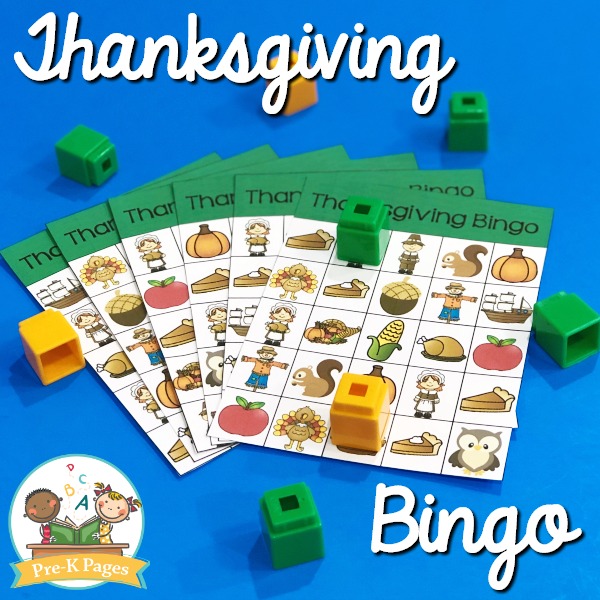 Printable Thanksgiving Bingo Game
Another great thing about bingo is that it's the perfect way to introduce children to the concept of playing group games. There are very few rules and each player has his or her own game board.
Supplies Needed for Thanksgiving Bingo Game (Color)
Printable color version of the Thanksgiving Bingo Game (download below)
If you would like to use the color version of this game, print the bingo mats on cardstock first, cut out the mats, and then laminate for durability.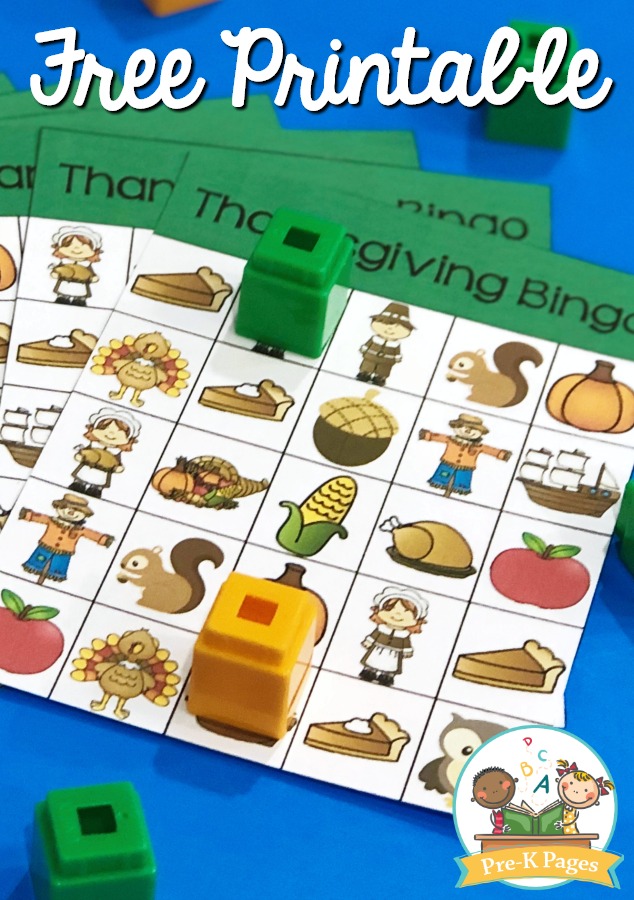 Black and White Thanksgiving Bingo Game Supplies
Copy paper
Crayons or Do-a-Dot markers
Printable black and white version of the Thanksgiving Bingo Game
Each child in your small group should get one bingo mat.
Next, place a bowl or basket of manipulatives to use as bingo chips in the center of the table so all the children can easily reach them. I used Unifix cubes but you can use whatever is most suitable for your kids.
If you would prefer to use the black and white ink-saver version of this game, give crayons or one Do-a-Dot marker to each child. Do-a-Dot markers are very fun and engaging for young children, they just love using these little paint filled markers to search for pictures on their bingo mat!
Then, demonstrate how to listen to the bingo caller, then search for an image on your bingo mat and cover with a manipulative or mark if the image is found. You may need to demonstrate this process for your children a few times until they get the hang of it.
Finally, start playing and let the fun begin!
Download Thanksgiving Bingo
You can download the printable Thanksgiving bingo game below. Happy Thanksgiving!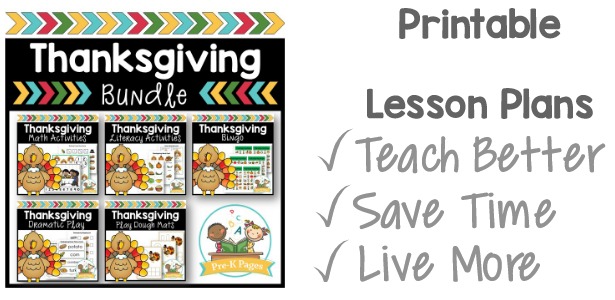 More Thanksgiving Activities