Do you need a super cute treat bag for your kids or a classroom Thanksgiving party? These turkey popcorn treat bags are quick, easy, and inexpensive to make. You can't get much more adorable than this, and you can customize the contents to suit your needs!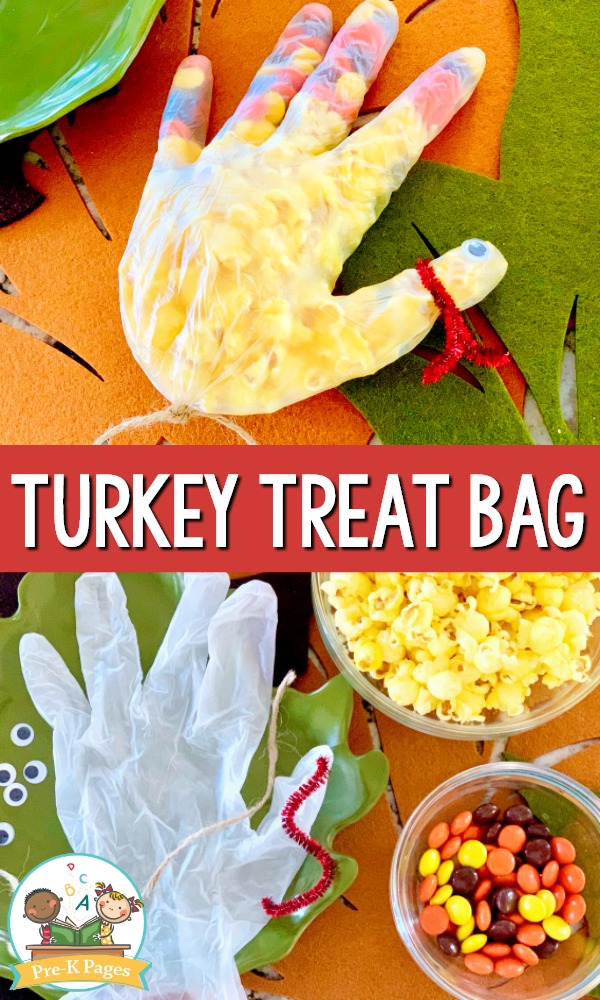 Turkey Popcorn Treat Bags
It doesn't matter if you're a teacher or a parent, these treat bags are absolutely perfect for school parties. You can even use them to decorate your Thanksgiving table for your family celebration at home. Just tie a name tag to to each turkey and you've got the most unique Thanksgiving place cards ever!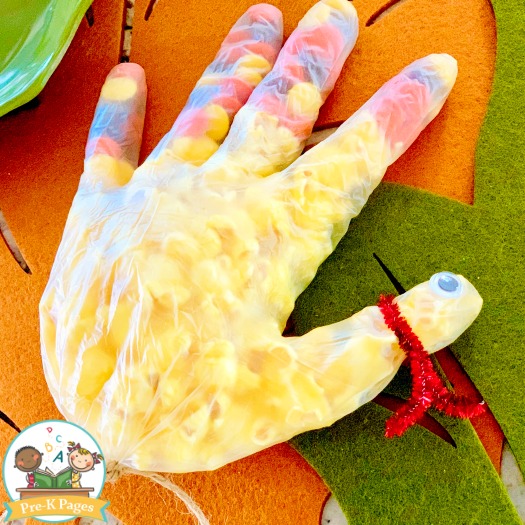 Turkey Popcorn Treat Bag Supplies
While these treat bags have been around forever, remember that your kids haven't. Classic kid crafts and treat bags like this are always going to be fresh and fun for young children. Here are the supplies you'll need to make your own treat bags.
Clear Disposable Gloves
Twine or Ribbon
Googly eyes
Red pipe cleaners
Popcorn (popped)
Reeses Pieces, Candy Corn, or Goldfish Crackers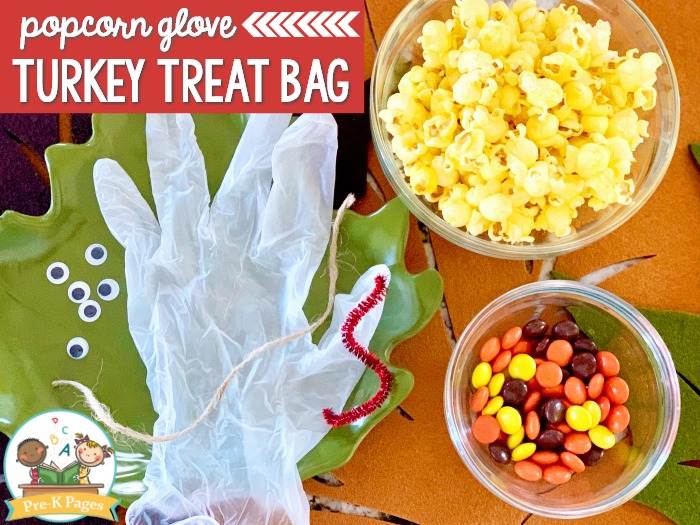 How to Make Turkey Popcorn Treat Bags
Begin by filling the fingers of each glove with candy or Goldfish crackers. If you work in a program that doesn't allow candy then you can choose to use the Goldfish crackers.
If you want to be all fancy you could stuff each finger of the gloves with a different color of candy or crackers. But if you want to keep things simple (who doesn't?) then mix it up and live a little! Trust me, your little ones won't care if the colors are mixed, they just want to gobble up the candy. #truestory
Don't be stingy with the candy when filling the fingers of the glove. They need to be completely filled so the fingers, or "feathers", will stand up and not flop over. Nobody wants floppy turkey feathers!
Next, fill the rest of the glove with your popped popcorn. You'll want to stuff as much popcorn in the middle of the glove as possible to hold the candy fingers up.
Finally, twist the opening at the bottom of the glove tightly and tie it securely with your ribbon or twine.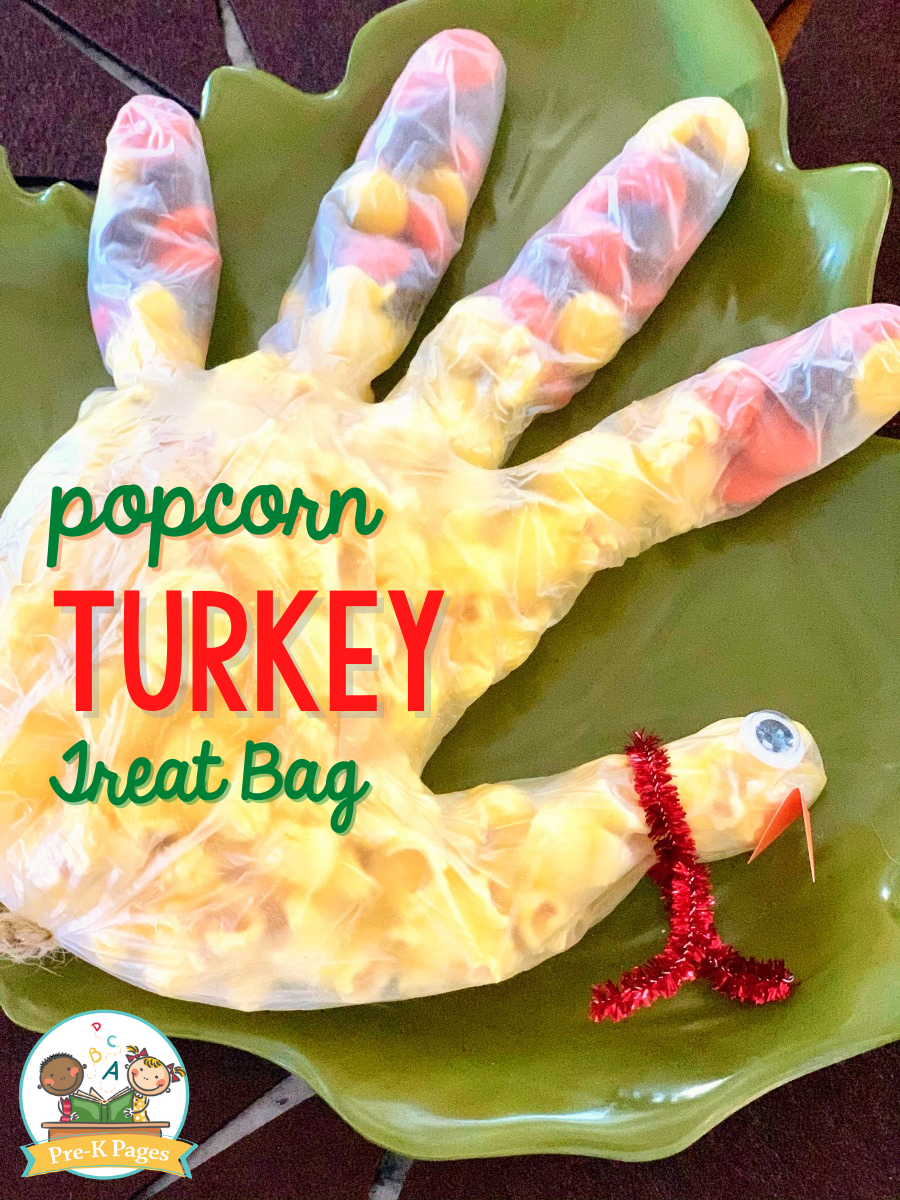 Now it's time to make the turkey's face and waddle. Start by gluing a wiggly eye near the end of the thumb.
I tried to keep this treat bag as simple as possible so the only thing that requires glue is the googly eye. You can use a hot glue gun to attach the eye if you're making these bags yourself. Self-adhesive wiggly eyes would be perfect to use if your kids are making these bags on their own. Liquid glue works too, just be sure to allow plenty of time for them to dry before you send them home.
You could also glue on a small triangle of orange paper to make the turkey's beak.
The waddle is super easy to add, just have your kids twist a small length of red pipe cleaner around the thumb. That's it! Your turkeys are now ready to be sent home or given to your guests as party favors.
These turkey popcorn treat bags are always a huge hit at school parties, year after year!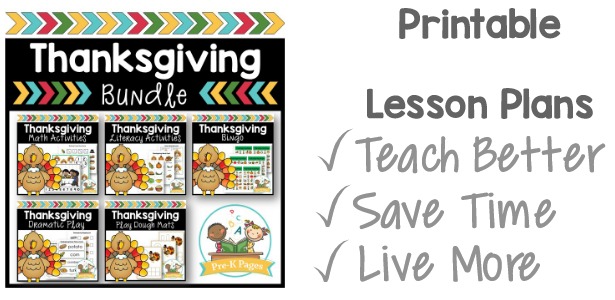 More Thanksgiving Ideas