In November, we celebrate the harvest and can give thanks for what we have. In the United States, Thanksgiving is this month, too. Fall is the season fully on us. Many natural learning opportunities arise in November. Explore these preschool curriculum themes and activities in November.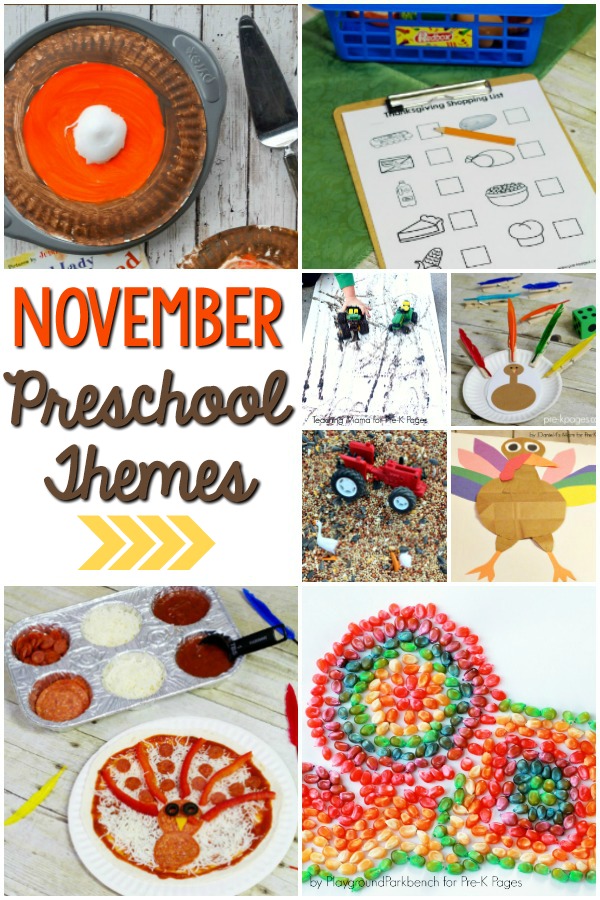 November Preschool Themes
THANKSGIVING
The
Thanksgiving
holiday is a mix of the season, family, culture, and food. Preschoolers can have opportunities for lots of learning nd exploration through activities related to Thanksgiving. (Check out the harvest ideas for your Thanksgiving theme, too.)
Thanksgiving Bingo
Thanksgiving Play Dough Mats
Friendship Fruit Salad
Feathers on the Light Table
Paper Plate Pumpkin Pie Craft
Turkey Beanbag Toss
Thanksgiving Songs for Preschoolers
Thanksgiving Snacks
Pumpkin Play Dough
Pumpkin Pie in a Cup
Sprouting Sweet Potatoes Science Activity
Thanksgiving One-to-One Correspondence Activities
Thanksgiving Dramatic Play Printables
Holiday Geoboards Bundle
Holiday Pattern Blocks Bundle
Thanksgiving Books
Thanksgiving Math Activities
Thanksgiving Literacy Activities
HARVEST/FOOD
If your center does not celebrate Thanksgiving, you can still focus on the harvest and food aspects of the season. Some of the Thanksgiving ideas could be adapted away from the holiday and more toward harvest. Check out these ideas for your harvest exploration.
Harvest I-Spy Bottle
Colored Corn Mosaic Art
Scarecrow Sensory Bin
Scarecrow Counting Game
Corn Shakers
Books About Food Community Helpers
Books About Scarecrows
Vegetable Number Puzzles
Farm Sensory Bin
Little Red Hen Play Dough Activity
Painting with Wheat
Sequencing with Little Red Hen
Exploring Vegetables with Senses
Corn Play Dough Exploration
Garden Dramatic Play
Tractor Painting
Apple Life Cycle
Apple Orchard Dramatic Play
Friendship Fruit Salad
Little Red Hen Math
Little Red Hen Literacy
PUMPKINS
Pumpkins make a fun exploration in November. Include them as part of harvest or as a separate theme. Pumpkin theme could be a good bridge between October and November.
Books About Pumpkins
Learning Activities with Pumpkins and Gourds
Pumpkin Soup Color Mixing
Pumpkin Science Exploration
Pumpkin Measurement
ABC Pumpkin Patch Game
Pumpkin Art Exploration
Pumpkin Sensory Bag
Five Little Pumpkins Snack Activity
Pumpkin Patch Dramatic Play
Pumpkin Patch Dramatic Play Kit
Pumpkin Math Activities
Pumpkin Literacy Activities
Pumpkin Life Cycle
Planting Pumpkin Seeds in a Pumpkin
Pumpkin Play Dough
Pumpkin Sticker Decorating
Pumpkin Read Aloud Activity
Pumpkin Bundle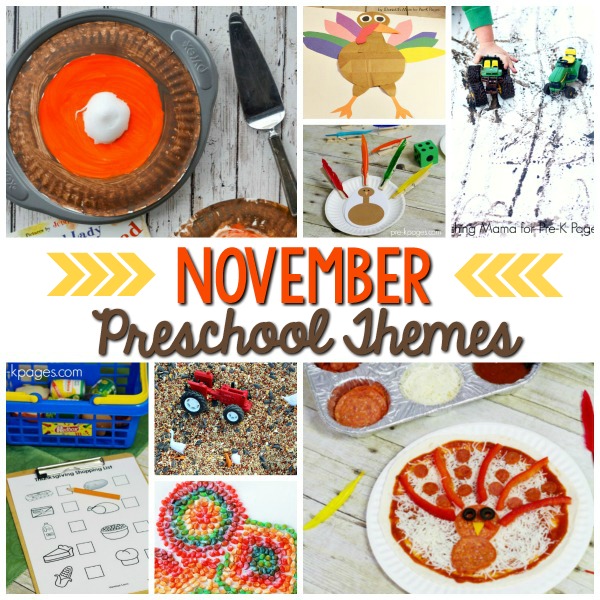 Preschool Curriculum Themes for November
SEASONS/LIFE CYCLES
November can be a great time to think about the seasons and life cycles. Talking about all the seasons together helps boys and girls begin to understand more about the passing of time and the cycle of each year.
Books About Seasons
Geoboards Seasons Bundle
Books About Seeds and Plant Life Cycles
Animal Life Cycle Books
What's the Weather? Dramatic Play
Frog Life Cycle Play Dough Activity
Butterfly Life Cycle Activity
Caterpillar Life Cycle Art Activity
Lima Bean Life Cycle
Sunflower Life Cycle
Sea Turtle Life Cycle
Apple Life Cycle
Exploring Life Cycle of Trees and Flowering Plants
Butterfly Life Cycle Sensory Bin
Pattern Blocks Season Bundle
Little Red Hen Bundle
Geoboards Seasons Task Cards
Measurement Activities
FOREST
A variation or extension of a leaves/trees theme is a forest theme. Preschoolers could investigate trees and animals of the forest. They could also focus on fairy tales that take place in a forest. Investigation of forests could be a fun theme for November.
Books About Trees
Acorn Sink or Float Experiment
Going on a Bear Hunt Snack
Feed the Squirrel Counting Game
Nature Investigation Table
Acorn Activities
Goldilocks and the Three Bears Mini Word Wall
Goldilocks and Three Bears Bundle
Bears Activities
Going on a Bear Hunt Activities
Bear Phonological Awareness Activity
Bear Paws Counting Activity
Bear More or Less Activity
Busy Squirrel Class Book
Squirrel Alphabet Game
Squirrel Book and Literacy Activity
Red Riding Hood Bundle
Play Dough Task Cards
Theme Pattern Blocks Bundle
CAMPING
Camping is a fun fall activity. Explore a camping theme with your preschoolers, from setting up a campsite to tasting s'mores trail mix. Look at these ideas for creating a fun theme with camping.
Camping Books for Preschoolers
Pretend S'mores
Printable S'mores Trail Mix Recipe
DIY Paper Vest and Binoculars
Pretend Campfire
Campfire Process Art
Firefly Jar Activity
Camping Dramatic Play
DIY Camping Lantern
Camping Theme Ideas
Play Dough Task Cards
Camping Theme Process Art
Flashlight Literacy Activity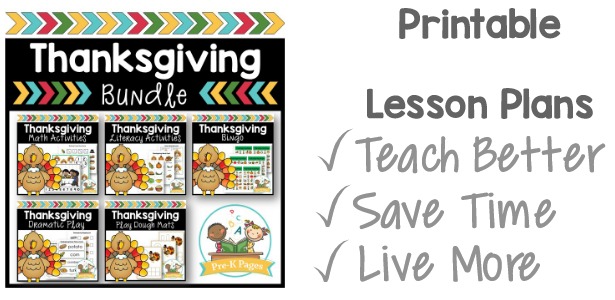 Need more theme ideas? Check out our theme list.
Curriculum Themes