The kids and I have been having a lot of fun recently exploring different aspects of the Wizard of Oz, and so when we were stuck inside on a recent rainy day, I thought it was the perfect opportunity to create and explore a Scarecrow Sensory Bin! Scarecrow activities are also great for fall, harvest, and Thanksgiving themes.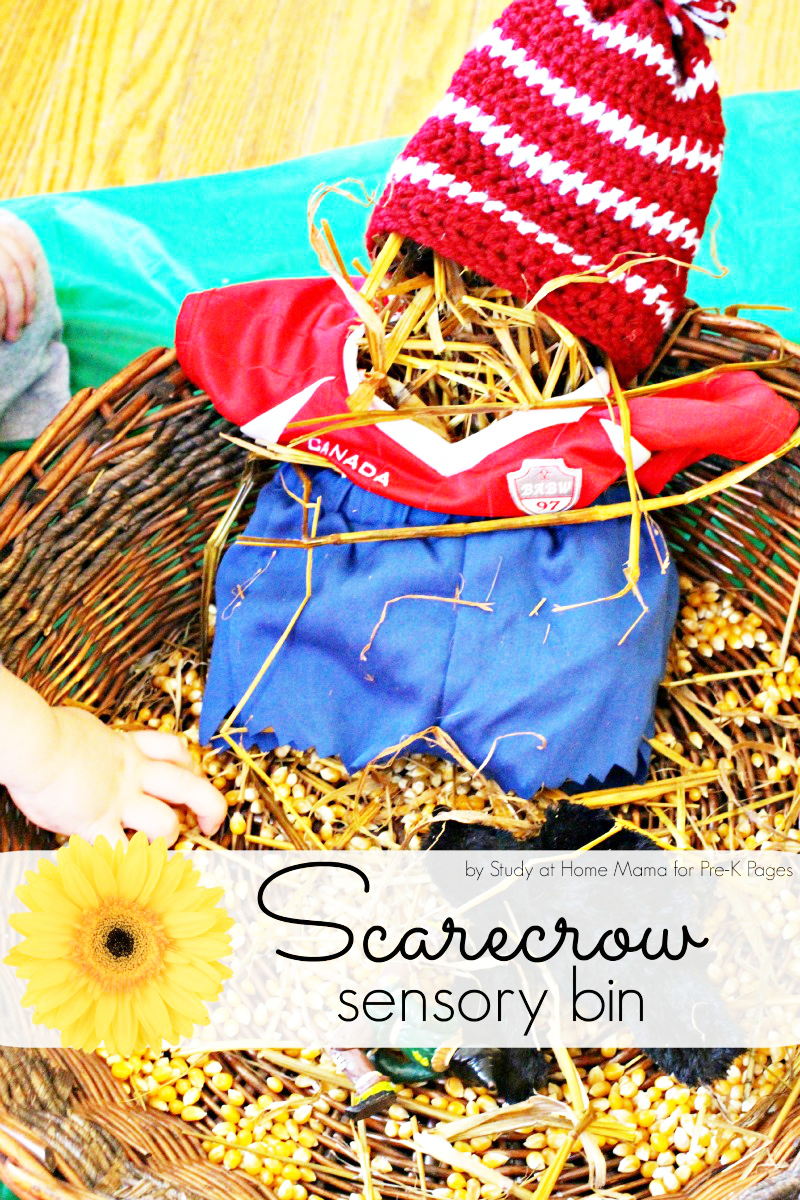 Materials for a Scarecrow Sensory Bin
Straw, hay, or crumbled paper
Doll clothes
Corn kernels (we used old popcorn kernels)
Crow finger puppet (can be used at circle time to learn Scarecrow or bird-related songs)
Scarecrow figurine, optional
I included the scarecrow figurine so as to model to the children what the finished scarecrow could look like, while allowing me to sit back and allow them to express themselves without my input. This is important for me so that the children can feel freedom to explore without having to please me or worry about what I want them to do.
Start by reading a few books about scarecrows to introduce the concept and build background knowledge.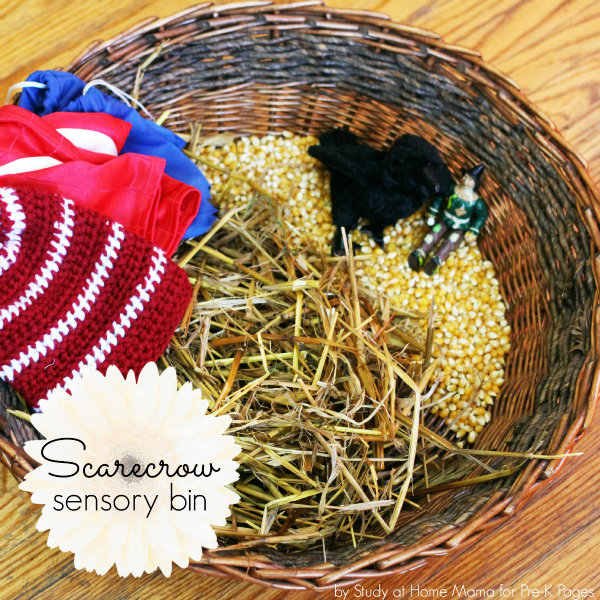 This sensory bin was super easy to put together with items we already had on hand. If you don't already have some hay or straw from other sensory activities, shredded paper would make a great substitute.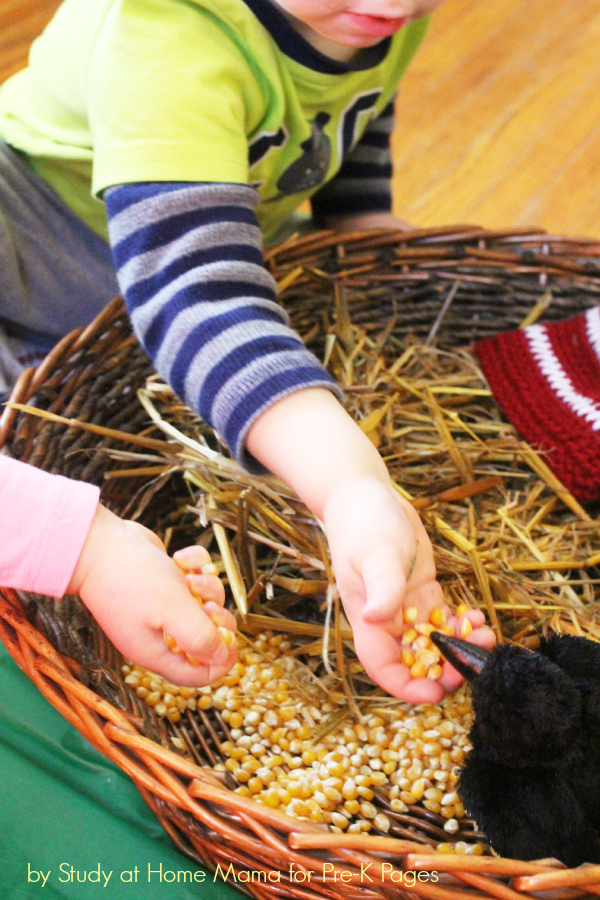 Explore and Play
The children first had a lot of fun exploring the corn kernel–feeding it to the crow puppet, feeling it slip through their fingers, and watching individual pieces of corn drop from high above the bin.
We also had a lot of fun counting the corn kernels. The children scooped up big handfuls and then counted each piece, one by one, as we returned the corn to the sensory bin.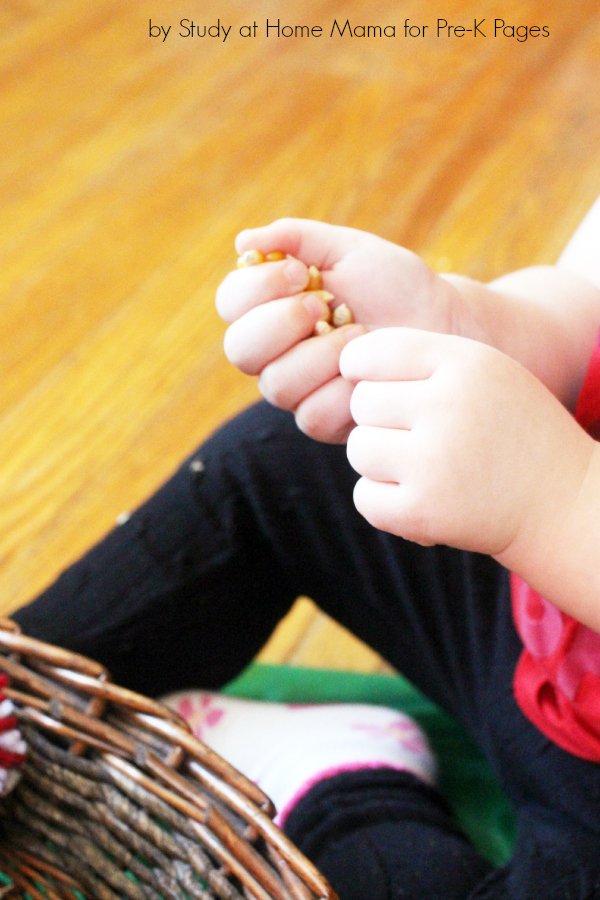 It is really important to me when I develop my sensory bins that I include materials that can be used in a variety of ways so that each child can find a way to explore what they are interested in. For some children, that will be using descriptive language to describe the textures of the corn kernels, and for some, it will be using the kernels to count.
Allowing children to express learning concepts naturally is a great way to observe what children actually understand about a given topic, and can help you pick future activities for them based on their genuine interests.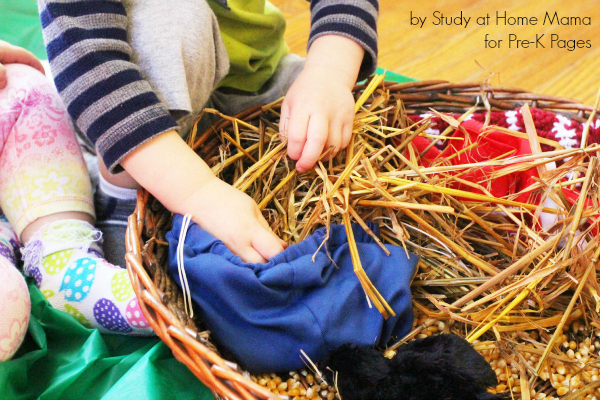 Make a Scarecrow
After they were done playing with the corn kernels, the children moved on to making their scarecrow! It was really cool watching them problem-solve how to fill up their scarecrow with the materials given. They attempted to use the corn at first, but realized quickly that the corn fell right out the legs of the shorts we were using. However, the hay stayed put!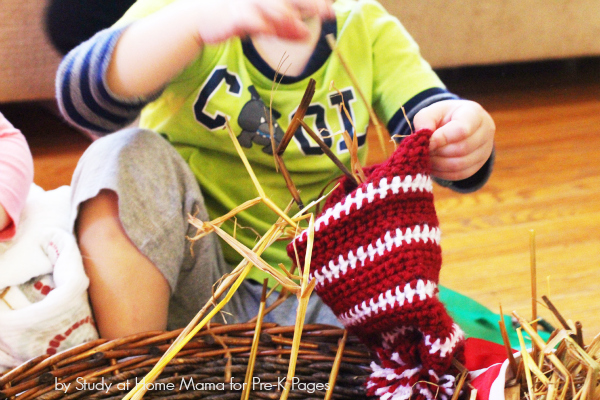 The children worked hard to stuff the hay into the doll shorts, shirt, and hat, and then they fit the various components of the scarecrow together. (Tip: Start by tucking the clothing into each other.)
What do you think? Would your children love to make their own scarecrows with this scarecrow sensory bin? What materials would you add to encourage sensory play?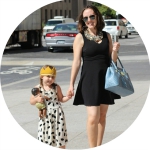 BIO: Jennifer Tammy writes at Study at Home Mama where she shares hands-on learning activities, easy recipes, and parenting inspiration. She is a single mom of one, a trained psychologist, and Montessori-certified preschool owner. You can connect with her on Facebook, Pinterest, or Instagram.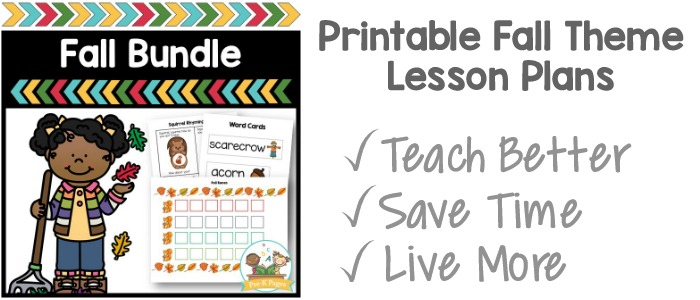 More Sensory Bin Ideas