Are you looking for ideas to spice up your science lessons? This pumpkin volcano science experiment is always a huge hit with little learners everywhere! There are also step-by-step picture directions in the freebie below, so keep reading to grab your copy.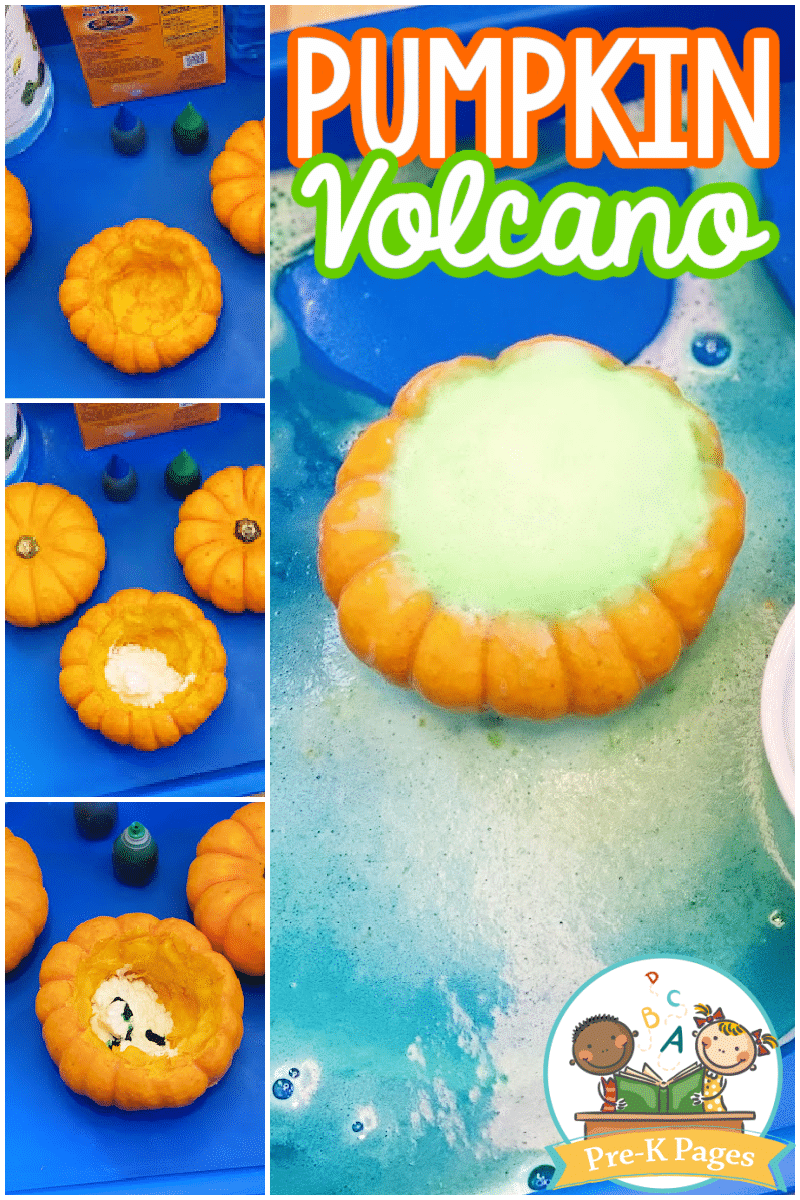 Exploding Pumpkin Volcano Science Activity
If you're looking for a super fun fall science experiment that uses simple ingredients, then you're in the right place! While this pumpkin science activity may look like fun on the surface, there are actually age-appropriate learning goals and objectives that are being taught while conducting this lesson.
And those learning goals, they're not what you may think. The goal of this activity is not for young children to understand chemical reactions and how they work. Instead, your kids will be learning how to make predictions and record their observations – which are important parts of the scientific process.
Those are the only two learning objectives for this science activity, and nothing more. Of course, if your kids are curious, you might talk a little bit about the term "chemical reaction" and the definition.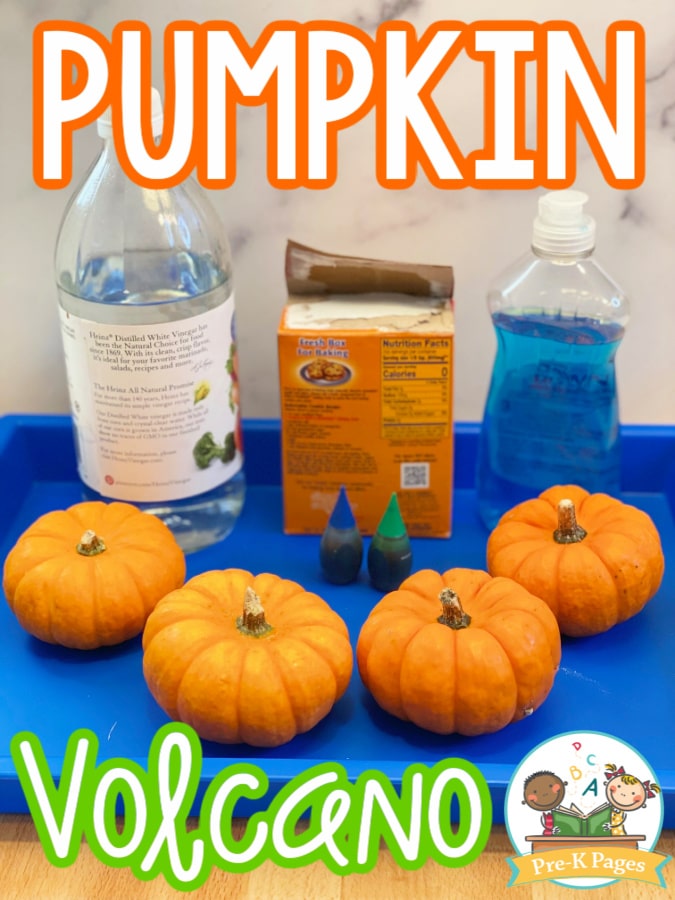 Mini Pumpkin Volcano Fall Science
Here are the tools and supplies you will need to gather to prepare this simple science experiment.
Mini pumpkins
Baking soda
Food coloring
Vinegar
Dawn dish soap
Knife (to cut pumpkins)
Spoon (to scoop out pumpkins)
Measuring spoons
Bowl (to put pumpkin pulp and seeds)
Measuring cups
Tray or shallow pan (to place the pumpkins)
Prediction/Observation t-chart (Pumpkin Science Unit)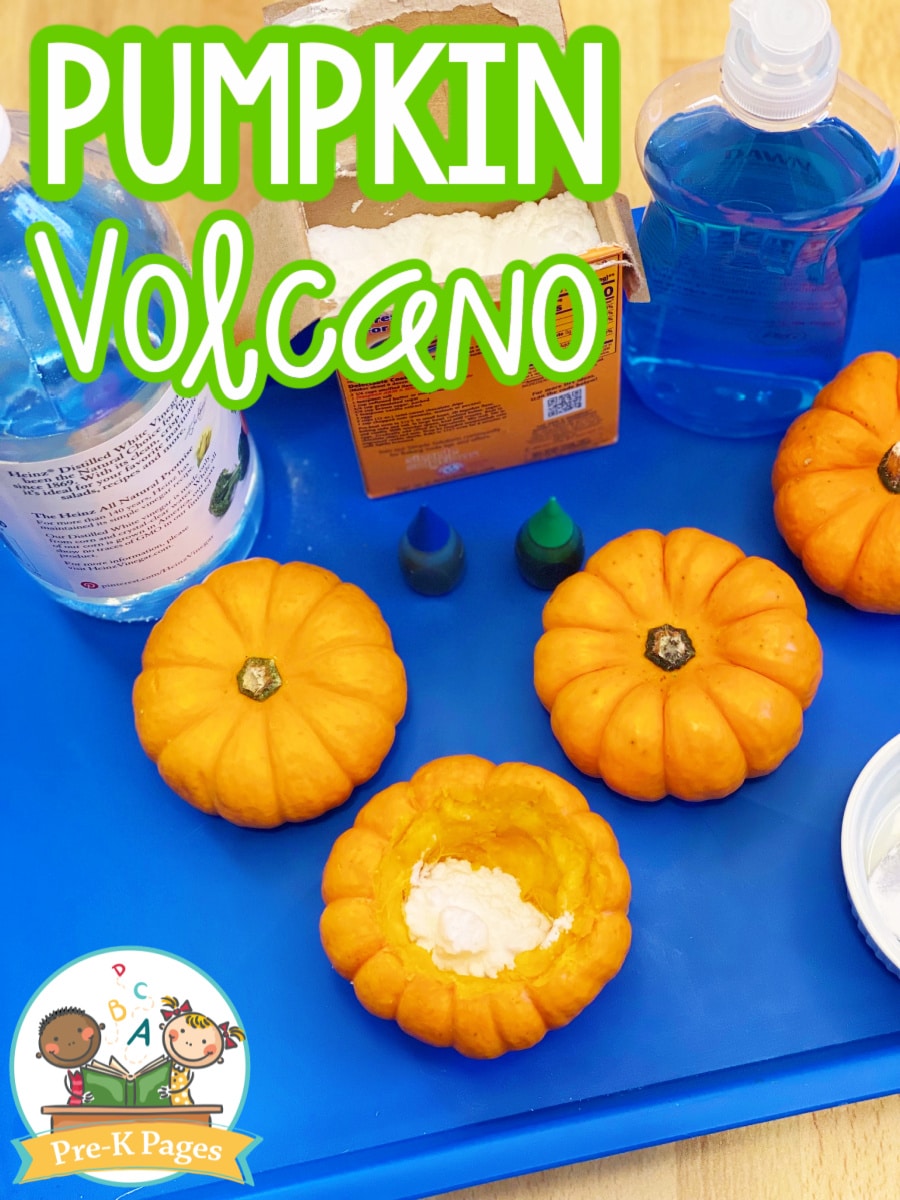 Pumpkin Volcano Experiment for Kids
Before you dive right in and start exploding your pumpkins, you'll need to decide how you'll prepare your space. Since this activity can be messy, you'll definitely want to put your pumpkins inside of something like a tray, container, pan, or tub to contain the mess. Another idea is to take the activity outside if the weather permits to avoid any potential spills or stains.
Next, place all of your supplies and tools on a table along with your chosen container. Trust me, you definitely don't want to be scrambling around trying to locate supplies, tools, or ingredients while your kids are waiting.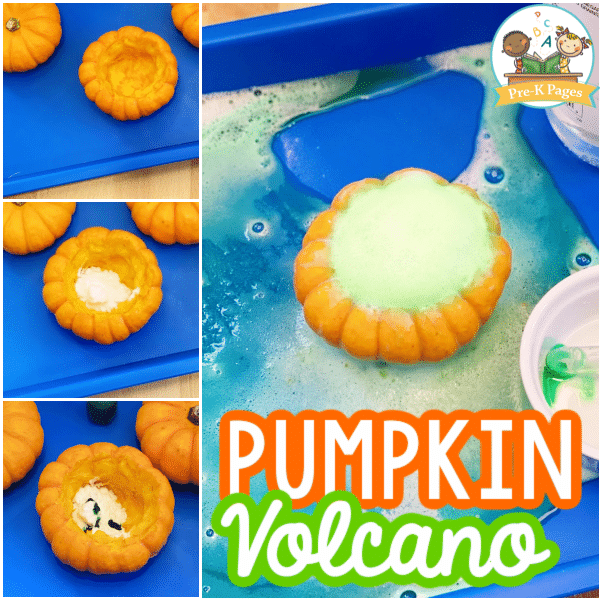 How to Make a Pumpkin Volcano
Now that you've prepared your space and gathered your supplies and tools, you might think it's time to get started making those mini pumpkins erupt. But before the wild rumpus can begin, invite your students to record their predictions about what they think might happen when the ingredients are added to the pumpkins. You'll need to show them all the ingredients first and name them.
After you've shown your students the ingredients, then give one prediction/observation t-chart to each students. Invite your students to draw a picture of what they think might happen when the ingredients are added to the pumpkins. You can fold the paper in half and hand them out with the prediction half facing up to prevent them from drawing on the observation side yet.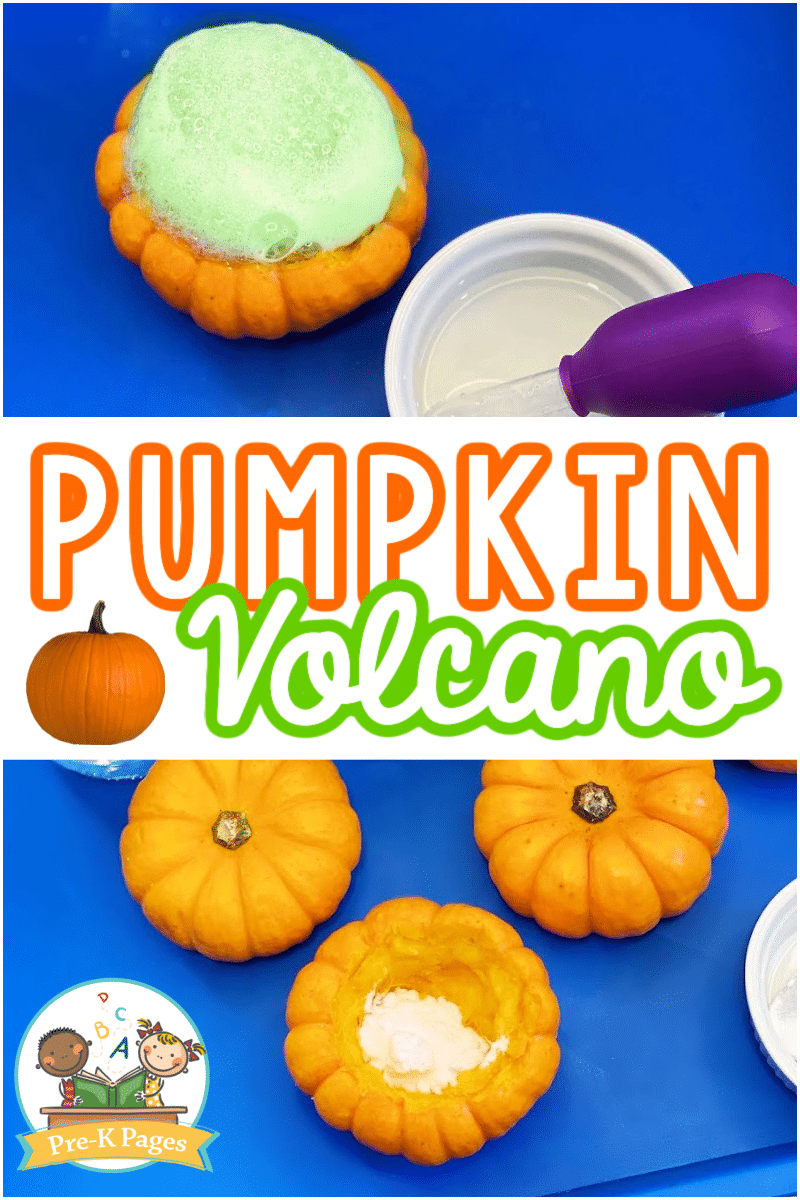 Pumpkin Volcano Science Activity
Gather the prediction sheets from your students to keep them save from the vinegar and food coloring. Finally, you can invite students to help you add the ingredients to the pumpkins one at a time. When it's time to add the vinegar, present it to them in a bowl and invite them to use the eye droppers to fill the mini pumpkin with vinegar – then listen to them squeal with delight.
Here's the tricky part, the amount of ingredients you need will depend entirely on the size of your pumpkins. You could conduct this experiment with one large pumpkin, or you could use several mini-pumpkins, the choice is yours. I like to use several mini-pumpkins so we can use a few different colors to make it even more colorful and fun.
Generally speaking, you'll need the following amounts for one mini-pumpkin:
2 tablespoons of baking soda
4-5 drops of food coloring
one small squirt of liquid dish soap
1/3 to 1/2 cup of vinegar
I recommend trying this experiment out without your students present first, just to get an idea of approximately how much of each ingredient you'll need for your specific pumpkins. For large pumpkins, just adjust the amounts of each ingredient accordingly.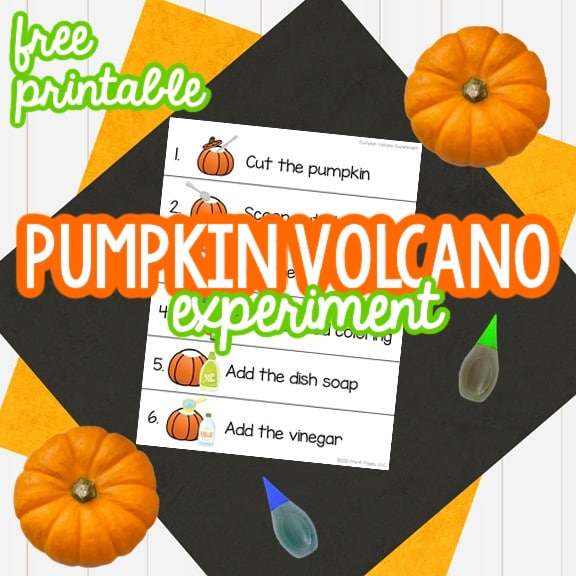 Picture Directions Free Printable
In the picture recipe below, I've laid out each step of the process for you. I prefer to have the students add the vinegar last because they can use their eye droppers to add the vinegar. Another added benefit of using eye droppers is that it is great fine motor practice! Your kids will be so highly motivated to use the eye droppers they will never even know they're actually practicing an important skill like fine motor.

At the conclusion of the experiment, give each child their paper and invite them to record their observations of the right side of the page. Have a discussion about how their predictions and observations were the same or different and why. Explain that this is something scientists do, they make predictions and observations, and change their thinking when their predictions don't match their observations.
There you have it, a fun, hands-on exploding pumpkin science activity that has age-appropriate learning goals and objectives- you're welcome!
If you're looking for more pumpkin science activities then you need my Pumpkin Science Unit!
More Fall Ideas