Do you need a healthy snack idea for a rainbow theme or St. Patrick's Day? This colorful rainbow fruit snack is perfect for your preschool, pre-k, or kindergarten classroom!
While your little learners may prefer sweet treats over a healthy snack, when they're involved in the process of making this rainbow snack you'll be surprised at how many will give it a try.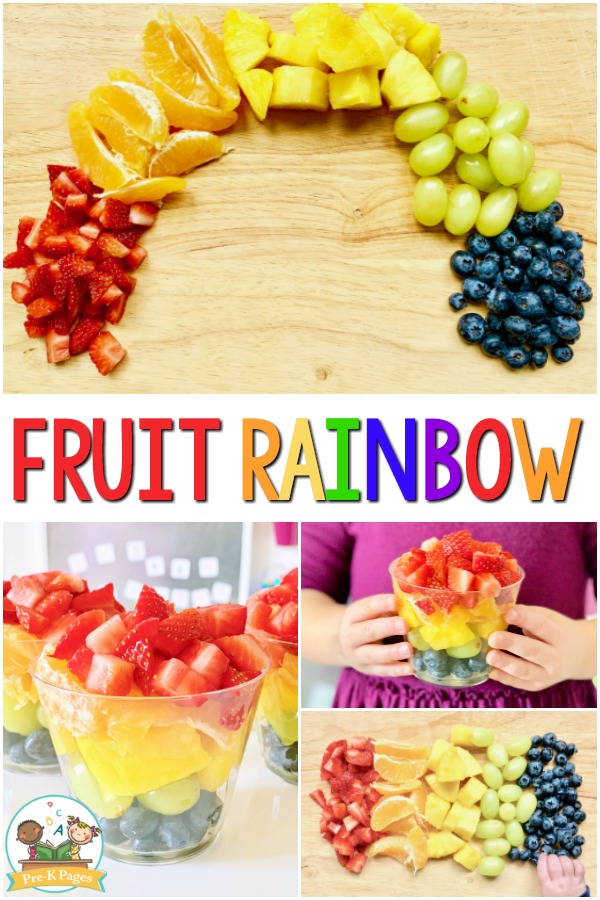 Rainbow Fruit Snack
You may be thinking, "Not my kids!" but I assure you the key is to get them interested and motivated first. You can spark their interest and motivate them by reading books about rainbows, there are even some great age-appropriate books about fruit salad —who knew? Use this book list below as a starting point and check your local library:
After reading your book of choice aloud to your kids, invite them to make their own fruit salad.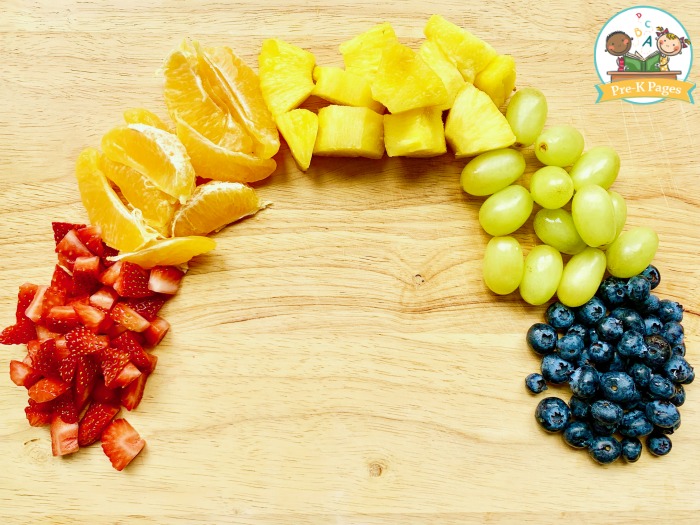 How to Make a Rainbow Fruit Snack
The great thing about fruit is that it comes is so many beautiful colors, you have choices for each color of the rainbow with fruit. Here are some fruit suggestions for you below:
Red: strawberries, red grapes (sliced)
Orange: mandarin oranges, tangerines, tangellos
Yellow: bananas, pineapple
Green: kiwi, green grapes (sliced)
Blue: blueberries, purple grapes (sliced)
These are just suggestions, the fruit you have available in your area may differ, just use whichever fruit is the easiest to source in your area.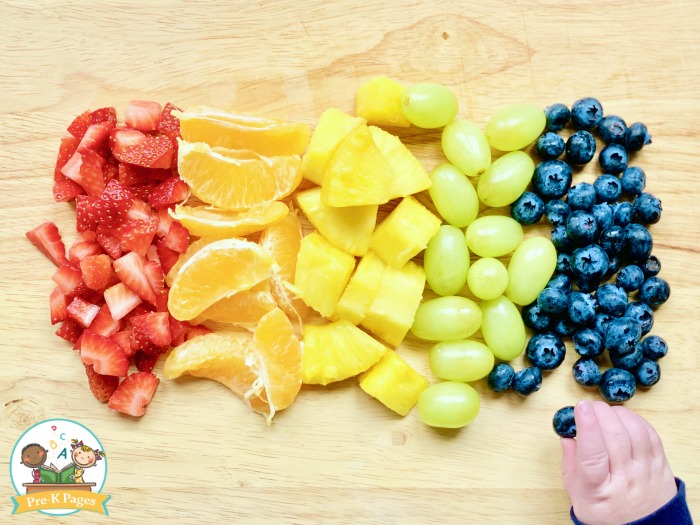 The amount of fruit you'll need will depend entirely on your class size. The larger your class, the more fruit you will need to make your fruit salad cups. You could also ask your parents to donate the fruit if you're allowed to do so.
After you've gathered your fruit, you'll need to decide if you're prepping the fruit ahead of time or if your students will be involved in any of the prep work.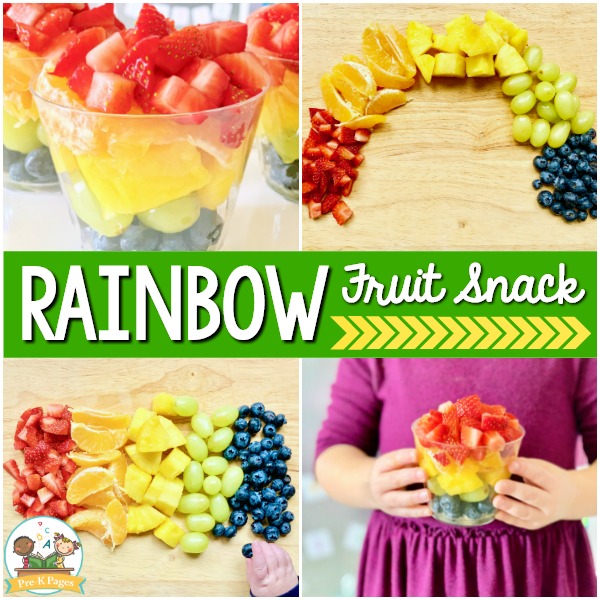 St. Patrick's Day Rainbow Snack
First, you'll need to wash your fruit. Some fruit will require additional preparation such as slicing or peeling. When working with young children it's also important to slice your grapes.
After all the fruit has been prepped, now it's time to assemble your fruit cups. If you use clear cups the colorful fruit will be more visually appealing to your kids and may even entice them to give it a try.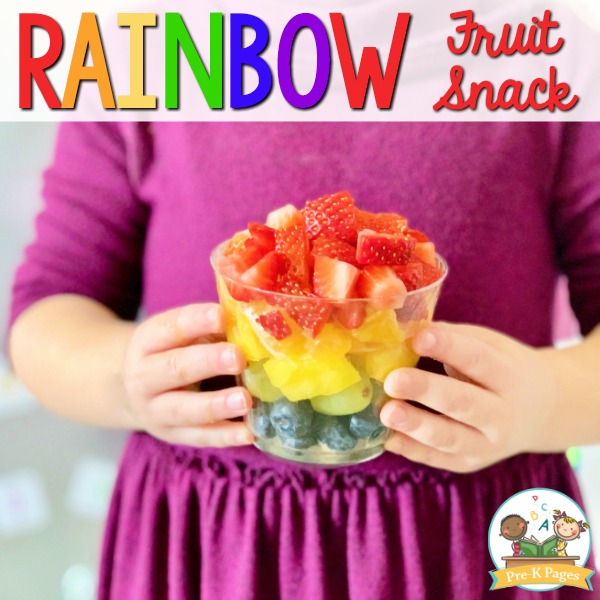 Fruit Salad Cups
Before the assembly begins, have your students wash their hands thoroughly. Then, invite your students to layer the fruit in their cups, one color at a time.
If you're worried that your kids may be reluctant eat the fruit, you can may consider adding a few spoonfuls of vanilla yogurt on top. If you add yogurt, then you may also want to give them forks or spoons to stir the fruit and cover it with the yogurt.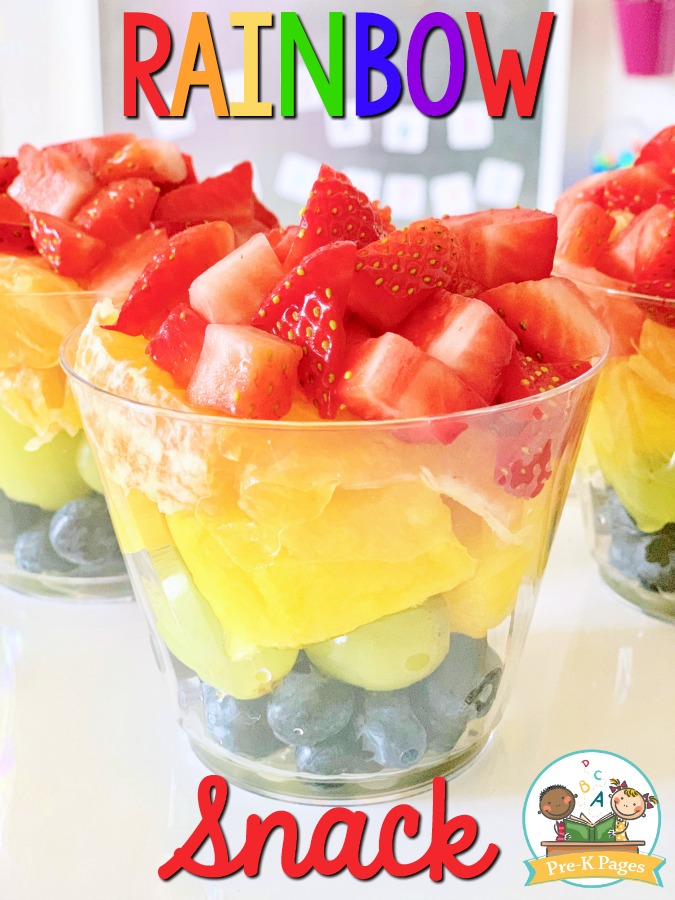 Eating Rainbow Fruit Cups
Finally, the time has come to eat your fruit salad cups. As your students sit down to enjoy their rainbow creations, ask them about the colors they notice in their cups.
As they begin to taste the fruit, ask them how it tastes. Invite them to describe the texture or anything else that the taste or texture reminds them of.
And don't be surprised if some of your picky eaters start to devour their fruit cups, the power of peer pressure is real!
One last thing you can try after introducing healthy snacks in your classroom is to let the parents know about it. They'll be delighted to receive pictures and updates about their kids enjoying a healthy snack. But don't be surprised if you receive questions from parents like, "Are you sure that was my kid?"
Happy snacking!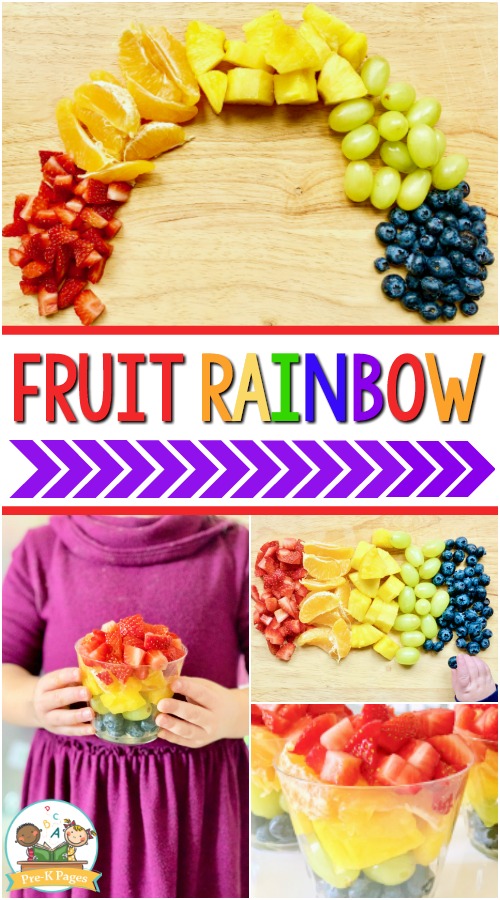 More St. Patrick's Day Ideas