Preschoolers love to explore the world they live in through play. One way children can learn through play is with sensory bins.
Sand is a great sensory bin material, so today I'm sharing how to make moldable rainbow sensory sand.
This rainbow sand with gold coins is perfect for St. Patrick's Day because the pot of gold is always at the end of the rainbow!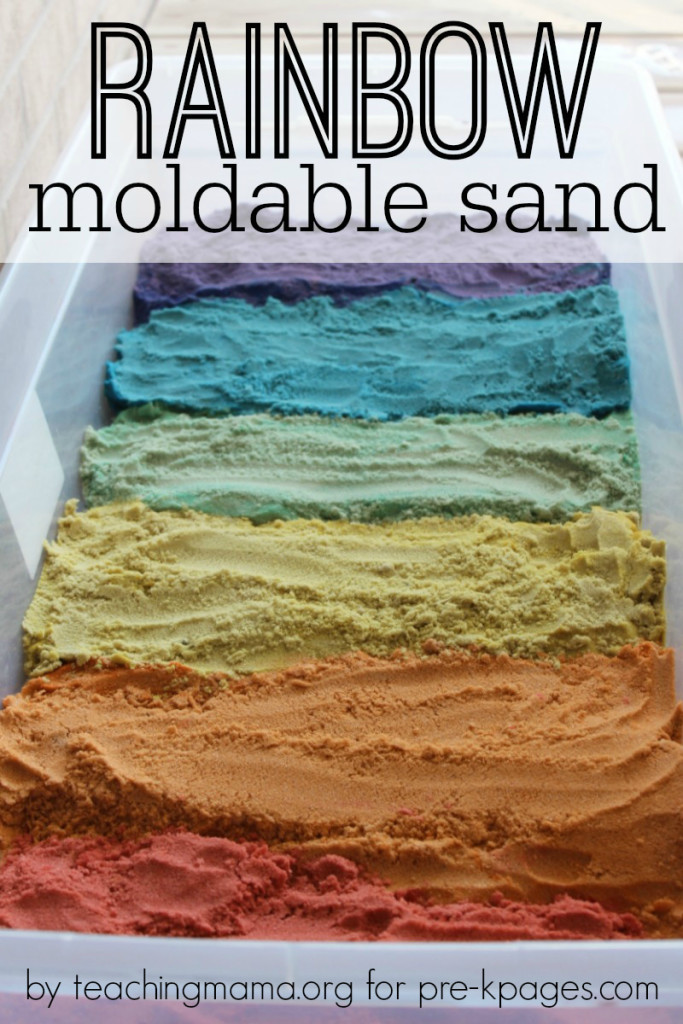 Rainbow Moldable Sensory Sand
Kids love playing with this rainbow sensory sand, but it's also a great learning experience. Here are the educational benefits for this play activity:
Allows kids to express themselves creatively and use imagination to play.
Squeezing and molding the sand builds strength in hands, and builds fine motor skills.
When children play together with this sensory bin, they are working on social and problem solving skills.
Children practice language skills while playing with this sensory material. They use words to describe the sand, such as smooth, cold, or squishy.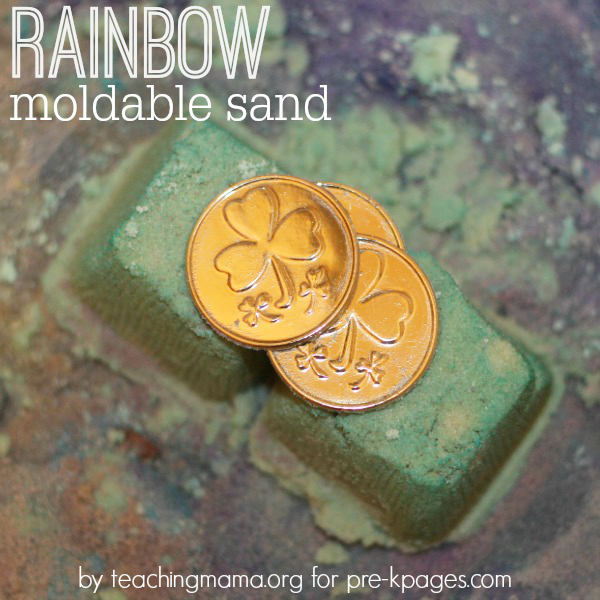 Rainbow Sensory Sand Recipe
To make rainbow moldable sand, you will need these supplies:
5 cups of fine sand
3 teaspoons of tempera powder paint (or food coloring)
1.5 cups of corn starch
1/2 teaspoon of dish soap
1 cup of water
large bin
First, combine the sand with the tempera powder paint. Mix in the corn starch. Next, add the 1/2 teaspoon of dish soap with the water.
Slowly mix in the water with the sand mixture. The sand should feel slightly wet and you should be able to easily mold it into shapes.
If it feels too dry, add in some more water. Repeat the steps to make more colors.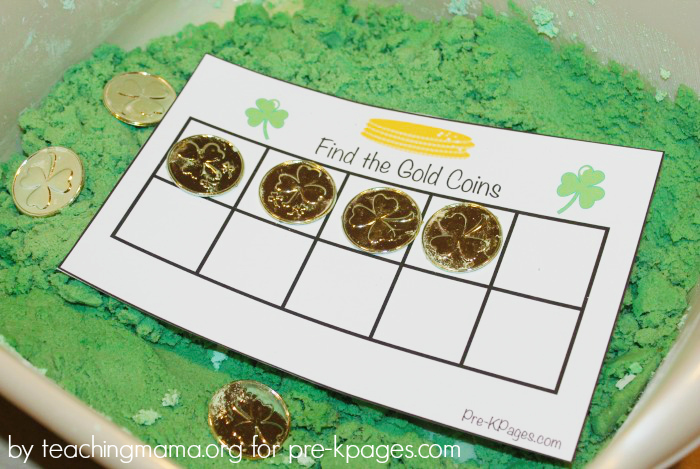 Rainbow Sensory Sand for St. Patrick's Day
After making the sand, place it in a large bin. Add some gold coins to make this a St. Patrick's Day sensory play activity.
One way to play with the sand is to invite the children to dig and search for the gold coins in the sand.
Invite them to use this printable gold coin ten-frame. The ten-frame is a great way for children to practice counting and visualize quantities with gold coins.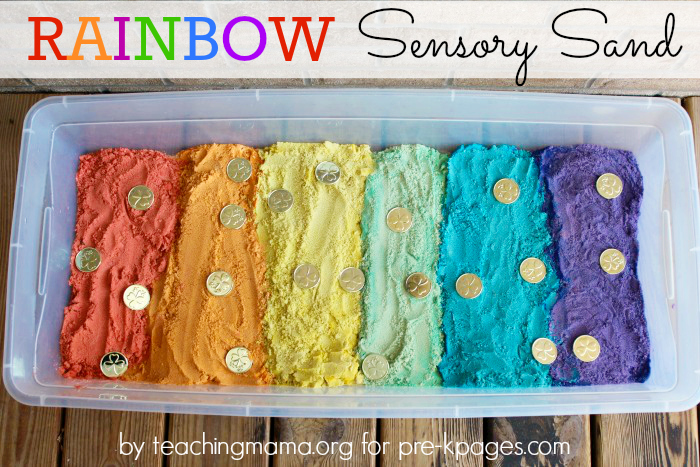 Rainbow Sand for Sensory Play
This sand is similar to kinetic sand, but is very affordable and easy to make. It feels very soft and easily molds into shapes.
Kids love playing with this sensory material because it feels so wonderful in their hands.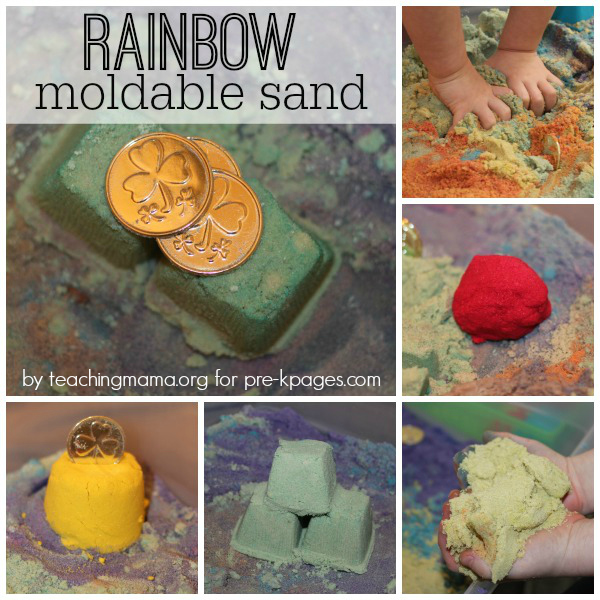 After playing with the moldable sand, store in an air-tight container. The sand may become a little dry, so spritz in some water to make it moist again.
This sensory play activity is tons of fun and a great way to learn through play!
BIO: Angela is the writer of Teaching Mama, where she shares hands-on learning activities for babies, toddlers, and preschoolers. She is a former teacher, turned stay-at-home-mom to 3 wonderful boys. She is also the author of The Prechool Journey, a great resource for preparing your child for Kindergarten. You can connect with her on Facebook, Pinterest, or Instagram.
More Sensory Bin Ideas
Sensory bins are a fun educational experience that can be incorporated throughout the year. Here are a few more sensory play activities you can incorporate:
Snowman Sensory Squish Bag– A snowman sensory squish bag is a great way to explore winter without getting too cold! Sensory bags are a fantastic way to work fine motor skills while exploring a theme.
Valentines Sensory Bottle– This Valentine's Day sensory bin is perfect for February in your preschool or pre-k classroom.Add some loose parts and fine motor tools to create a fun and engaging Valentine themed sensory experience your kids will love!
Halloween Sensory Bin with Spaghetti– You can make this easy colored spaghetti for a super fun Halloween themed sensory bin. This squishy Halloween sensory spaghetti is sure to be a big hit with your kids!
Fall Sensory Bin for Preschool Sensory Play– No matter where you live, your little learners will have a blast with this fall themed sensory bin! It's super simple to set up at home or in your preschool classroom.
Easter Sensory Bin– This Easter sensory bin is super quick and easy to set up at home or in your classroom.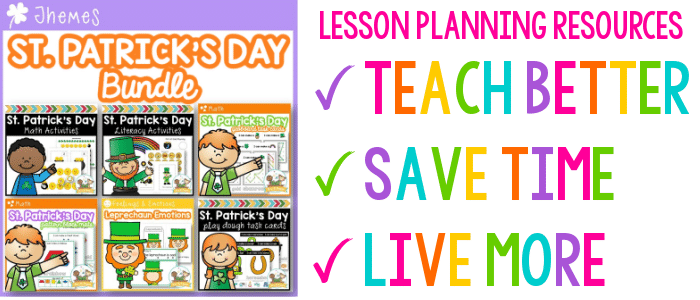 More St. Patrick's Day Ideas