Are you looking for a play dough activity for your St. Patrick's Day theme?
Playing with play dough is perfect for supporting creativity, as well as practicing fine motor skills in a fun, hands-on way. The simple act of pressing chenille stems, buttons, cookie cutters and other supplies into soft dough has many educational benefits for young children.
Your little learners will have loads of fun exploring and creating with a St. Patrick's Day play dough activity tray.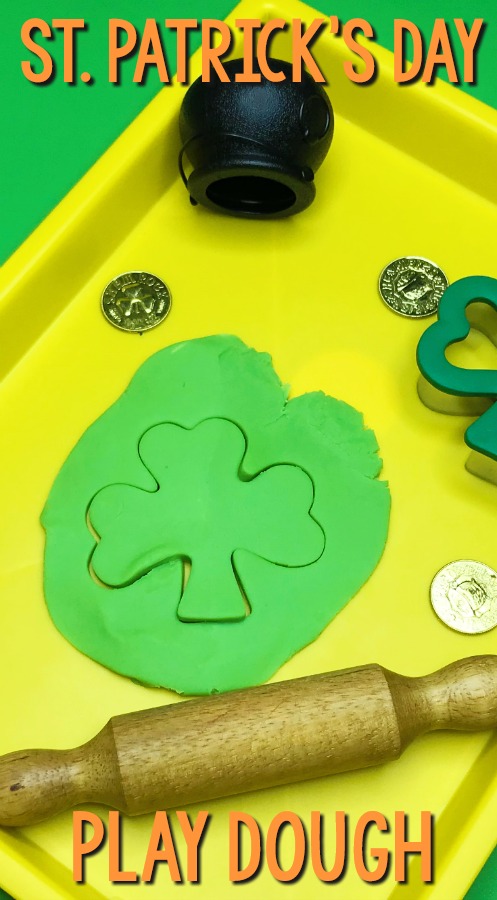 St. Patrick's Day Play Dough Supplies
Here are the supplies and tools I used for this activity, but you can use whatever supplies you have available.
Play Dough (here's our favorite homemade playdough recipe)
Chenille Stems
Buttons
Plastic Gold Coins (Dollar Store)
Rolling Pins
Cookie Cutters (Dollar Store)
Mini Cauldrons (Dollar Store)
Chip and Dip Tray (Dollar Store)
These are just a few suggestions for setting up a fun and inviting St. Patrick's Day play dough invitation in your own classroom. You can use whatever supplies you may already have on-hand to set-up your own tray.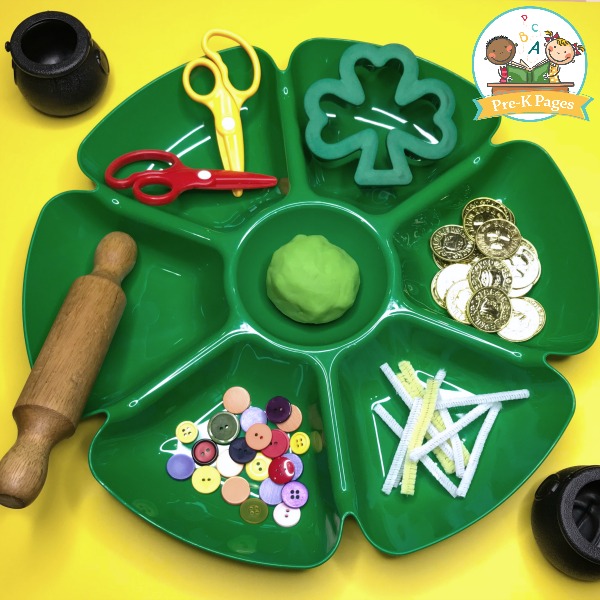 St. Patrick's Day Play Dough Tray
Start by setting up your St. Patrick's Day play dough invitation on a tray. I used a chip and dip try from the dollar store, but you can use any tray you have available.
Play dough invitations are intended to be open-ended experiences, there are no right or wrong ways to explore or build with the materials. Invite your little learners to explore the materials on the tray.
As they begin to build and create with the play dough and materials, you can watch their creativity and imagination take over!
The color of the pipe cleaners, buttons, or other items doesn't really matter, this activity is all about giving kids the experience of using the materials to create.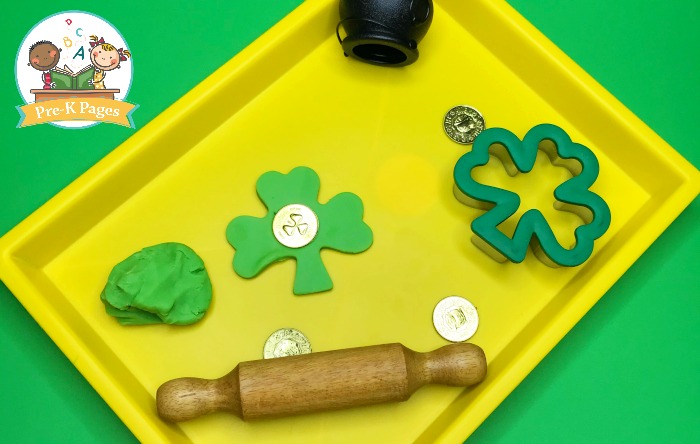 Don't worry if your kids just want to use one of the materials and not others, or if they want to use them all.
This is a completely open-ended activity with no pre-determined outcome. If they don't want to press the gold coins into the dough, no problem. It's all about the process of creating with the materials rather than making a Pinterest perfect clover.
One thing all kids seem to adore are the little cauldrons or pots. They just love putting the gold coins and buttons in the pots, as well as balls of play dough. Putting the objects in the pot and taking them out is a huge hit that increases student engagement and time spent on-task. Not to mention the fine motor benefits of manipulating the objects as they put them in the pot and take them out over and over again.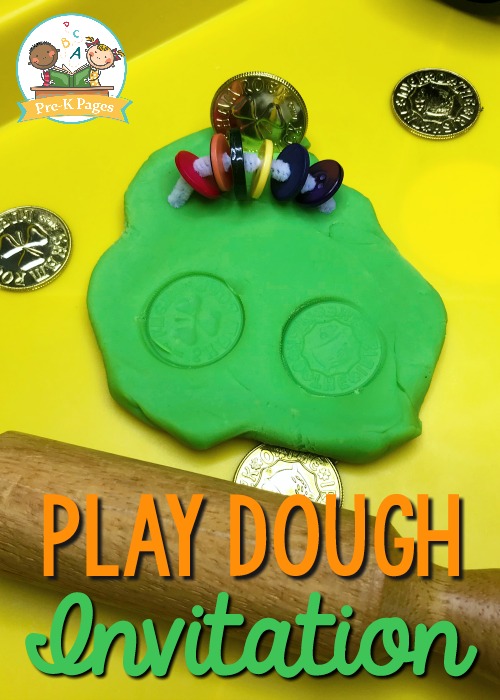 Benefits of Playing with Play Dough
Playing with play dough has many educational benefits for young children.
Creativity – Children use their imaginations to create rather than follow a template or sample. Imaginative children are more likely to become problem solvers later in life.
Communication – Children can chat with their friends and classmates in a relaxed environment which facilitates oral language development. Oral language development is directly related to reading scores later.
Small Group or Independent Work – Perfect for children to do independently or in a small group.
Fine Motor Skills – Rolling the dough and and placing small objects, like the buttons and gold coins, in the dough is great for strengthening those important fine motor skills which are needed for writing later.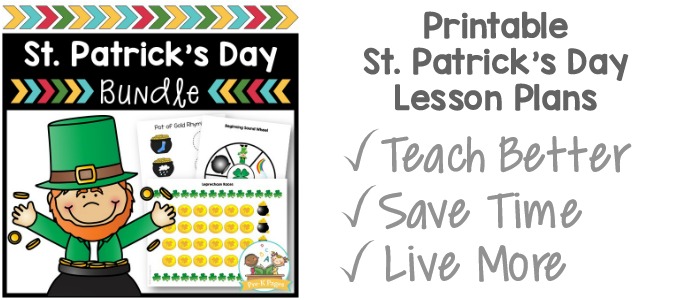 More St. Patrick's Day Ideas