Put together a simple preschool volume activity that is really hands-on science! Explore the concept of volume, size, and capacity with just a few simple materials. This simple measurement and math activity is a fun way to introduce volume to kids and includes great fine motor skills practice! Comparing the size and capacity of various containers is a practical way for kids to learn about volume.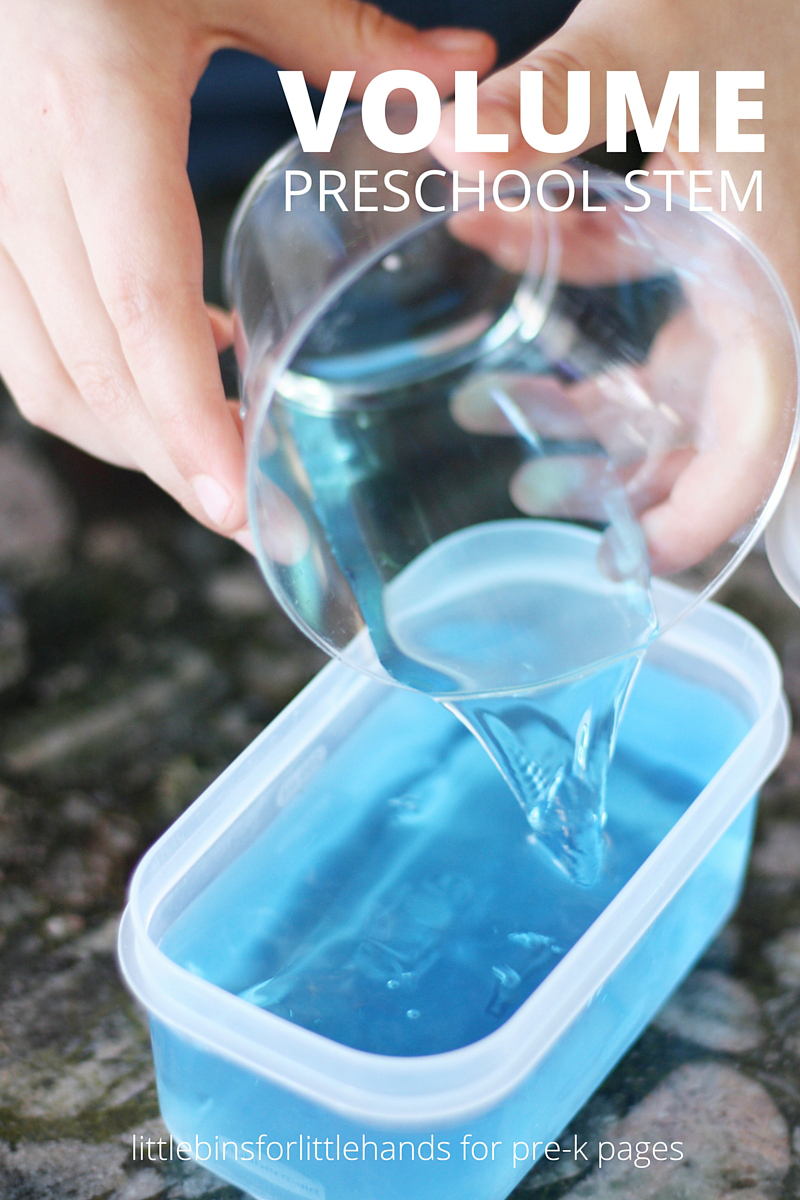 Exploring Volume
Supplies Needed
Plastic 1 or 2 Cup Measuring Container
Plastic Pitcher of Water
Funnel
Food Coloring
Variety of Containers in Different Sizes and Shapes
Tray and Paper Towels (To Catch Spills)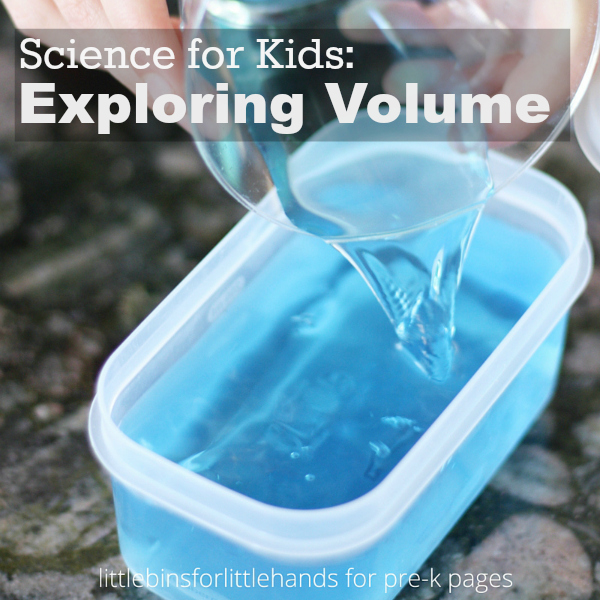 Set Up
Fill a plastic pitcher with enough water the kids can manage pouring. We refilled our pitcher once. Add food coloring as desired. Adding a bit of color is fun for kids, and it helps them to see the volume of water in each container better. Place a variety of containers on a tray or table. I also set out a funnel to use with the water bottles. Water bottles, food storage containers, party cups, or any sort of clear container works great for this activity.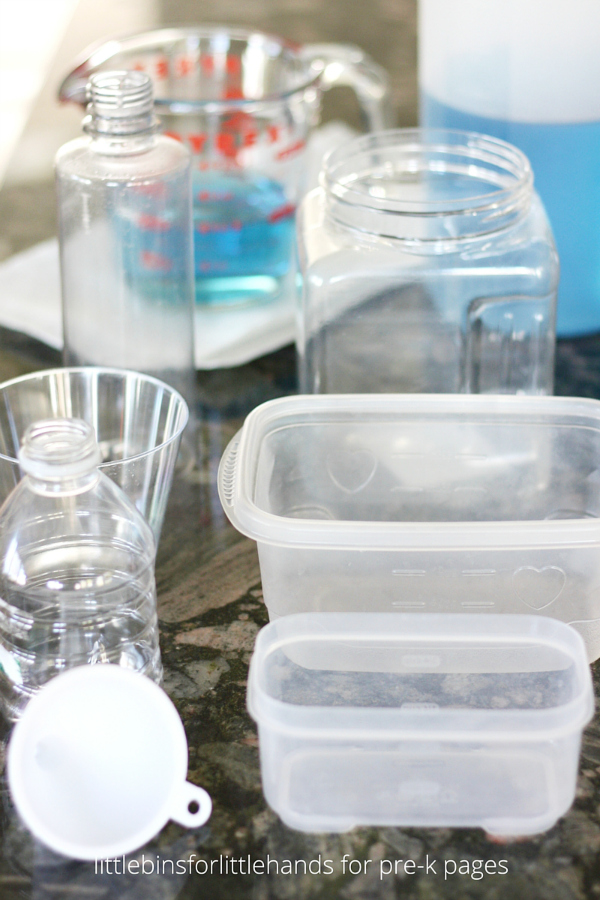 Simple Volume Activity Play and Learning
We tried out our activity two ways. First my son poured water from the pitcher into the measuring cup to the one cup mark. We chose to use a one cup measurement for our volume activity. Try out other measurements as well for added math practice. He carefully poured the one cup of water into the first water bottle with the help of a funnel. He then decided to pour that water bottle into the next smaller water bottle. This continued for all 6 containers.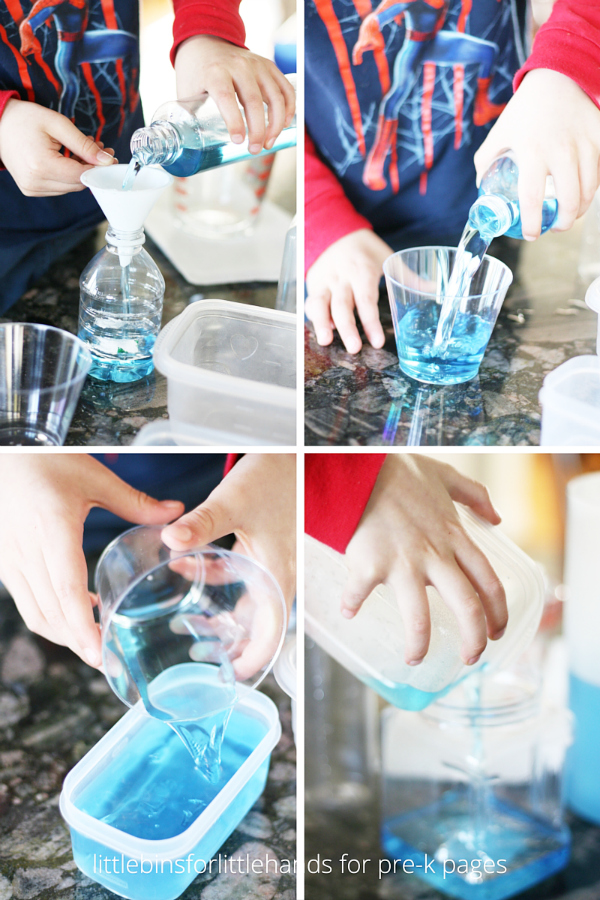 Next, he chose to pour one cup at a time from the pitcher into each container. This is a great way to be able to observe the volume of the containers all at once. Kids can easily compare and contrast the results and discuss what they see in regards to the volume of each container.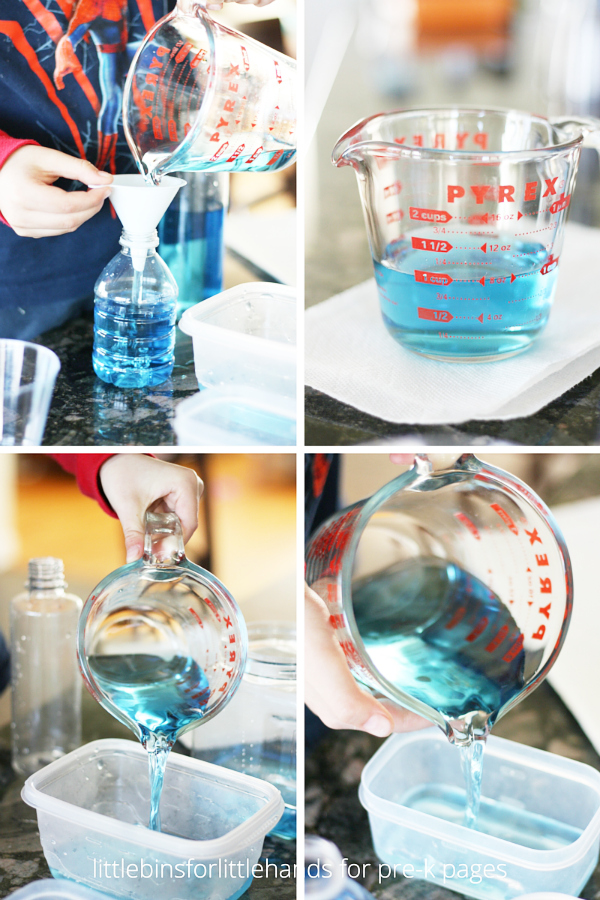 If you have used some larger containers, you can extend the activity by asking the kids to see how many more cups will fit into each of the containers. Even if a container overflows, it is a great opportunity to show what happens when the volume of water is greater than the volume of the container!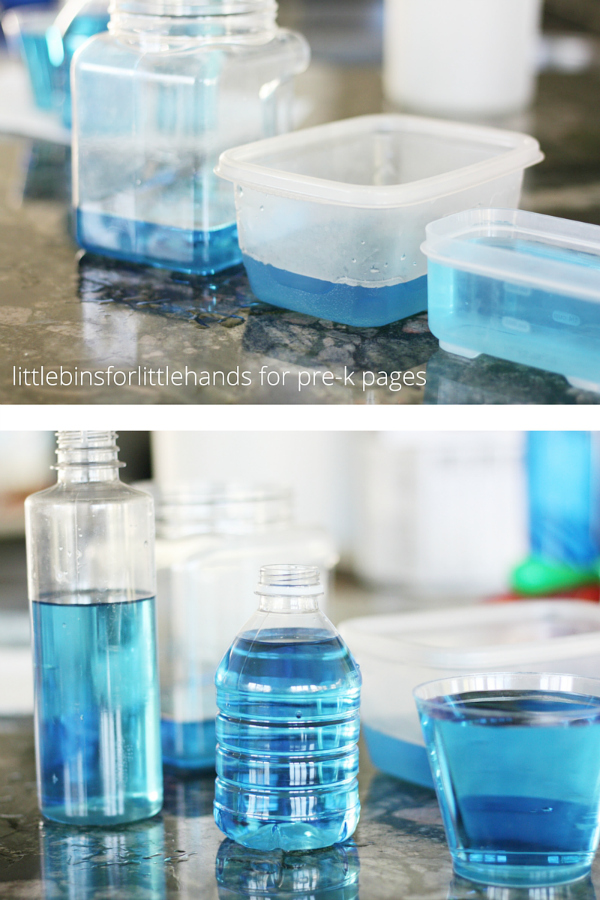 What Is Volume?
Young kids learn by exploring, observing, and figuring out the way things work by doing. This volume activity encourages all of the above. Kids will learn that volume is the space a substance or object takes up or that can be enclosed in a container like the ones we have above. Kids will be able to observe the differences and similarities among the containers when they pour the water and compare the results.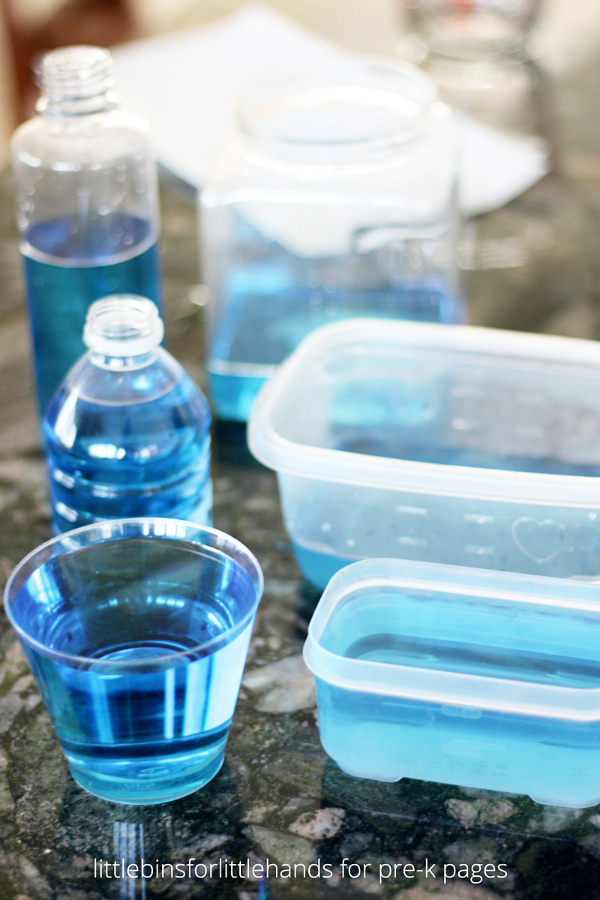 Simple STEM activities like this volume activity are a wonderful way to get kids thinking, exploring, problem solving, and observing what is happening around them. You can try this activity with a number of materials including small blocks, shells, gems, sand, and rocks. Setting up two stations, one for liquids and one for solids, is a great way for kids to explore volume with a variety of materials.
A great resource to support learning with water is the book Exploring Water with Young Children by Chalufour.
BIO: Sarah is the creator of Little Bins for Little Hands where she shares simple science experiments, STEM activities, and tactile sensory play recipes. She is also the proud mom of a busy little boy. Check out their favorite science experiments and STEM projects all year long! You can connect with her on Facebook and Pinterest.
More Science Ideas