We love to plan process art explorations for all seasons! When we were brainstorming for winter, we decided to invite the preschoolers to see what they could create while stamping white circles.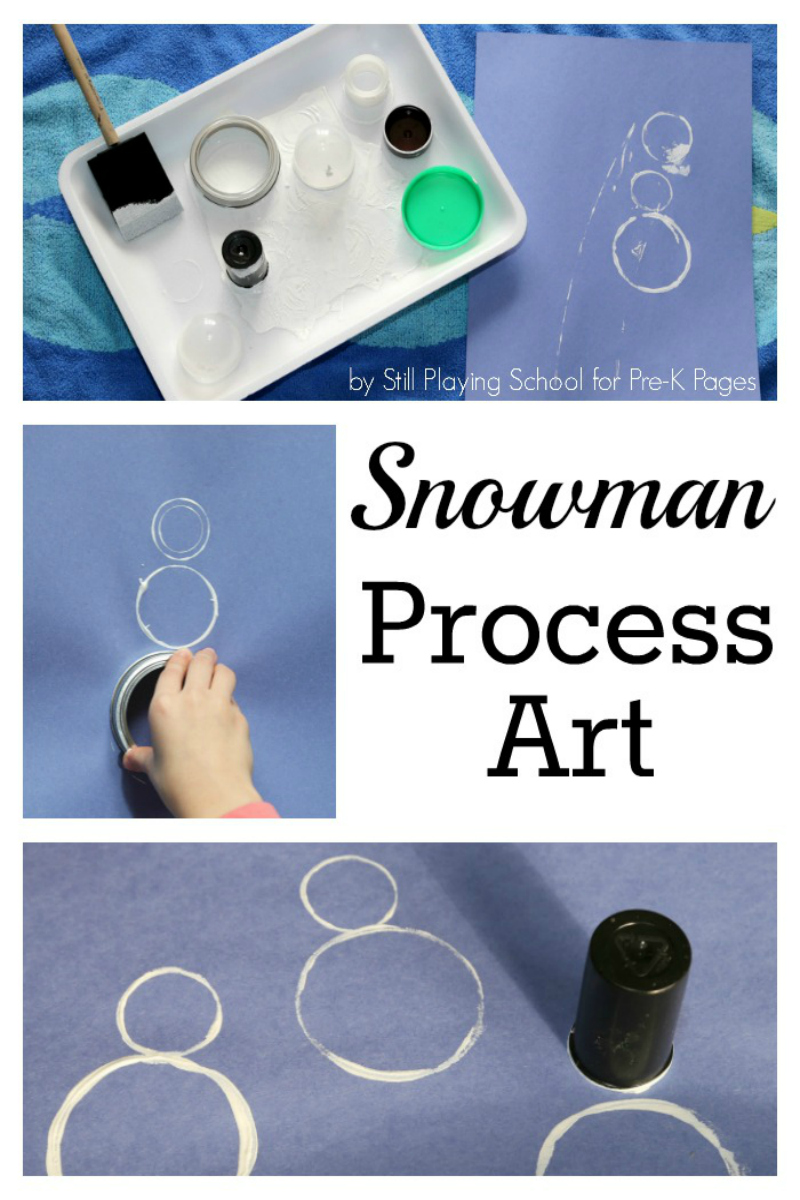 Our adult minds went straight to snowmen. Some preschoolers will see this pattern in their art, or you may want to start a conversation as they create. In your classroom you have the freedom to decide whether to present this as an open ended process art project (like we did) or to lead the child to creating a snowman.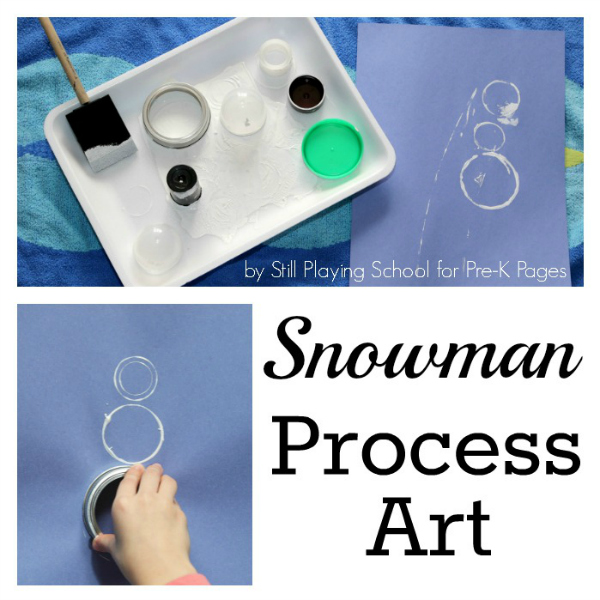 Snowman Art with Circle Stamping
You will need:
Circular objects for stamping
Paper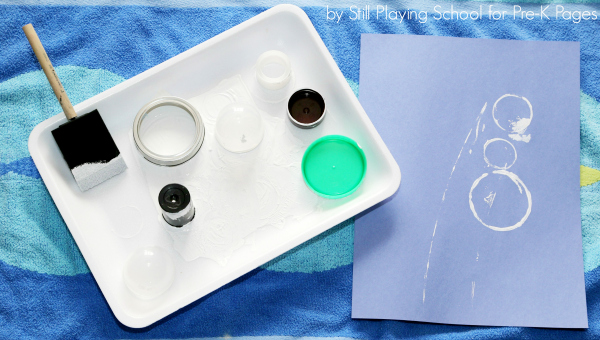 We set out a recycled foam tray with white paint spread around to create a paint stamp pad. The circular objects we used for stamping include a film canister, containers that hold prizes in gumball machines, a piece from a tape dispenser, and canning jar lids in both plastic and metal. You can use whatever you have on hand but we recommend considering what children will hold on to as they stamp and offering a variety of sizes of circles to explore.
Invite children to choose a piece of construction paper for stamping!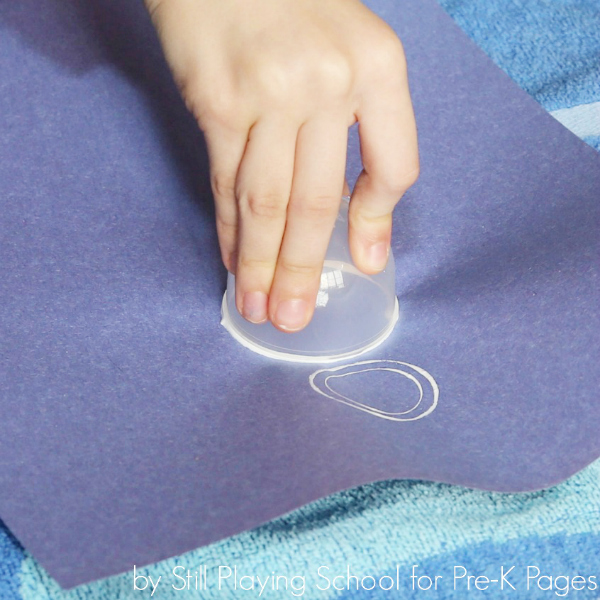 Process Art Is Exploration
Some preschoolers will gravitate towards creating art with an intentional end product in mind. "I'm making a snowman with three circles!"
Other children will explore making marks on the paper with the circles. We accept that process art may solely be focused on the process of creating. Kids may or may not declare what they've created at the end as they study the result of their exploration. We like to answer the question, "What did you make?" with "Art!" at all ages!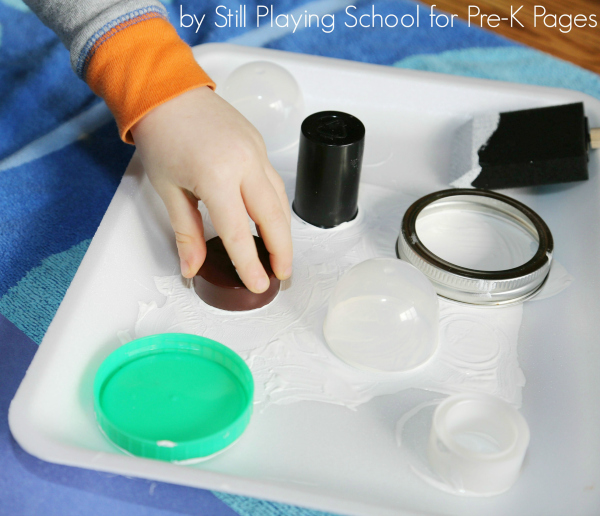 This process art invitation also provides plenty of opportunities for math conversation. "We have circles to stamp today. They are all different sizes. Can you find a small circle? Where is the largest circle in your art? How many circles did you stamp in all? Let's count them!"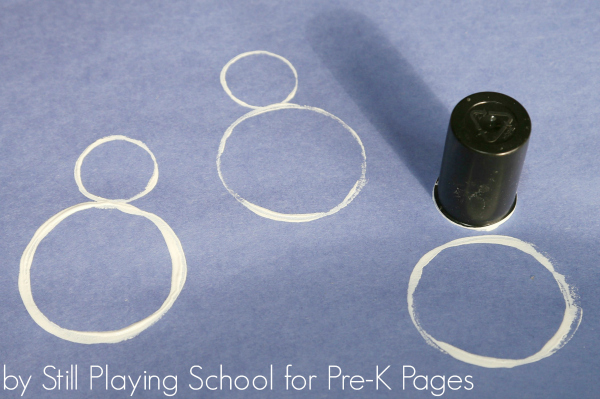 Add Snowman Details
After the paint has dried, you may offer writing materials for children to add detail to their art. They might add facial features to create snowmen. The beauty of process art in the classroom is looking at how creatively different each piece (and child) truly is as a collection.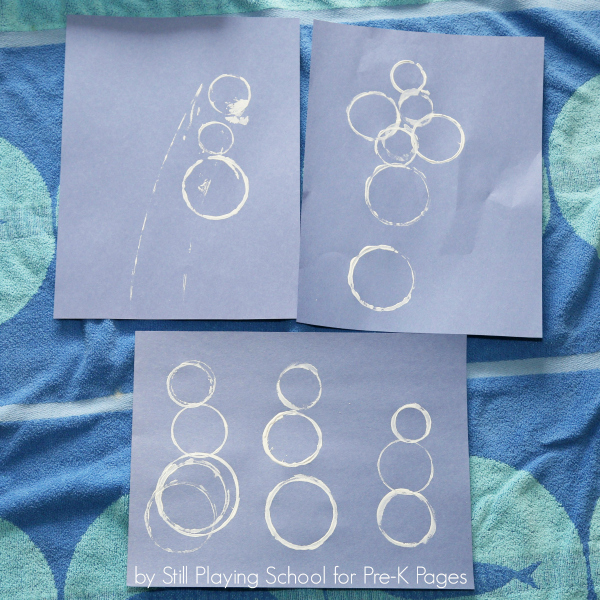 BIO: Devany LeDrew is a former kindergarten teacher who writes at Still Playing School where she shares intentionally planned play-based learning activities. She loves to teach with recycled materials! Follow Still Playing School on Facebook, Instagram, Pinterest, and Twitter!
More Winter Ideas