You can lead your preschoolers to explore the moon, stars, and the planets beyond. These space books for your preschoolers are about astronauts, the solar system, and the universe. These space books for young kids can support a space theme or give information to those kids who are interested in stars and planets.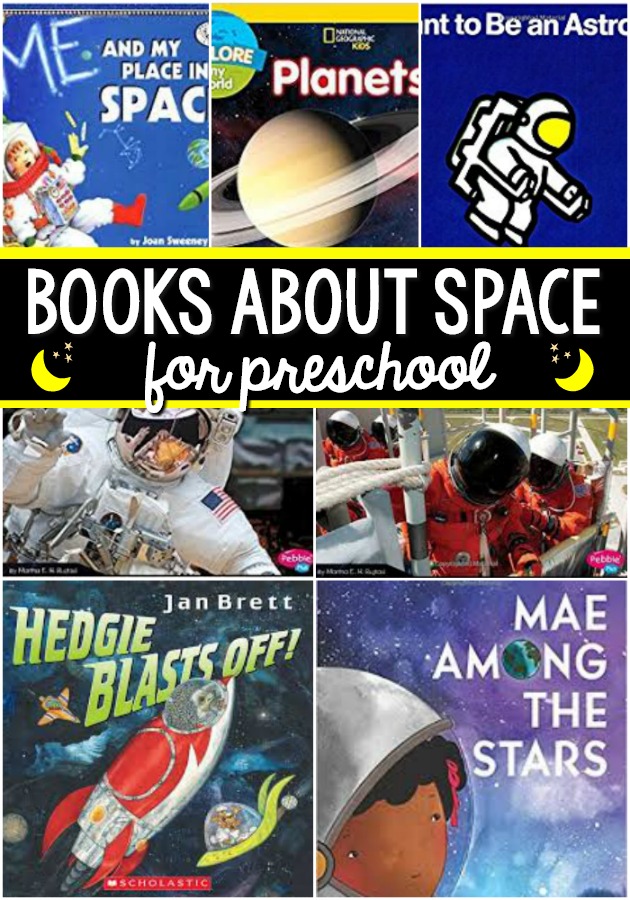 Space Books for Preschoolers
These space books for your preschoolers is a wonderful way to introduce a space them in your classroom. Or it can also accompany an education and exhilarating Space Theme Activity.
I Want to Be an Astronaut by Byron Barton
Simple text and colorful illustrations show astronauts on a mission.
On the Launch Pad by Michael Dahl
In this counting book, a shuttle waits to blast off.
Roaring Rockets by Tony Mitton
Follow astronauts in their rocket on a trip to the moon and back.
Me and My Place in Space by Joan Sweeney
A simple introduction to our solar system and the planets in it.
Kitten's First Full Moon by Kevin Henkes
Kitten sees a full moon in the sky and thinks it is a bowl of milk. She tries to reach the milk to drink it but runs into trouble.
Papa, Please Get the Moon for Me by Eric Carle
Monica wants to play with the moon and asks her Papa to get it for her. So he does.
Mooncake by Frank Asch
Bear wants to taste the moon. He builds a rocket so he can go there and make a mooncake to eat.
Happy Birthday, Moon by Frank Asch
Bear gets a hat for the moon as a birthday present.
On the Moon by Anna Milbourne
A book about traveling to the moon. This book mixes illustrations with actual photographs of the moon.
If You Decide to Go to the Moon by Faith McNulty
A longer book about a trip to the moon and what it takes to get there.
Explore My World: Planets by Becky Baines
Learn what a planet is and explore the planets in our solar system.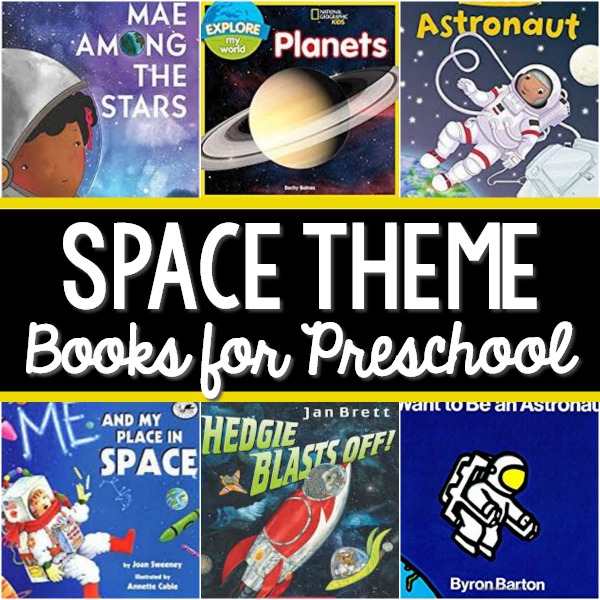 More Space Books For Kids
If you are teaching a space theme in your preschool classroom, then one of these space books for kids will definitely have your students engaged in the topic!
The Three Little Aliens and the Big Bad Robot by Margaret McNamara
A space-theme retelling of the three little pigs story.
ABC Universe by American Museum of Natural History
Discover space-related words for every letter of the alphabet.
Smart Kids Space: For Kids Who Really Love Space! by Roger Priddy
Facts and photographs about the universe.
National Geographic Little Kids First Big Book of Space by Catherine D. Hughes
Illustrations, photographs, and lots of facts introduce kids to parts of our solar system.
Mousetronaut by Mark Kelly
Meteor is the smallest mouse included in a space shuttle mission. But he finds out that a small mouse can help in a big way.
Hedgie Blasts Off! by Jan Brett
Hedgie works at Star Labs but he wants to be an astronaut. He gets his chance when a small rocket is needed to investigate a problem on another planet.
Mae Among the Stars by Roda Ahmed
A picture book based on the life of astronaut Mae Jamison.
Busy People: Astronaut by Lucy M. George
Learn about the work of astronauts on a mission on the space station.
Becoming an Astronaut by Martha E. H. Rustad
Discover what astronauts need to know, how they train, and what they do to become astronauts.
Working in Space by Martha E. H. Rustad
Explore the kinds of work and the different jobs that astronauts do.
Space Travel by Martha E. H. Rustad
Find out about spacecraft and information about traveling through space.
When stocking these space books for kids be sure to check your local library or purchased used books online to supplement your classroom library affordably.
More Book Lists