Do you have preschoolers who gaze up at the moon and stars? Or want to know more about the sun? As preschoolers get older, they begin to think about things beyond their own experiences. They wonder about the sky and what's in it. You can help preschoolers begin to think about planets and stars and astronauts with these space theme activities. Check out these activities to help you plan space themed adventures for your explorers.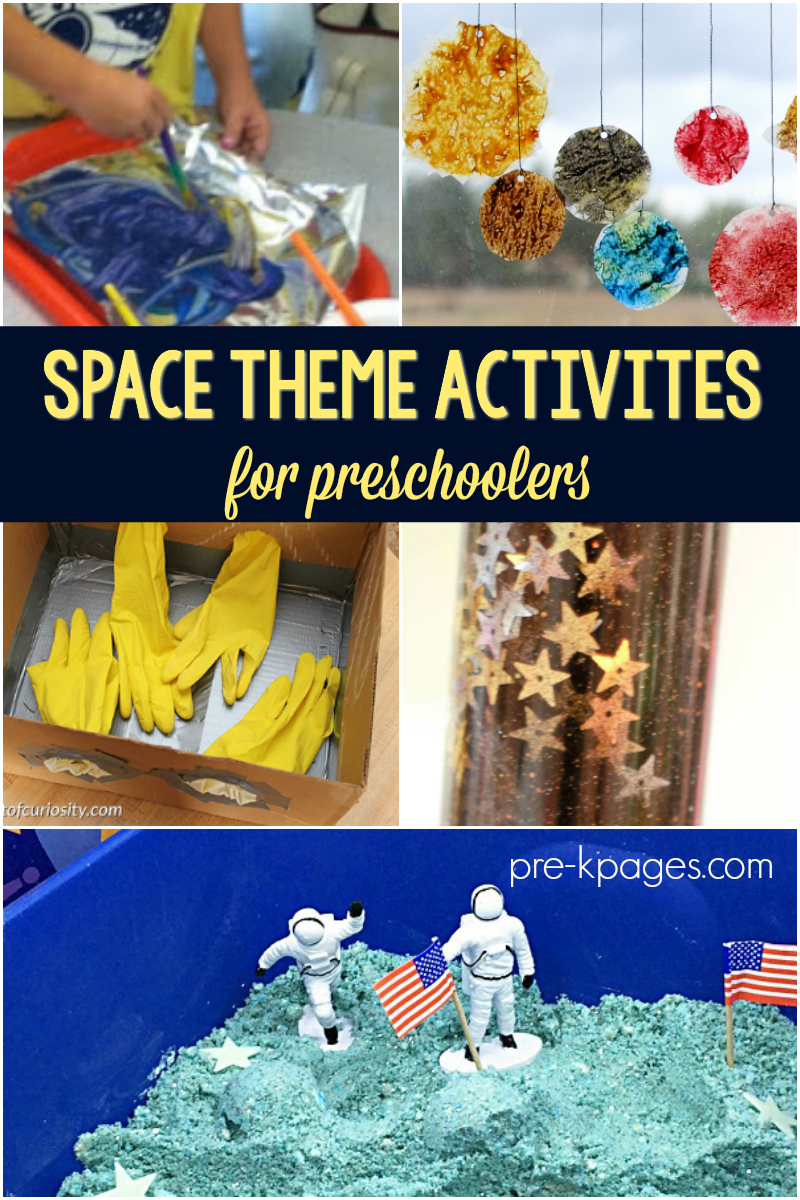 Space Themed Activities for Preschoolers
Making Craters Science Exploration (Pre-K Pages) – For this science experiment, we were very interested in learning all about the moon.
Space and Astronaut Sensory Play (Pre-K Pages) – Do your kids like learning about rockets and outer space? Try this sensory bin at home or in the classroom. It's super easy to make and will provide plenty of opportunities for developing oral language, vocabulary, communication skills and more!
Space Station Dramatic Play (Pre-K Pages) – You won't believe how easy it is to turn your dramatic play center into ground control! All it takes is one piece of foam board and some materials you probably already have on hand. I made a free space theme printable for you too, keep reading to get your copy!
Nighttime Sky Process Art (Pre-K Pages) – his simple nighttime process art activity not only allows them to freely explore their creativity, it helps them think about this science question, too.
Moon Math Activities (Pre-K Pages) – These moon math activities can be fun for a nighttime or space theme.
Moon Crater Gross Motor Activity (Pre-K Pages) – This gross motor space activity will get students involved in creating craters of their own!
Planet Sun Catchers (Pre-K Pages) – Making this sun catcher is a great way to help preschoolers visualize the planets and our solar system on a smaller scale. It can lead into discussions on comparing and contrasting the planets while kids get a hands-on opportunity to make the planets themselves.
Smashing Moon Rocks (Pre-K Pages) – Today's activity uses homemade moon rocks, and children will love this activity because they get to smash them!
Moon Sand Writing Tray (Pre-K Pages) – This writing tray allows children to explore concepts about the moon and develop writing skills.
Star Gazing Discovery Bottles (Pre-K Pages) – Discovery bottles provide preschoolers with the opportunity to learn through hands-on, open-ended play. You can make distant concepts that might otherwise be out of their reach, like outer space, fit literally in their little hands. These Star Gazing Discovery Bottles let my toddler and preschooler explore stars, star formations, and inspired lots of awe as well.
Space Visual Discrimination Game (Prekinders) – This Space Same and Different Game will help your preschool and kindergarten children practice visual discrimination skills.
Space Play Dough Math Mats (Prekinders) – These Play Dough Math Mats will help your aspiring young astronauts practice counting while playing with play dough.
Space Picture-Word Cards (Prekinders) – Print these Picture Word Cards for your writing center during a Space Theme. Words included are astronaut, space shuttle, telescope, meteor, asteroid, satellite, Earth, moon, sun, Jupiter, Mars, Mercury, Neptune, Saturn, Uranus, Venus, and Pluto. (Pluto is now a dwarf planet.) This set has 17 word cards.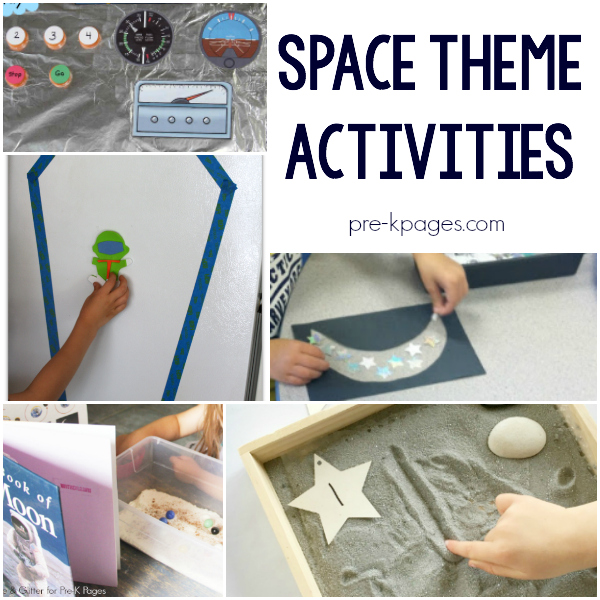 Activities for Astronaut or Space
There's No Place Like Space (Teach Preschool) – Read the Dr. Seuss book, "There's no place like space" and then explore a space theme with these activities.
Planets in a Bottle (Teach Preschool) – Make this simple planets in a bottle to explore the solar system!
Negative Space Moon Collages (Brick by Brick) – Explore what negative space is in by having your preschoolers create these fun paper moon collages.
Nebula Painting (Brick by Brick) – With a little bit of paint and creativity your little ones can explore nebulas and paint their own.
Fizzing Planets (Fun-a-Day) – With some simple ingredients, like baking soda and vinegar, you can make these fizzing planets your preschool students will enjoy working with.
Space Play Dough (Learning 4 Kids) – A little black food color and gold glitter will turn ordinary homemade play dough into this exciting space play dough!
Space Wreaths (3 Dinosaurs) – Grab some paper plates and make these fun space wreaths to decorate your house with.
Name Rockets (Things to Remember and Share) – Your preschoolers will love spelling their names out in these rockets.
Outer Space Sensory Bin (Fun-a-Day) – Your little ones will love this sensory bin with colored rice and toy astronauts.
Moon Observation Printable (Things to Remember and Share) – This binder is a great way to involve parents in your in your classroom with this moon observation printable.
Make a Telescope (Things to Remember and Share) – Recycle those paper towel and toilet paper tubes and then paint them to make a DIY telescope!
Galaxies Process Art (Things to Remember and Share) – There's no right or wrong with this galaxy process art activity. Your preschoolers will love painting with the glitter paint and creating their own galaxy art.
Space Ice Melt Science Play (Little Bins for Little Hands) – It's easier than you think to create this space ice melt activity!
Space Sensory Bottle (The Chaos and the Clutter) – Create this space rock sensory bottle with some black gravel and a few other materials.
Glow in the Dark Puffy Paint Moon (No Time for Flash Cards) – Just two simple ingredients is all you need to make these super cool glow in the dark moons!
Sandpaper Sun (No Time for Flash Cards) – Use sandpaper and paint to create a sensory sun for your preschoolers to enjoy.
Letter Constellations (No Time for Flash Cards) – This simple alphabet activity is a snap to put together and combines fine motor development and letter recognition.
Paper Plate Planets (No Time for Flash Cards) – Creating your very own planet can be a quick art project or a much more involved one with reading and writing too.
Astronaut Training Course (Kitchen Floor Crafts) – This is a great way to test their gross motor skills, and the Astronaut Training Course we put together is a perfect activity to do just that!
Star Color Matching and Sensory Tub (No Time for Flash Cards) – This star sensory tub is easy to set up with black beans and star buttons!
DIY Astronaut Glove Box (Gift of Curiosity) – Your preschoolers will love exploring this DIY astronaut glove box, just like the real astronauts use to do research with.
Astronaut Fine Motor Training (Stir the Wonder) – For this activity kids work on dexterity (fine motor skills), hand-eye coordination, communication with team members and problem solving skills. As is, it's a great activity for older children, but for preschoolers it can be made a little simpler.
Magnetic Astronaut and Tape Rocket (JDaniel4's Mom) – You can have your preschoolers work on their eye hand coordination with this activity!
Check out our Space Books for Preschoolers, too
More Science Posts