Do your kids have Spring fever? You can quickly and easily spice up your Spring theme with these high-interest fine motor activities. And, since most of these items are from the dollar store, they won't break the bank either.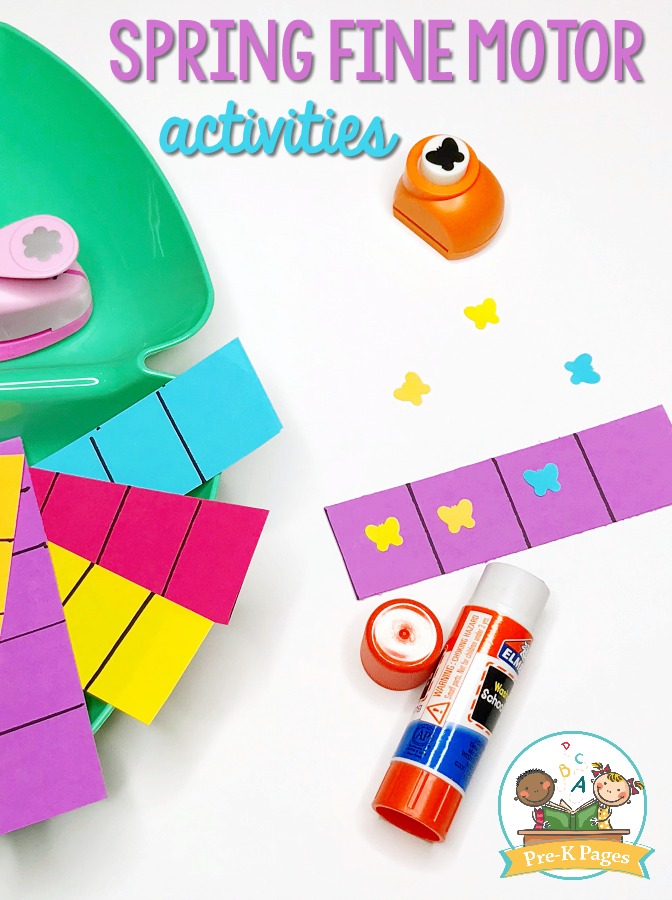 Spring Fine Motor Activities
Fine motor refers to the small muscles in the hand and fingers. These muscles must be exercised and developed in young children so they can be used for daily tasks like writing, tying shoes, buttoning, zipping, and more.
It's important that young children have plenty of practice using these muscles to ensure proper development. Before children can begin to hold a pencil in their hands and write with control, they must first develop strength and dexterity in their fingers and hands.
You can help your kids develop these important skills by providing fun, engaging activities like these that encourage using the hands and fingers together.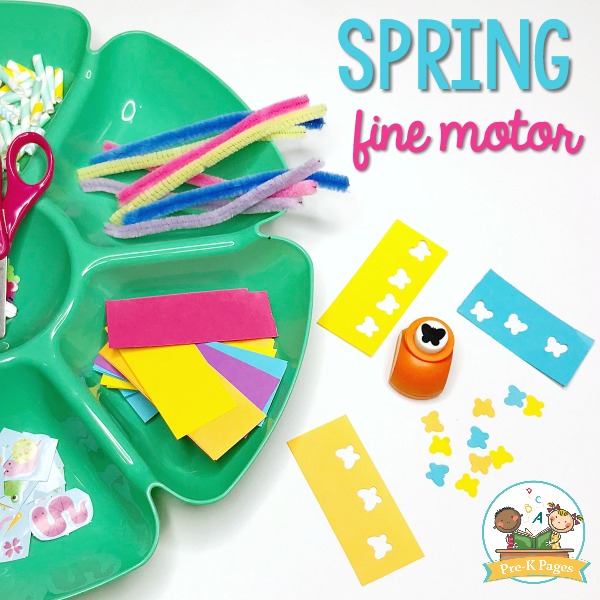 Paper Punches
Paper punches are super fun for kids! Just stock your fine motor tray with some colorful construction paper scraps and invite your children to start punching away. You'll be surprised by how long this seemingly simple task will keep them engaged.
After they've punched out several shapes, you can invite your kids to glue their shapes to paper. While it may seem simple, paper punches are excellent for developing fine motor skills.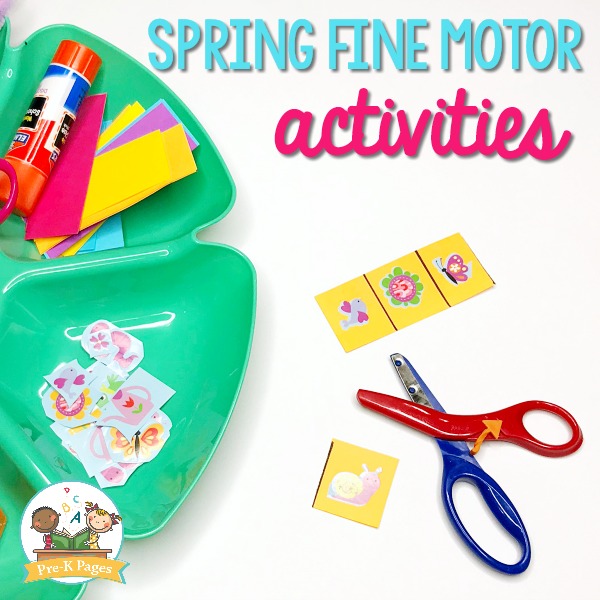 Spring Fine Motor Cutting Practice
Do your kids struggle to open and close their scissors? These training scissors are great for kids who might not have enough strength or control to make them work. Training scissors have a lever that pops open the blades after each cut to safely teach preschoolers how to open and close scissors.
Invite your kids to place some seasonal stickers on strips of paper, between the lines. Then, invite them to use the training scissors to snip on the lines.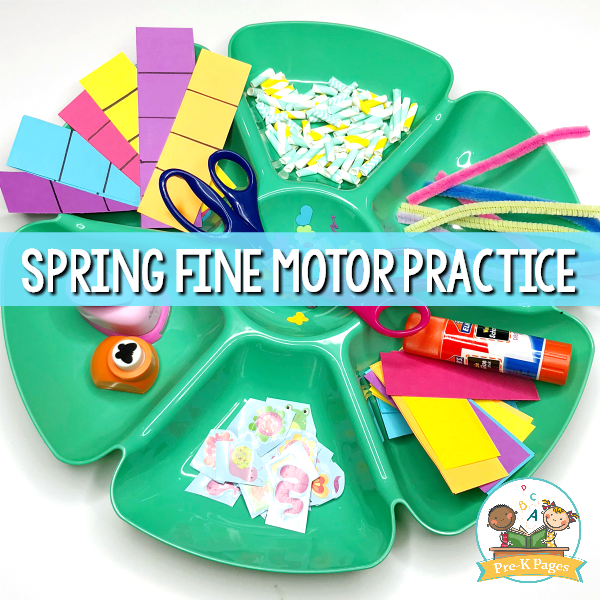 Fine Motor Tray
When presenting fine motor practice to your children, you might consider using a chip and dip tray. You can easily place the tray in the middle of a table so all of your kids have easy access to the materials.
Then, invite your kids to select the materials and tools they would like to use. There is no pre-determined outcome, the process is completely open ended. Your children are completely in control of what they make or create. There is no one right or wrong way to use a fine motor tray, the most important thing is that the kids are having fun while practicing their fine motor skills.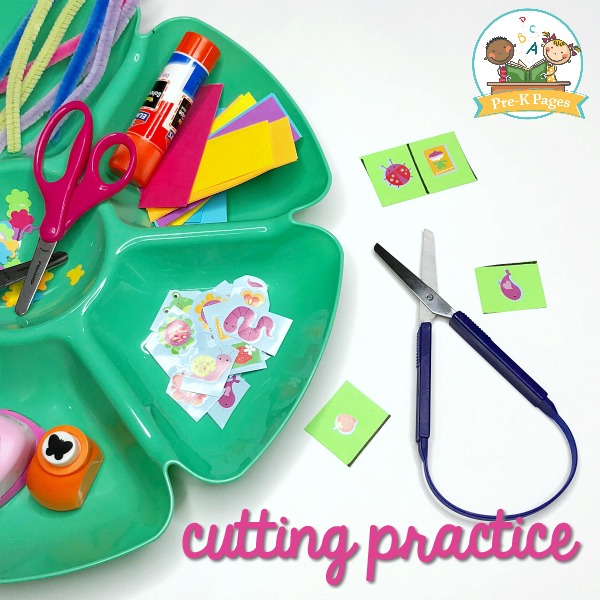 Loop Scissors
Loop scissors are perfect for your little ones who are just learning how to cut and snip. With just a gentle squeeze of the loop your kids can feel successful cutting snipping paper.
Cut some colorful strips of construction paper and draw lines one inch apart on the strips. Then, invite your kids to place seasonal stickers in each space and snip on the lines. When they're adding the stickers to the strips they're practicing fine motor skills. Your kids will feel more successful snipping these strips with loop scissors if they're just learning how to cut.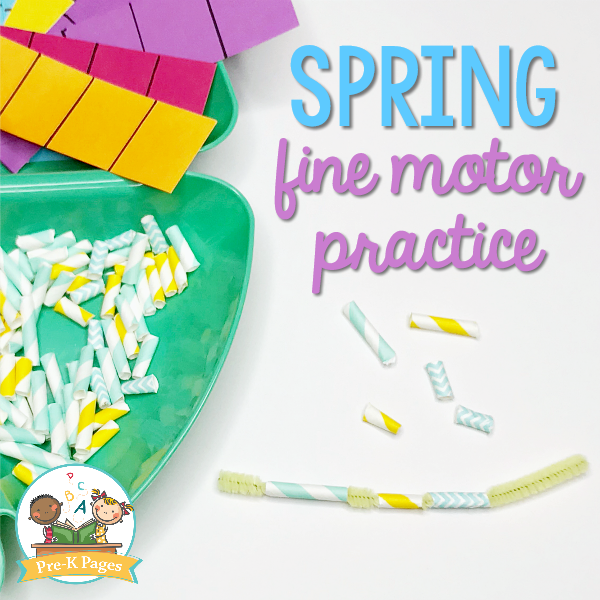 Lacing
Another fun fine motor activity is threading. You can invite your preschoolers to cut paper straws into short lengths and thread them onto chenille stems. They LOVE cutting straws and making small pieces.
If your children are old enough you may consider adding some pony beads to your fine motor tray. Preschoolers can string the beads on chenille craft stems along with the straws.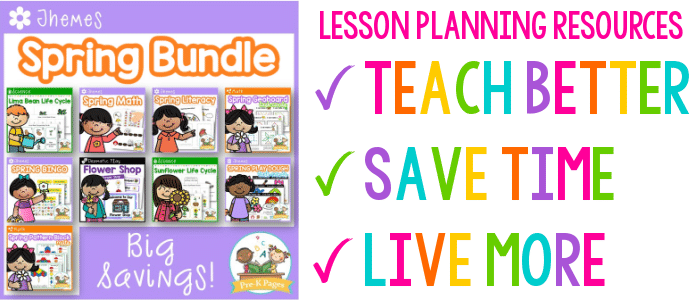 More Spring Activities