April is National Poetry Month. Do you read poems with your preschoolers? Perhaps you read rhyming books with them or say nursery rhymes together. Fingerplays are often poetic in nature. Look for ways to incorporate different types of poetry with your preschoolers. The book Hi, Koo utilizes the haiku to explore the seasons. Read this book and write spring poems with children.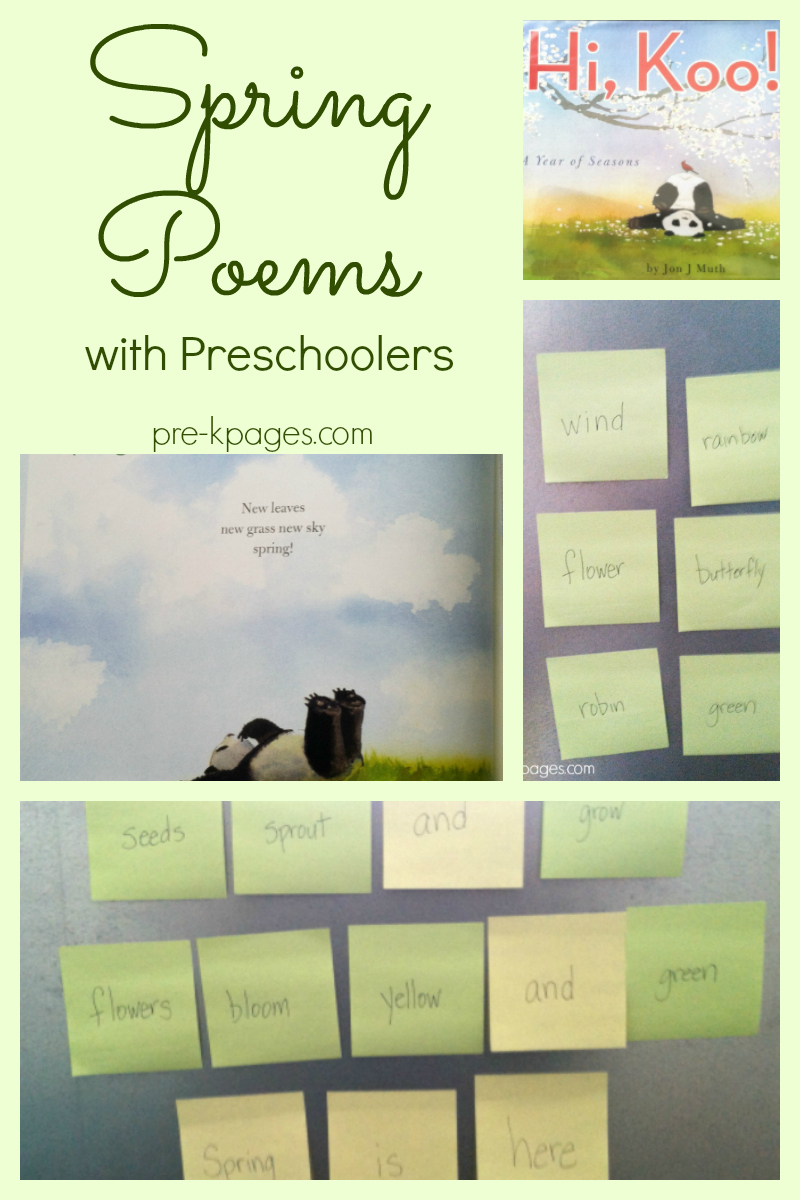 Poetry and Preschoolers
Poetry is a different kind of literature than stories or informational books. Poetry usually uses more descriptive language and rhythmic text. As you read poetry with preschoolers, they can begin to recognize rhythms, beats, and patterns (all math-related skills). They can hear different types of language and broaden their vocabularies. They can think about different ways to express their ideas. If poems have rhyme, they develop more phonemic awareness. And they are learning more about different types of writing and language.
Read the Book
Hi, Koo by Jon J Muth is a book of 26 seasonal haiku. The book is divided into four sections, one per season. Each page has a haiku for the designated season along with soft illustrations of the panda Koo and his two human friends.
Read the book or just the Spring section of the book. Talk about the words and phrases that the author uses to focus on spring. Encourage children to talk about the illustrations and how they reflect the season.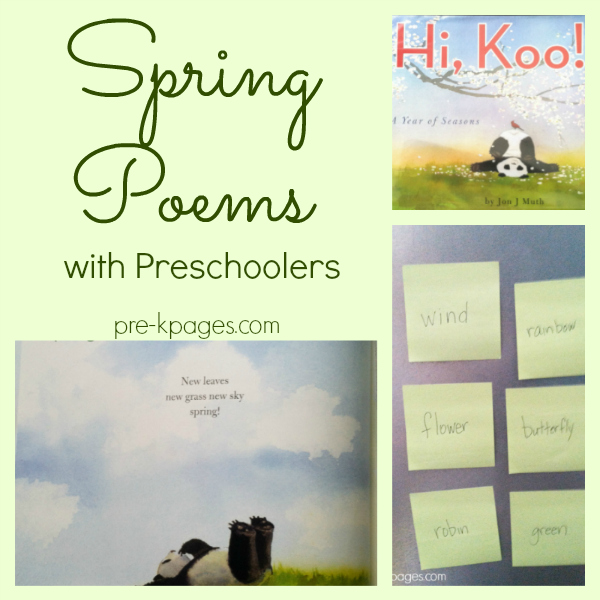 Write a Haiku
Traditional haiku have three lines with a 5-7-5 pattern. However, as Jon Muth explains in his author's note, more modern haiku do not follow this rigid structure. Haiku is focused on nature and uses words that evoke a sensory and emotional response.
After reading the haiku in this book, talk about springtime. Make a list of words or phrases that describe spring. Use some of the words from the book or your own children's ideas. Ask questions like: "What do you see in the spring? What do you smell or feel? What kinds of weather are in spring? How do we know that winter is over and spring has come?"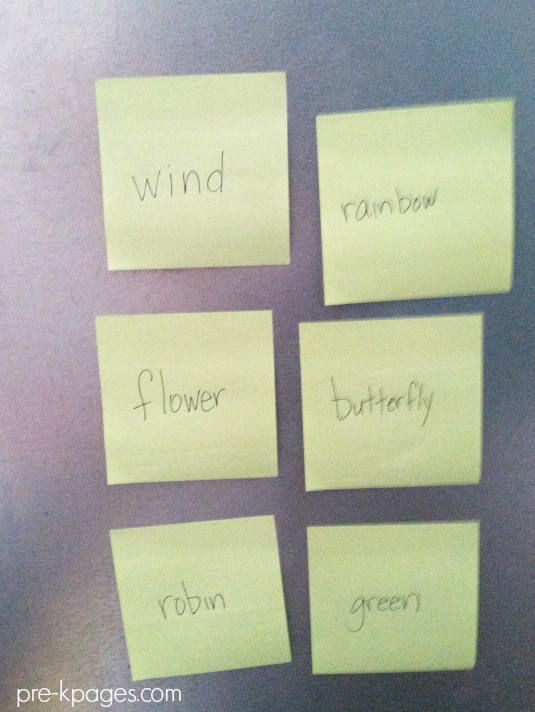 List all of the words that the children suggest. Now is the time for ideas, not editing. I like to use sticky notes because they are easy to move around later. But you can just list the words on a dry-erase board or a piece of paper.
After you have collected the words, expand on the ideas. Choose a word and list related words. Think of other words that go with that word or topic. Encourage children to think about information from other books you have read. Gather as many words on as many different topics as you want. There is no specific number of words to gather – continue until you feel like you have what you need. (But remember, longer thinking can yield more unexpected words.)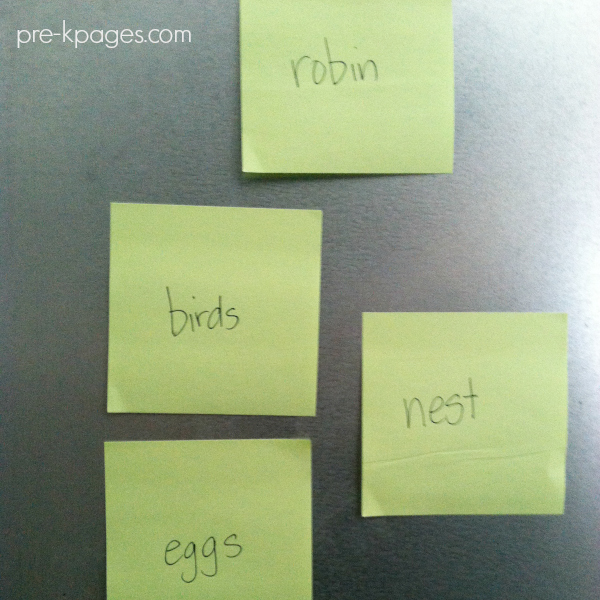 Select a topic for your haiku – maybe one of the words that you expanded. Arrange the words to create sentences or thoughts. Encourage children to play around with their ideas. Rearrange the words to find out how they sound in a different order. Add other words as needed.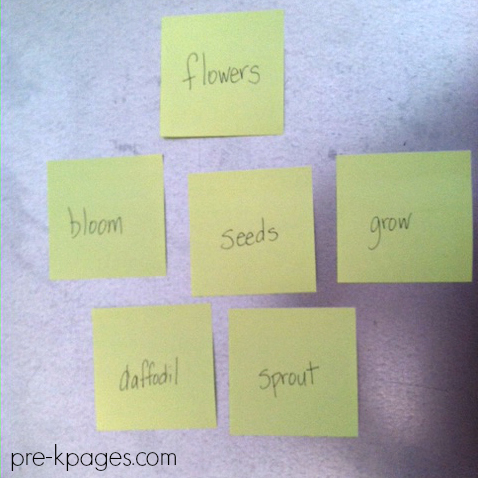 Read the finished haiku. Adjust as the children lead. Post your haiku in your writing center or other area of the room. Encourage preschoolers to draw pictures to go with the haiku. Add the pictures around your haiku.
For older preschoolers, post the list of spring words. Encourage them to write their own haiku or other poems with the words.
Read different types of poetry with your preschoolers this spring. Write poems together. Encourage your preschoolers to think of different ways they can express their ideas.
BIO: Scott Wiley is the editor for Pre-K Pages. He has taught preschoolers and young children for over 25 years. He blogs about preschoolers and play at Brick by Brick. You can connect with Scott on Facebook, Twitter, or Pinterest.
More Spring Literacy Ideas—
Retelling a Spring Book with Puppets
Spring Beginning Sounds Activity
Syllable Caterpillar
Picture Books About Bugs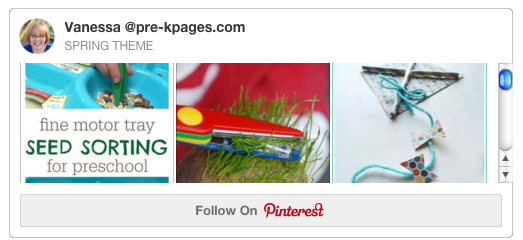 Follow my Spring Pinterest Board for more great activity ideas!