Do your kids love bugs? Are they fascinated by all things that creep and crawl? Then learning about bugs and insects is the perfect way to capture and hold the interest of your kids at home or in the classroom.
These are some of my favorite bug books for preschoolers for an insect theme that will both inform and entertain young children.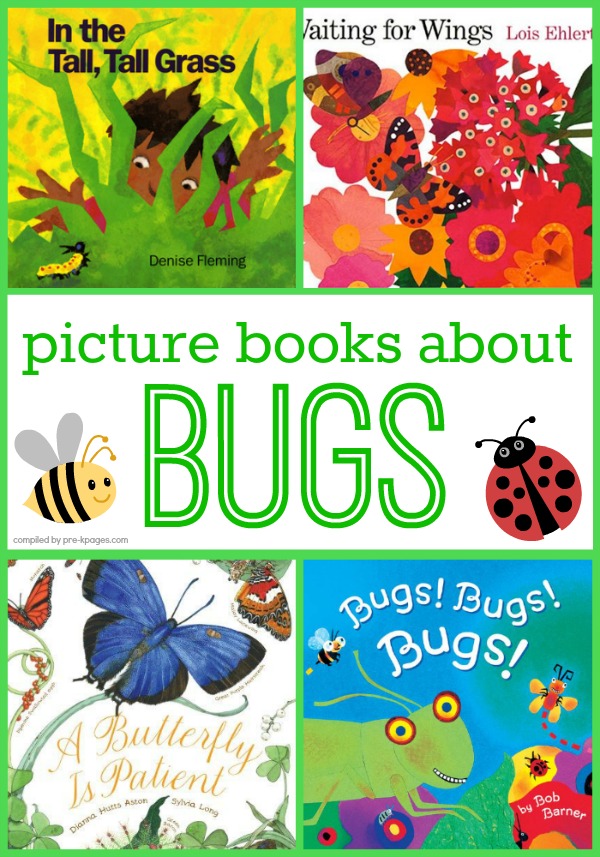 Bug Books For Preschoolers

I Love Bugs! by Philomen Sturges – The reader is invited to explore the amazing world of bugs! From the hungry caterpillars, to the busy ants, and graceful dragonflies; which one is your favorite?

The Very Hungry Caterpillar by Eric Carle – What book list about insects would be complete without The Very Hungry Caterpillar by Eric Carle? "In the light of the moon a little egg lay on a leaf." So begins Carle's tale of the metamorphosis of the butterfly that has captivated generations of children worldwide.

A Butterfly is Patient by Dianna Hutts Aston – A beautifully illustrated and informative introduction to the world of butterflies. Of particular note is the language used in the book, every page features "A butterfly is…" followed by a descriptive adjective. This book provides many opportunities for developing little vocabularies. It's also perfect for the creation of a class book- ask each child to fill in the blank at the end with their own words to expand vocabulary.

In the Tall, Tall Grass by Denise Fleming – What do you see creeping, crawling and hopping in the tall, tall grass? The simple rhyming text and onomatopoeia lend themselves well to a fun, interactive read-aloud session that incorporates both movement and sound. The creatively stunning illustrations can lead to further opportunities for discussion and art exploration. A must have for any picture book lover!

Waiting for Wings by Lois Ehlert – Every spring, butterflies dazzle us with their vibrant beauty. Where do butterflies come from? What do they eat- and how? The simple rhyming text and colorful collages provide answers to these and other questions. Ehlert follows the life cycle of four common butterflies, from their beginnings as tiny eggs and hungry caterpillars to their glorious transformation. This is not your average butterfly book, it includes butterfly and flower facts and identification tips, as well as a guide to planting a butterfly garden.

Bugs! Bugs! Bugs! by Bob Barner – Ladybugs, butterflies, daddy longlegs, and roly-poly bugs are some of the creatures featured in this beautifully illustrated book. Featuring fun facts about each bug, Bugs! Bugs! Bugs! is sure to inform and entertain your little bug lovers.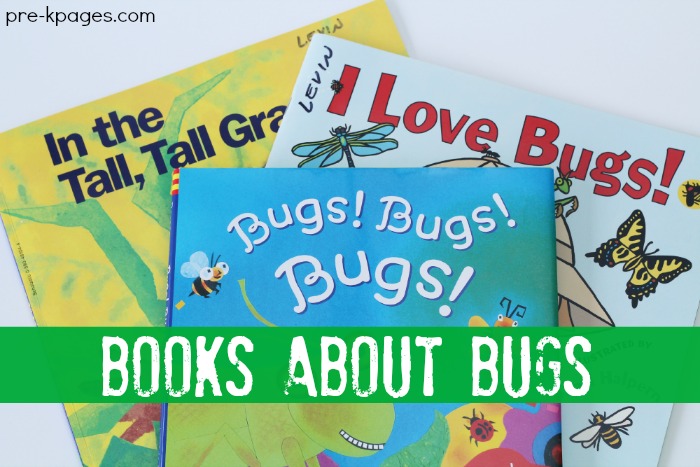 Non-Fiction Books About Bugs
The following non-fiction books are all published by Capstone Press. They feature beautiful photographs and informative text that is appropriate for young children.

Bumble Bees by Fran Howard

Ladybugs by Margaret Hall

Butterflies by Fran Howard

Praying Mantises by Margaret Hall
More Insect Ideas
Insect Science: Ant Life Cycle Craft – This preschool science activity involves creating an ant life cycle craft and would be a wonderful addition to any insect themed learning experience at home or in the classroom!
Insect Alphabet Matching Game – Learning about insects is a perfect springtime theme for preschoolers. This insect alphabet matching activity will allow your children to look closely at the characteristics of insects and help your preschoolers learn uppercase and lowercase letters.
Insect Counting Cards –  This simple insect counting activity that your preschoolers will love.Both games provided will support number recognition, counting skills, and sequencing.
Printable Insect Classification Activity-  Learning about insects is a fun way to celebrate the spring season!  This activity involves classifying insects and animals using hands-on materials to accompany one of my favorite children's books.