This spring flower beginning sounds sort activity is a hands-on way for your preschool and kindergarten students to practice identifying the beginning letter sound in a word. It's the perfect addition to your spring lesson plans!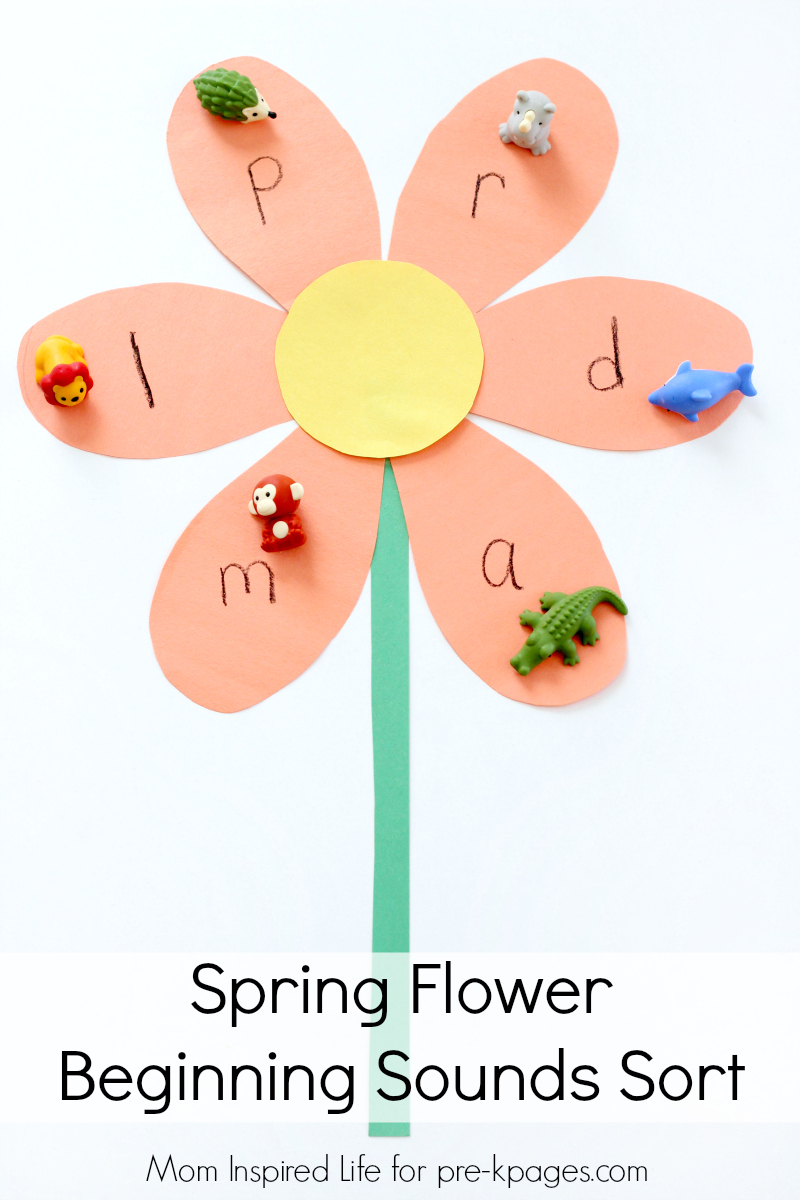 Spring Beginning Sounds Activity
When I think of spring, I think of flowers. This literacy activity uses flower petals as a way to sort various objects to the corresponding beginning letter sound. The use of fun manipulatives really grabs the attention of children and increases their engagement with the activity.
It is super simple to set up and you only need a few common supplies.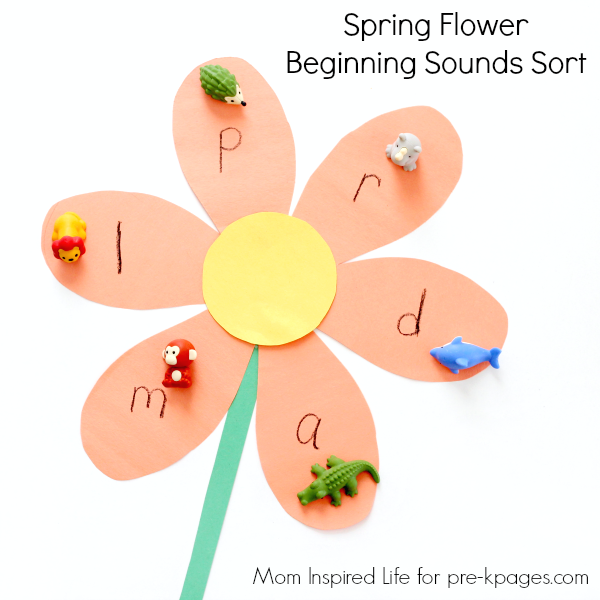 Setting Up the Flower Activity
Supplies
Construction paper
Tape or glue
Small toy animals or other figures (we like these animal erasers)
Marker
First, draw a circle on construction paper and then flower petals on another sheet of construction paper.
Next, cut out all of the flower pieces and tape the petals to the flower center.
Then, cut a strip of green paper to act as the stem and tape that to the flower.
Repeat the steps above to make as many flowers as you would like.
Decide which animal toys or manipulatives you would like to use for this activity. Then write the beginning letter of each object on one of the petals.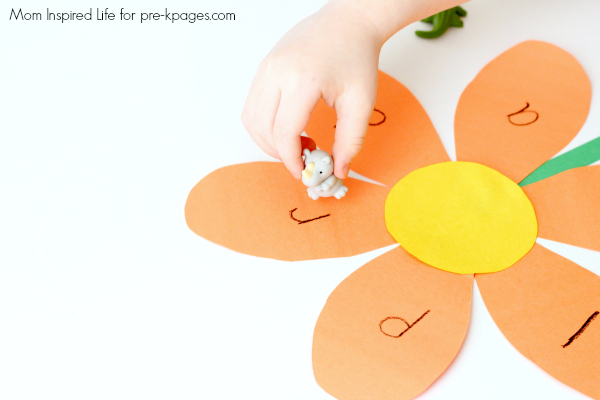 Spring Flower Beginning Sounds Sort
Lay the flowers out on the work surface and place the objects to be sorted next to them. Then invite the children to sort the objects to the appropriate flower petal.
To help them along, you can say the name of the animal or object aloud and really emphasize the beginning sound. As they are saying the letter sound, tell them what letter makes that sound. (Or ask more experienced preschoolers to tell you the letter that makes the sound.) Once they identify what letter makes that sound, they can then look for a flower petal with that letter written on it and place the object on it.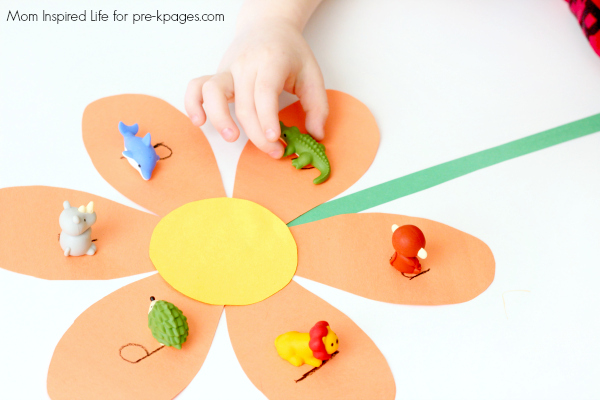 To begin, you may need to do this with your kids and guide them through each object as I outlined above. For children who are already very familiar with identifying beginning letter sounds, this would be a great independent activity.
My son had a great time doing this and actually wanted to do it more than once. I love that we can make several different flowers and pull them out over and over again this spring to practice beginning sounds. We can even change up the toys we use to keep it fresh and exciting! You can also ask what other words that start with the letters.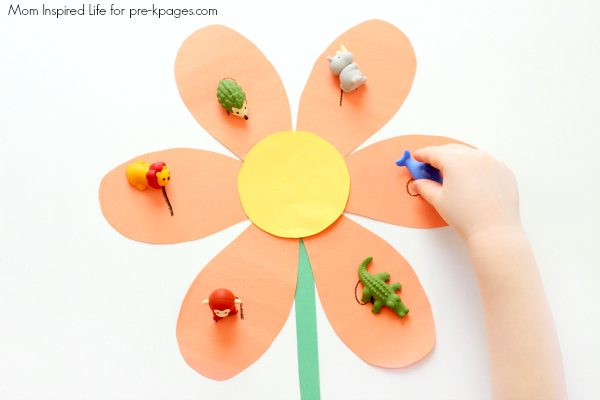 BIO: Danielle is a former elementary teacher, a mom of two and now shares playful learning activities at Mom Inspired Life. Check out her Alphabet Activities for Preschoolers and make sure you subscribe to her newsletter to receive activities straight to your inbox! You can also follow her on Facebook, Pinterest, or Instagram.
More Spring Activities
Often in the spring, activities focus on planting and exploring the plant life cycle. Below are activities that explore springtime but do not involve planting anything. Use these activities to engage your preschoolers in learning in many different ways.
Spring Movement Games (Pre-K Pages) – This is a fun and active movement game to work on gross motor and literacy skills. And, you only need a few supplies to prepare the whole group activity.
Spring Splat Art (Pre-K Pages) – Gather your kids together, cover as many surfaces as you can, lay out the supplies and stand back. Splat art might be messy, but it's fun and beneficial in many areas of your preschoolers development.
Retelling a Spring Book with Puppets (Pre-K Pages) – sing puppets, along with other storytelling props, is an easy and fun way to make books come to life for preschoolers. We've found a wonderful book to incorporate into puppet storytelling and it's perfect for Spring!
Flower Play Dough (Pre-K Pages) – Kids love play dough any time of the year, spring, summer, winter or fall. When you make your own play dough you can get creative with your colors and ingredients to make it extra fun for your kids.
Flower Alphabet Match (Pre-K Pages) – This alphabet activity will have children learning about uppercase and lowercase letters with a fun spring twist.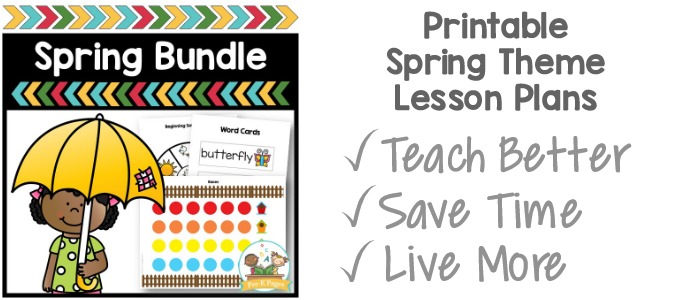 More Spring Ideas