Shamrocks are the ultimate St. Patrick's Day symbol, so what could be better to use for a fun St. Patrick's Day activity?
Instead of real clover, this easy St. Patrick's day activity makes shamrocks from ordinary green pipe cleaners and encourages children to "plant" them in a number of common materials to exercise fine motor skills.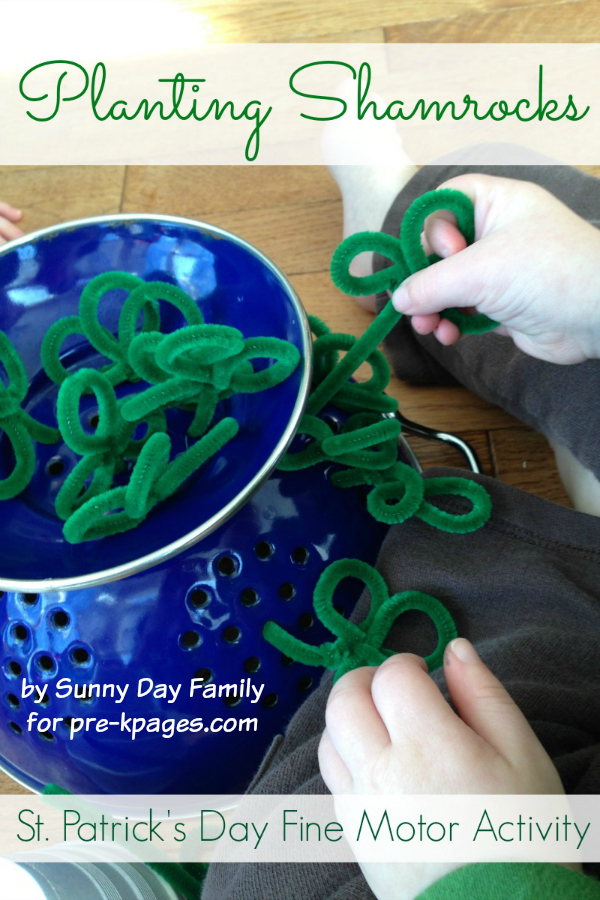 Disclosure: Affiliate links included below
What Are Fine Motor Skills?
This activity is perfect for developing preschoolers' fine motor skills.
Fine motor activities exercise the small muscles of the hands and provide opportunities to develop hand-eye coordination.
These are vital skills for preschoolers as they work towards cutting, drawing, and handwriting.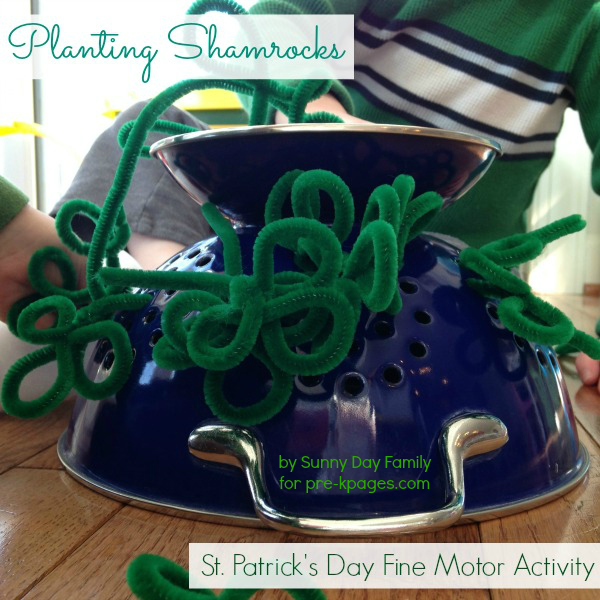 How to Make Pipe Cleaner Shamrocks
For this activity, you will need:
Green pipe cleaners (aka chenille stems)
Materials for planting. I used a colander, play dough, foam coffee cups, and a foam block. You can use other materials as well, as long as the pipe cleaners can easily pierce the surface.
To start, you will need to make your shamrocks from the green pipe cleaners.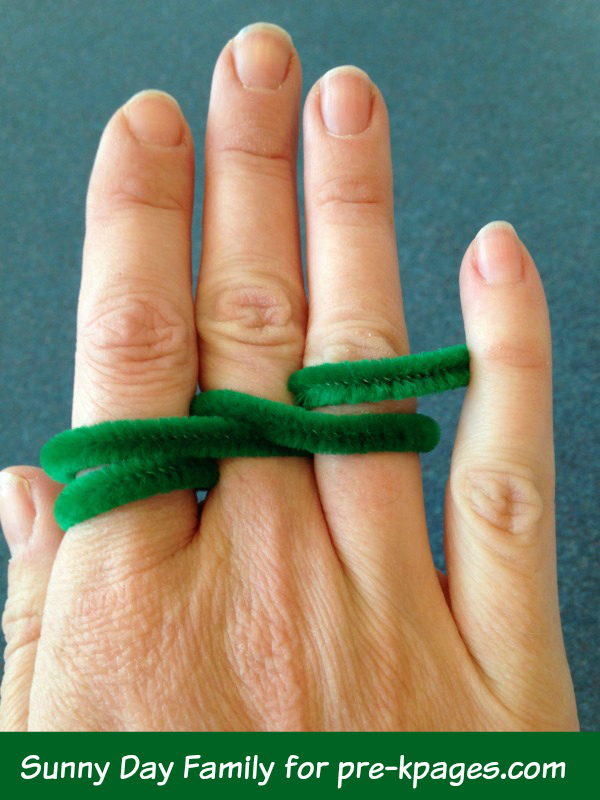 This is very easy! Just wrap the pipe cleaner around each of your first 3 fingers. Then pull it off carefully, pinch the 3 "leaves" together, and twist to keep in place.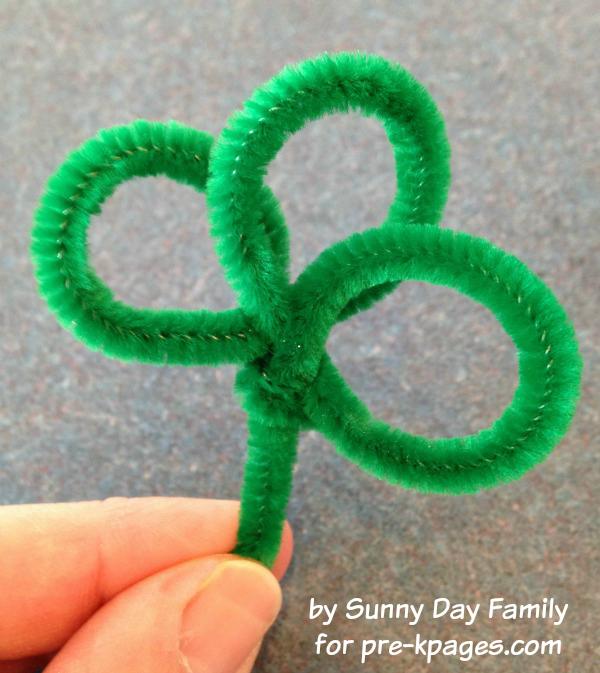 Making Pipe Cleaner Shamrocks
Depending on the age of the children doing this activity, you can have them help make the shamrocks by wrapping the pipe cleaner around their fingers and letting them twist it together.
Once you have made a good number of shamrocks, set them out along with your planting materials and invite the children to "plant" the shamrocks.
They started with the colander, which I had placed upside down on the floor. They had a lot of fun threading the shamrocks into the various holes!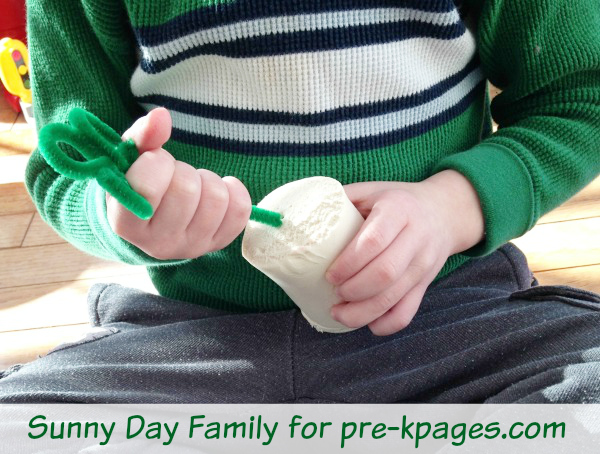 Planting Shamrocks in Play Dough
Next we tried play dough.
The dough was soft and they were able to plant the shamrocks easily.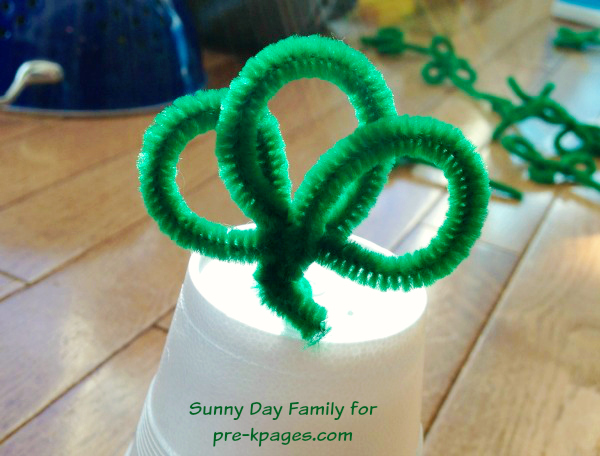 Planting Shamrocks in Foam
We also tried two different types of foam – Styrofoam coffee cups and a harder foam block.
They had a more difficult time pushing the shamrocks into the foam, which presented a great opportunity for us to discuss the difference between hard (the foam) and soft (the play dough).
It became a lesson in textures as well!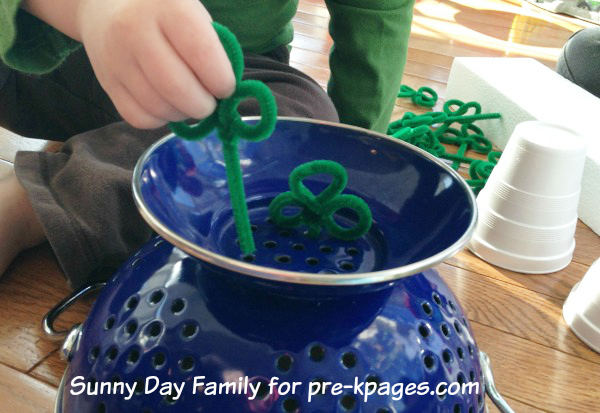 Planting Shamrocks
The boys soon returned to the colander – it was by far the favorite of their planters and they spent a good bit of time making what eventually looked like a lovely field of clover!
My boys had a lot of fun with this activity, and it was a wonderful way to work on fine motor skills, talk about hard vs. soft, and get into the St. Patrick's Day spirit too. I hope that you enjoy it as well!
BIO:
Laura is a mom to twin boys and the author of Sunny Day Family where she shares her favorite activities, crafts, recipes and tips for staying organized, happy, and healthy. Connect with her on Facebook, Pinterest, Instagram, and Twitter.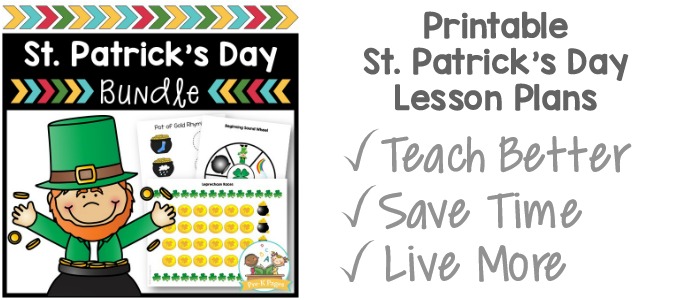 More St. Patrick's Day Ideas