Valentine's Day is right around the corner! This open-ended Valentine science experiment will engage your kids and promote inquiry, critical thinking, oral language skills and more!
Your preschoolers will love exploring and investigating the concept of melting ice, with this fun, hands-on sensory science experiment.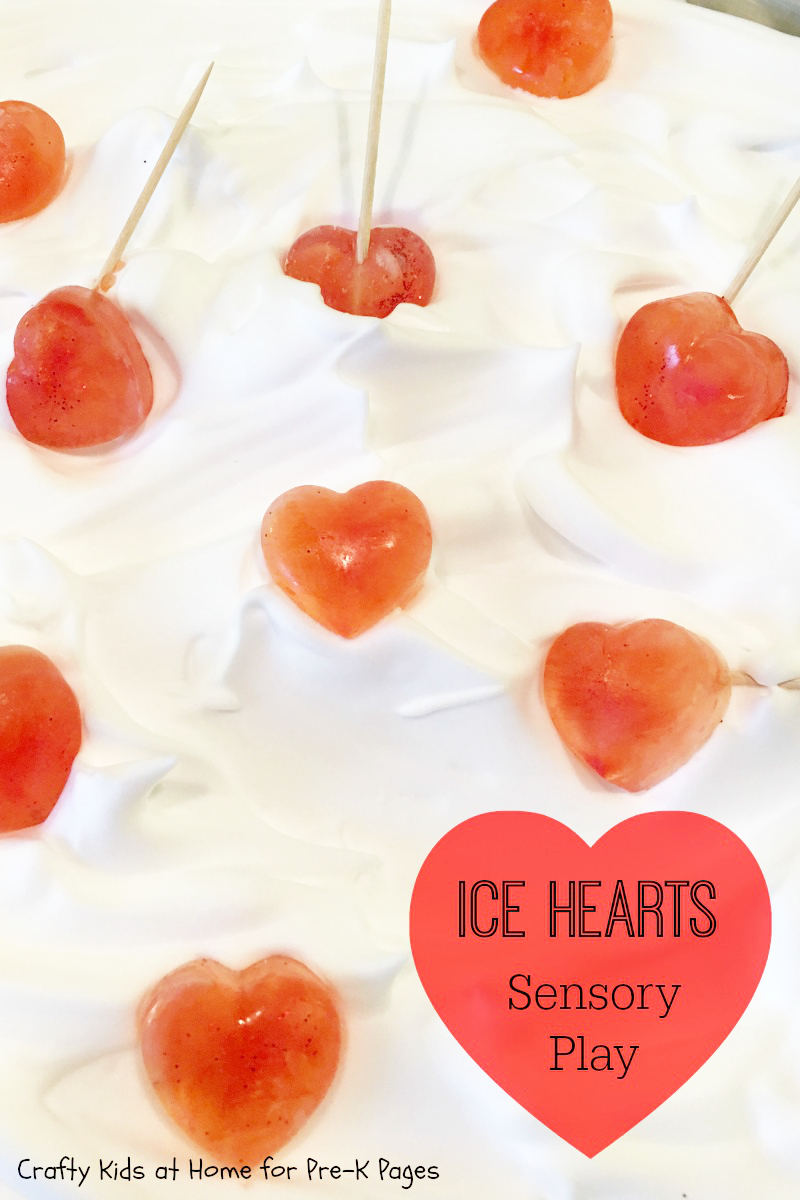 Valentine Ice Heart Supplies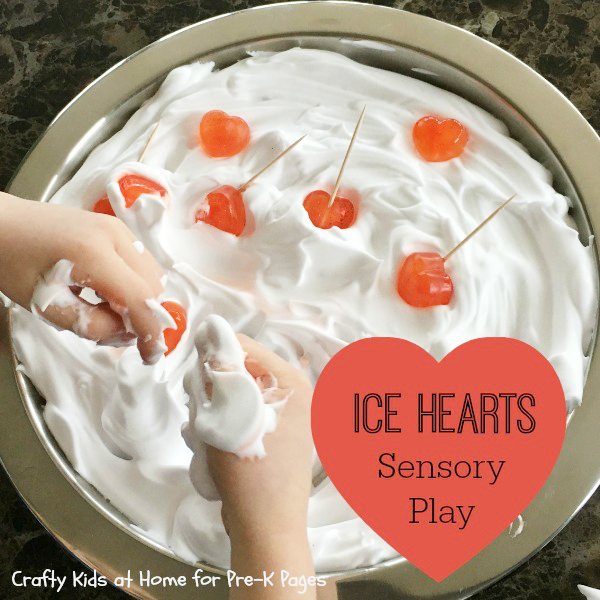 Valentine Science Experiment Prep
I mixed together water, food coloring, and glitter and poured the mixture into a mini heart shaped silicone mold.
Before popping the mold into our freezer, I placed a toothpick into half of the hearts.
Once completely frozen, I popped the hearts out of the mold and tipped them over a tray filled with shaving foam. I showed the activity to my daughter. "I can get messy, mummy?" she asked with more than a glimmer of mischief on her eyes.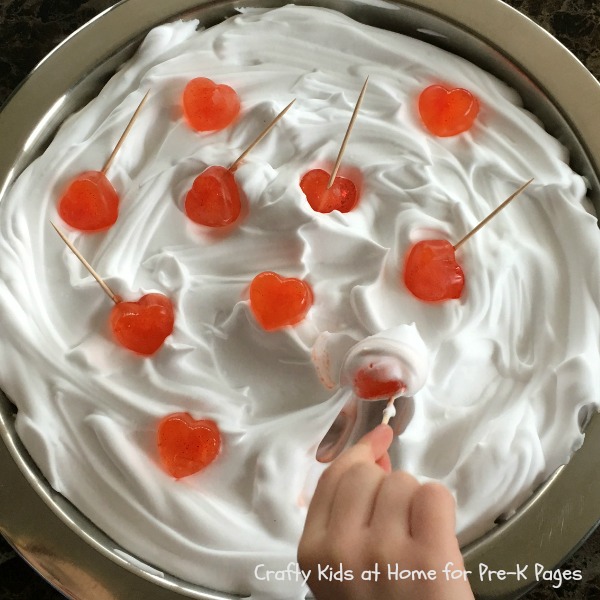 Getting Messy
Whether you like messes or not, let's face it, kids are naturally messy. When we provide kids with the tools they need to clean-up, we are teaching important life skills such as independence, sequencing, fine motor development and so much more. If you look at messes as educational opportunities you will feel less stressed at home or in the classroom.
Here are some tips for getting messy with kids:
Wear old clothes and cover these with an apron.
Keep wipes and paper towels on standby.
Bring a bowl of warm soapy water to the table at the end of the session to help with clean-up.
Cover the surrounding floor with a sheet or similar.
Remember that getting messy is actually an opportunity for learning!
Allow plenty of time for the activity and the clean-up afterwards.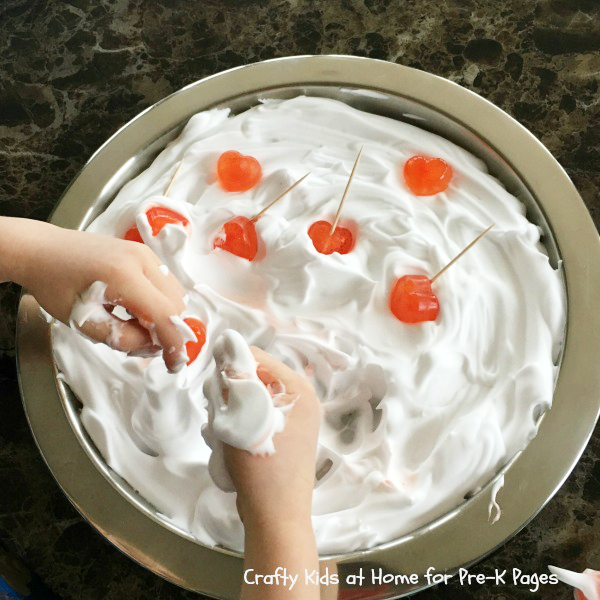 Play Time
I popped on her apron. She rolled up her sleeves and we were ready to play.
Bella began by taking hold of one of the toothpicks attached to the frozen hearts and swirled the heart around in the shaving foam.
As she moved the ice around, she watched in fascination as the color from inside the ice heart began to leak out into the shaving foam, leaving behind lovely swirls of color. Her inquisitive nature wanted to know why this was happening.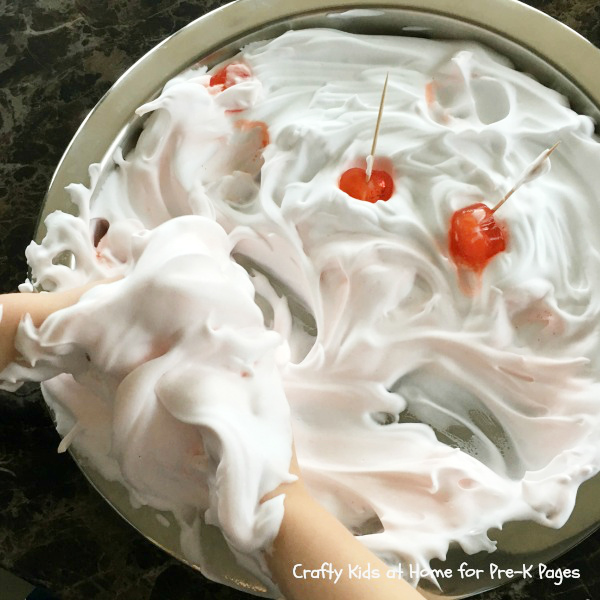 I carefully explained that the warm air and shaving foam were causing the ice hearts to melt a little and as the ice melted, the color we had mixed into the hearts was escaping out into the shaving foam.
Satisfied with this she moved onto an ice heart without a toothpick to hold onto. She gave it a very thorough inspection with her hands passing it from one hand to the other, turning it around to examine all aspects of it. Whilst she explored I probed her with a few questions as to how the ice felt in her hands and how it felt against the shaving foam in the tray.
As you talk to your kids about what they see happening, you are naturally developing their oral language skills, vocabulary, inquiry, and more. Ask questions such as "What do you think will happen next?" and "Why do you think that?" to really get the discussion going.
These types of open-ended questions that have no right or wrong answer are the key to true oral language development that will help build a strong foundation for lifelong success.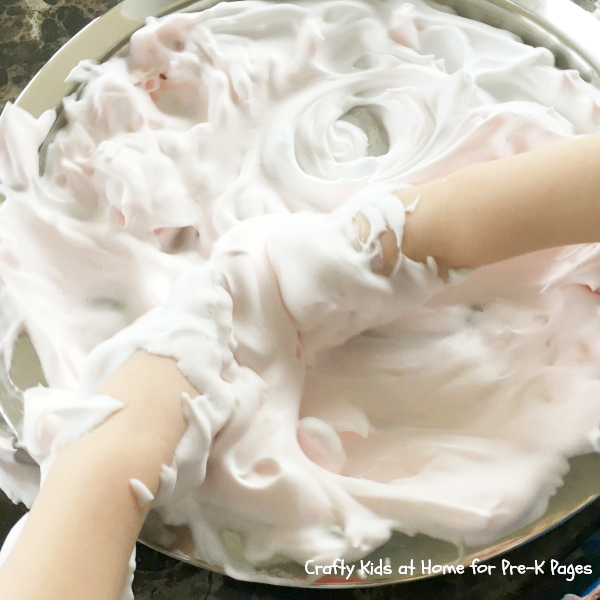 She had so much fun playing with the hearts in the shaving foam. Once all of the ice had melted, she had fun creating a pink castle up in the clouds, along lots of pretend marshmallows for her pretend princess to eat.
If you liked this science experiment then you might also enjoy this Valentine's day bubble science activity!
Try out this fun sensory experience with your kids and let us know how it goes in the comments below!
BIO: Nicola is a former Librarian who now spends her time looking after and coming up with arts and crafts ideas for her sons Liam (7), Freddie (5), and Bella (3) to do together. Her blog is Crafty Kids at Home. You can find her on Pinterest, Instagram, Facebook, and Twitter.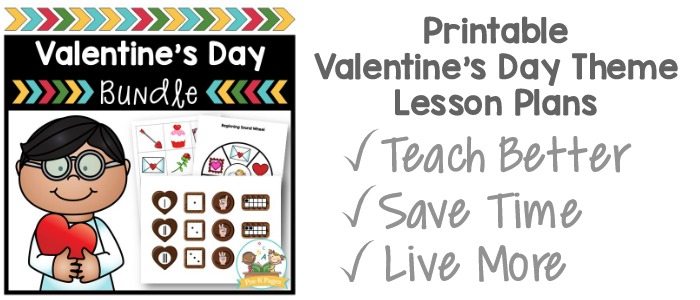 More Valentine's Day Ideas