5 Little Monkeys is a classic rhyme that preschool children always enjoy. But it's not just a fun song or rhyme, it's also a valuable tool that can help your kids develop math skills such as number sense, one-to-one correspondence skills, and mathematical fluency. Keep reading to see a video of this activity in action and grab your free printable!
Counting with 5 Little Monkeys
Here are the materials you will need to introduce this activity to your own kids:
Metal Cookie Sheet
Magnetic Tape
Printable 5 Monkeys 5 frame (see below)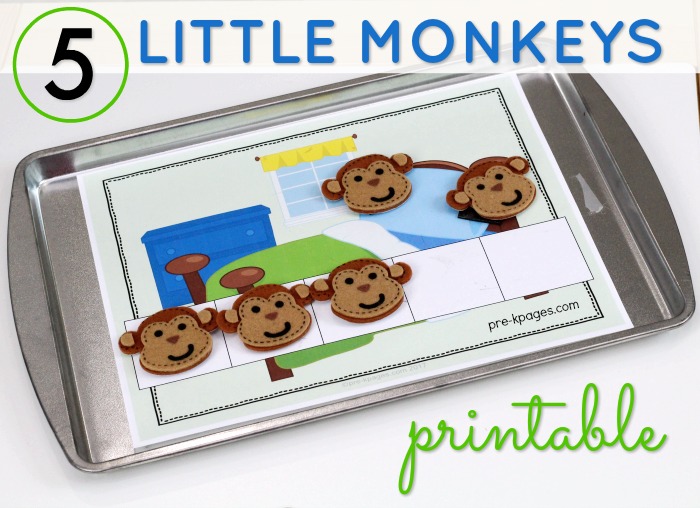 5 Little Monkeys 5 Frame Printable
To introduce this activity, start by reading the book
Five Little Monkeys Jumping on the Bed
by Eileen Christelow. You will want to read this story for several days, once or twice each day, or as long as it holds the children's attention.
After the children have really learned the words to Five Little Monkeys and started to chant them on their own, you can transition to once a week or whenever you feel it is of interest to them.
Then, invite the children to act out the story using their hands as the monkeys.
Next, invite five children at a time to act out the story in whole group. You could use painter's tape or a shower curtain to create a five frame on the floor.
Finally, use the printable below to help the children visualize the quantities of monkeys as you recite the rhyme together.
Watch the Video
I've also included a ten frame for those children who are ready to move on to fluency within ten.

More Math Ideas