Teaching math skills in the early childhood classroom is so much more than just counting and number recognition. If you really want to help young children develop math skills, then you need to embrace hands-on learning. When you infuse your classroom with fun and playful hands-on learning opportunities daily, your kids will learn more and have fun in the process.
Your little learners will have a blast with this fun feed the dog counting activity!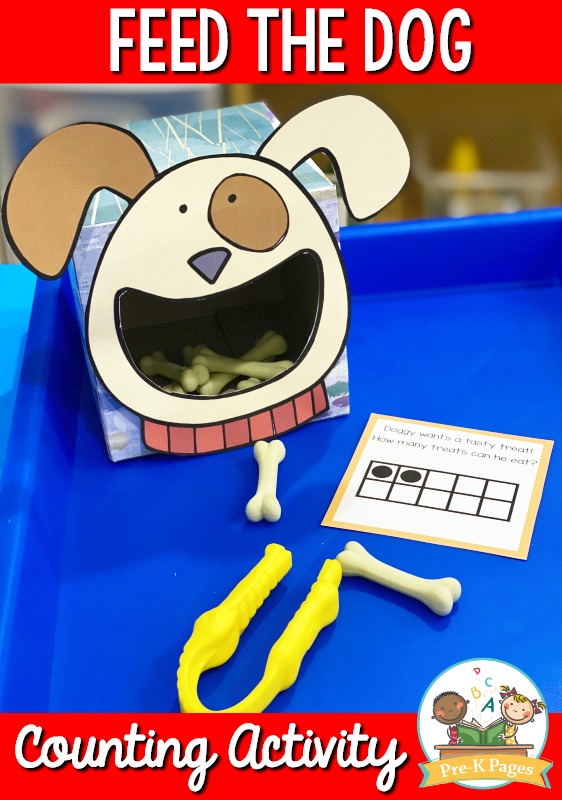 Feed the Dog Counting Game
My motto is, "Flat is boring and 3D is fun!" This fun activity includes multiple opportunities for children to touch and manipulate 3 dimensional items. Your kids will love rolling the cube, counting out the objects, and even using tweezers or tongs to practice those important fine motor skills.
You can use this activity in small groups to start, then transition it to your
math center
once your students are familiar with how to play.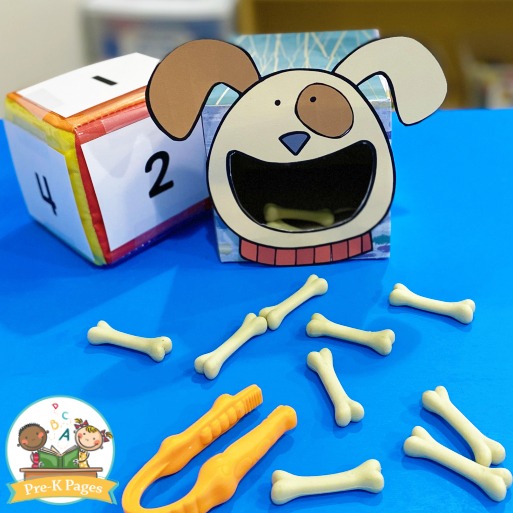 Feed the Dog Counting Activity
If you want to provide your kids with more hands-on learning opportunities that will help them develop number sense skills, then this activity is for you!
You'll need the following materials to get started:
Cardstock
Laminator and Laminating Film (here's my favorite)
Scissors
Pocket cube (or any small square box)
Tape or glue
1 Tissue box, paper bag, or container
Pom-Poms or other manipulatives
Optional: tongs or tweezers
Optional: dog bone treats
Don't worry about having the cutest manipulatives, your kids will have fun counting anything. They're children and they have vivid imaginations, if you tell them that the pom-poms are dog treats they won't have any problems pretending. But I know you'll probably ask so I'll tell you, I found the dog bone erasers in the dollar section of Target a few years ago.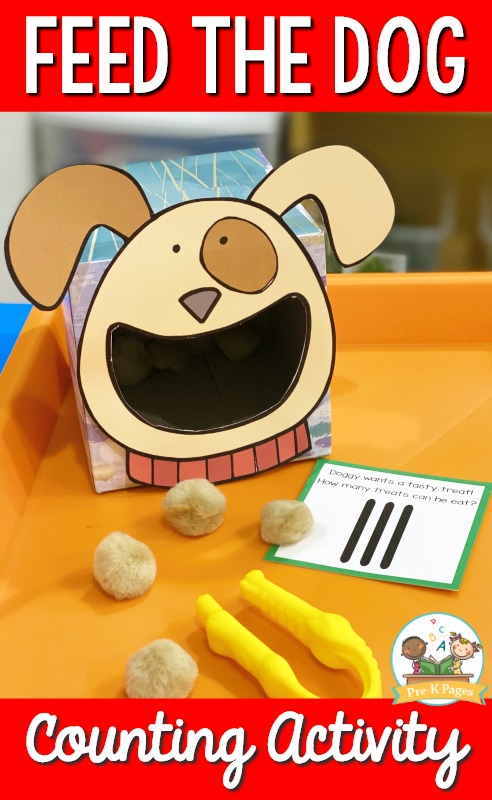 Feed the Dog Number Sense Game Objectives and Skills
In case you're wondering what students will be learning when they engage in this activity, I've got your back!
Objectives
The objectives covered include:
Identifying numerals
Subitizing
Counting objects with one-to-one correspondence
Skills Addressed
I've also got you covered with a list of skills your kids will be learning:
Counting
One-to-0ne Correspondence
Number Sense
Numeral Identification
Subitizing
Fine Motor (if using tweezers or tongs)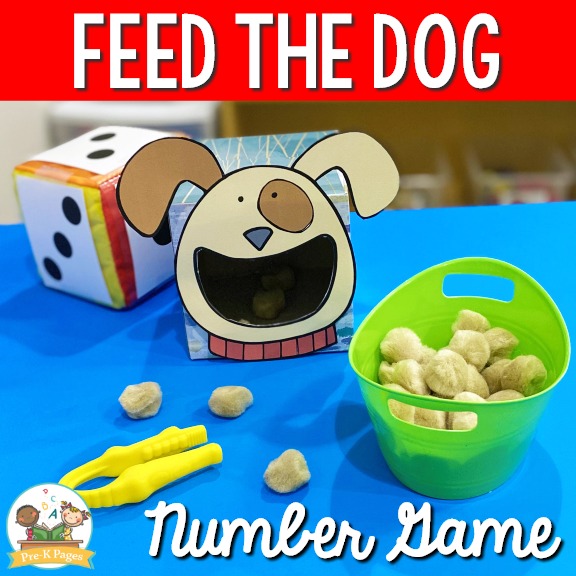 Differentiation
I'm often asked about how to differentiate instruction in the Preschool or Pre-K classroom. You can easily differentiate this activity to meet the needs of any student in your classroom.
Just in case you're wondering, differentiation is an educational strategy you can use with small groups of students. Differentiating instruction allows you to address the many different needs of your students. The purpose of differentiated instruction is to ensure that all students can learn the concepts and skills they need to be successful.
To start differentiating instruction in your classroom you can:
Gather your assessment data
Group your students into small groups based on the data
Tailor your lessons to meet the needs of the students in your small groups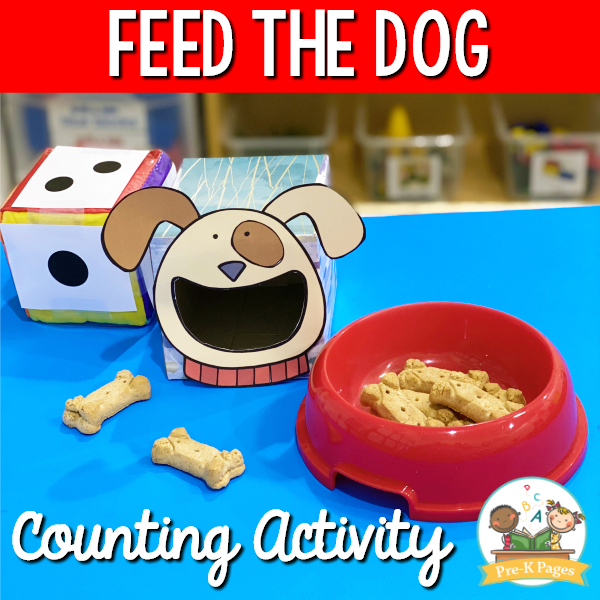 How to Differentiate This Activity
You can quickly and easily differentiate this activity by grouping your students who can subitize 3 or more items into one or more groups, and then grouping those who cannot yet subitize into one or more groups. This will allow you to focus on subitizing quantities of 1-3 with those groups who cannot yet subitize; and focus on subitizing numbers 4-6 with those who can.
The same process can be used to differentiate this activity for counting and numeral identification. Using your assessment data again, determine which of your students can recognize and count numerals to a certain number, then group them accordingly and adjust the game to meet their individual needs.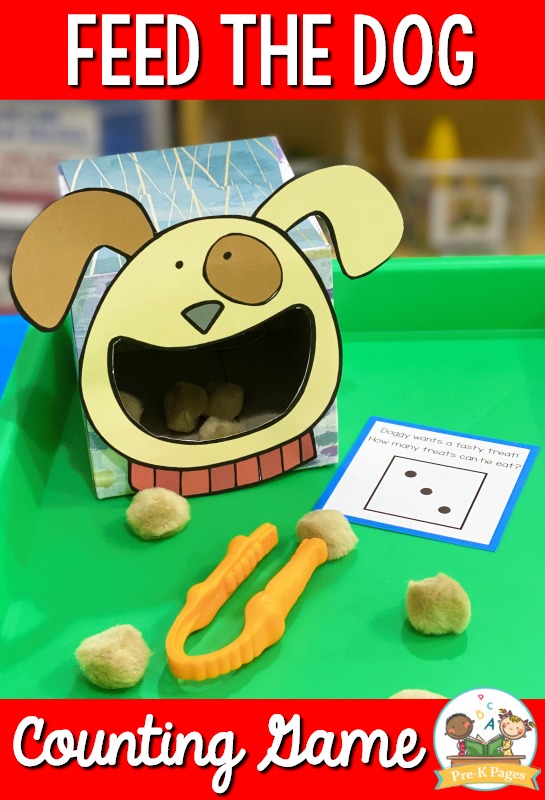 Preparing the Activity
To get started you'll want to prepare the activity for your students using the printables in the Counting Games Bundle. First, print and laminate the Feed the Dog cards of your choice as well as the dog's face.
Next, cut your cards apart with scissors. If you're using a cube, insert the cards into a pocket cube or assemble the printable dice included.
Then, cut out the mouth on the dog's face and attach it to a tissue box, paper bag, or container with glue or tape. The square tissue boxes are perfect for this game.
Finally, place your pom-poms or manipulatives of your choice in a small basket or container along with tongs or tweezers for some fine motor practice.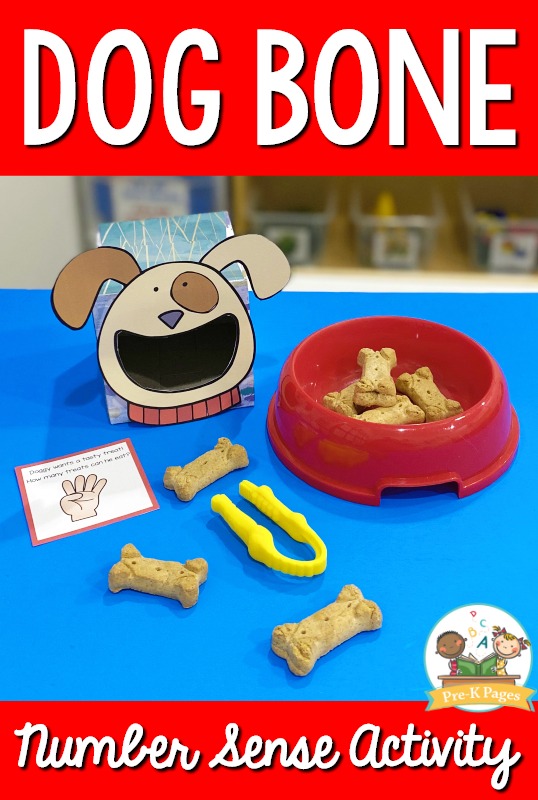 How to Play
To play the game in a small group, put the tissue box, bag, or container with the dog's face on the table, facing the students.
Next, place the manipulatives of your choice in a container or basket on the table, within easy reach of all students in your small group.
Then, demonstrate how to play the game by rolling the cube and feeding the dog the corresponding number of treats.
Now your students will take turns rolling the cube, and counting and "feeding" the corresponding number of treats into the dog's mouth.
If you're using the cards instead of the cube you'll want to demonstrate first, then invite students to take turns selecting cards and feeding the dog. You'll also want to be sure they know the fun little rhyme on the top of each card so they can chant it each time it's their turn.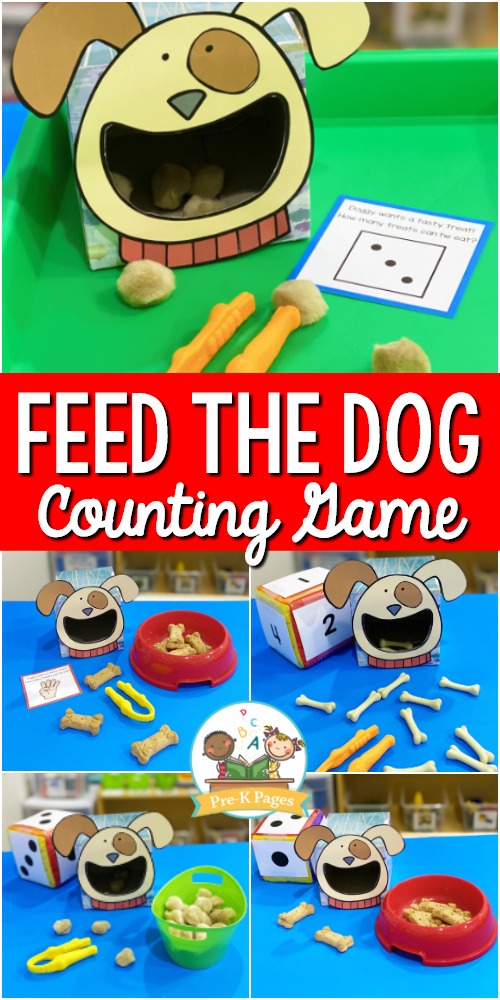 The Feed the Dog game is just one of the many different options available in the Counting Games Bundle. There are 16 different games to choose from, all with rhyming chants. The Counting Games Bundle will provide your students with fun, hands-on ways to practice counting and building number sense skills all year long!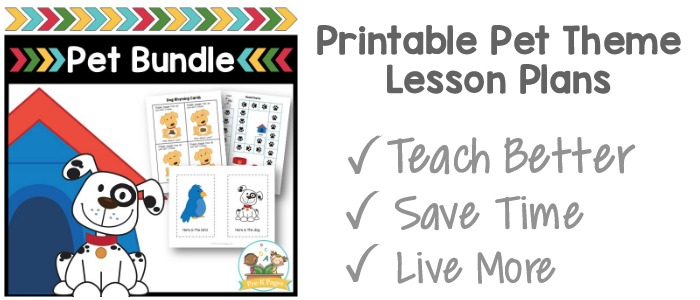 More Math Ideas