Rainbow activities are a lot of fun for kids, and they offer plenty of learning opportunities. Use these ideas as you explore the rainy spring weather or think about St. Patrick's Day. Or just explore the colors and beauty of the rainbow with these activities.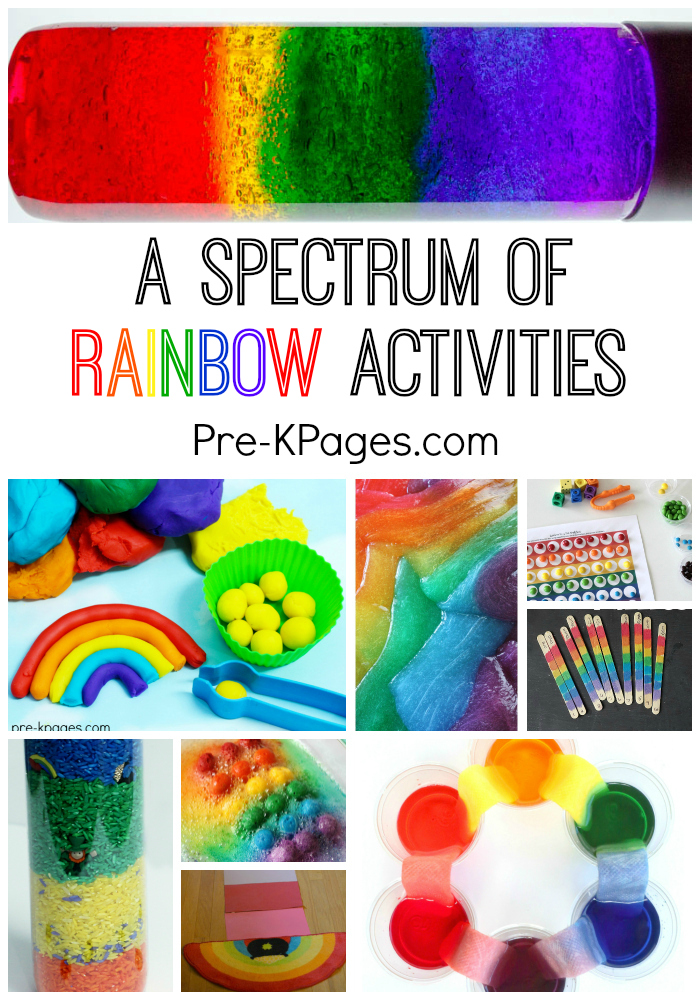 30+ Rainbow Activities
There's something for everyone on this list!
1. Rainbow I Spy Activity (Pre-K Pages)
2. Moldable Rainbow Sensory Sand (Pre-K Pages)
3. Rainbow Play Dough (Pre-K Pages)
4. Rainbow Science Experiment (Pre-K Pages)
5. Let's Make a Rainbow Together (Teach Preschool)
6. Weaving Through a Rainbow (Teach Preschool)
7. Cooking Up Rainbow Toast (Teach Preschool)
8. Rainbow Slime (Little Bins for Little Hands)
9. Rainbow Toy Hunt (Hands on as We Grow)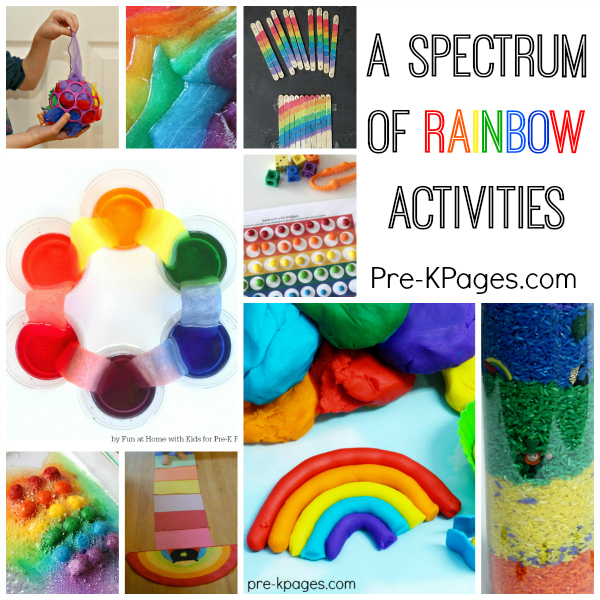 10. Rainbow Chickpeas (And Next Comes L)
11. Rainbow Discovery Bottle (Preschool Inspirations)
12. Fine Motor Rainbow Ball Game (Still Playing School)
13. Rainbow Science: Exploring Prisms (Buggy and Buddy)
14. Rainbow Cupcakes (Craftulate)
15. Rainbow Rainy Day Art (Rhythms of Play)
16. Rainbow Counting Activity (Mom Inspired Life)
17. Language Activity: Rainbow Climb (Growing Book by Book)
18. Scented Rainbow Science and Sensory Play (Fun-a-Day)
19. Rainbow Craft Stick Puzzle (Powerful Mothering)
20. Rainbow Collages (Brick by Brick)
21. How to Make Rainbow Crayons (Pre-K Pages)
22. Rainbow in a Bag (Powerful Mothering)
23. Rainbow Race to the Top Printable Game (Stay at Home Educator)
24. Rainbow Match-Up (FSPDT)
25. Stack a Stone Rainbow (Adventures of Adam)
26. Rainbow Tinker Tray (Still Playing School)
27. How to Flip a Rainbow Science Experiment (Lemon Lime Adventures)
28. Rainbow Marble Painting Process Art (Preschool Inspirations)
29. DIY Rainbow Abacus (Fun-a-Day)
30. Pot O' Gold DIY Piggy Bank (Playground Park Bench)
31. DIY Rainbow Peg Dolls (Rhythms of Play)
32. Rainbow Oobleck (Busy Toddler)
33. Rainbow Loom Sensory Bottle (Teaching Mama)
34. Rainbow Books for Kids (Sunny Day Family)
35. Jumping the Rainbow Fine Motor Activity (JDaniel's Mom)
36. Rainbow Circle Art (My Mundane and Miraculous Life)
37. Rainbow Smoothies (Sugar, Spice, and Glitter)
38. Bubble Wrap Rainbow (Crafty Kids at Home)
Which one was your favorite?
More St. Patrick's Day Ideas