Rainbow activities are a lot of fun for kids, and they offer plenty of learning opportunities. Use these ideas as you explore the rainy spring weather or think about St. Patrick's Day. Or just explore the colors and beauty of the rainbow with these activities.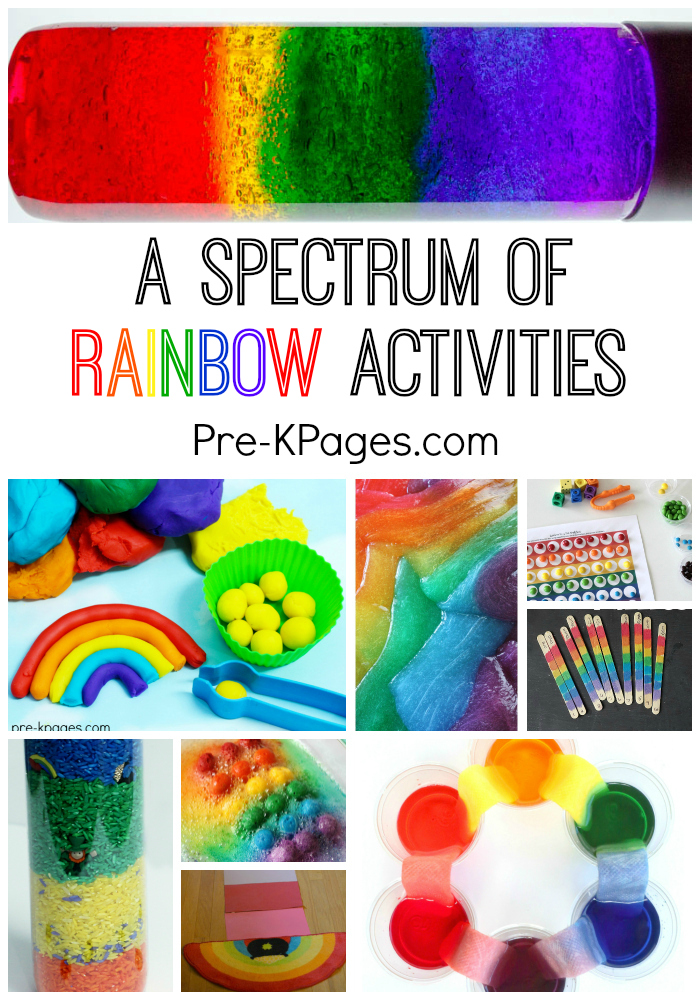 30+ Rainbow Activities
There's something for everyone on this list!
1. Rainbow I Spy Activity (Pre-K Pages) -Your kids are going to love this Rainbow I-Spy bottle for St. Patrick's Day!  Shaking the bottle and searching for the objects hiding in the rainbow is only half the fun, I also created a printable that will help your kids practice identifying beginning sounds when they play the spy game.
2. Moldable Rainbow Sensory Sand (Pre-K Pages) – This rainbow sand with gold coins is perfect for St. Patrick's Day because the pot of gold is always at the end of the rainbow!
3. Rainbow Play Dough (Pre-K Pages) – This rainbow playdough may look great, but did you know it also has tons of educational benefits?  Yes! Playdough is full of opportunities for both learning and fun- it's a great way to work on academic skills in a playful way.
4. Rainbow Science Experiment (Pre-K Pages) – Learn a little bit about the book for for kids ages 4 to 8, The Curious Kid's Science Book, including a sneak peek at an activity from the book.
5. Let's Make a Rainbow Together (Teach Preschool) –  A fun and creative process that will encourage teamwork in your classroom by using their own hands to make a rainbow!
6. Weaving Through a Rainbow (Teach Preschool) – Your children will hvae fun using paper streamers to weave a rainbow in your classroom!
7. Cooking Up Rainbow Toast (Teach Preschool) – With a little food coloring, you can have fun cooking up this tasty colorful snack!
8. Rainbow Slime (Little Bins for Little Hands) – Rainbow slime is amazing!  This beautiful colored, shimmery rainbow slime is perfect any time of the year.
9. Rainbow Toy Hunt (Hands on as We Grow) – Go on a color scavenger hunt around the house or in the classroom to find objects of every color of the rainbow!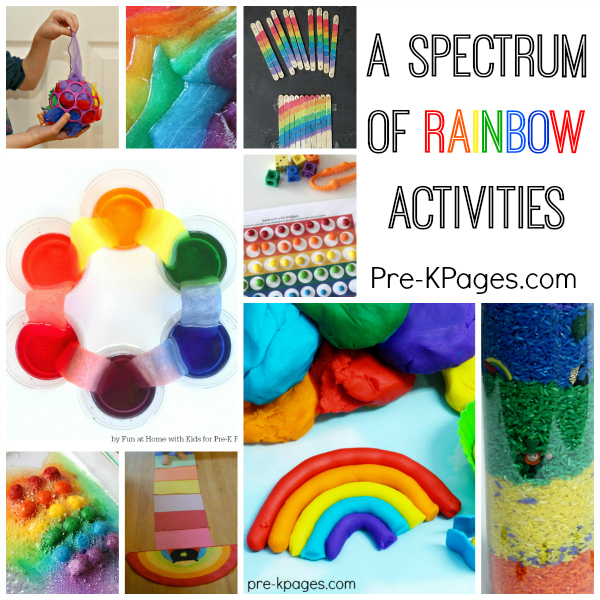 10. Rainbow Chickpeas (And Next Comes L) – With zero drying time, these rainbow chickpeas are the perfect sensory bin filler.
11. Rainbow Discovery Bottle (Preschool Inspirations) – If you have ever wondered how to make a rainbow sensory bottle that doesn't have the colors run together, this is it!
12. Fine Motor Rainbow Ball Game (Still Playing School) – Scarves in a ball create an irresistible fine motor game for kids! We made it even more interesting by adding all the colors of the rainbow into our play.
13. Rainbow Science: Exploring Prisms (Buggy and Buddy) – Prisms can provide such a fun, hands-on way for kids to observe and hypothesize about light. Here's some fun ways to use prisms with preschoolers, kindergarteners, and elementary students.
14. Rainbow Cupcakes (Craftulate) – Using a cake mix and food coloring, your kids will love making these rainbow cupcakes!
15. Rainbow Rainy Day Art (Rhythms of Play) – Have fun getting creative and learning with the kids with this art and science STEAM project. Kids love to draw using the colors of the rainbow and watch how quickly their drawings are transformed by the rain.
16. Rainbow Counting Activity (Mom Inspired Life) – This rainbow counting activity is simple, but effective. Kids will roll a number and add that many pieces of candy to the rainbow. It's a great math activity for preschoolers!
17. Language Activity: Rainbow Climb (Growing Book by Book) – This literacy activity is packed with color, language play and a good dose of gross motor exercise!
18. Scented Rainbow Science and Sensory Play (Fun-a-Day) – Your kids will love playing scientist with this fun fizzy rainbow science experiment that smells amazing!
19. Rainbow Craft Stick Puzzle (Powerful Mothering) – Using popsicle sticks your kids can work on their numbers and counting with this rainbow craft stick puzzle.
20. Rainbow Collages (Brick by Brick) – With paper plates, and colored paper your little ones will love making their own rainbow collages.
21. How to Make Rainbow Crayons (Pre-K Pages) –  Recycle your old crayons and make beautiful new rainbow crayons in the microwave.  These rainbow crayons are super easy to make and they'll provide your kids with plenty of fine motor practice too!  You can make these at home or in the classroom- no knives or oven necessary!
22. Rainbow in a Bag (Powerful Mothering) – Create this mess free sensory rainbow in a bag that your kids will love!
23. Rainbow Race to the Top Printable Game (Stay at Home Educator) – Rainbow Letters Race to the Top is a letter identification game.  The free printable offered at the end of this post means it's crazy easy for teachers and parents to set up, too.
24. Rainbow Match-Up (FSPDT) –
25. Stack a Stone Rainbow (Adventures of Adam) – Paint some stones the colors of the rainbow and watch as your little one has fun trying to stack them!
26. Rainbow Tinker Tray (Still Playing School) – Create a colorful tray of items that your toddlers will have fun creating and tinkering around with.
27. How to Flip a Rainbow Science Experiment (Lemon Lime Adventures) – Just a few simple materials is all you need to "flip a rainbow" and wow your little ones with this science experiment.
28. Rainbow Marble Painting Process Art (Preschool Inspirations) – This is a simple process art activity that your kids will love and will be beautiful in the end as well!
29. DIY Rainbow Abacus (Fun-a-Day) – This do it yourself rainbow abacus is perfect for working on math and those fine motor skills.
30. Pot O' Gold DIY Piggy Bank (Playground Park Bench) – With some simple pipe cleaners your little ones will have fun creating this rainbow pot of gold piggy bank.
31. DIY Rainbow Peg Dolls (Rhythms of Play) – Rainbow peg dolls are a homemade wooden toy you can make for kids! Children love to use their imaginations as they play with these cute little wooden peg dolls in a rainbow of colors.
32. Rainbow Oobleck (Busy Toddler) – Just a little cornstarch, water, and food coloring is all you need to make rainbow oobleck that acts like a solid and a liquid!
33. Rainbow Loom Sensory Bottle (Teaching Mama) – Grab some colorful rainbow looms and create an easy sensory bottle!
34. Rainbow Books for Kids (Sunny Day Family) – When exploring rainbows, check out this list of rainbow books your kids will love.
35. Jumping the Rainbow Fine Motor Activity (JDaniel's Mom) – Learning games for kids that work on many skills are amazing. This Jumping the Rainbow game works in fine motor skills, estimating and problems solving.
36. Rainbow Circle Art (My Mundane and Miraculous Life) – This project turned into a variety of learning activities. Rainbows for St. Patrick's Day, color sorting, fine motor skills. We even got a lot of sensory input from the hole punch.
37. Rainbow Smoothies (Sugar, Spice, and Glitter) – Make and enjoy this healthy rainbow smoothie with your little ones!
38. Bubble Wrap Rainbow (Crafty Kids at Home) – Have fun together creating a rainbow using bubble wrap1
Which one was your favorite?
More St. Patrick's Day Ideas