Your kids are going to love this Rainbow I-Spy bottle for St. Patrick's Day!
Shaking the bottle and searching for the objects hiding in the rainbow is only half the fun, I also created a printable that will help your kids practice identifying beginning sounds when they play the spy game.
This is a fun, hands-on literacy learning activity that will keep your preschool or kindergarten kids engaged and on-task.
Keep reading to get your printable recording sheet!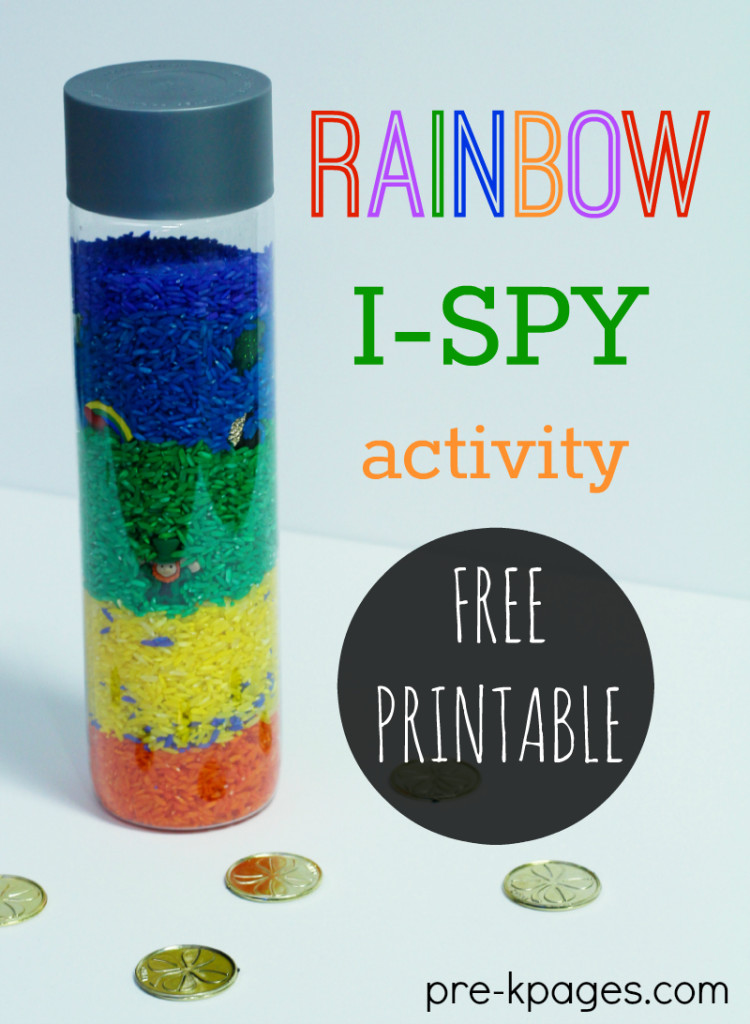 Rainbow I-Spy Bottle
Making this rainbow I-Spy bottle is super easy, here are the directions below.
Supplies for Making a Rainbow I Spy Bottle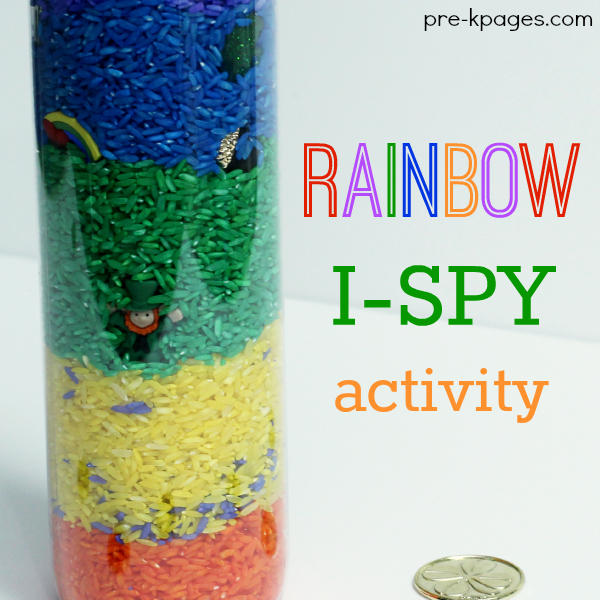 Rainbow I-Spy Activity
First, color the dry rice with the liquid watercolors. I used 3/4 cup of rice for each color of the rainbow and added several squirts of liquid watercolor to each cup.
Mix the rice and liquid watercolor in a plastic bag and then spread the wet rice out on some wax paper to dry.
When the rice is dry, pour the different colors into the bottle using a funnel.
Add a few buttons to each layer of the rainbow to spread them out throughout the bottle. It's best not to fill the bottle all the way to the top with rice or the objects won't move around when you shake the bottle.
Finally, I sealed the lid closed with E6000 glue, but some cute ribbon or rainbow washi tape would look cute too!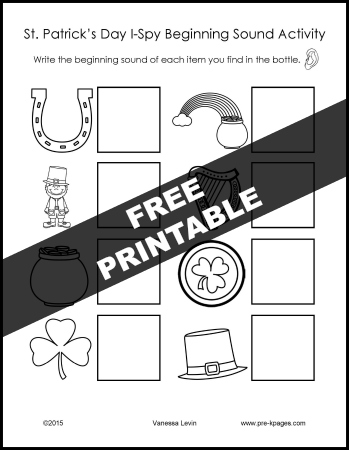 How to Use the I Spy Activity Printable
This printable will provide your students with practice identifying beginning sounds.
The students can then play I spy and shake the bottle to find object inside. They can then state "I spy with my little eye" and identify the beginning sound, and write the letter in the box next to the corresponding picture.
The images used in this printable are:
horseshoe (I used a bent piece of sparkly gold pipe cleaner)
leprechaun
pot
clover (I used the word clover because shamrock begins with a sound blend)
rainbow
harp
coin (I used a gold coin from the dollar store but you could also use a yellow floral marble or gem)
hat
You could also use this printable to practice identifying syllables.


More St. Patrick's Day Ideas
St. Patrick's Day Bingo – Free printable bingo game for a St. Patrick's Day theme or party in your preschool, pre-k, or kindergarten classroom. Includes both a black and white and a color version!
St. Patrick's Day Play Dough Counting Mats – Free St. Patrick's Day theme play dough mats to help your kids develop number sense and fluency within ten. Includes 11 printable color mats for you to use in your play dough center.
Books for St. Patrick's Day– Here are ten of my favorite St. Patrick's Day books to read aloud to young children in preschool or kindergarten.
Growing Green Shamrocks for St. Patrick's Day– Here is a fun St. Patrick's Day book and a science activity to help children learn about what seeds need to grow.
Fool's Gold: St Patrick's Day Science Experiment– Fool's Gold is a simple science experiment that is guaranteed to have your preschooler squealing with glee.