One of the favorite authors in preschool classrooms is Eric Carle. His colorful illustrations and simple text make these books fun to read again and again. Young children can "read" these books for themselves, too, after hearing them a few times. His book The Very Hungry Caterpillar is a perfect read for spring.
The activities below are great for exploring this classic picture book and the life cycle of butterflies.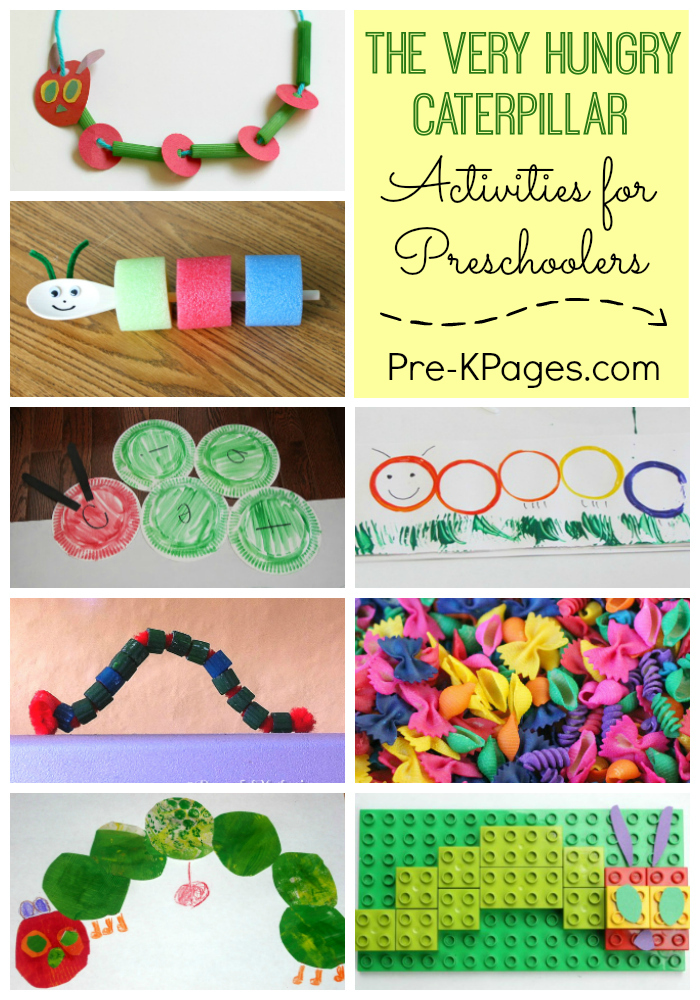 The Very Hungry Caterpillar Activities
1. Butterfly Life Cycle Sensory Bin (Pre-K Pages) – Children love learning about butterflies, especially in the spring. Our colorful butterfly life cycle sensory bin is a fun way to extend this learning!
2. Pool Noodle Syllable Caterpillar (Pre-K Pages) – This literacy game focusing on syllables is so easy to make and the total cost is only a few bucks. Young children learn best through fun, hands-on activities where they manipulate three-dimensional objects.
3.Tissue Paper Caterpillars (Teach Preschool) – In my previous post, I shared with you our activity to go with the book "The Grouchy Ladybug" by Eric Carle and today, I want to share with you our tissue paper caterpillars that go very nicely with the book "The Very Hungry Caterpillar" by Eric Carle.
4. Painting Circle Caterpillars (Teach Preschool) – There are some activities that just look like fun and this caterpillar painting activity is one of them….
5. Very Hungry Caterpillar Necklace (Buggy and Buddy) – Make your own very hungry caterpillar necklaces in this fun craft for kids! It's a great way to practice fine motor skills, patterning, and creating.
6. Very Hungry Caterpillar Puzzles (Play Dough to Plato) – These simple, colorful puzzles are a motivating way to practice matching, build fine motor skills and even sound out words.
7. Feed the Caterpillar Game (Teaching Mama) – This toddler activity starts with making a simple caterpillar out of an empty parmesan can by adding googly eyes to it. You take small pictures of fruit and have your toddler feed it to the caterpillar.
8. Pasta Bead Caterpillar (Powerful Mothering) – Make some colored pasta and make your own very hungry caterpillar.
9. Very Hungry Caterpillar Storytelling Basket (Imagination Tree) – Make this "The Very Hungry Caterpillar" storytelling basket for hours of playful, storytelling fun! This is a wonderful resource to go along with this classic picture book for kids and is simple to put together, great for any classroom, child care or home learning environment.
10. The Very Hungry Caterpillar Story Sequencing Activity (School Time Snippets) –  This The Very Hungry Caterpillar Sequencing activity is a fun and creative way to teach young children how to order events and re-tell a story!
11. Read-Explore-Learn: Very Hungry Caterpillar (JDaniel4's Mom) – After reading the book, then try one of these activities like measuring the caterpillar or a caterpillar snack.
12. Caterpillar Name Game (Toddler Approved) – Color some paper plates and then have your preschooler create their own caterpillar name.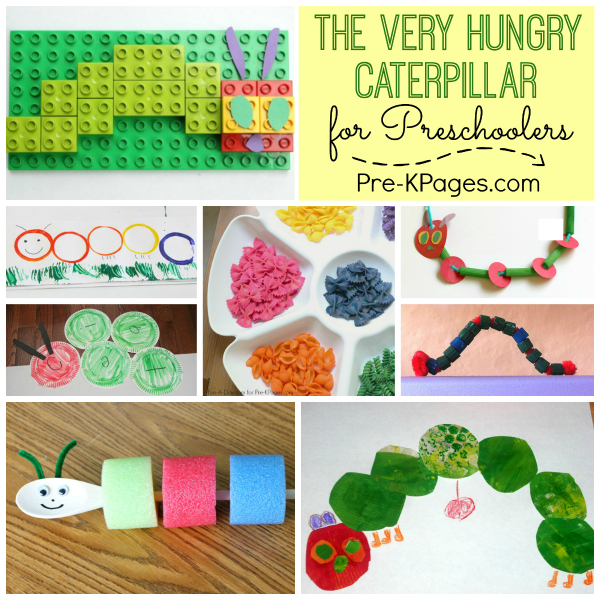 13. Very Hungry Caterpillar Letter Sort (Growing Book by Book) – This is a fun literacy activity to go along with the book.
14. Lacing Letters (Educators' Spin on It) – This lacing letters activity is a fun hands on element to complement the children's book.
15. Alphabet Activity (ABC Creative Learning) – A fun literacy activity where your toddler can work on their letter recognition.
16. Lego Inspired Retelling of The Very Hungry Caterpillar (Educators' Spin on It) – Read and Build with this awesome learning activity LEGO inspired story retelling of The Very Hungry Caterpillar.
17. Eric Carle Caterpillar (Hands On As We Grow) – Recycle some tin cans for this fun caterpillar activity!
18. Building Your Own Very Hungry Caterpillar (Not Just Cute) – These are fun DIY caterpillar activities that can be done over several days.
19. Simple Caterpillar Crafts (Craftulate) – If you're looking for some simple caterpillar crafts to go along with the book, then this is it!
20. Butterfly Life Cycle Book (Fun-a-Day) – Have your preschooler put together and reading about this butterfly life cycle.
21. Collaborative Caterpillar Project (Crafty Kids at Home) – With this fun art project, make a giant caterpillar out of paper plates!
22. Very Hungry Caterpillar Party (Learn with Play at Home) – If your little one loves the The Very Hungry Caterpillar book, then throw a themed party for them for their birthday!
23. Hungry Caterpillar Rap (Let's Play Kids Music) -This rap is so nice and easy to remember as it borrows the catchy tune from the well known song – Down in The Jungle.
24. Bugs on a Sticky Table (Teach Preschool) – Save some lids and use them to create caterpillars in this sticky table activity.
25. Butterfly Life Cycle Storyboard (Growing Book by Book) – This science and literacy activity is a fun way to learn about the life cycle of a butterfly and build language skills.
This spring, enjoy this classic book The Very Hungry Caterpillar and help your preschoolers discover more about caterpillars and butterflies!
More Insect Ideas