Children love learning about butterflies, especially in the spring. Our colorful butterfly life cycle sensory bin is a fun way to extend this learning! We also used it to practice counting and sorting, which are important early math skills. This sensory bin is great for an butterfly theme.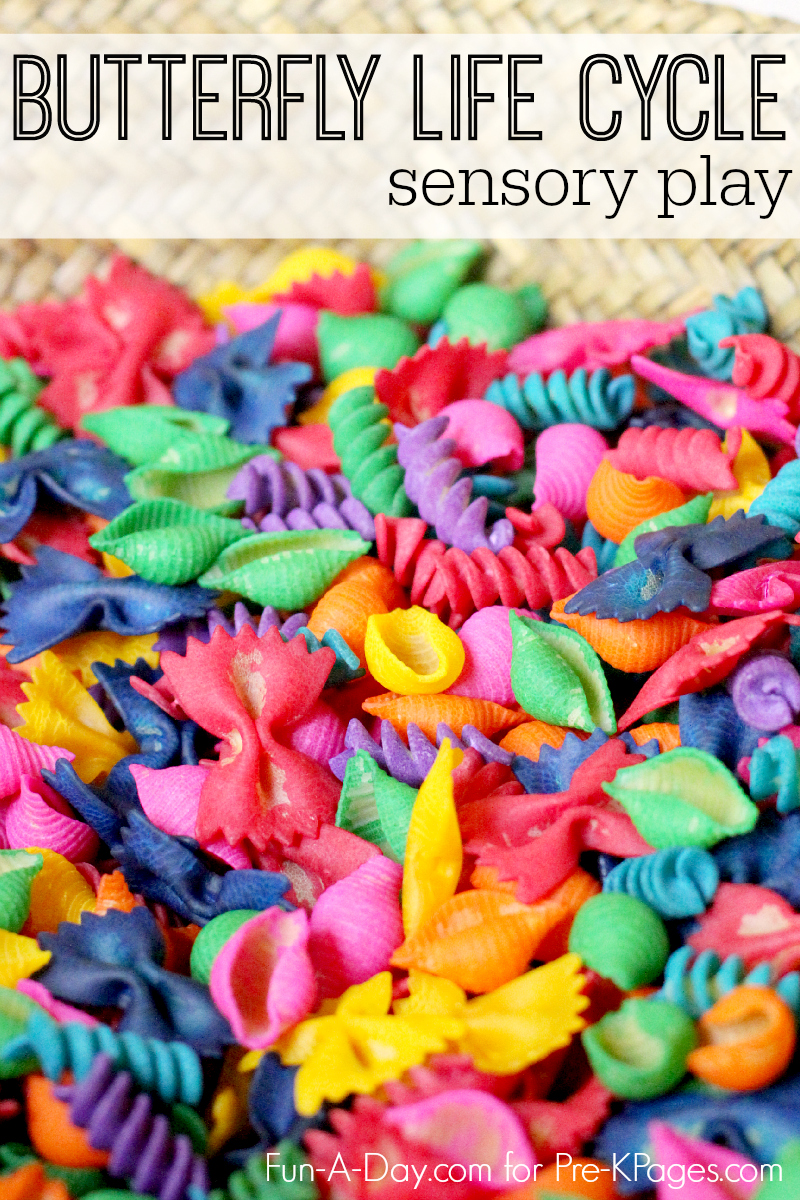 Butterfly Life Cycle Sensory Bin
Bowtie pasta
Rotini pasta
Shell pasta
Sorting tray
Assembling the butterfly sensory bin
Place the desired amount of pasta into a plastic bag, add a few squirts of liquid watercolors or food coloring, and give the bag a good shake. Once the pasta is colored as you'd like, spread the pasta on paper towels to dry. We decided to make this sensory bin super colorful, so each type of pasta was dyed a few different colors. If you're worried about wasting plastic bags, keep in mind that they're easily rinsed out and reused.
Once all of the pasta is dry, mix everything together in a sensory bin or basket. Then let the children dive in and play!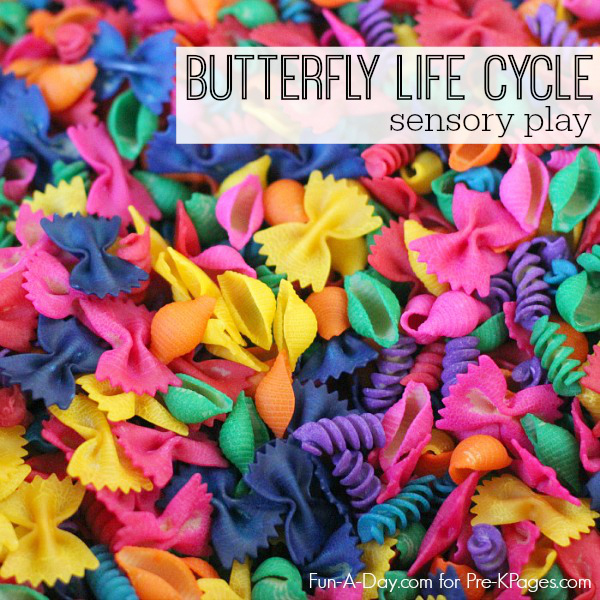 Butterfly Life Cycle Sensory Activity
Each type of pasta represents a different aspect of the butterfly life cycle. The curly rotini pasta is a "caterpillar", the shell pasta is a "chrysalis", and the bowtie pasta is a "butterfly."
With this bin, children can talk about what happens after a caterpillar emerges from an egg. This is a hands-on way for them to retell the life cycle with their peers. We did that a few times, and then we moved on to some early math.
The children sorted by color first, placing all of the same colors together no matter the shape. After everything was sorted by color, we sorted by shape, with all of the butterflies together and so on.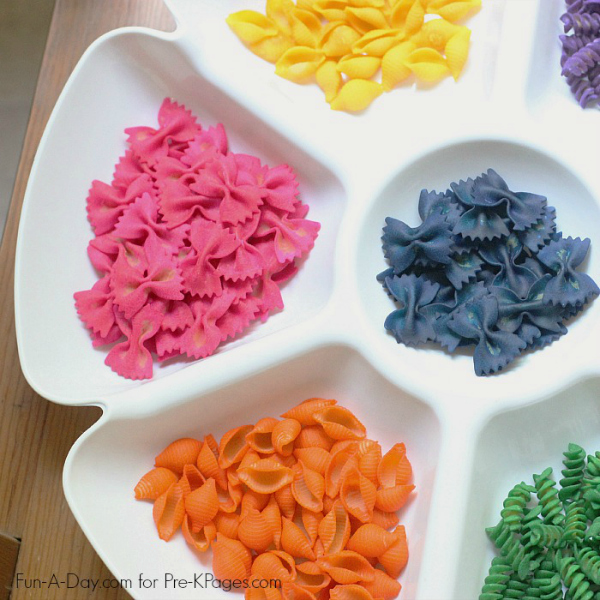 Once that was done, the children decided to sort by color and shape at the same time. For this, all of the yellow butterflies were placed together while the yellow chrysalises were gathered in a different group.
After the final sorting was done, we counted how many pasta pieces were in each group. Then it was back to scooping and pouring the pasta together!
Expand the Learning
Add books about the butterfly's life cycle. Books like Waiting for Wings by Lois Ehlert and From Caterpillar to Butterfly by Deborah Heiligman are great resources. See link below for more books about butterflies and insects.
BIO: Pop over to Fun-A-Day to see what Mary Catherine is up to! She loves to share fun and meaningful learning activities (literacy, science, math, art, and more) every day. If you're looking for more butterfly activities, be sure to check out her printable butterfly life cycle book and butterfly necklace.
More Sensory Bin Ideas
If you like this sensory bin then you may also enjoy these other sensory bin ideas that you can use in your pre-K or kindergarten classroom throughout the year.
Sensory Table Ideas For Preschool And Pre-K – Are you looking for sensory table ideas for your preschool or pre-k classroom? Then you're in the right place! The sensory table is a very popular place in most early childhood classrooms.
Easter Sensory Bin For Preschool – This Easter sensory bin is super quick and easy to set up at home or in your classroom. With plastic eggs and fun shredded colored paper your students will love this!
Dinosaur Sensory Bin – This super simple kinetic sand recipe is easy to make for the sensory bin or table in your classroom. Your little paleontologists will love roaring and stomping their dinosaurs through the sand!
Christmas Water Beads Sensory Bins – This Christmas sensory bin uses green, red, and white water beads. Children will enjoy handling, scooping, and pouring the beads to enhance their fine motor skills and improve hand-eye coordination.
Fall Sensory Bin –  No matter where you live, your little learners will have a blast with this fall themed sensory bin! It's super simple to set up at home or in your preschool classroom.
Halloween Sensory Bin With Spaghetti- Need Halloween sensory play ideas for your preschool classroom? You can make this easy colored spaghetti for a super fun Halloween themed sensory bin. This squishy Halloween sensory spaghetti is sure to be a big hit with your kids!
Halloween Black Bat Sensory Bin – Your little learners will have a blast with this black bat sensory bin for Halloween! It's super quick and easy to set up for your preschool classroom or in your own home.