Many of you will be hitting the library soon in search of books about winter for your preschool or kindergarten classrooms. In an effort to make your search a little easier I have compiled a list of my ten favorite winter books for preschoolers for you here. Some of these books are classics and others are more recent finds so there is sure to be something for everyone.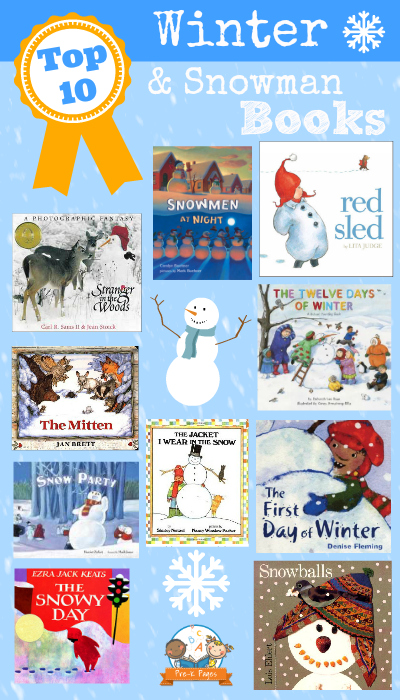 Winter Books For Preschoolers
The First Day of Winter by Denise Fleming


This twist on The Twelve Days of Christmas takes the reader on a snowman building adventure. This beautifully illustrated book is filled with vivid images that are sure to capture the attention of any young child and engage them in counting chants that will promote mathematical fluency.
The Jacket I Wear in the Snow by Shirley Neitzel


Reminiscent of the snowsuit scene in The Christmas Story, readers follow along as the main character bundles up in layer after layer of winter clothing. The predictable rhyming text of this book invites the children to chant along. Rebus pictures are included to support emergent readers.
The Mitten by Jan Brett


The Mitten by Jan Brett is perhaps the pinnacle of any early childhood winter theme. So much fun and so many opportunities for learning packed into one little book! Nikki loses one of his precious white mittens which is discovered by many winter animals. The playful tale accompanied by the rich, detailed illustrations of Brett are so entrancing children stare at the pages, mesmerized, drinking it all in.
Red Sled by Lita Judge


Almost wordless, Red Sled invites the reader to make predictions and help tell the tale. The playful watercolor illustrations are enchanting. Wordless picture books help develop oral language and retelling skills to support emergent readers. Young children love this book because they are able to successfully "retell" the story using their own words which increases motivation to read.
Snow Party by Harriet Ziefert


Harriet Ziefert penned this unique tale of snow people who hold a party to celebrate the arrival of the winter solstice. The solstice is rarely, if ever, covered in your typical picture book, therefore I found this book to be both fascinating and appropriate for audiences of young children. Of course, this would be the perfect book to discuss the arrival of winter.
The Snowy Day by Ezra Jack Keats


This timeless classic about Peter's adventures in the snow is a must read for all early childhood classrooms. In addition to being a classic it can also lead to great science discussions about animal tracks, why things melt and more.
Snowballs by Lois Ehlert


Young children always find Lois Ehlert's signature style of cut paper collage designs intriguing. In this winter edition, a snow family is created using various found objects. This is another classic that lends itself well to many art projects using common objects.
Snowmen at Night by Carolyn Buehner


This New York Times Bestseller exposes the secret life of snowmen and what they really do at night. The vibrant, full-page illustrations help bring this imaginative tale to life while the exuberant, rhyming text will charm and delight any young child.
Stranger in the Woods by Carl R. Sams and Jean Stoick


Winner of numerous awards, wildlife photographers and authors Carl R. Sams and Jean Stoick have crafted a stunningly beautiful tale of winter. A must for young and old alike, A Stranger in the Woods sends a much needed message of love and compassion for all living things.
The Twelve Days of Winter by Deborah Lee Rose


A teacher introduces her energetic class to a new winter activity each day until soon a wintery chaos reigns. The counting rhyme in this story is sure to enthrall any young audience as it strengthens their numerical fluency and memory skills.
BONUS Books about Winter
I found these two books in my stash after I had completed the list so I thought I would include them for you here just in case.
Ten on the Sled by Kim Norman

If It's Snowy and You Know It by Kim Norman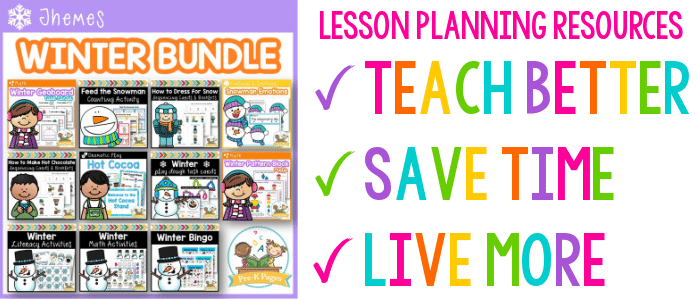 More Winter Ideas