Discovering more about the post office and mail carriers can be a great part of a community helpers theme or even an extension of Valentine's Day. In a time of texting, email, and video chatting, kids can still learn more about "snail mail" and the way that letters and packages travel from place to place. After reading these books, your children may be interested in writing their own letters.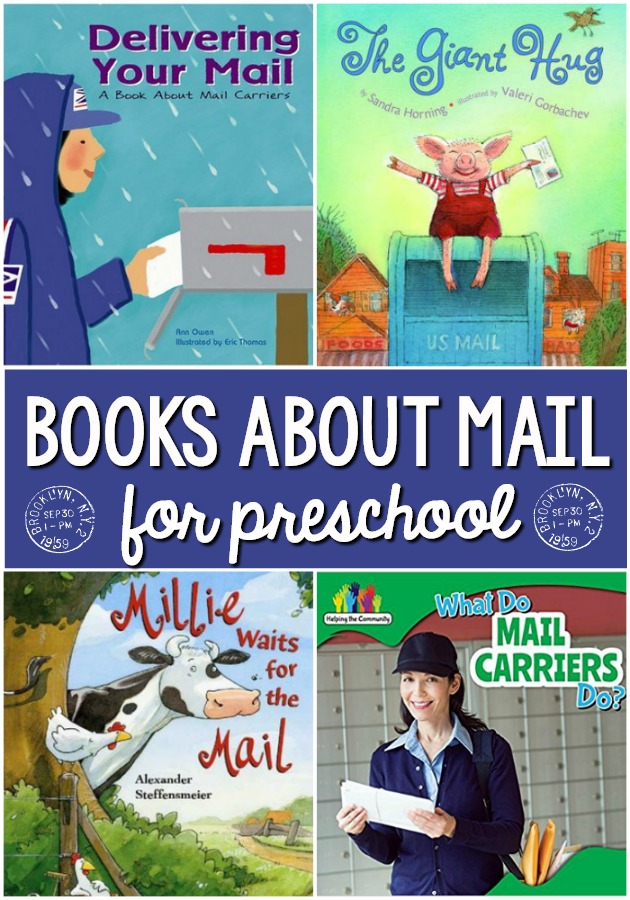 Books About the Post Office for Preschoolers
There are always so many wonderful community helper books to explore with your preschoolers! And these books about the post office will help your students learn about all the hard work that goes into delivering the mail!
Never Mail an Elephant by Mike Thaler and Jared Lee
A boy decides to mail an elephant to his cousin for her birthday. He wraps it and stamps it and stuffs it into the mailbox. Can an elephant really go through the mail?
The Giant Hug by Sandra Horning
Owen wants to send his granny a giant hug through the mail. Will the hug travel across the country and reach Granny?
Delivering Your Mail by Ann Owen
Discover who delivers your mail and how the mail must get through, no matter what.
A Letter to Amy by Ezra Jack Keats
Peter writes a letter to Amy, inviting her to his birthday party. But mailing the letter becomes a challenge.
With Love, Little Red Hen by Alma Flor Ada
The Little Red Hen and her chicks move to Happy Valley. Her neighbors will not help her plant and care for the corn but other friends in the valley decide to help. A retelling (and remix) of the story told through letters.
It Came in the Mail by Ben Clanton
Liam loved to get mail…but he never got any. One day he had an idea. He wrote a letter to his mailbox, asking for mail. And the mailbox delivers.
Dear Zoo by Rod Campbell
A child writes to the zoo for a pet. But every pet the zoo sends isn't quite right so the animal is sent back.
Dear Mr. Blueberry by Simon James
Emily thinks a whale may be living in her pond. She exchanges letters with her teacher, Mr. Blueberry, to know what to do.
A Trip to the Post Office by Josie Keogh
Explore all aspects of the post office (with photographs).
A Day with Mail Carriers by Jodie Shephard
Learn about a day in the life of a mail carrier and what he or she does.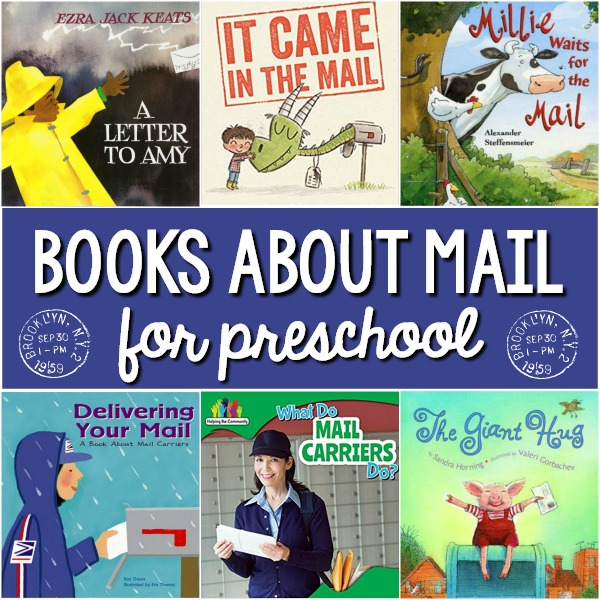 Preschool Books About Mail and the Post Office
What Do Mail Carriers Do? by Nick Christopher
Who are postal workers? What do they do? What do they wear? How do they work?
The Jolly Postman by Allan Ahlberg
The jolly postman rides on his bicycle, delivering mail to familiar characters, and maybe letting preschoolers know the rest of the story.
To the Post Office with Mama by Sue Farrell
Shea and her mama travel from home to the post office. They mail a letter to Nanny and collect their own mail from the box at the post office.
No Mail for Mitchell by Catherine Siracusa
Mitchell is a mailman. He delivers mail to everyone but he never receives any mail himself. After a late delivery in the rain, Mitchell gets a cold. He must stay home for a few days. He receives a big bag of mail from all of his friends.
Please Write Back by Jennifer Morris
Alfie writes a letter to Grandma. He mails it. Every day he waits for the mail. Will Grandma write back?
Millie Waits for the Mail by Alexander Steffensmeier
Every day Millie hides and scares the mailman. All the farmer's packages arrive broken. Can Millie's antics be stopped?
My First Trip to the Post Office by Katie Kawa
A boy travels to the post office to buy a stamp and mail his letter.
Mail Carriers by Cari Meister
Clear photos and simple text tell more about mail carriers and post offices.
The Post Office Book: Mail and How It Moves by Gail Gibbons
A more detailed look at how people and machines move mail around the country.
Mail Truck's Busy Day by Traci Todd Peyton
The mail truck has a lot of stops to make with letters and packages to deliver.
You can look for these books at your local library or order used copies to keep costs down.
Check out my Post Office Dramatic Play Kit.