This printable camping theme for your classroom set will help you easily and quickly transform your dramatic play center into a campground, campsite, or a State Park.
Give your basic housekeeping or dramatic play center a makeover by adding a few simple props. Your kids will love "camping" in your preschool classroom!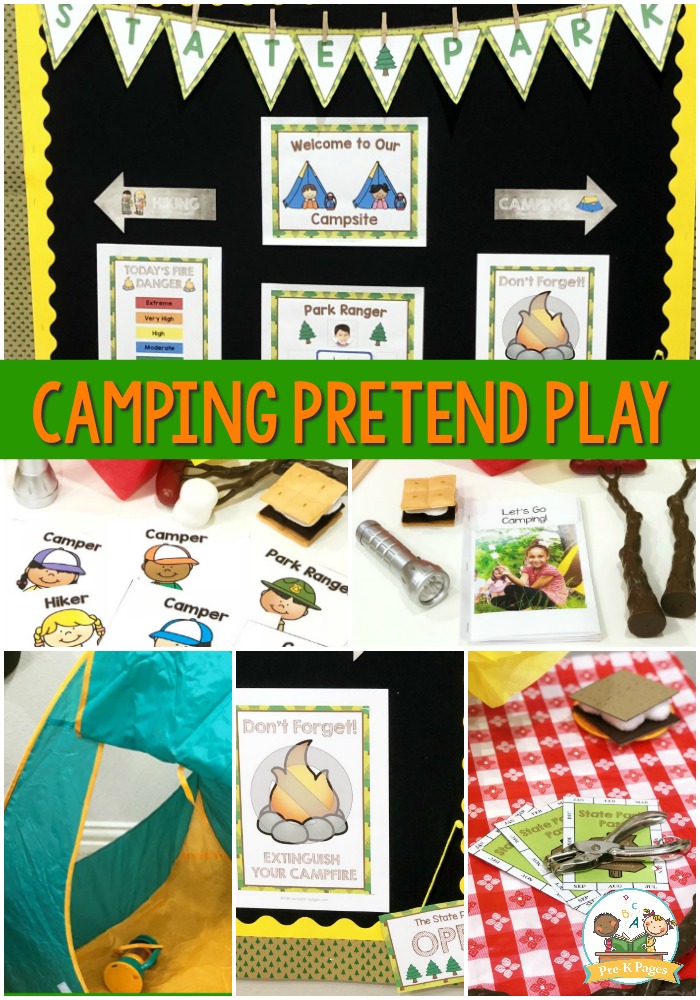 Camping Dramatic Play Theme For Preschool Classroom
Also included in this kit is an article that explains how dramatic play supports academic learning in the preschool or kindergarten classroom.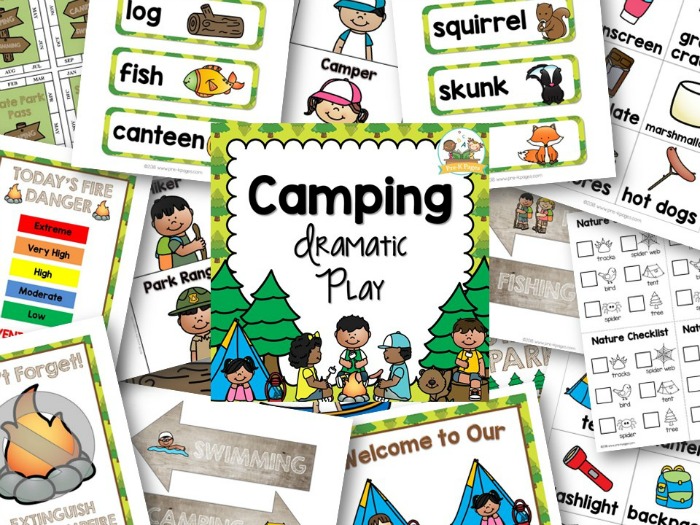 What's Inside?
The 161 page dramatic play camping themed kit for your classroom includes the following printables:
Book List
21 Signs (color + b/w)
30 Picture Cards (color + b/w, 3 styles)
17 Labels (color, 3 styles)
Park Pass (color)
Park Map (b/w)
Checklists & Forms (b/w)
Printable Book (color, 2 sizes)
Bunting Banner (color + b/w)
Role Playing Tags (color)
How to Make S'Mores Sequencing Activity (color + b/w)
Fishing Activity (b/w)
Easy DIY Pretend Campfire
In the picture above you can see the pretend campfire. You will never guess what I used for the logs! Learn how to make your own campfire on the blog HERE.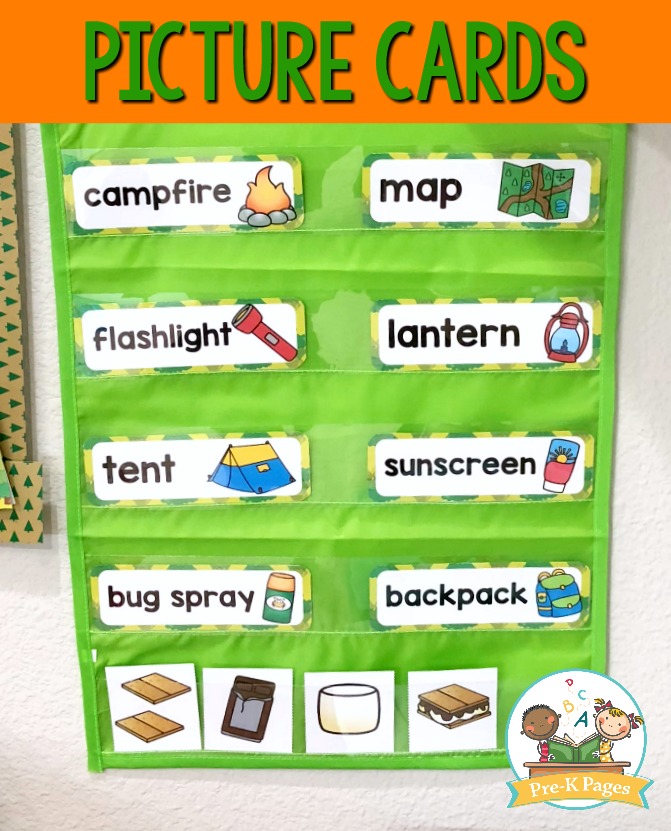 Camping Picture Cards
Enhance oral language and vocabulary with these printable picture cards. Display them in a pocket chart, bulletin board, or any way that works for you – available in three styles, 30 cards to choose from.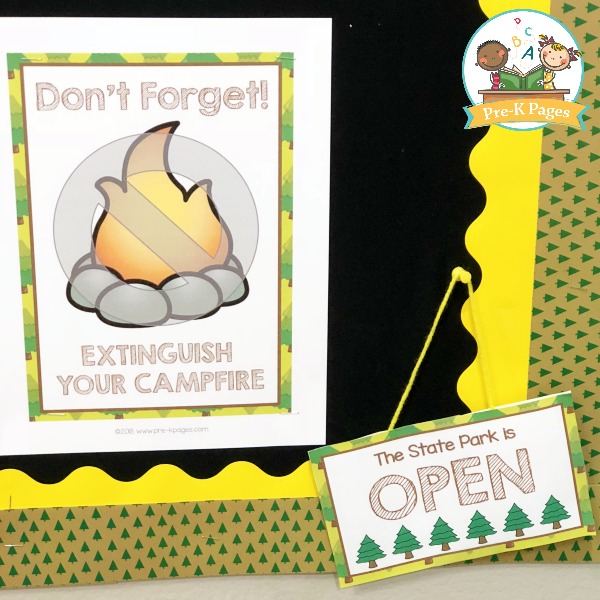 Camping Signs
Don't forget to put out your campfire! Reinforce the importance of extinguishing a campfire with this printable sign, available in black and white and color. You can also see the front of the open and closed sign here to let campers know when the park is open to visitors.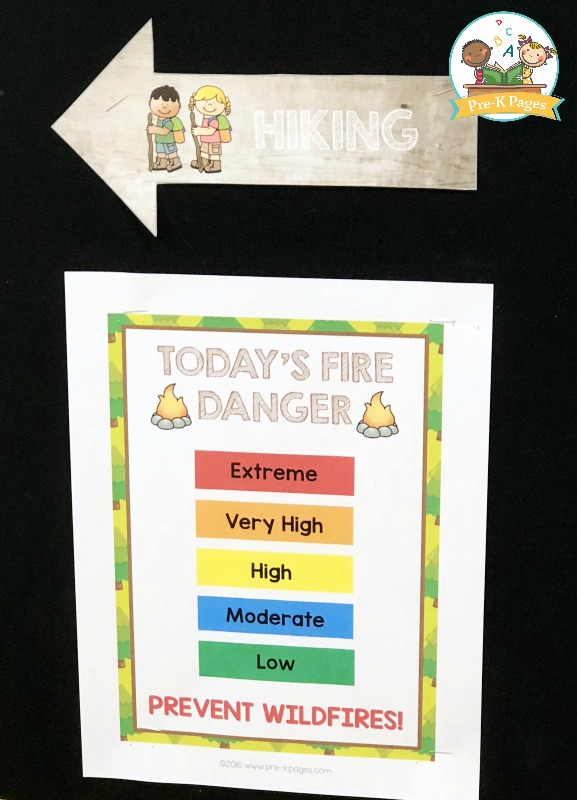 What is the fire danger today? The fire danger sign will alert your little learners to any potential fires in the area. Add a clothespin and your kids will love moving it up and down the chart to indicate the level of fire danger.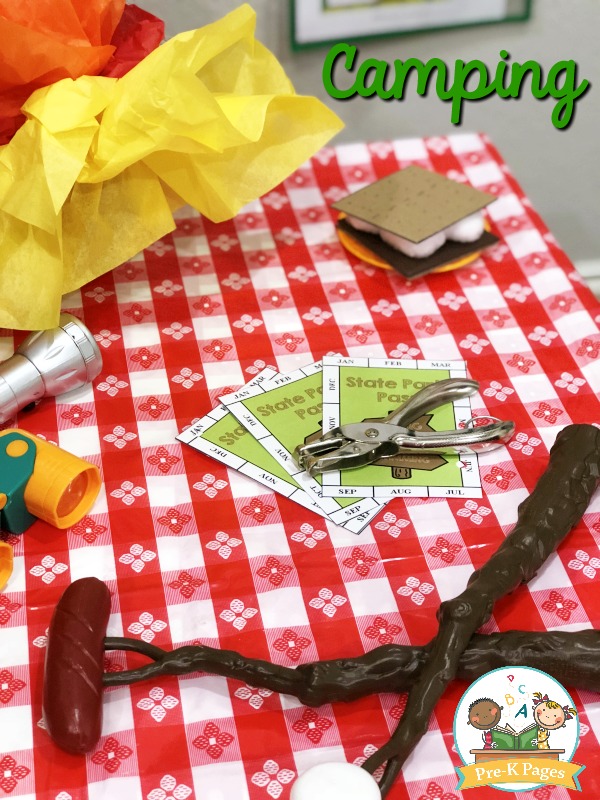 Printable Park Pass
When visitors enter the park, the park ranger can punch their pass with a hole-punch. This is a great way to add fine motor practice to your dramatic play center.
DIY Park Ranger Vest and Binoculars
Learn how to make a park ranger vest and binoculars using recycled materials on the blog HERE.
DIY Camp Lantern
You can learn how to make this super easy and cheap lantern for your camping theme on the blog HERE.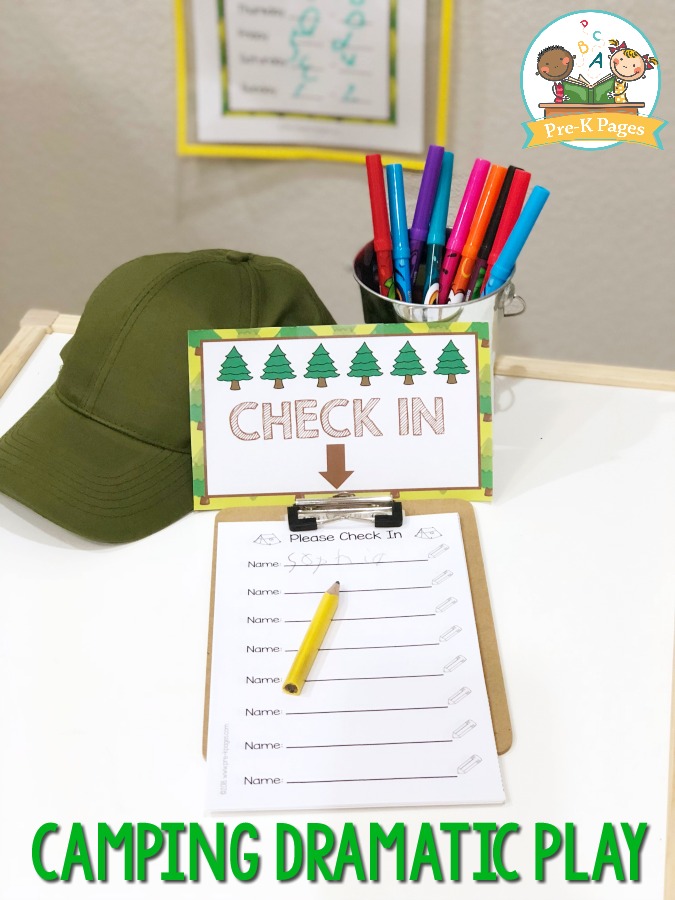 Check In Sign and Form
Your little learners will need to check-in when they visit the park so the Park Ranger will know how many campers to look out for. Create motivation to write for a purpose with this printable, black and white check-in sheet.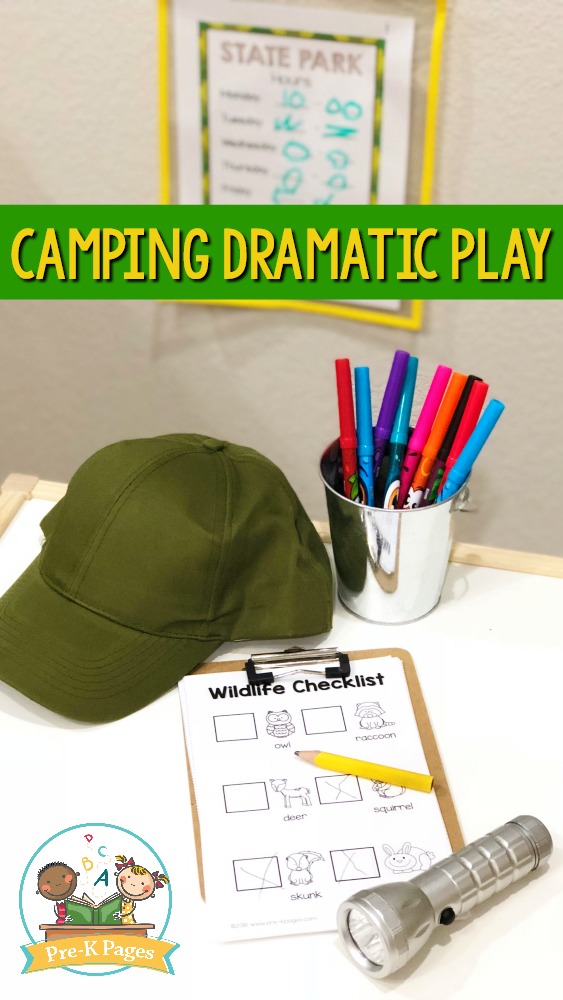 Checklists
You'll also find three different types of checklists to keep your little ones engaged and on-task in the camping center! The three versions included are wildlife, packing, and nature. These checklists are also available in two sizes.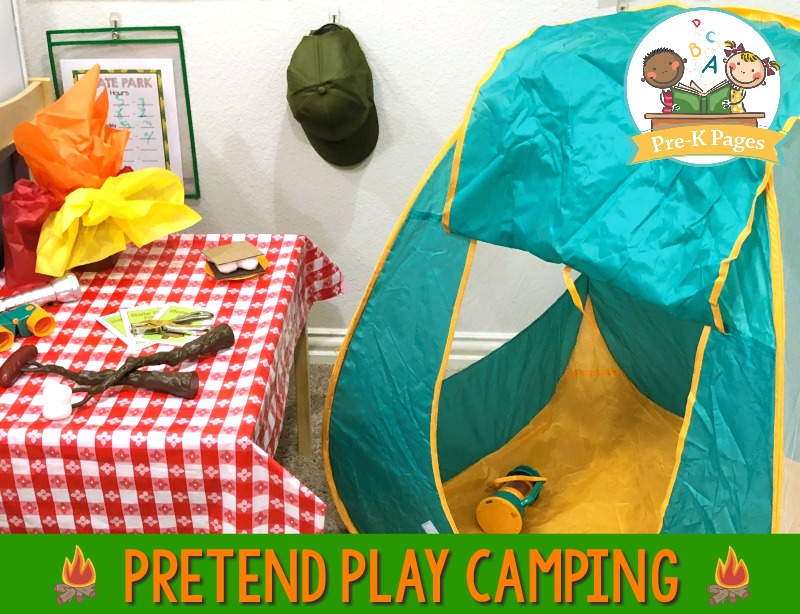 Tent
No campsite would complete without a tent! The green tent pictured above pops up, absolutely no assembly required – and it folds up for easy storage too. There's see-through mesh on one side so you'll be able to see your campers inside to ensure their safety. I had the red one pictured in other pictures in my classroom before, but it was a pain to assemble and tear down and I never knew what was going on inside so I replaced it.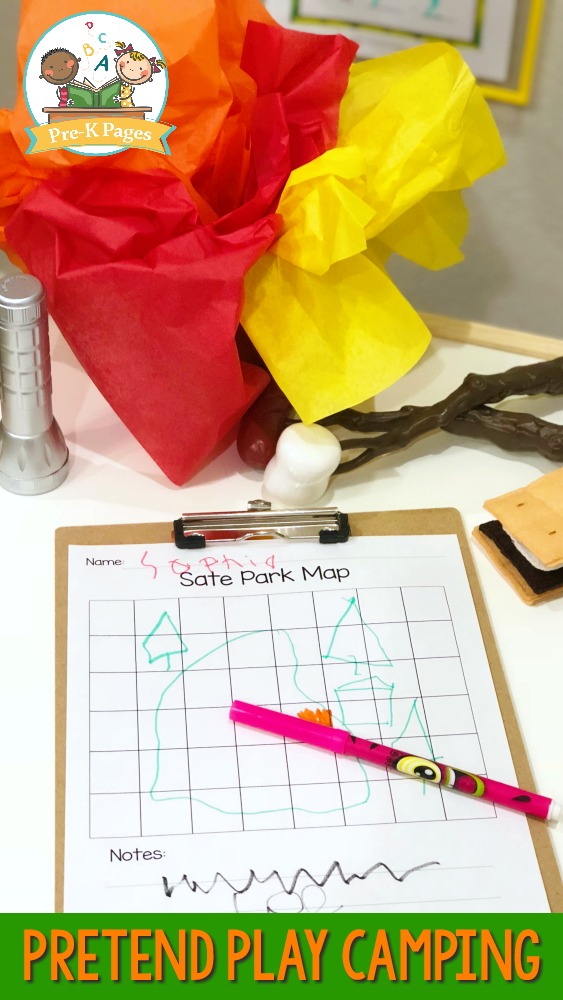 Printable Map
Invite your campers to create a map of the campground or their campsite using this black and white template. They'll be motivated to write for a purpose when they create their very own maps with pencils, crayons, or markers!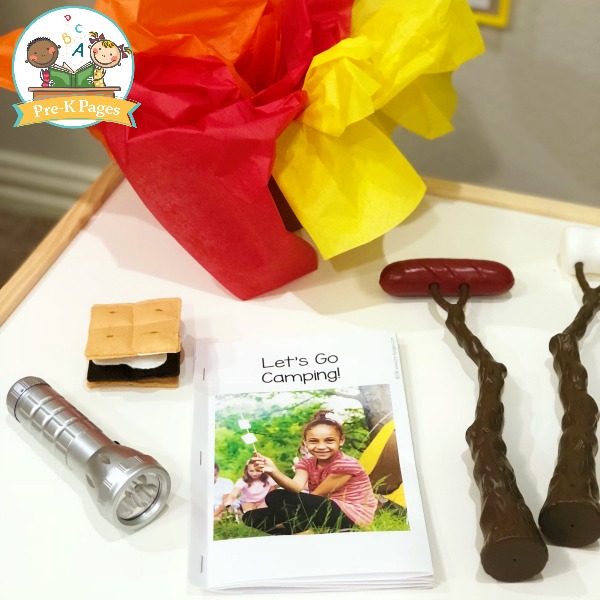 Printable Emergent Reader
Be sure to set the stage for success by reading this book to introduce the camping center to your kids. When they understand what camping is, and what people do when they go camping, they'll be more likely to engage in meaningful play.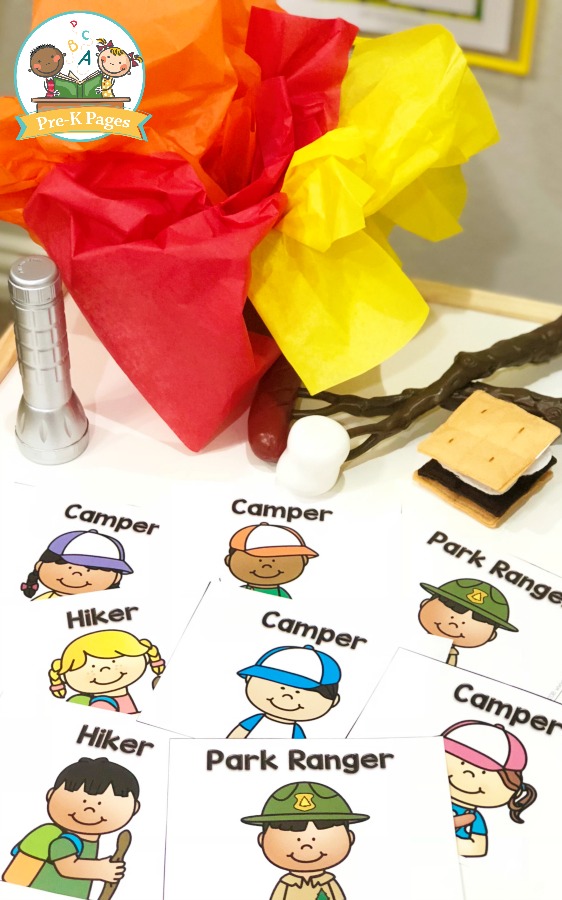 Role Playing Name Tags
You can use these printable name tags to designate roles for the children playing in the camping center. Just print, laminate, and use yarn or badge clips and your campers can wear these name tags as a reminder of their role.
Free Indoor S'More Picture Recipe Printable
No camping experience would be complete without S'Mores! You can find a free printable picture recipe for kids to make their own safe and easy "Indoor S'Mores" HERE.

Another free picture recipe for S'more trail mix. Read all about it and download this freebie on the blog HERE.
Free S'More Trail Mix Picture Recipe Printable
Fishing Activity
This fishing activity is super fun! I used an inflatable baby pool for the pond. Learn how to make your own magnetic fishing poles students can use to catch fish HERE. Run copies of the fish on colored paper, the pattern is included in Dramatic Play Camping kit available below. Students can record the lengths of the fish they catch with their fishing pole using the printable also included in the kit.
Purchase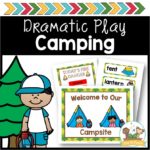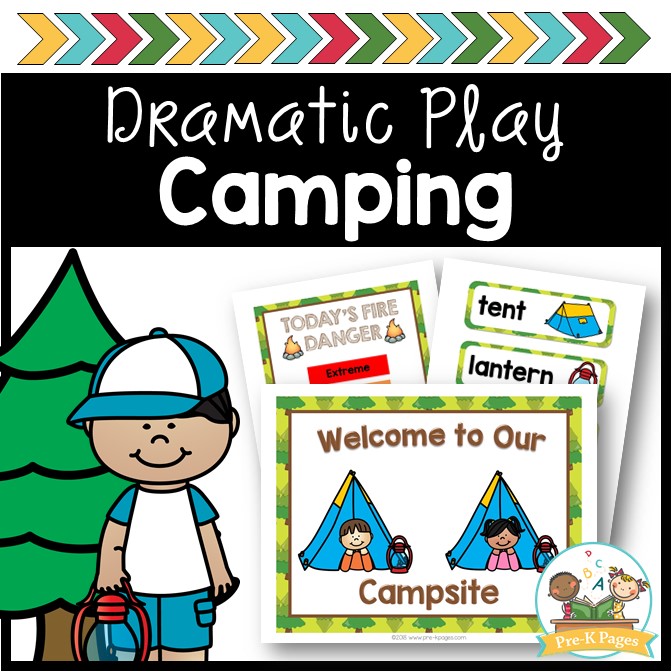 161 pages of printable props to help you easily transform your dramatic play center into a campsite, campground, or State Park. Includes literacy, oral language, and writing opportunities that align…
©www.pre-kpages.com 2013 Vanessa Levin all rights reserved
More Dramatic Play Themes from Pre-K Pages
Dramatic Play Camping Resources