Dr. Seuss wrote Bartholomew and the Oobleck. It's about a king who was tired of only sun, rain, snow and fog coming from the sky. He wanted something different. The result was green oobleck. It came down as liquid, like rain, but gooey and sticky, like glue, once it landed on everything. Here is a hands-on sensory activity preschoolers can help make and play with. The story is a little long for our little learners, so you might just want to skim through the book before introducing oobleck.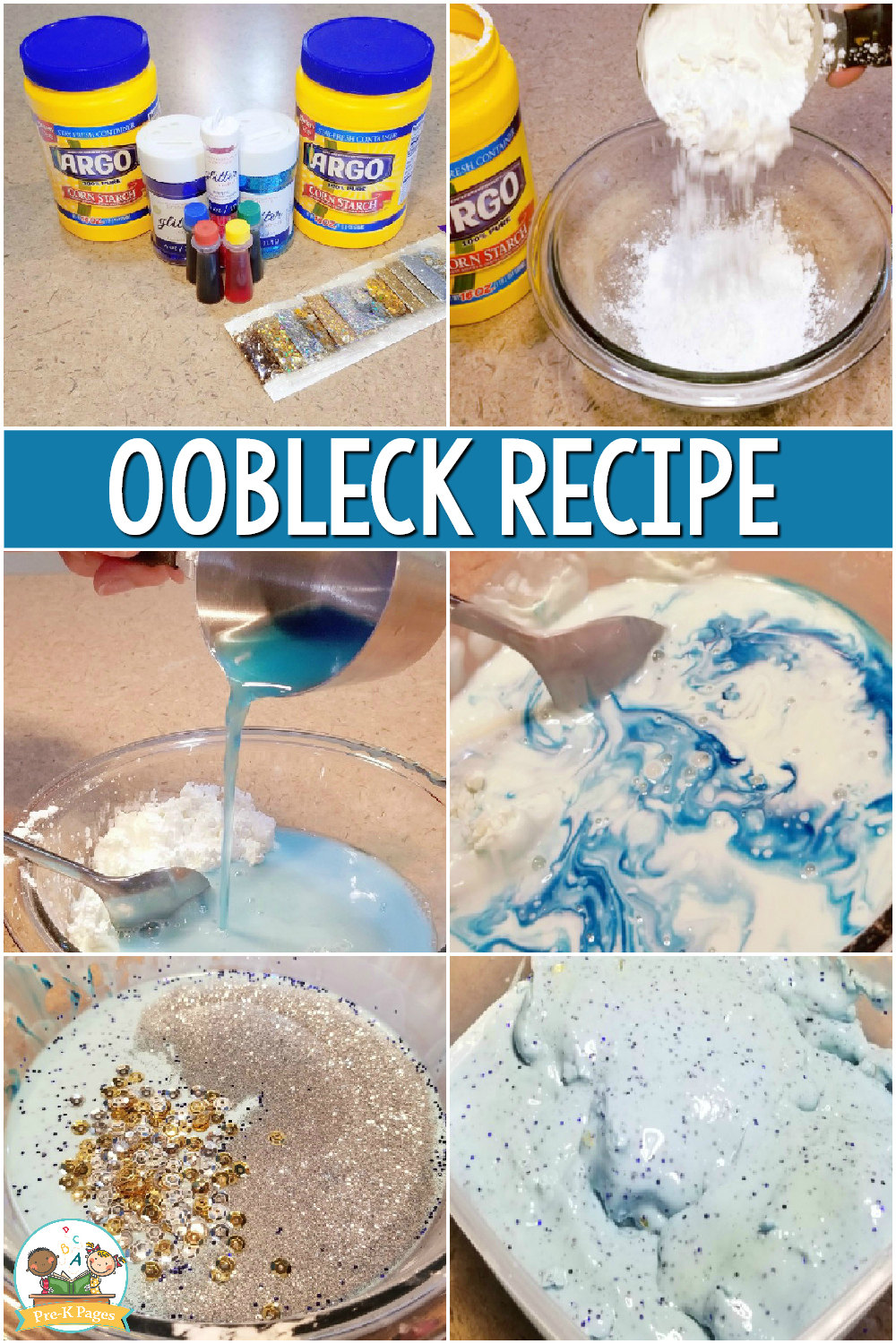 Making Oobleck with Preschoolers
Ingredients
1 1/2 Cups Corn Starch
1 Cup Water
Food Coloring
Optional: Glitter, sequins, or water beads (already soaked up with water)
Put corn starch in bowl. Add food coloring to the water and stir. Slowly add water to the corn starch while stirring. It will be hard to mix at first. Mix with your hands, if you don't mind food coloring on your hands for a few days.
When mixed properly, it is hard when you punch or squeeze it and melts between your fingers when you hold it in your hand. If it is too runny, add more corn starch; if too hard, add more water.
When done mixing, add any special items like glitter or hydrated water beads. You can also add more food coloring to deepen the color.
WARNING: This is very messy to make. For clean up on carpet, just let it dry and vacuum it up when it turns back to powder. Do NOT put it down the sink – it can create a clog! The best way to wash it off your hands is to go outside and use a garden hose.
When done for the day, put it is a sealed plastic bag or plastic container with a lid. Save it for another day. You may want to make individual containers for each child and label with the child's name. Then children will reuse only the oobleck they have handled themselves.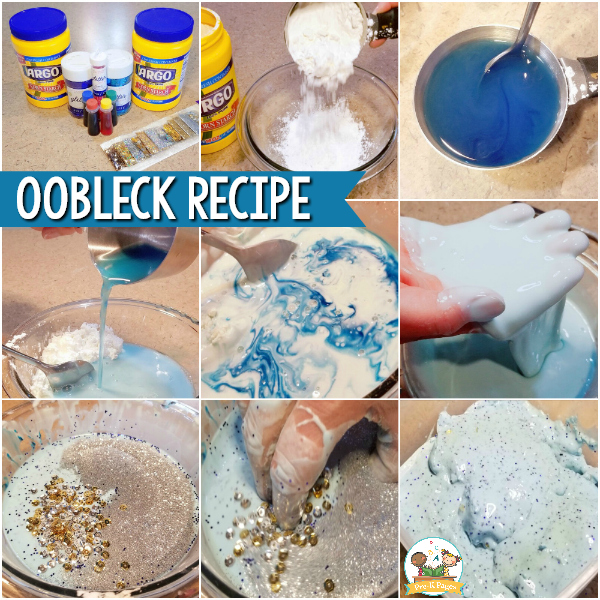 Why Make Oobleck?
Oobleck is messy, fun, and an awesome sensory activity. Children can help you make it, but warn them their hands may get a little food color on them that won't wash off right away if they are helping with the mixing. Mixing and using the oobleck builds hand muscles and develops dexterity in the fingers.
Making something from ingredients is a science experience. Mixing materials and seeing things change are basic science concepts. Following a recipe or steps teaches sequencing and cause/effect. If you display a written recipe to follow, children are seeing meaningful writing and why words and writing are important, building literacy understanding.
Oobleck allows children to explore science concepts related to matter. Water can change to ice with cold temperature or steam with hot temperature. Metals melt with high temperature and will bend or break with high pressure. Oobleck changes form (or state) with pressure. When you suddenly punch or apply force to oobleck, it becomes hard because the corn starch molecules are forced together. However, if you slowly run your hand through oobleck, it seems to melt. This slower movement allows the corn starch molecules to move out of the way, and appear like a liquid. (Expert fact: Oobleck is a non-Newtonian fluid!)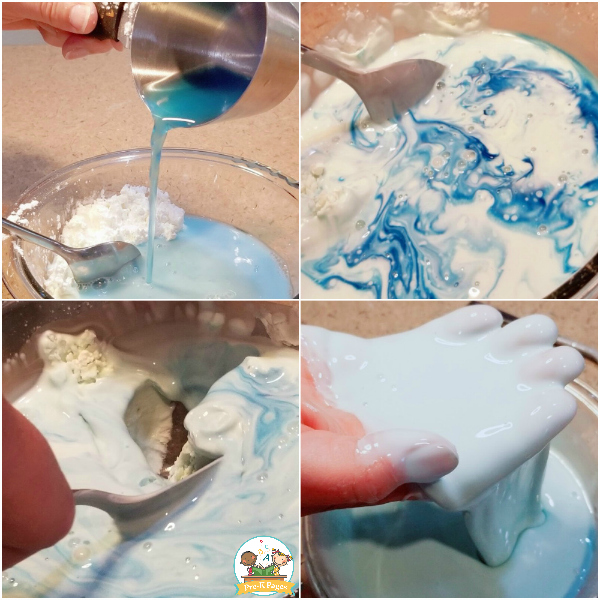 Oobleck can be incorporated into any theme you are studying. Here are a few of examples:
Space – use dark blue color and add white sequins and silver glitter. It will look like a solar system
Dinosaurs – Use light brown coloring and add things like little bones, brown fish tank gravel, or miniature dinosaurs. Once it is in the solid state, you can see dinosaurs popping out, like an archeological dig.
Weather – Connect back to the Dr Seuss book and talk about different kinds of weather. Challenge children to think about how it would be if oobleck fell from the sky instead of rain.
Contributed by Carla Goldberg
Photos by Colin Goldberg
Check out these other sensory recipe posts:
My Favorite Playdough Recipe
More Sensory Ideas