Want a highly interactive way for kids to practice matching skills? This butterfly game is a great, print and cut activity! This fun activity is perfect for spring or as your preschoolers investigate insects. It is also a great review of colors and helps develop those visual discrimination skills so important for later learning.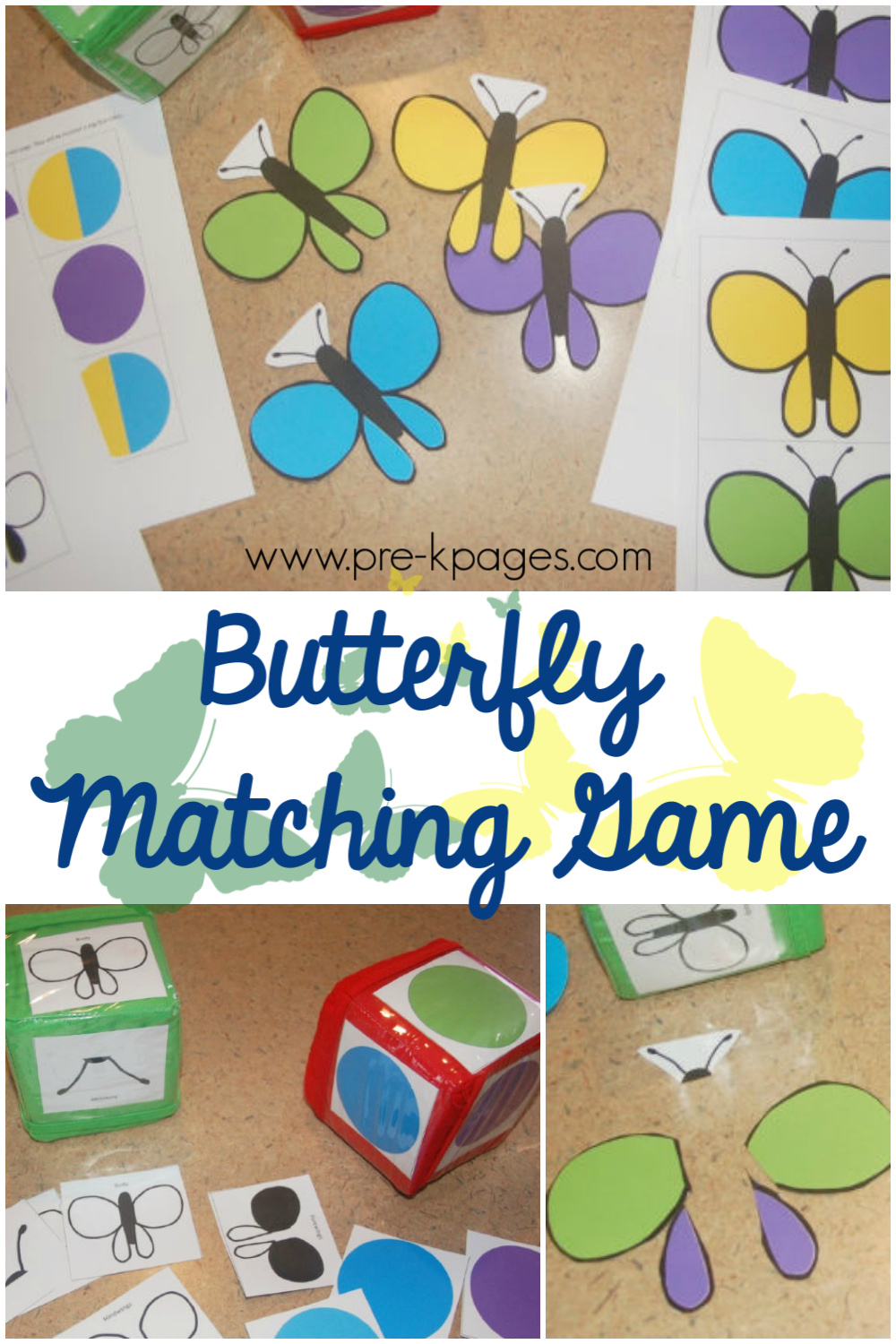 Butterfly Matching Game
This activity involves playing a game with dice and matching butterfly body parts to the color rolled. As the game progresses, butterflies are built and ready to fly away. I use this activity as a team game – for us to win, all players need to build their butterfly so we can all fly away and be friends. No one wants to fly away by themselves!
Materials
2 pocket cubes (4" x 4")
Scissors
Lamination is optional but recommended for pieces kids touch
Preparation
Print 1 copy of colored circles and parts of a butterfly squares (in the Printables).
Cut the squares and insert into 4" x 4" dice.
Print 2-3 copies of the colored butterfly pages. These will be used for the kids to build their own butterfly. The more children playing the game, the more you will need. Cut apart the pieces of the butterflies – wings, body, antennae. I recommend laminating these since kids will be touching them a lot.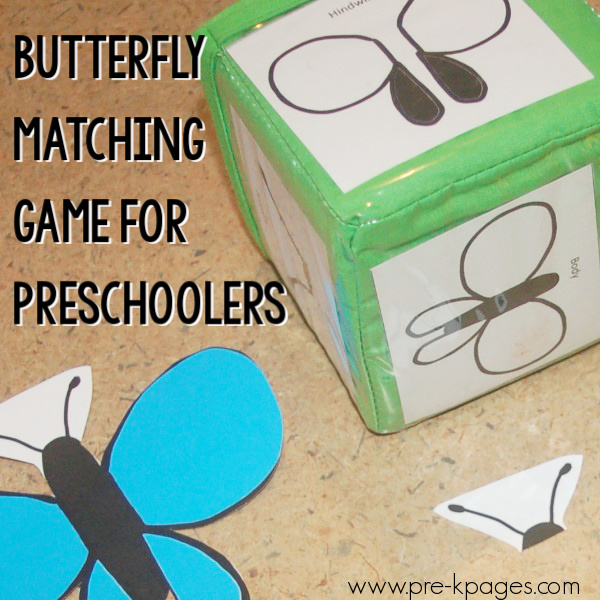 Playing the Butterfly Game
Put all the pieces of the cut-out butterflies on the table. Mix them up to make it more challenging.
Player 1 rolls the die with the butterfly body parts first. If a child rolls an "antennae" or "body" they simply select that piece from the pile and begin building their butterfly. Player 2 then rolls.
If a player rolls a wing piece, they roll the second die. This die has all the colors choices the child will match to make the butterfly. For example, if a player rolls forewings and then color blue, she will pick a forewing that is blue.
Children must match the color rolled with the wing rolled. For example, if the color is purple and the body segment is forewings, students will pick 2 purple forewings.
Next player rolls and the game continues.
The goal is to make a complete butterfly.
If a child rolls the same body part more than once, they don't add to their insect, and the next person rolls.
Note: Some of the color cards for the die have 2 colors. Players can choose which color to use.
Teacher Tip: When a child finishes building his butterfly, you can discuss which color/body part his friends' need. Also, discuss what they think the butterflies will do once they are all built and ready to fly. This will help children stay engaged.
To make the game easier for younger children, you can pre-sort the parts of the insect. For example, put all the body pieces together, all the forewings together, etc. This makes it simpler for kids to pick the correct piece.
I like to use this as a small group activity. It allows me to do a quick assessment to see how students are progressing on colors and social skills while waiting for their turn.
A book I use to support this activity: Fluttery Butterflies by Tennant Redbank – a marvelous tool to discuss counting, colors, and matching. Additionally, boys and girls will learn what the typical day of a butterfly looks like. (More butterfly and insect books)
Click on this button to download the Game Printables



Contributed by Carla Goldberg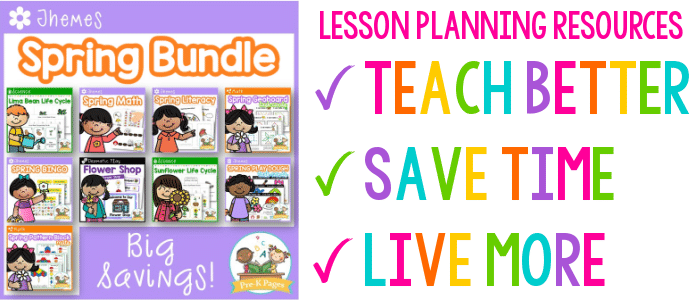 More Spring Ideas