YouTube is a great way to find fun Christmas songs for kids to use in your preschool or kindergarten classroom or at home this holiday season.
You can easily incorporate music and movement into your daily routine using these free songs on YouTube.
Music is also perfect for introducing new concepts, building background knowledge, and developing vocabulary skills for any theme or topic.
Here are more than 20 kid-friendly Christmas songs you can find on YouTube.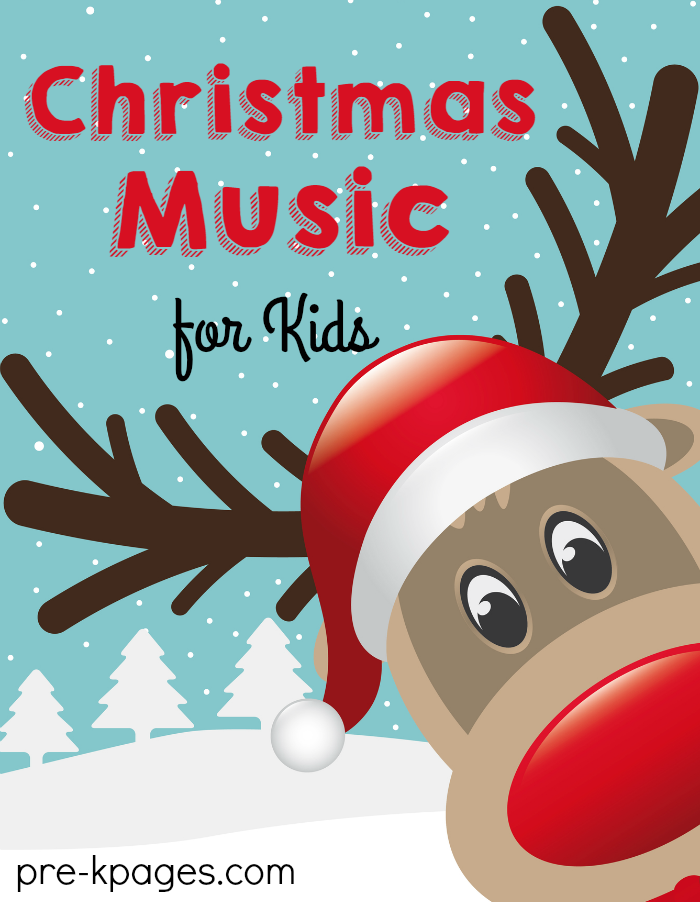 Christmas Music Videos for Kids
All of the songs listed below can be found on YouTube. You can sing these fun songs and show the videos to your class using an LCD projector and computer screen. You could just play the audio if you prefer or don't have access to video. Your preschoolers will love singing and dancing along to these fun Christmas themed songs!
If you don't want to select individual songs, you can follow my Christmas Music for Preschool Kids Playlist on YouTube.
Jingle Bells
If you've been a preschool teacher for any length of time then you know that Jingle Bells is the easiest song for young children to learn. Jingle Bells has lots of repetition and an easy tune to remember, which makes it perfect for any class performances you may have. But don't be surprised if your kids are still singing this song in May!
Jingle Bells by Mother Goose Club

Jingle Bells by Super Simple Songs

Jingle Bells – by The Learning Station

Jingle Bells – by musicfactorymusic

Reindeer Pokey
Your littles will love singing and moving along to this familiar song with a fun holiday twist!
Reindeer Pokey – by The Kiboomers

Rudolph the Red-Nosed Reindeer
Rudolph is a huge hit with the preschool crowd year after year! No matter how many times we sing it, Rudolph the Red-Nosed Reindeer never gets old.
Rudolph The Red-Nosed Reindeer Song – by The Kiboomers

Santa
Santa Shark by Super Simple
With more than 16.5 million views the creative team at Super Simple has done it again with this fun twist based on the smash hit song, Baby Shark.

If you're looking for something a little more modern then Harry Kindergarten is for you! His songs are super creative and engaging for the preschool and kindergarten crowd.
If You're a Kid [Christmas Remix!] by Harry Kindergarten

S-A-N-T-A – by Super Simple Songs

Santa, Where Are You? – by Super Simple Songs

The Santa Claus Song – by KidsTV123

Where is Santa? – by The Kiboomers

Me and Santa's Elves – by The Learning Station

Comin' Down the Chimney – by The Learning Station

Up on the Housetop – by The Learning Station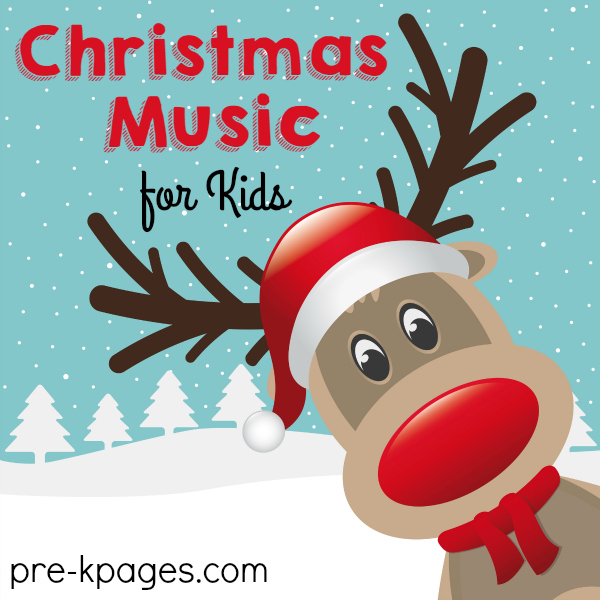 Dance Around the Christmas Tree – by The Learning Station

Traditional Christmas Songs
There's nothing like a classic Christmas carol to get you in the holiday spirit! Some of these songs are also perfect for Christmas carols.
We Wish You a Merry Christmas – by The Learning Station

12 Days of Christmas – by The Learning Station

12 Days of Christmas – by Hooplakidz

Away in a Manger – by musicfactorymusic

Silent Night – by musicfactorymusic

Sleigh Ride – by musicfactorymusic

More Christmas Ideas