December can be a hectic month for everyone. But for teachers, the combination of personal obligations and classroom demands can be stressful to manage and absolutely exhausting to complete. Before you schedule a "mental health" day, check out these teacher tips for making your December easier. You can teach better and live more throughout the holiday season with these holiday hacks!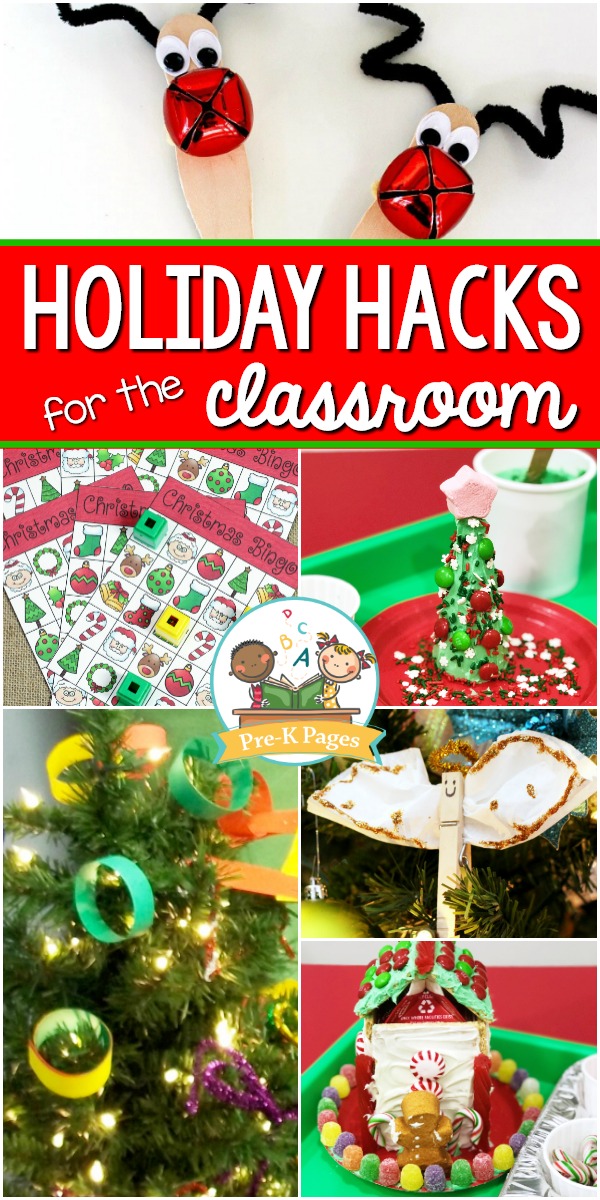 Holiday Hacks for Teachers
I see you sneaking holiday treats in the storage closet while your kids are at specials, because you need something – anything to help you just. get. through. another day.
I see you struggling to regain control of your little darlings after yet another one just said, "Santa's bringing me a pony/doll/laser/video game/unicorn!" Followed by a million and one other kids saying the same blessed thing over and over and over – when will it stop?
I see you silently screaming when you find out your school holiday performance falls on the same. stinkin'. night. as your spouse's work party, which is also the same night of your great aunt Laura's mandatory snooze fest family party!
I see you cringe inside when you think about your colleague in the next classroom who's going to be breaking out the crystal punch bowl and disco ball for her tenth annual Holiday Extravaganza (aka Christmas Party) She even knits each child their own personalized scarves, hats, socks, and stockings – can't a girl catch a break?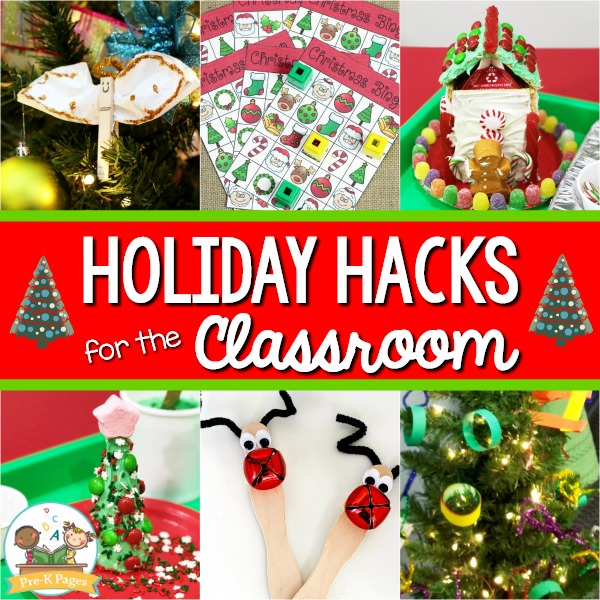 Holiday Hacks to Save Your Sanity
I'm about to drop some knowledge bombs on you, so listen up! If you want to seriously reduce your stress this holiday season take note of these sanity saving tips and hacks below.
1. Cut yourself some slack. This is the first (and maybe most important) tip. Pinterest and the teacher across the hall may make you feel like everything has to be elaborate and picture perfect. And not just in the classroom. Everything at home has to be perfect too. Well, I'm here to tell you that it's just not true. Stop! Cut yourself some slack. Don't try to do everything. Choose to do what you can and be happy with what you did. As Elsa says, "Let it go!" and save your sanity.
2. Keep it simple. Whatever you do, keep it as simple as possible, think less is more. Two areas to think about as you keep it simple are your classroom party and your parent gifts.
For the classroom party, you don't – I repeat – you don't need to bring out the crystal punch bowl! (True story!) For preschoolers, a party is what you tell them it is. Maybe it's a special story and a special snack. Maybe it's more than that. But whatever you do, your preschoolers will enjoy it and remember it. For ideas for your classroom party, download my free Holiday Party Planning Guide. The guide includes several variations that will meet whatever needs you have. (Christmas specific, winter general, parent volunteers, and other options) Choose the party that you want (and can) do.
Parent gifts can also be simple. These links have some simple gifts for parents that preschoolers can make (and you can save time in preparation):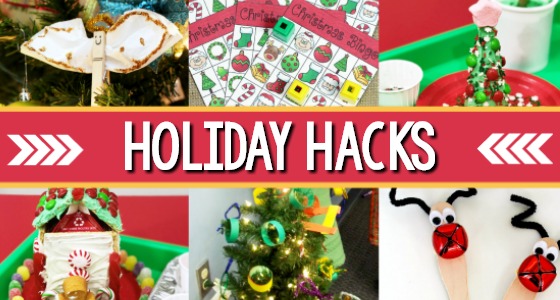 Holiday Hacks for a Stress-Less December
3. Stay on schedule. As much as possible, keep the same schedule throughout the month of December. Preschoolers become more unsettled when your predictable schedule is disrupted. If you have a choice, avoid a Christmas performance. Practice and performance increase the stress for children and for teachers. If you're required to have a performance, look for ways to incorporate practice into your regular routine. Sing a simple song (such as "Jingle Bells") every day during your regular song time. Your preschoolers will learn the song and still maintain their schedules. Then, tell them they get to come to school at night and sing this song! If you have rehearsals or other special events, keep the rest of the routine as predictable as possible.
4. Plan backwards. What increases the stress in December is the list of all those other things that you are expected to do. Parties, concerts, and other personal events often disrupt your own routine during this busy season. So, as early as possible, grab your calendar and pencil in all of your commitments and deadlines well in advance so you won't be riding that struggle bus. That way you'll still be prepared for teaching and you can enjoy the other events (or at least not lose your sanity in the process).
These freebies and links can help you as you plan for a less-stress December:
Watch the Video