Read the Growing Vegetable Soup book, and then make vegetable soup – a popular classroom recipe.
Vegetable soup is a food that some kids might not want to try at home, but when paired with a story and a fun cooking activity, it becomes a powerful lesson in nutrition!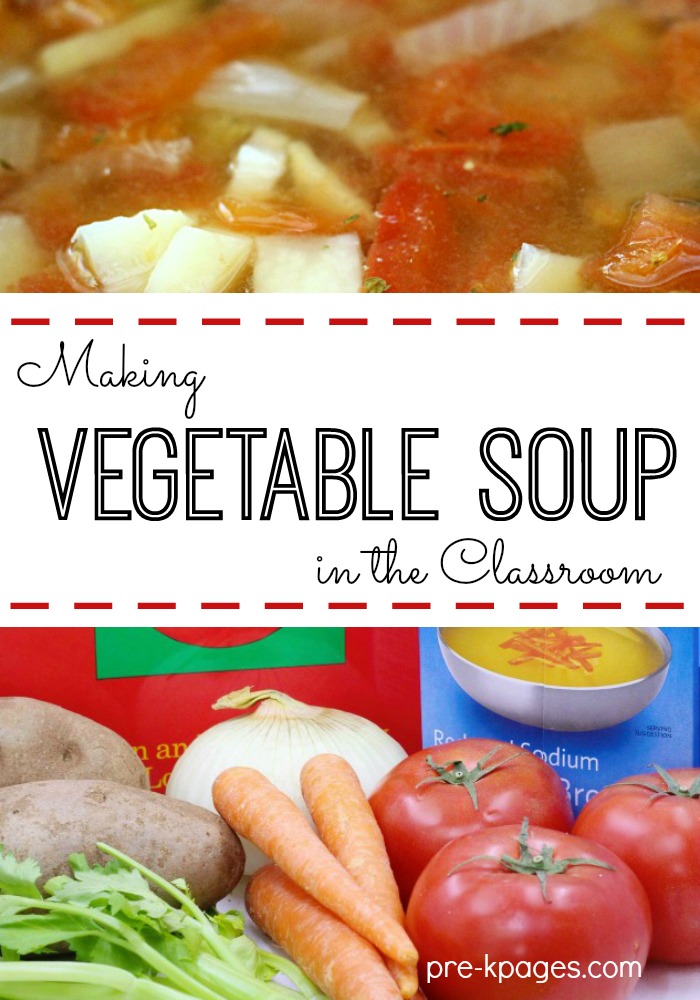 Growing Vegetable Soup Activity
Start with a group discussion about vegetables. Ask your children what their favorite vegetables are and if they know where they come from- be prepared for some interesting responses!
Next, read the book Growing Vegetable Soup by Lois Ehlert. The vibrant, unique illustrations in this classic book are sure to capture the attention of your kids.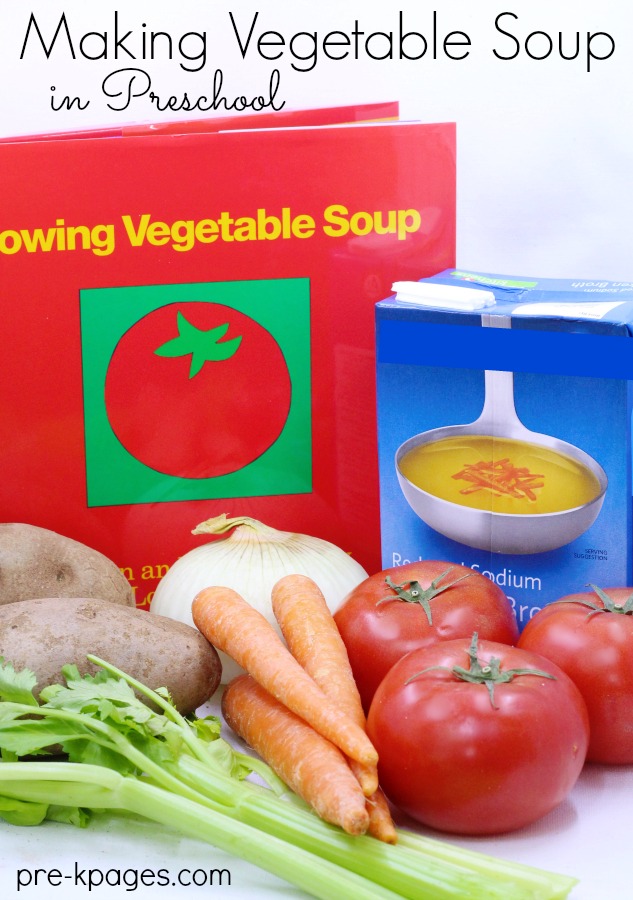 Gathering the Ingredients for Vegetable Soup
After you have read the book aloud to your kids, tell them you will be making vegetable soup together in the classroom soon.
Explain that vegetables are part of a healthy diet and help us grow into healthy adults (or bigger kids!).
Then, show the kids the recipe you will be using. There is a recipe included in the book, or you could use one of your own. Since most classrooms don't have access to a stove, I prefer to use my own slow cooker recipe (see below).
Ask parents to send in specific ingredients needed to make the soup if you're allowed to do so. If you have a large class you might consider asking 5 children to bring one carrot each, 4 children to bring one stalk of celery each, 1 child to bring an onion, 2 children to bring potatoes etc. You could also ask for disposable cups and spoons for eating the soup.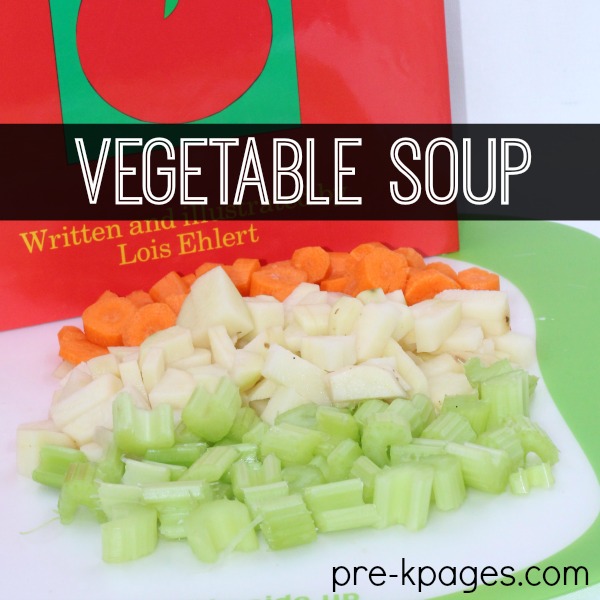 Recipe For Vegetable Soup
Here are the ingredients you will need to make vegetable soup in your slow cooker.
Ingredients
1 onion
2 potatoes
4 stalks of celery
5 carrots
3 tomatoes
6 cups chicken broth
salt, pepper, garlic, and oregano to taste
Invite your children to watch you chop the vegetables. Encourage participation by asking your kids to hand you a vegetable. Talk about the vegetables as you chop them, mention where and how they grow, their colors, and texture. Invite kids to put the chopped vegetables into the slow cooker. You can even count the chopped pieces for oral counting practice.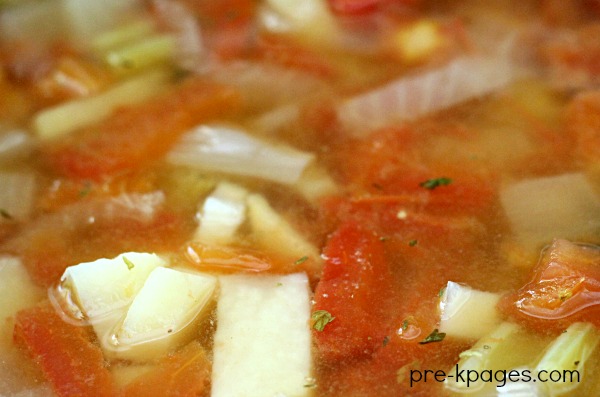 Cooking Vegetable Soup in Preschool
Then, invite the kids to pour the cups of chicken broth into the slow cooker with your supervision. When all the vegetables and broth have been added, add your spices to taste and invite each child to stir the pot. Cooking times will vary depending on your slow cooker, this recipe took six hours on high in my slow cooker.
If you are in a classroom setting and your class isn't in session for six hours, you can cook the soup and serve the following day.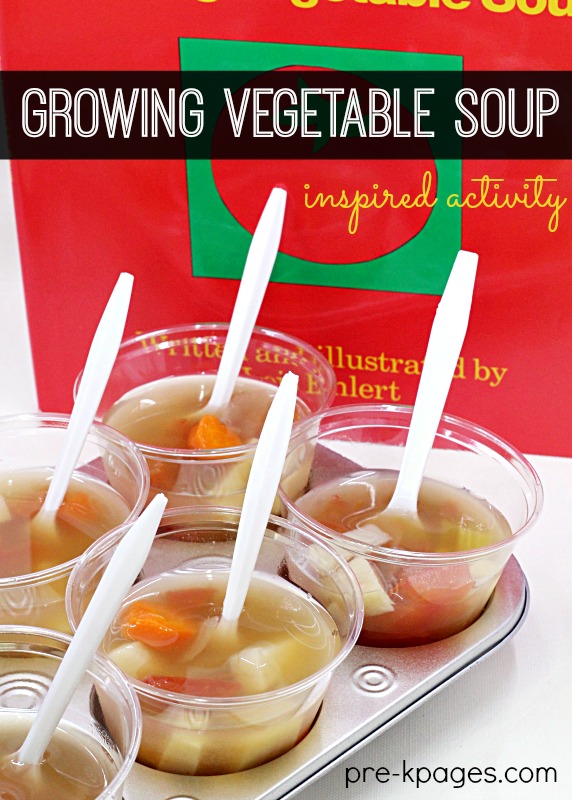 Eating Vegetable Soup in Preschool
Allow the soup to cool and then invite kids to taste their delicious and healthy creation!
If you're serving the cooked soup on another day, warm it up and scoop it into cups or bowls for tasting with spoons. If you have a class of children, using a muffin tin to hold the cups is a great way to serve more quickly.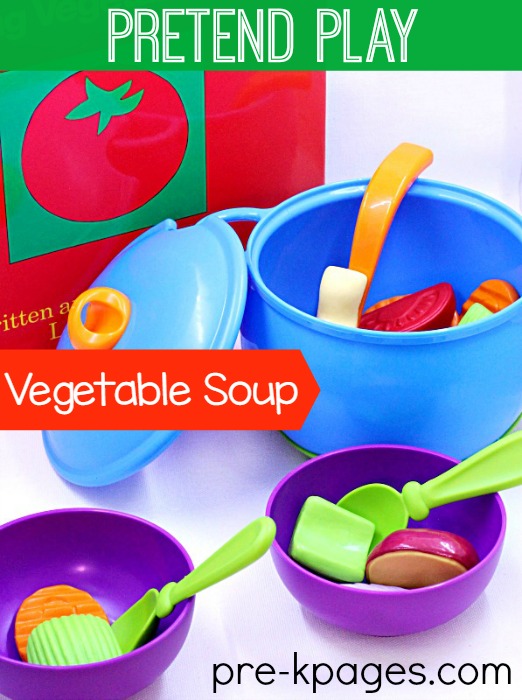 Vegetable Soup Pretend Play
Now that you've read the book Growing Vegetable Soup and made soup with your kids, extend the learning with pretend play. This pretend vegetable soup play set will provide your kids with plenty of opportunities to make soup over and over again while developing communication, problem solving, and oral language skills, just to name a few!
More Classroom Recipes
Slow Cooker Applesauce
Chicka Chicka Boom Boom Snacks
Jell-O Play Dough Recipe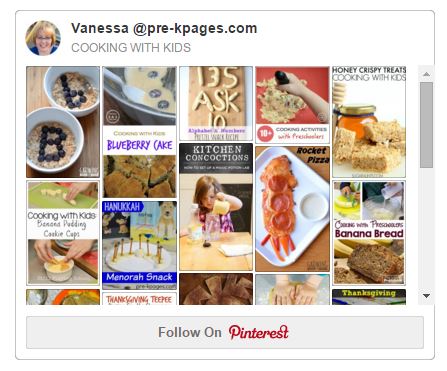 Follow my Cooking with Kids board on Pinterest for more great ideas!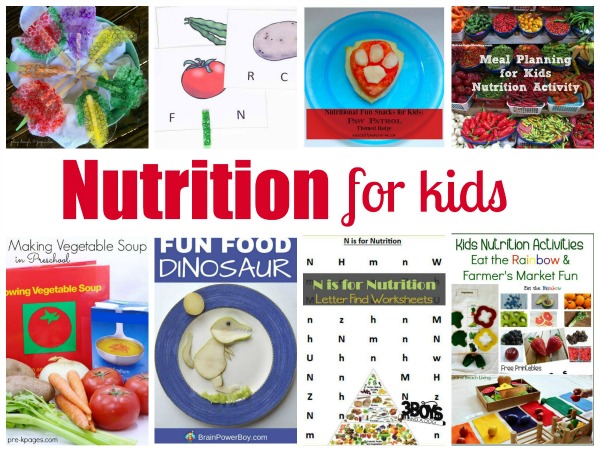 Want more ideas for learning about nutrition? Good news! I've teamed up with awesome kid bloggers to bring you even more nutrition activities! Check them out below.
Find the Letter N is for Nutrition from 3 Boys and a Dog – These Find the Letter Printables: N is for Nutrition will help your preschool and early-elementary aged children work on recognizing the letter B among many other letters of the alphabet.
Fun Dinosaur Snack from Pears from Brain Power Boy – Make a fun food dinosaur out of pears! It's easy to make with these step by step instructions.
Healthy Alternatives to Junk Food from FrogMom – A great list of healthy alternatives to junk food that you can introduce your students too to get them choosing healthier snacks!
How to Reduce Sugar Intake in Kids from Kara Carrero – This is a great nutrition learning theme that teaches children about food but also works to drastically reduce sugar intake in kids.
Grocery Shopping Activity from Sunny Day Family – This grocery activity could not be easier to set up. You can modify it for kids from preschool age on up, and depending on your child's age, it's a great way to practice food identification, matching colors of foods, drawing, or writing. It's also a wonderful tool to start a conversation on healthy eating and making healthy choices.
Healthy Meal Planning with Kids from Schooling a Monkey – This is a simple meal planning printable to help elementary kids realize what goes into a healthy meal.
Nutrition App from iGameMom – How do you talk about nutrition and healthy food with your child? You can get help on answering this question and so much more from this super fun app Smash Your Food.
Healthy Nutrition Books for Kids from The Jenny Evolution – Eating healthy is often easier said than done. But teaching our children early on will help them stay healthy throughout their lives. Read these healthy nutrition books for kids with your own kiddos to get them on the right track and keep the dialogue about living a healthy lifestyle going.
Kids Nutrition Activities with Free Printables from Natural Beach Living – Here are some fun ideas that for Kids Nutrition Activities, and a cool farmer's market scavenger hunt you can download.
Vegetable Beginning Sounds by Simple Fun for Kids – Enjoy these Vegetable Beginning Sound Clip Cards in your classroom. It goes perfectly with our Vegetable Addition Clip Cards if you're working on a vegetable or nutrition theme.
Kid's Books about Gardening from Our Daily Craft – Want to get your child interested in gardening? Here are some great kid's books to do just that!
Healthy Food Group Worksheets from Living Life and Learning – Your child can categorize the different foods into different food groups, you can also discuss the alternatives for the dairy and meat categories, like yogurt and legumes using these healthy food group worksheets.
Nutritional and Fun Snacks for Kids: Paw Patrol from Crafty Mama in ME – Make a fun and nutritional snack that your kids will love eating.
More Spring Ideas