Cooking is a great activity for preschoolers. You can develop social skills and life skills as you work together to create something. These activities provide hands-on experiences with math and science. You can cook to extend a book like Stone Soup or The Little Red Hen. These cooking recipes with kids (plus tips and ideas) will help build those life skills.
Use these tips, tricks, ideas, and recipes as you cook with your preschoolers.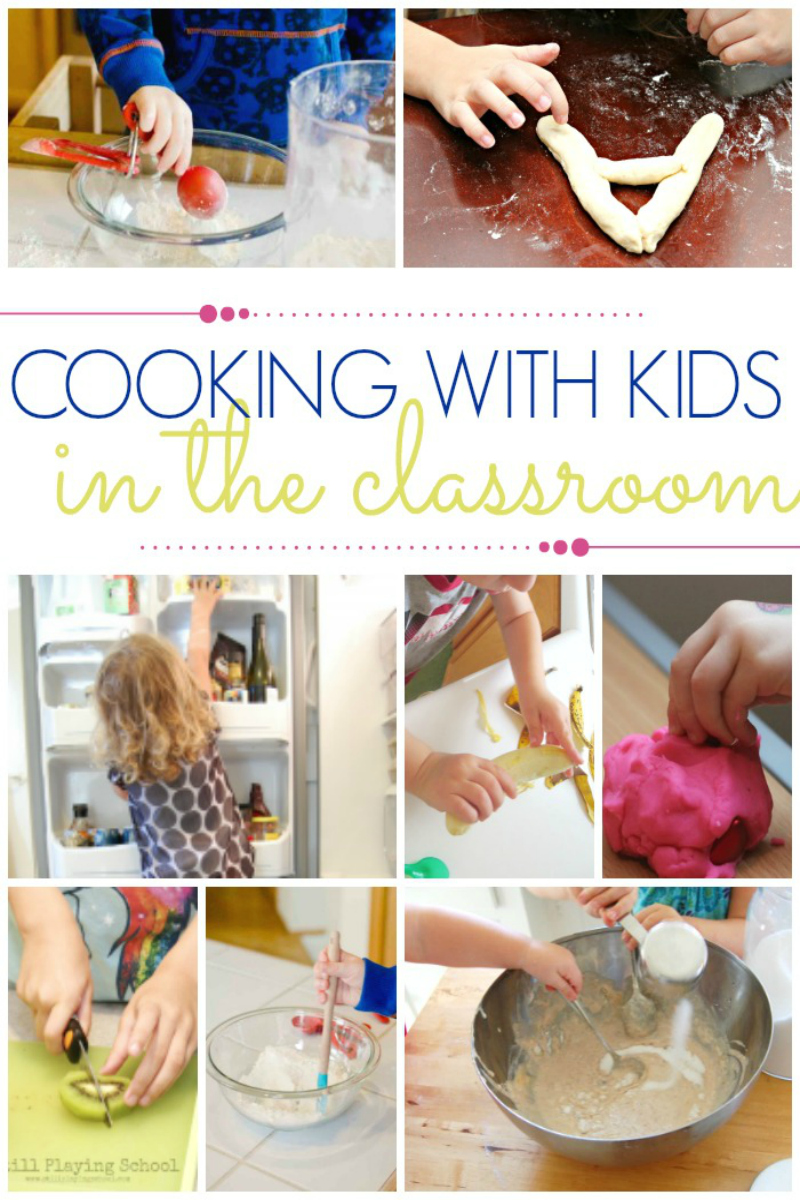 Ideas, Tips, and Recipes for Cooking with Kids
1. Classroom Recipes: Slow Cooker Applesauce (Pre-K Pages) – Today I'm going to share with you a super easy and healthy recipe for homemade applesauce for kids you can make in a slow cooker in your classroom!
2. Classroom Recipes: Vegetable Soup (Pre-K Pages) – Read the book Growing Vegetable Soup by Lois Ehlert, and then make vegetable soup – a popular classroom recipe.
3. Pumpkin Pie in a Cup (Pre-K Pages) – I shared this recipe for easy Thanksgiving pumpkin pie in a cup on my Facebook page last week and there was a lot of interest so I added some pictures and a printable recipe for you.
4. Picture Recipes (Pre-K Pages) – Free printable picture recipes for cooking with kids in the preschool, pre-k, or kindergarten classroom.
5. Pumpkin Play Dough (Pre-K Pages) – This pumpkin pie play dough recipe is so easy and it only requires two ingredients. This fall activity makes it perfect for the classroom!
6. Rainbow Fruit Salad (Teach Preschool) – This cooking activity is a wonderful mult-sensory experience for your children to engage in.
7. Cooking up Rainbow Toast (Teach Preschool) – A little food coloring, milk, and bread makes for a fun cooking activity with this rainbow toast!
8. The Challenge of Cooking in Preschool (Teach Preschool) – With these step by step photos you will see how easy it can be to cook with your preschoolers!
9. Cooking Kit for the Classroom (Prekinders) – If you cook with your preschoolers, this easy to put together cooking kit will come in handy!
10. Kid Recipes (Prekinders) – These easy no-heat kid friendly recipes are exactly what your classroom needs!
11. Teaching Math and Reading Through Cooking (Mom with a Lesson Plan) – They learn science along with fine motor skills, sequencing and direction following when you cook with your preschoolers.
12. Books to Inspire Cooking with Kids (Growing Book by Book) – We share with everyone our top 10 favorite books to inspire cooking with children.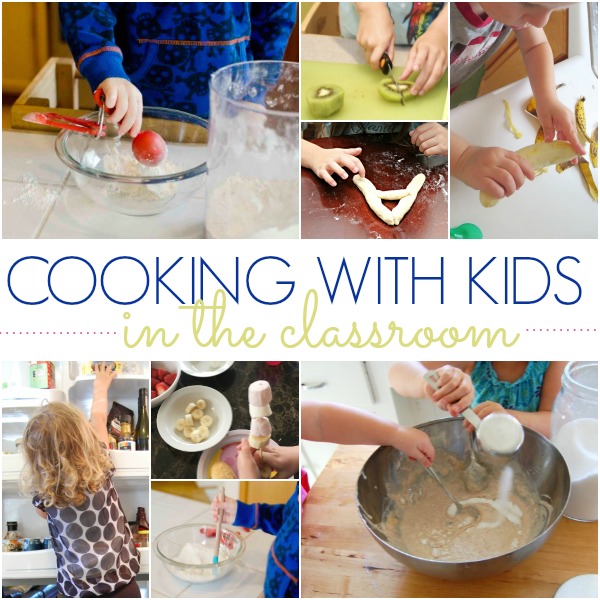 Cooking Activities with Preschoolers
13. Fruit Salsa (Still Playing School) – This recipe is so easy and healthy too. Your preschoolers will not only have fun helping out, but also gobble it up!
14. Quick Apple Crisp Recipe (Fun-a-Day) – The preschool kiddos definitely enjoy cooking and making snacks in the classroom.  This quick apple crisp recipe will definitely be a hit during a preschool apple theme!
15. Cooking with Kids: 10 Lessons Learned (Playground Parkbench) – Cooking with kids has some many benefits. If you are still hesistant to try it, this article will change your mind!
16. The Simplest Cookies on the Planet (My Mundane and Miraculous Life) – This cookies recipe is so easy to make, so it's perfect for involving the kids!
17. Alphabet and Number Pretzels (ABC Creative Learning) – These Fun Alphabet Numbers Pretzel Snack are the perfect way to add a bit of fun to any lesson!
18. How to Make Silly Putty (Crystal and Co.) – Silly putty is fun and easy to make and your preschoolers will have so much fun playing with it after!
19. Strawberry Play Dough (Teaching Mama) – This homemade pink strawberry play dough is easy to make, smells great, and a perfect recipe to try in Springtime!
20. 5 Easy Steps to Invent a Recipe with Kids (TinkerLab) – Do you like to cooking with kids or do you yearn to cook with your child? Today we're sharing five easy steps to invent a recipe with kids, which will get you into a creative cooking mindset. Think Master Chef + little kids = a fun afternoon.
21. Pinkalicious Cupcake Popsicles (Growing Book by Book) – Make some popsicles inspired by the Pinkalicious book!
22. 5 Apple Dips (JDaniel4's Mom) – There is just something wonderful about dipping a fresh fruit into a refreshingly delicious dip created using a super easy dip recipe.
23. Baking with Kids: Chocolate Croissants (Fun-a-Day) – This is a fun easy recipe for Sunday morning to bake with your kids.
24. Best Tip for Baking with Toddlers (Busy Toddler) – Learn some great tips to bake with toddlers, including what "toddler batter" is!
25. 14 Essentials for Kitchen Fun (Sunny Day Family) – These are perfect for using to make your own kitchen kid ready, and also make great gift ideas for kids who are starting to learn to cook.
26. Fun Fruit Kebabs (Crafty Kids at Home) – Tired of the same old after school snack ideas? Then why not try one (or two) of our Fun Fruit Kebabs. They will give your child a much needed fruity energy boost after a busy day in school, along with a little treat as well.
27. Chicka Coconut Banana Booms (Growing Book by Book) –  Reading and following a recipe is a fun way to incorporate pre-reading or reading skills.   This original recipe, Chicka Coconut Banana Booms is healthy with no added sugar and easy to prepare.
More Teaching Tips And Ideas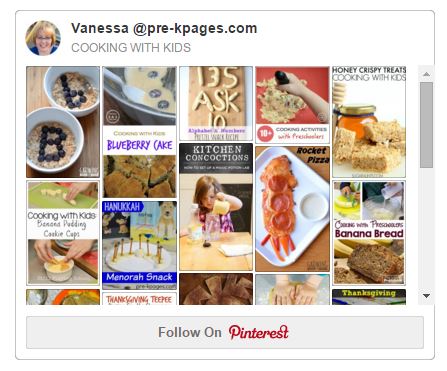 Follow my Cooking with Kids Pinterest Board for more great ideas!