Are you looking for the best books about counting numbers 1-10? You can easily combine math and literacy with these must-have counting books that your little learners will love. You're sure to find some new favorites on this list that includes more than 30 engaging picture books about counting to 10.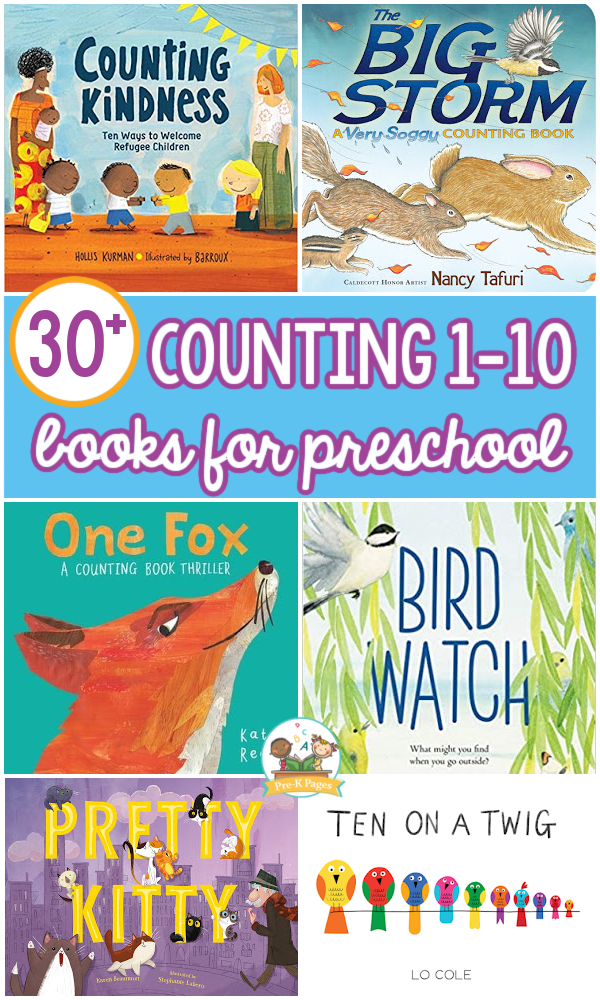 Best Counting to 10 Books for Preschool
Having a collection of books about counting and numbers is an important part of a high-quality preschool environment. But not just any old counting book will do, you need to choose ones that have good stories and illustrations to draw your little learners in and have them begging to be read over and over again.
Counting Kindness, by Hollis Kurman
The perfect addition to your diverse book collection! A wonderfully compassionate counting book endorsed by Amnesty International.
One Is a Piñata, by Roseanne Greenfield
The rhyming text and boisterous illustrations will delight your little learners while celebrating Latino culture. Bonus, this book also includes counting in Spanish!
Mouse Count, by Ellen Stoll Walsh
This suspenseful classic that never gets old will have your preschoolers counting in no time!
Bird Watch, by Christie Matheson
From the author of the wildly popular, Tap the Magic Tree, comes an interactive counting book that is sure to excite and motivate your little ones to become avid bird watchers.
One, Two, That's My Shoe! by Alison Murray
What's more fun than counting along with a mischievous puppy as he takes off with his owner's shoe?
Preschool Counting Books
The Big Storm, by Nancy Tafuri
Readers will be reminded of The Mitten in this counting tale featuring forest animals that take cover during a storm.
Pretty Kitty, by Karen Beaumont
Will these kitties find their way into an old man's heart? Count along and find out!
Count the Monkeys, by Mac Barnett
Finally, an interactive picture book that's funny too! This one will keep your little learners guessing and counting until the very end.
Mimi's Book of Counting, by Emma Chinchester Clark
A sweet counting story about a little monkey and her grandmother. This one is perfect for Grandparent's Day!
One Fox: A Counting Book Thriller, by Kate Read
This dramatic and exciting counting tale will have your kids sitting on the edge of their seats until the very end! They'll beg for this one over and over again for sure!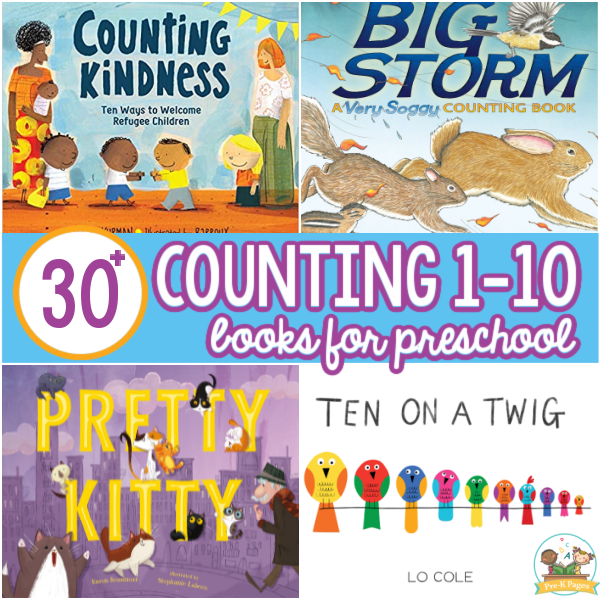 Best Counting to 10 Books for Preschoolers
But wait, there're more! You can never have too many counting books in the early childhood classroom. The following titles include some classics and new titles sure to delight and inspire your little mathematicians as they embark on their counting journey.
Ten on a Twig, by Lo Cole
Roar! by Pamela Duncan Edwards
Feast for 10, by Cathryn Falwell
How do Dinosaurs Count to 10? by Jane Yolen
Count to Ten with a Mouse, by Margaret Wise Brown
Ten in the Bed, by Penny Dale
Ten Little Eggs, by Zondervan
Counting, by Henry Pluckrose
Over in the Ocean in a Coral Reef, by Marianne Berkes
Ten Little Night Stars, by Deb Gruelle
Counting 1 to 10 Books for Preschool
Stack the Cats, by Susie Ghahremani
Ten Black Dots, by Donald Crews
Ten Red Apples, by Pat Hutchins
Ten Little Fish, by Audrey Wood
Ten Little Ladybugs, by Melanie Girth
Two Ways to Count to 10, by Ruby Dee
10 Little Ninjas, by Miranda Paul
1 Leaf, 2 Leaves, Count With Me, by John Micklos Jr.
10 Hungry Rabbits, by Anita Lobel
Duck and Goose 1, 2, 3, by Tad Hills
Click, Clack, Splish, Splash, by Doreen Cronin
Ten Little Rubber Ducks, by Eric Carle
Do you have a favorite from this list? Let us know in the comments below. Have one that wasn't listed here? Tell us and we may add it to our list!
More Math Ideas