When it comes to making ornaments with kids, you definitely need something that's quick and easy. With only 3 ingredients, these cinnamon ornaments are the perfect Christmas craft for your little learners. They're also super simple to make, and they'll make your home or classroom smell amazing!
This classic craft is one many adults remember making when they were young, and some still hang on their Christmas tree today!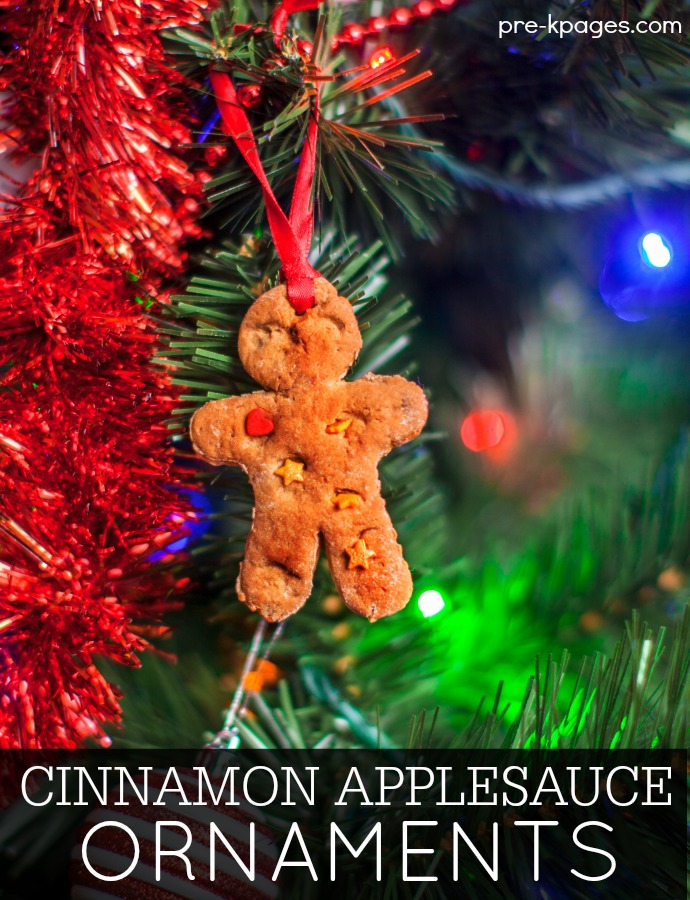 Cinnamon Ornaments for Preschool
With only 3 common ingredients, you can use this no cook recipe with your kids to create a keepsake ornament that parents and loved ones will treasure for many years to come.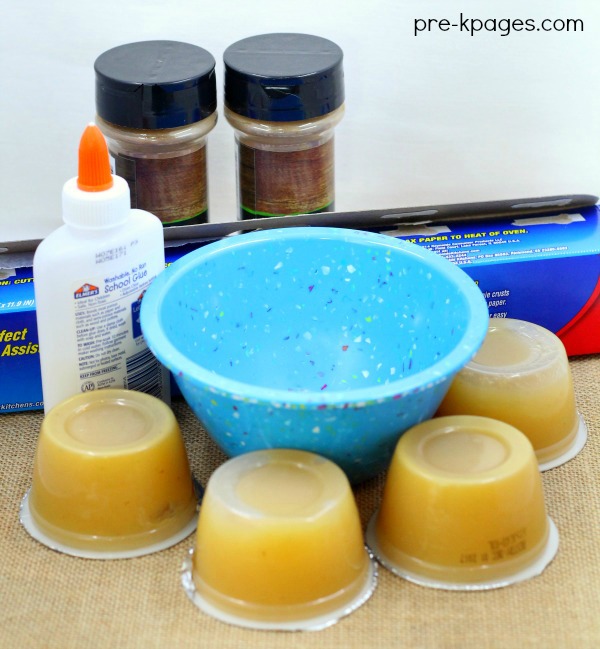 No Cook Cinnamon Ornament Ingredients
Here are the basic ingredients you'll need to make cinnamon applesauce ornaments with your kids at home or in the classroom.
I bought my cinnamon in bulk from Amazon. The applesauce and Elmer's liquid glue are readily available at any large big box store.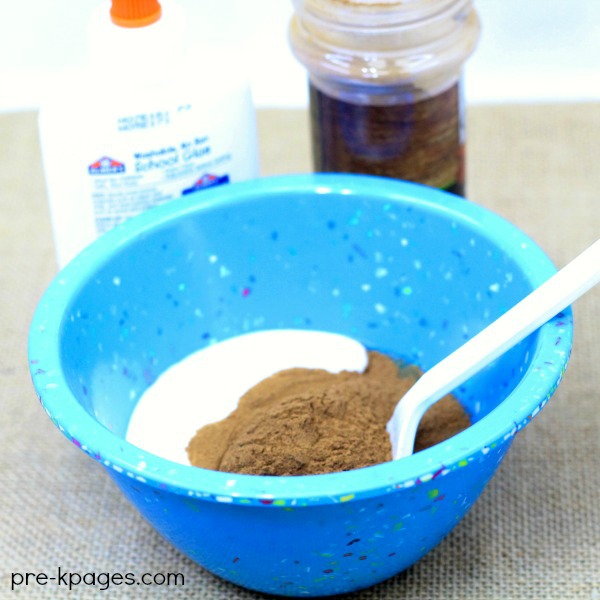 Cinnamon Ornament Supplies
The following supplies are needed for making this easy, no cook recipe.
waxed paper or parchment paper
rolling pin
drinking straw
spoon for stirring
bowl
baking sheet
glitter glue, wiggly eyes, ribbon and other embellishments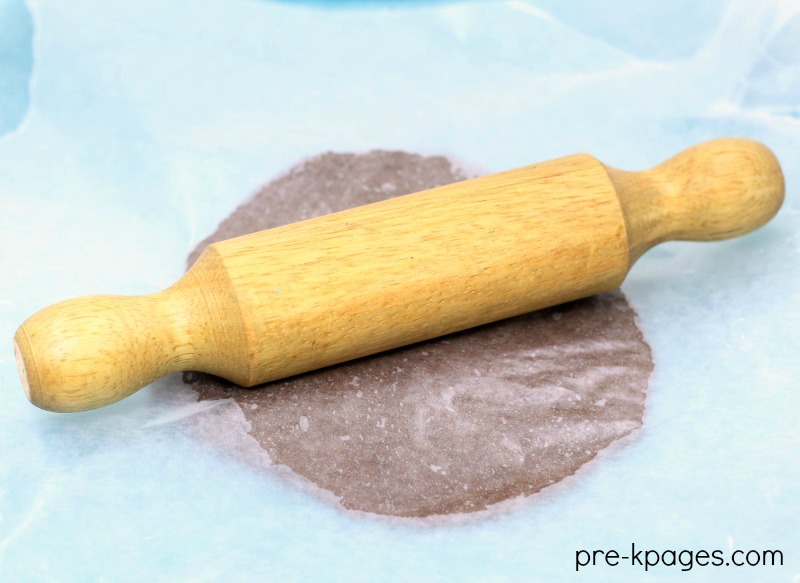 No Cook Cinnamon Ornament Recipe
This recipe makes a large batch of cinnamon ornaments, enough for approximately 10 ornaments. For larger or smaller groups of children, you can adjust the recipe accordingly.
3 cups applesauce
5 cups ground cinnamon
1 cup Elmer's white liquid glue
You may need to adjust the ingredients in your recipe a bit because every brand of applesauce is a little bit different. If it's too wet, add more cinnamon, if it's too dry add more applesauce. This is not an exact science, it's more of a science experiment!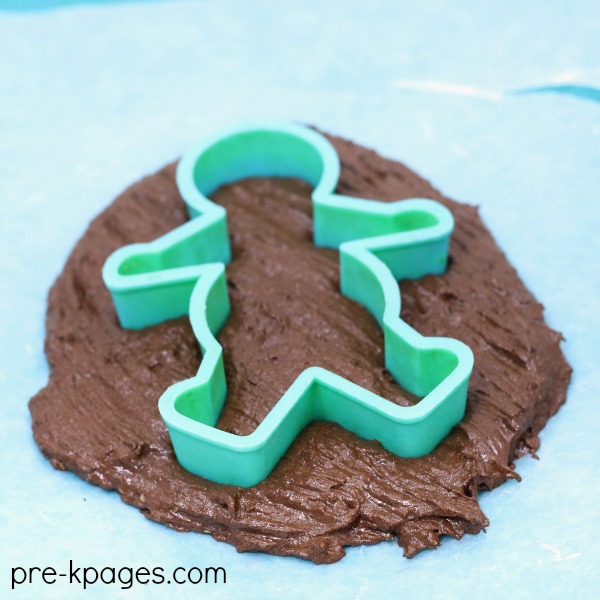 First, mix the applesauce and cinnamon together in a bowl, then add the cinnamon and mix until it is thick enough to hold a form when cut into shapes with a cookie cutter.
Spoon the dough onto a cookie sheet covered with a sheet of waxed paper or parchment paper, then and cover the dough with an additional sheet of paper.
Now, roll out the dough between the two pieces of wax paper until it is approximately 1/4 inch high or more. If your dough is rolled too thin it may break when dry.
Next, invite your kids to use cookie cutters to create shapes in the dough.
You can invite your kids to decorate their shapes when the dough is still wet by pressing items like googly eyes or gems etc. into the dough. Or, you can invite them to decorate their ornaments after they are dry with glitter glue.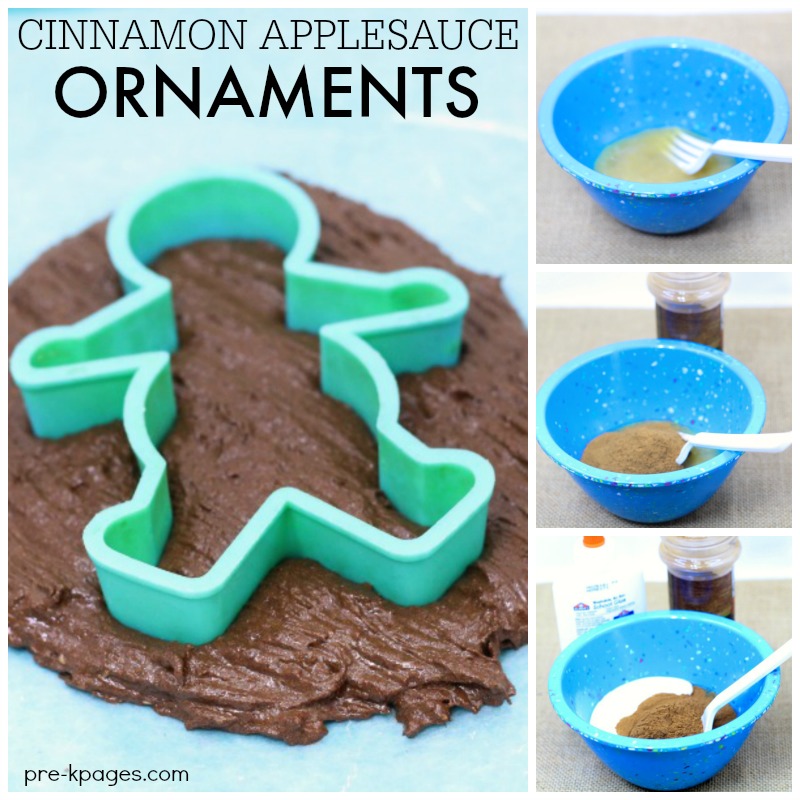 Leave the shapes on the waxed paper to air dry for approximately 24-48 hours depending on the size and thickness of the cookies. You'll definitely want to write each child's name next to their ornament on the parchment paper with a permanent marker so you'll know which ornament belong to whom!
If you would like your kids to hang their ornaments on a tree, be sure to make a hole near the top of each ornament with a straw before drying. After they're dry, add a piece of festive ribbon through the hole.
Your kids will love this fun project – and the cinnamon ornaments smell so good!

More Kid Made Christmas Ornaments
Mason Jar Lid Keepsake Ornament
Easy Angel Ornament Craft
More Christmas Ideas