Christmas is a time for giving and often homemade gifts are favorites among family and friends. This collection of great ideas contains a variety of Christmas gifts kids can make for parents, grandparents, and teachers. Help your kids create unique gifts that they can give to others for Christmas.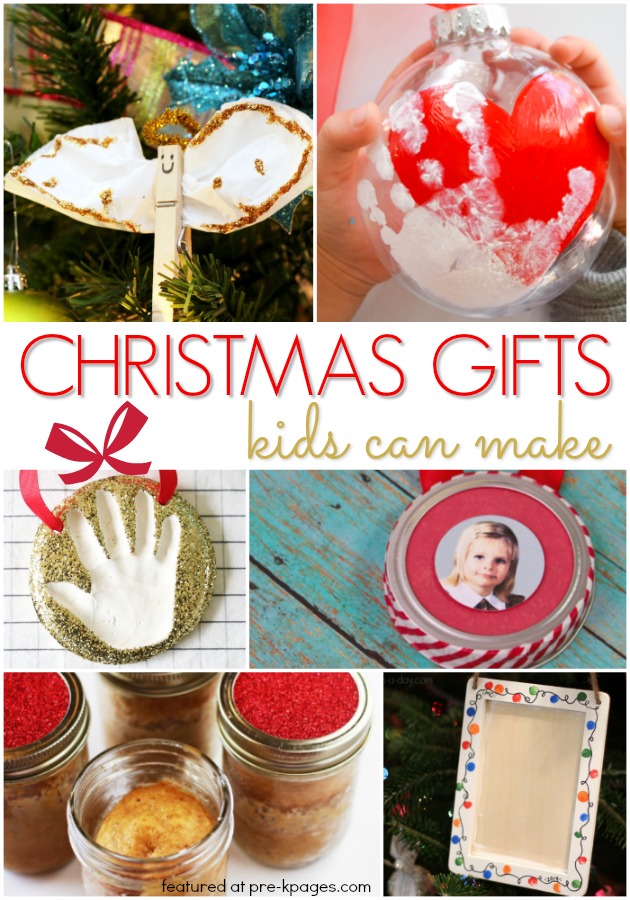 Christmas Gifts Kids Can Make
When it comes to gift ideas preschoolers can make, it's best to go with projects that are super easy and don't require a lot of materials or complicated steps.
1. Mason Jar Lid Christmas Ornament (Pre-K Pages) – These super easy and adorable ornaments can be easily adapted to become refrigerator magnets for families that do not celebrate Christmas.
2. Gingerbread Jar Cakes (Pre-K Pages) – My kids want to bake all of the time, so one of the ways I avoid having too many baked goods in the house is to allow them to make individually portioned treats. Recently, we made these Gingerbread "Mug" Cakes and they were just the right size for a single serving snack!
3. Handprint Apron (Little Page Turners) – Kids will have fun personalizing an apron with their handprints (or even their footprints) for their families!
4. Snowman Handprint Ornament (Little Illuminations) Now this is a keepsake gift parents will treasure forever!
5. Crayon Resist Fridge Magnet (Happy Hooligans) – Kids can make these gorgeous homemade fridge magnets using a simple crayon-resist technique!
6. Handprint Wreath (I Can Teach My Child) – This handprint wreath is a wonderful keepsake!
7. Baking Soda Clay Handprint Keepsakes (Mama Papa Bubba) – This keepsake is made with a simple baking soda clay.
8. Tissue Paper Candle Jar (Crayon Freckles) Looking for a way to use up all that tissue paper in your craft cupboard? This is the project for you!
9. Handprint Keepsake Ornament (Little Pinch of Perfect) – This ornament is a keepsake that will look beautiful each year hanging from the tree.
10. Paperweights (Happily Ever Mom) – With some rocks and paint, your kids will love creating these paperweights.
Kids Made Christmas Gifts
11. Fingerprint Heart Gifts (Fun-a-Day) – Here are two fingerprint heart gifts kids can make! My preschoolers made them as Valentine's Day gifts for their families this year, but they would work beautifully for Christmas too.
12. Cardboard Picture Frame (Happy Hooligans) – These Homemade Picture Frames are easy to make with some cardboard from the pantry cupboard and some paint. These are easy enough for toddlers and preschoolers to make, and such a sweet gift for kids to give at Christmas.
13. Fingerprint Frames (Fun-a-Day) Take hand painted to another level with these simple fingerprint frames!
14. Candy Terrariums (No Time for Flash Cards) – Kids will have fun placing the candy inside the mason jar to create this fun edible terrarium.
15. Craft Stick Frames (Brick by Brick) – With some popsicle sticks, kids will make these beautiful picture frames.
16. Three Ingredient Ornaments (Busy Toddler) – With just three ingredients (and they are in your pantry now I bet!) is all you need plus all the tips and tricks to roll out and create these super cut ornaments.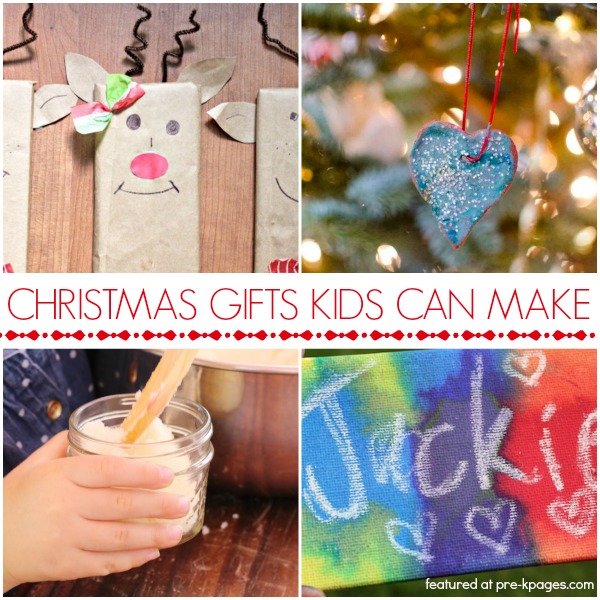 17. Christmas Cookie Gift (Crafty Kids at Home) – Bake Cookies and make Gift Tags with your kids then love giving them to your friends and family this Christmas.
18. Family Portrait Embroidery Hoop (Mama Papa Bubba) – With a marker, kids will love drawing a family portrait and then keeping it in an embroidery hoop to give as a gift.
19. Heart Prism and Pony Bead Suncatcher (Rhythms of Play) – This beaded window hanging crystal prism suncatcher is an easy craft and gift idea that kids can make with fishing line and beads.
20. Personalized Coasters (Playground Parkbench) – Use some ceramic tiles and then let your kids be creative with some markers to create these presonalized coasters!
21. Classic Mug (My Mundane and Miraculous Life) – With some stickers and sharpies, you will be amazed how easy it is for your kids to create these adorable mugs.
22. Clay Heart Bracelet (Preschool Spot) – Your kids will love making these bracelets with a simple dough and cookie cutters.
23. Kid-Made Gift Bags (Parenting Chaos) Don't all gifts need a bag? Why not have the kids make the gift bags too!
24. Sugar Scrub (Pre-K Pages) If you haven't tried making sugar scrub with your kids before it's so easy for kids to make! Trust me, you can't go wrong with this fantastic gift idea for moms or other female friends and family.
25. Reindeer Candy Bar Wrappers (Educators' Spin On It) These are delicious and so simple to make!
Also: Check out my Facebook video for my favorite easy gifts for kids to make!
More Christmas Ideas
Candy Cane Slime (Pre-K Pages) – This a fun activity you can do with your kids for Christmas at home or in the classroom. It's perfect for those cold winter days when you can't get outside as much as you (or the kids) would like!
Christmas Jingle Bell Sticks (Pre-K Pages) – Learning and playing music is one of the great joys of the season for kids, and my preschoolers are really getting into it this year. To help them enjoy Christmas music even more, we made our own instruments inspired by one of our favorites – Rudolph the Red Nosed Reindeer!
Making Patterns with Holiday Items (Pre-K Pages) – Now that the holiday decorations have been pulled from boxes, it's time for some easy seasonal fun with all these trimmings. One of my favorite ways to interact with holiday decorations is with patterning activities
Gingerbread Jar Cakes (Pre-K Pages) –  My kids want to bake all of the time, so one of the ways I avoid having too many baked goods in the house is to allow them to make individually portioned treats. Recently, we made these Gingerbread "Mug" Cakes and they were just the right size for a single serving snack!  In a classroom setting, kids could also make these as homemade gifts for mom and dad.
Gingerbread Cloud Dough (Pre-K Pages) – Certain smells, such as the classic scent of gingerbread, remind us of the holidays. We love this smell and decided to add it into our holiday sensory activity! Today, I'm sharing our recipe for Gingerbread Cloud Dough.
The Sweet Smell of Christmas Book and Activity (Teach Preschool) – "The Sweet Smell of Christmas" by Patricia M. Scarry is one of those books that I just love for many reasons. Then gather items from the book and have your toddler explore their smells.