Do your kids love to listen to you read Christmas stories?
It seems like there are so many Christmas books to choose from these days!
I hope this book list will help you narrow down your choices when it comes to selecting Christmas books to read aloud.
If you aren't allowed to read Christmas stories in your classroom be sure to check out my list of favorite Gingerbread books!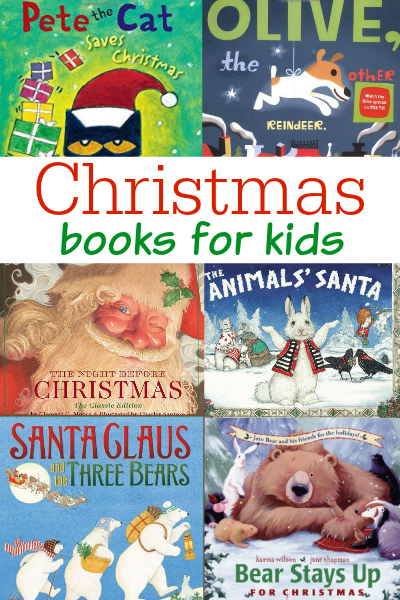 The Best Christmas Books
I have more Christmas books than I can possibly ever read aloud, but there are some that are always a sure hit or others that are new and deserve to be added to my holiday "must-read" list. Here they are in no particular order below.
Don't be offended if I left any of your favorites off the list, we all have our own favorites and I'm sure you don't need me to tell you about the glories of The Grinch. Keep reading, maybe you'll find some new favorites here!
Olive the Reindeer
Olive the Reindeer
is a truly unique and lovable character who is sure to become a permanent fixture on your holiday read-aloud list. Olive is a dog who is convinced she is one of Santa's reindeer and heads off to the North Pole to join Santa's team. This humorous book has me giggling from beginning to end every time!
The Animals' Santa
This brand new book by beloved children's author Jan Brett is sure to become a Christmas favorite. In keeping with her usual style, the illustrations in
The Animals'Santa
are superbly detailed, bringing the story to life for the reader. An engaging and captivating story that reveals who the animals' Santa really is!
Snowmen at Christmas
Have you ever wondered what snowmen do at Christmas?
Snowmen at Christmas
gives us a sneak peek into the secret lives of snowmen. A charming and humorous look at how snowmen celebrate the holiday, sure to be a hit with young and old alike. I can't help but smile whenever I read this book.
Llama, Llama Holiday Drama
Nobody can relate more to all the waiting that must be done during the holiday season than young children. In
Llama, Llama Holiday Drama
little llama is tired of all the endless waiting, can you relate?
Pete the Cat Saves Christmas
Everybody's favorite blue cat is at it again in Pete the Cat Saves Christmas. In this totally groovy version of The Night Before Christmas, Pete saves the day for an ailing Santa and helps spread the spirit of giving.
It's Christmas, David!
David is up to his old tricks in It's Christmas, David! by David Shannon. It's so hard to be good with tempting presents and pretty trees everywhere! All young children can relate to the many temptations Christmas has to offer.
Bear Stays Up for Christmas
I'm trying to think of other words to best describe how I feel about this book besides "love" and I just can't because I love Bear Stays Up for Christmas by Karma Wilson so much! Who could resist the rhyming text and sweet message of friendship in this story? Friends wake hibernating bear so he can experience his first Christmas and discover the meaning of friendship at the same time.
Rudolph the Red-Nosed Reindeer
It's difficult to find a good version of Rudolph the Red-Nosed Reindeer that's been paraphrased to make it just right for reading aloud to young children. I think they did a nice job turning this classic movie into a kid-friendly book. There isn't too much text on each page and the illustrations are straight from the TV special. If you're a Rudolph fan this Deluxe 50th Anniversary edition is a must have (it's on my list!)
Santa Claus and the Three Bears
I love reading different versions of fairy tales to my kids. They are comfortable and familiar with the classic tale of Goldilocks, but really enjoy the new twists in Santa Claus and the Three Bears. The illustrations are adorable and the story is every bit as good as the original!
The Night Before Christmas
I know you're probably already familiar with this book, but this version is a real keeper. Some versions of The Night Before Christmas have too many words on the page or the illustrations are awful. I promise you will have none of those problems with this one!
More Christmas Ideas