Dinosaurs are always a fun topic or theme to explore with preschoolers. Something about dinosaurs seems to grab the mind and imagination of children. This fun dinosaur science experiment is something your kids will love and add even more excitement to your dinosaur explorations.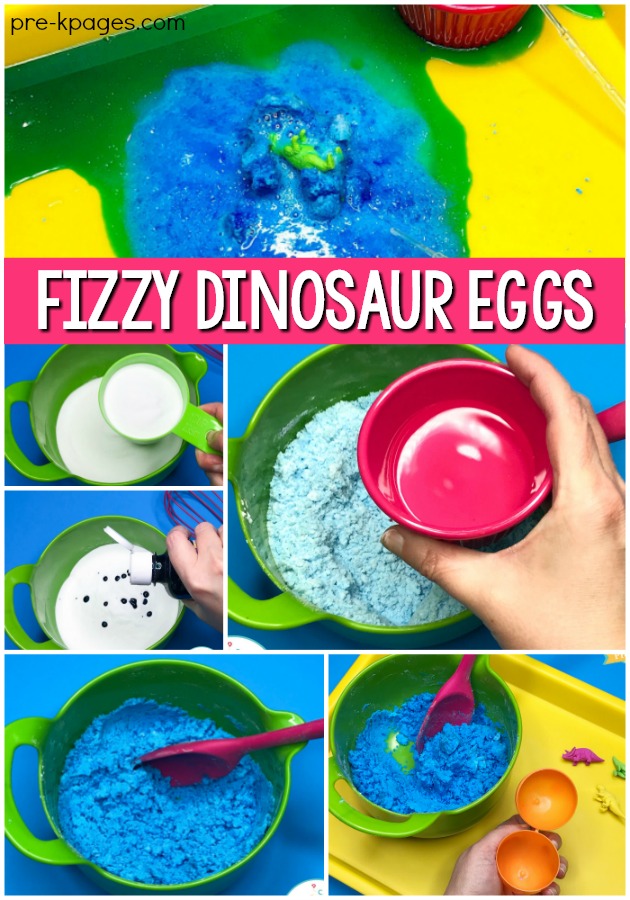 Fizzy Dinosaur Egg Supplies
Here are the supplies you will need to make your own fizzy dinosaur eggs.
Baking Soda
Food Coloring or Liquid Watercolors
Water
White Vinegar
Plastic Eggs
Mixing Bowl
Whisk or Spoon for mixing
Parchment Paper
This recipe will make approximately 3 eggs. For larger groups of children you can easily make more eggs by increasing the ingredients accordingly.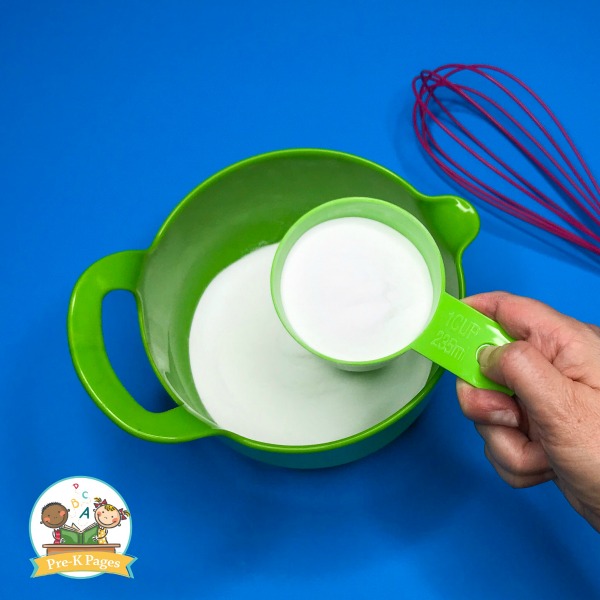 How to Make Fizzy Dinosaur Eggs
1. First, add 3 cups of baking soda to a large bowl.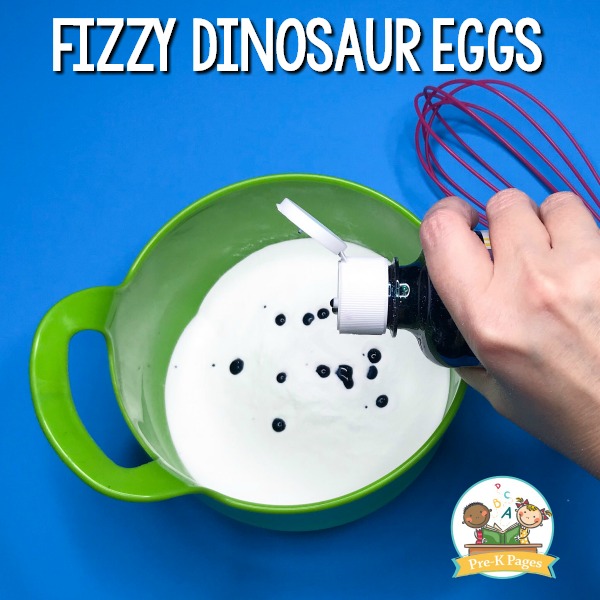 2. Then, add a few drops of liquid watercolor or food coloring to the baking soda and mix.
Remember, food coloring can stain skin and surfaces. If you will be using your hands at all for mixing you will probably want to wear gloves. Cover your table or counter top to protect it from staining.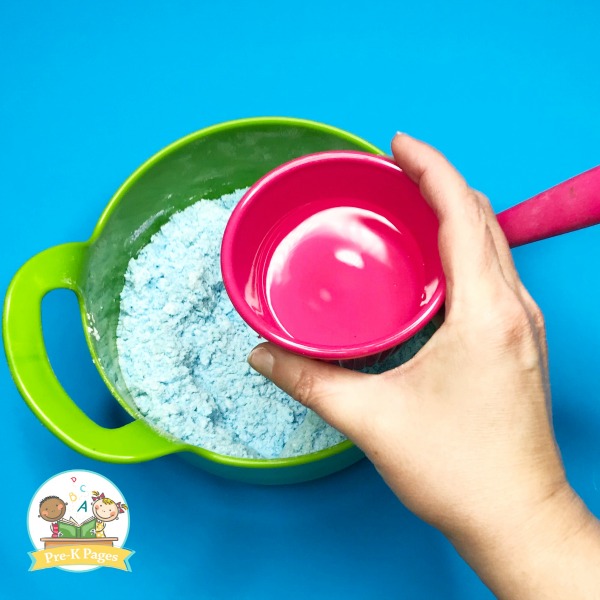 3. After your baking soda and food coloring are thoroughly mixed, add 1/4 cup of water.
You will know your mixture is ready when it begins to form a paste.
If your mixture is too dry, you may need to add a bit more water.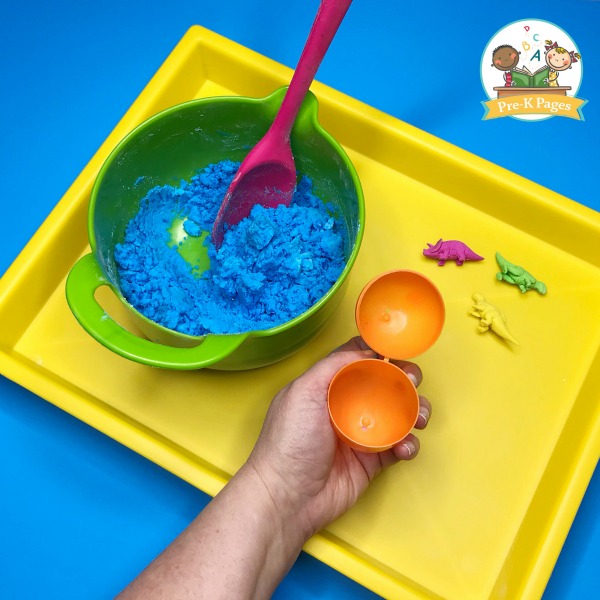 4. When your mixture has the consistency of paste, you can add it to one half of a plastic egg.
If you don't have any plastic eggs, you can easily shape the mixture into balls using your hands.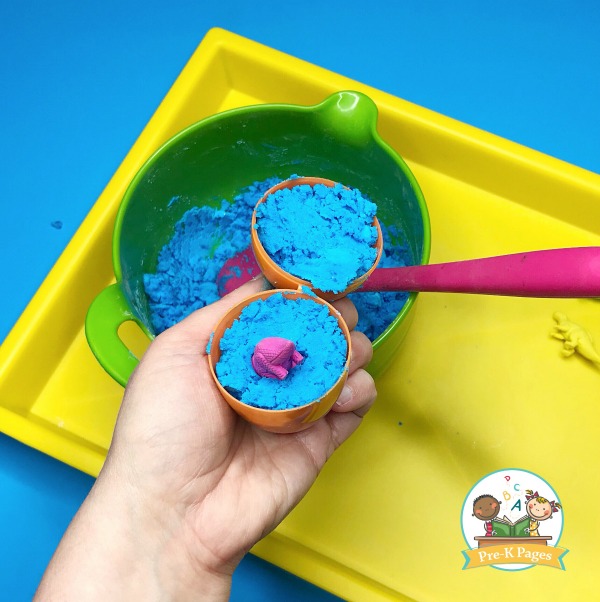 Then, insert a plastic dinosaur and fill the other half of the egg with paste.
Close the egg to completely cover the dinosaur inside.
Remove the baking soda eggs from the plastic mold and place them on parchment paper in the freezer for at least an hour or more. I left mine in the freezer for 3 hours.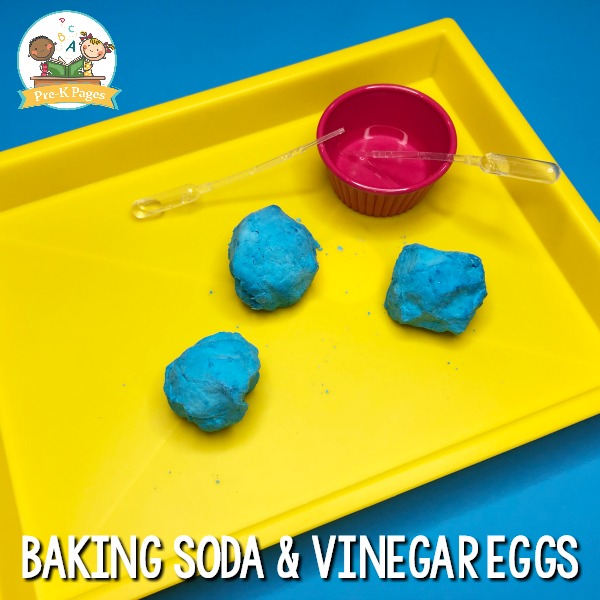 Fizzy Dinosaur Eggs
This is where the fun really begins! Remove your eggs from the freezer and place them in a shallow pan. You could also place them in your sensory table if you have one.
Pour white vinegar into a bowl.
If you have goggles and would like to use them, introduce them to the children and explain their importance and purpose.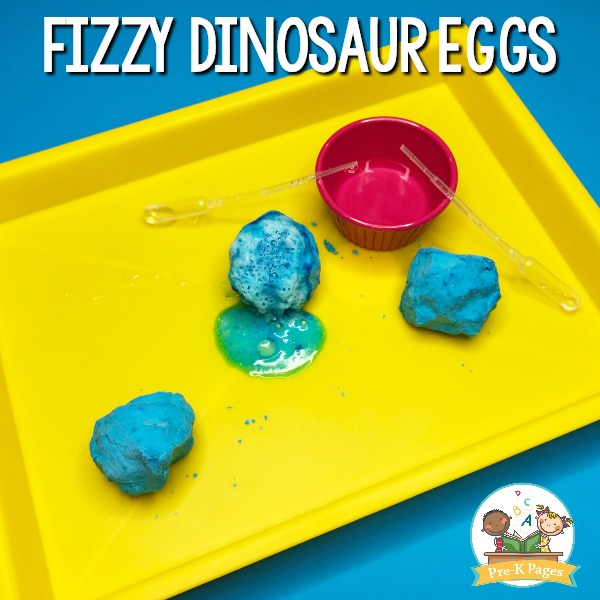 Hatching Your Fizzy Dinosaur Eggs
Invite your kids to fill pipettes (eye droppers) with vinegar. When the vinegar is squeezed on the eggs they will begin to fizz. Encourage your kids to continue squeezing the vinegar on the eggs until the dinosaurs are completely uncovered.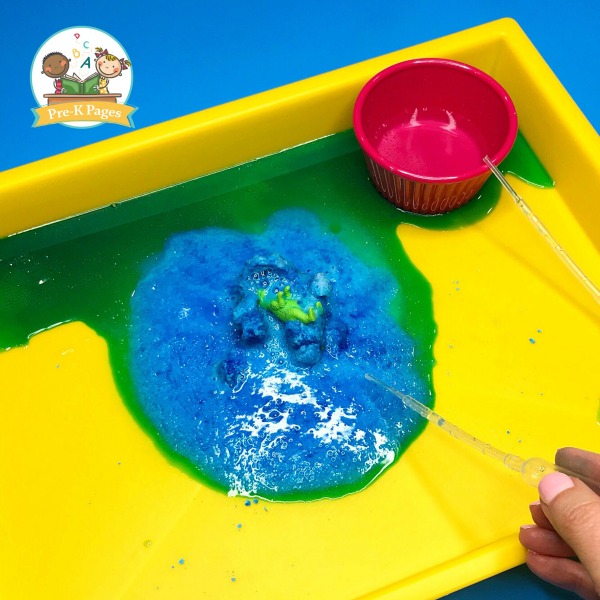 Watch the Video
More Dinosaur Ideas