Dinosaurs may be extinct but preschoolers' interest in them is definitely not. Perhaps you even know a preschooler who can recite all dinosaur names and facts about each one. Whatever the appeal, activities with dinosaurs are great to use in preschool classrooms. Check out this list of over 30 ideas for dinosaur activities.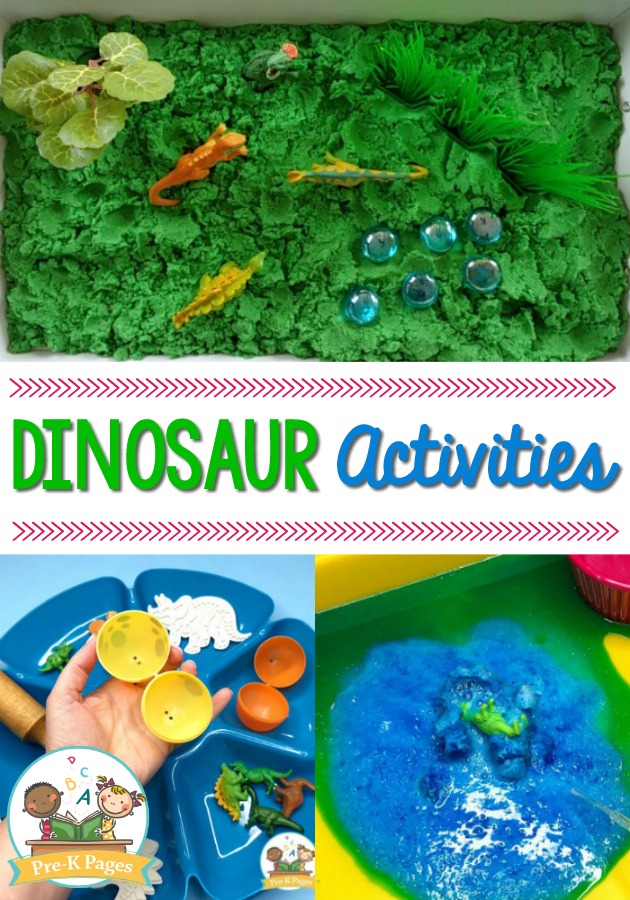 Dinosaur Activities for Preschoolers
These dinosaur activities for your preschoolers are wonderful lessons to use with your dinosaur theme in your classroom. From a sensory bin, to math activities, and even digging for dinosaurs – all of these dinosaur activities will engage and educate your students.
Dinosaur Sensory Bin (Pre-K Pages) – With this sensory bin, your preschoolers will have so much fun digging for dinosaurs!
Dinosaur Literacy Activities (Pre-K Pages) – You can help your kids celebrate all the different types of dinosaurs by extending the learning into your literacy center activities.
Dinosaur Math Activities (Pre-K Pages) – As your kids participate in these fun, hands-on dinosaur math center activities around a common theme, they will begin to develop important math skills that will help them build a solid foundation for future math success.
DIY Bones for Dinosaurs Dig (Pre-K Pages) – Here's a super quick and easy recipe to make your dinosaur bones.  Your little paleontologists will love digging for pretend dinosaur bones in your sensory table!
Dinosaur Roll and Move Game (Pre-K Pages) – When it comes to doing a dinosaur theme in preschool, you just have to expect some extra excitement.  You can channel that excitement and turn it into a fun movement activity with this printable that promotes taking turns, movement, and developing attention spans – all at the same time.
Dinosaur Play Dough Activity (Pre-K Pages) –  A dinosaur theme is always a huge hit with young children in the classroom. Their natural interest in dinosaurs sparks their curiosity and magically lengthens their attention spans.  But dinosaur play doesn't have to be limited to the block center, your kids can have fun learning and playing with dinos in the play dough center too.
DIY Hatching Eggs (Pre-K Pages) – One way to capitalize on children's natural curiosity and interest in dinosaurs is to make hatching dinosaur eggs using this easy play recipe. Your kids will have a blast cracking open these pretend dinosaur eggs in your sensory bin or table!
Kinetic Sand Sensory Bin (Pre-K Pages) – This super simple kinetic sand recipe is easy to make for the sensory bin or table in your classroom. Your little paleontologists will love roaring and stomping their dinosaurs through the sand!
Dinosaurs Dig Dramatic Play (Pre-K Pages) – Do you struggle to find time to change out the props in your dramatic play center? These printable props will help you easily transform your dramatic play center into a fun dinosaur dig site.
DIY Fossils with Salt Dough (Pre-K Pages) – Introduce your children to the job of a paleontologist. Start by explaining that paleontologists are scientists who study fossils. Then, invite your kids to create fossils with this simple salt dough recipe. Afterwards, they can hone their paleontology skills by digging for the fossils in a sensory bin!
Dinosaurs Alphabet Matching (Pre-K Pages) – This dinosaur alphabet matching activity will help your preschoolers learn uppercase and lowercase letters.  Children will love to find the correct home for the little dinosaurs!
Fizzy Dinosaur Eggs (Pre-K Pages) – Dinosaurs are always a fun topic or theme to explore with preschoolers. Something about dinosaurs seems to grab the mind and imagination of children. This fun science experiment will add even more excitement to your dinosaur explorations.
Dinosaurs Play Dough Mats (Prekinders) – These Dinosaur Play Dough Counting Mats will help your pre-k kids learn counting skills while playing and exercising their fine motor muscles.
Dinosaurs Picture-Word Cards (Prekinders) – The newest set of picture-word cards for the Picture Word Cards collection is the much-requested dinosaurs set! There are actually two sets. One set has 12 dinosaur cards with their looong names and pictures. The other set has a variety of words related to dinosaurs (egg, bone, claw, volcano, etc.) which are shorter and probably easier for prekinder kids.
Pasta Skeletons (Prekinders) – Using pasta, and dinosaur skeleton printables your preschoolers will have fun and work on their fine motor skills while they work one these two dinosaur activities.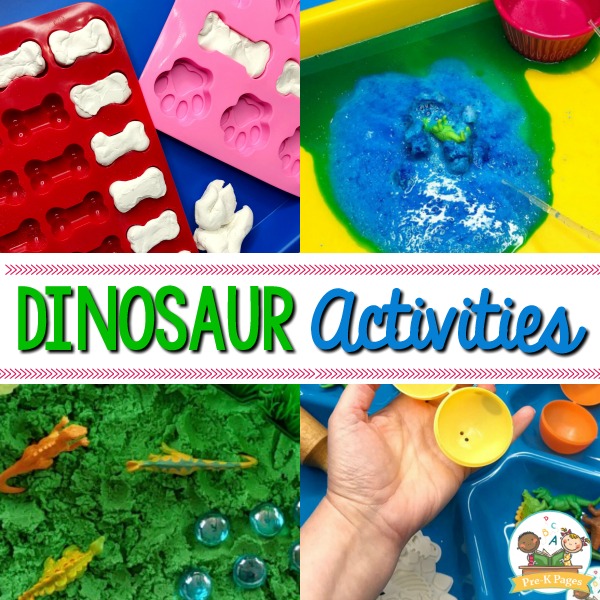 Activities for a Dinosaurs Theme
Dinosaur Feet (Teach Preschool) – Your students will love making these construction paper dinosaur feet by tracing and cutting out their feet shapes!
Dinosaur Headbands (Teach Preschool) – Have fun singing dinosaur songs while wearing these to make dinosaur headbands!
Dinosaur Sand Play (Teach Preschool) – Using the sand table you can set up this dinosaur sand play. It will be a hit during dinosaur theme week.
Shape Dinosaurs (Teach Preschool) – Have students use basic shapes to create their own dinosaurs!
Building Dinosaur Nests (Parenting Chaos) -Exploring how Dinosaurs raised and cared for their babies with a fun and messy sensory science activity!  This science activity for kids is a great way to get outdoors and connect with nature while exploring how and why dinosaurs built their nests the way that they did.
Dinosaur Dough (Laughing Kids Learn) – You'll absolutely love making my silky soft 3 ingredient dinosaur dough. It's so insanely easy to make, yes you only need 3 ingredients (possibly 2). It will have your children playing for hours because playdough is so open-ended and wonderful.
Exploding Dinosaur Mud (Parenting Chaos) – Science Experiments with bi-carb ROAR! These dinosaurs are stuck in the mud! They need a magic potion to set them free from their lava rocks! Fizz, bubble, and pop—your child will have a blast freeing dinosaurs from the sticky mud!
Paper Plate-a-Sauruses (Learn with Play at Home) – Here's an activity for all the dinosaur-loving kids out there. These paper plate-a-sauruses are based on the real species and all feature a colourful paper plate body with a paper cut-out head, legs and tail. They can help kids learn the real names of the dinosaurs and also have a fun, messy art and craft element to them.
Dinosaurs Discovery Table (Little Bins for Little Hands) – I always like to include sensory play, so I have homemade play dough for making fossils or whatever and a craft sand filled with bin with dinosaur bones for excavation. I included lots of dinosaurs for pretend play, books for learning about dinosaurs and a tray with dinosaur magnets to play look at and compare!
Dinosaurs Small World (Little Bins for Little Hands) – In this small world set up, your preschoolers will have fun making and playing with this quick slime that turns into a mini volcano!
Dinosaurs Footprints Activities (Little Bins for Little Hands) – These dinosaur footprint activities are bound to be a hit with your preschoolers!
Printable Lacing Cards (From ABCs to ACTs) – These dinosaur lacing cards are great for your preschoolers to work on their hand eye coordination!
Clothespin Dinosaurs (Teaching Mama) – Using numbered clothespin your preschoolers can practice matching the clothespins to the different dinosaur cards!
Dinosaurs to Build (Frugal Fun for Boys and Girls) – If your preschoolers love Legos, then they will love building these different dinosaurs!
Dinosaur Swamp (Imagination Tree) – Set up this fun dinosaur swamp sensory play in the water table for an exciting mix of imaginative play, storytelling and small world play fun for toddlers and preschoolers!
Swamp Writing Tray (Imagination Tree) – Create a fun and tactile literacy activity for kids with this dinosaur sensory writing tray! Great for pre-schoolers to school age children for mark-making, letter formation, learning to write their names and then onto sight words too!
Dinosaur Print Cookies (Paging Fun Moms) – If you have a dinosaur lover in your house, then you have Toy Dinosaurs strewn all over your house then behold these Dinsosaur Footprint Cookies!
Dinosaurs Stomp Painting (Parenting Chaos) – This process art activity could not be any easier or fun.  This is an EASY kid craft to use during a dinosaur theme week that works well with any age
And check out this list for great books about dinosaurs!
Dinosaur Posts