A dinosaur theme is always a huge hit with young children in the classroom. Their natural interest in dinosaurs sparks their curiosity and magically lengthens their attention spans.  But dinosaur play doesn't have to be limited to the block center, your kids can have fun learning and playing with dinos in the play dough center too.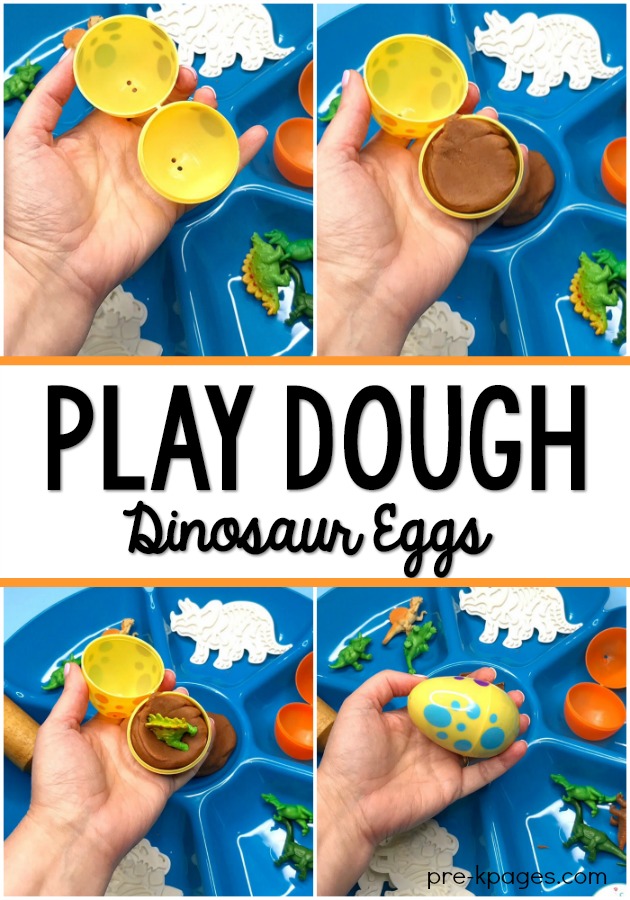 Dinosaur Play Dough Activity Supplies
Here are the supplies you will need to prepare this fun dinosaur play dough activity in your classroom.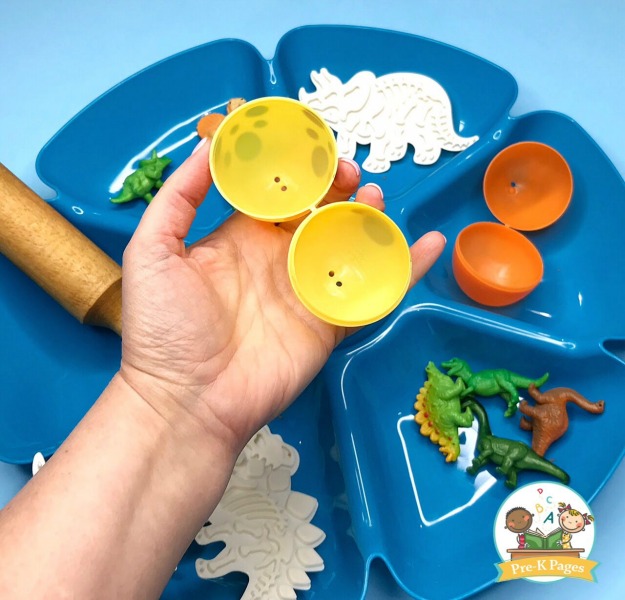 Dinosaur Egg Play Dough
First, set up your play dough area with the necessary supplies. These chip and dip tray are perfect for organizing and introducing play dough activities, each area can hold different supplies and the dough fits nicely in the middle.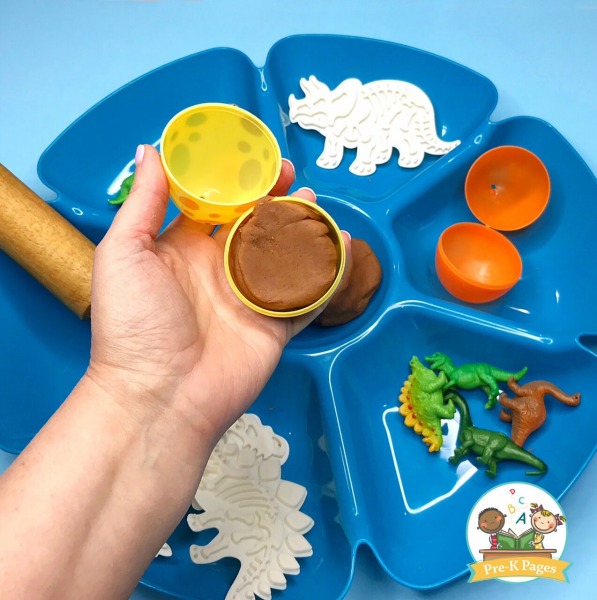 Dinosaur Egg Activity
Next, demonstrate how children can fill the eggs with play dough.
I had some leftover plastic eggs from Easter, so I added those to my tray along with brown, homemade play dough (see recipe here), rolling pins, cookie cutters, and plastic dinosaurs. The children can choose if they want to use the cookie cutters or create their own hatching eggs. The more choices they have, the more likely they are to engage in the activity.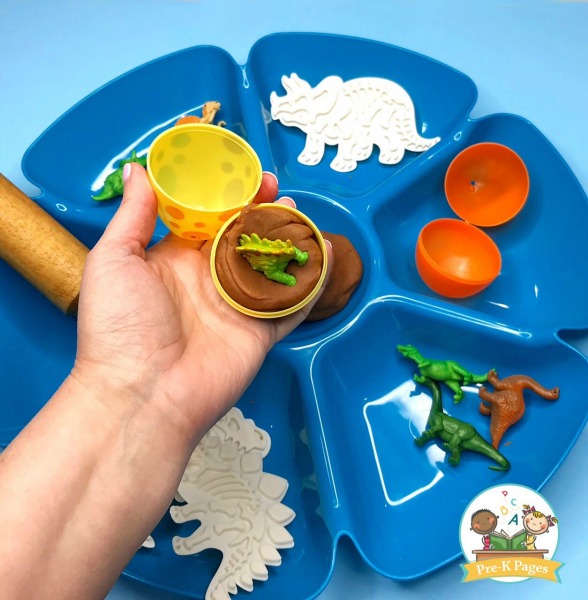 Hatching Dinosaur Eggs
Your kids will love sticking a plastic dino into the center of the play dough!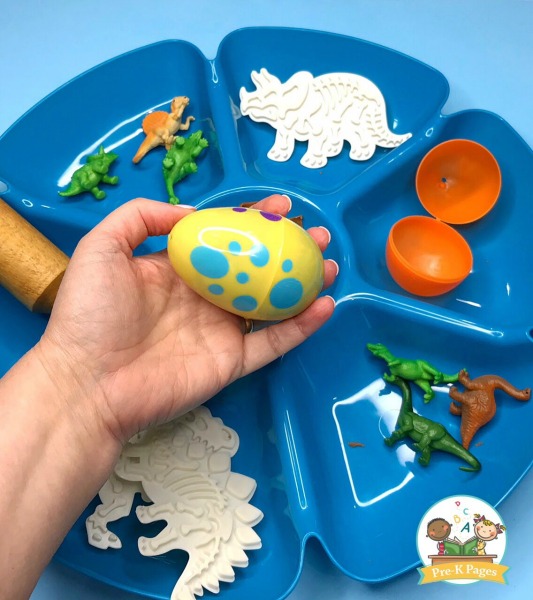 After both halves of the egg are filled with dough, show the children how to squeeze the egg closed and remove the excess dough from the outside.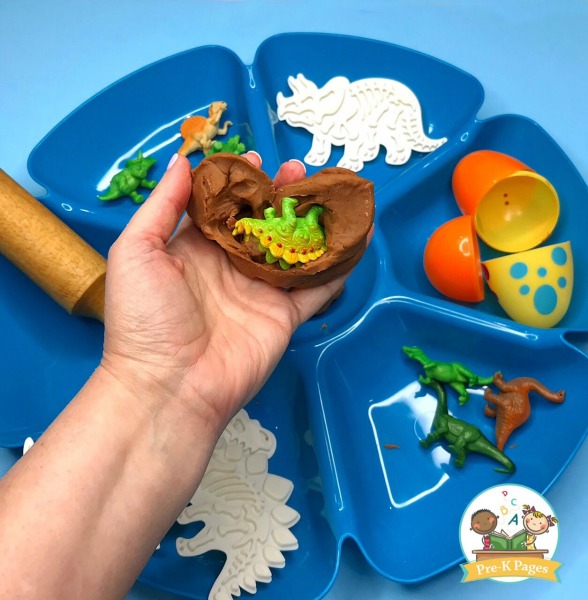 Now the real fun begins! Kids can make as many play dough eggs as they want, then break them open with their fingers to reveal the hidden dinos inside.
But this isn't just a fun activity to keep your kids busy! When kids are participating in this activity they are developing fine motor skills – or building the small muscles in their hands they will eventually need to write. And they're also learning about oviparous animals – animals that hatch from eggs. Not to mention all the different types of dinosaurs.
Watch the Video
Dino Dig Dramatic Play
If your kids like dinosaurs, they'll LOVE this Dinosaur Dig dramatic play kit!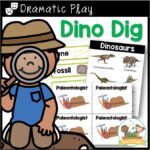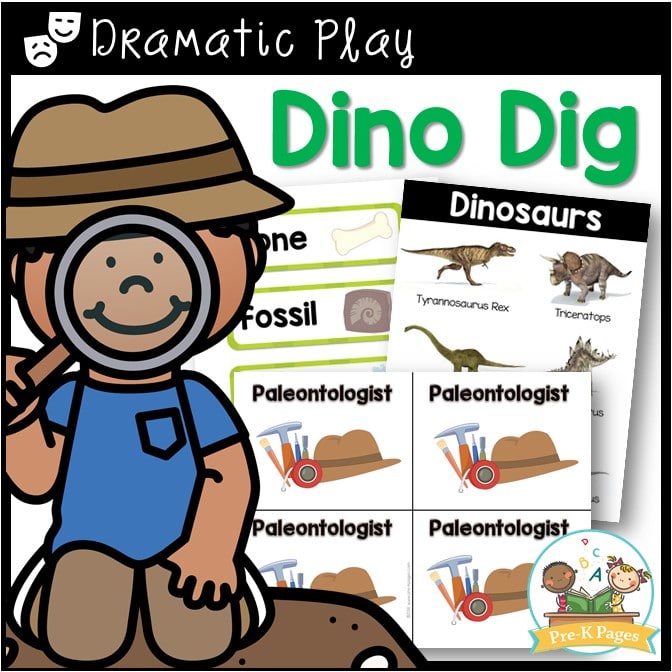 129 pages of printable props to help you easily transform your dramatic play center into a dinosaur dig. Includes literacy, oral language, and writing opportunities that align with current learning…
Dinosaur Sensory Bin (Pre-K Pages) – With this sensory bin, your preschoolers will have so much fun digging for dinosaurs!
Dinosaur Literacy Activities (Pre-K Pages) – You can help your kids celebrate all the different types of dinosaurs by extending the learning into your literacy center activities.
Dinosaur Math Activities (Pre-K Pages) – As your kids participate in these fun, hands-on dinosaur math center activities around a common theme, they will begin to develop important math skills that will help them build a solid foundation for future math success.
DIY Bones for Dinosaurs Dig (Pre-K Pages) – Here's a super quick and easy recipe to make your dinosaur bones.  Your little paleontologists will love digging for pretend dinosaur bones in your sensory table!
Dinosaur Roll and Move Game (Pre-K Pages) – When it comes to doing a dinosaur theme in preschool, you just have to expect some extra excitement.  You can channel that excitement and turn it into a fun movement activity with this printable that promotes taking turns, movement, and developing attention spans – all at the same time.
More Dinosaur Ideas